Ural Motorcycles has announced that the world's first drone-equipped motorcycle will be added to the manufacturer's range of bikes later this year.
Named the Ural Air, the DJI Spark drone and sidecar combo has been designed to tackle the most challenging terrain sent their way, while the new limited-edition drone has been created to help adventure bikers see the world from a different perspective altogether. The drone arrives in a specially designed compartment that is stiffly mounted to the sidecar. Opening the hatch reveals the well-specced device, which can then be controlled by the sidecar passenger with the specially mounted controller to provide a bird's eye view of the area up ahead. You even get a miniature helipad.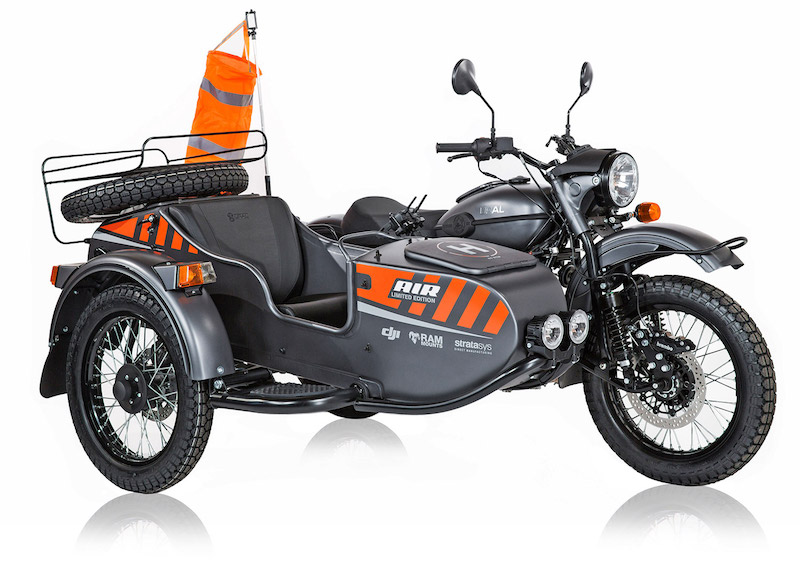 From the announcement details released onto Ural's official website, the company expressed how 'this year's limited-edition Ural Air encourages riders to explore further… on the ground and in the air.'
The Ural Air makes use of the company's 749cc motorcycle and it comes in only one colour, slate grey metallic. You'll get a two-wheel drive drivetrain, a sidecar-mounted spare tyre, and a boot for storing your luggage.
If you're contemplating purchasing the motorcycle as an early Christmas present, you may want to start saving, because the cost of one of these bad boys is an eye-watering $17,999 (£14,155 approx.). Limited to 40 units and only available for purchase in the United States, the Ural Air is expected to be in dealerships from November 2018.
Watch the motorcycle and drone in action in the below footage:
If that doesn't convince you enough, the Ural Air also comes packaged with an orange windsock to help you gauge wind speed, that's mounted to a selfie stick… for taking selfies.
What do you think to this kind of technology? Would you like to see more designs like this combined with motorcycles? Let us know.