Unconventional American motorcycle manufacturer Buell has continued its revival with the reveal of an all-new prototype bike, the SuperTouring 1190.
The brand, which was formerly owned by Harley-Davidson, has emerged under new ownership in recent years, and is once again looking to make a splash in the world of two-wheels.
Production of the new SuperTouring 1190 is set to begin at the end of 2022, but Buell has just given us a first glimpse at the unique-looking motorcycle, and it's bound to divide opinions.
So, what's there to know about a motorcycle that Buell has dubbed 'the world's fastest touring bike'?
Buell SuperTouring 1190 – All we know so far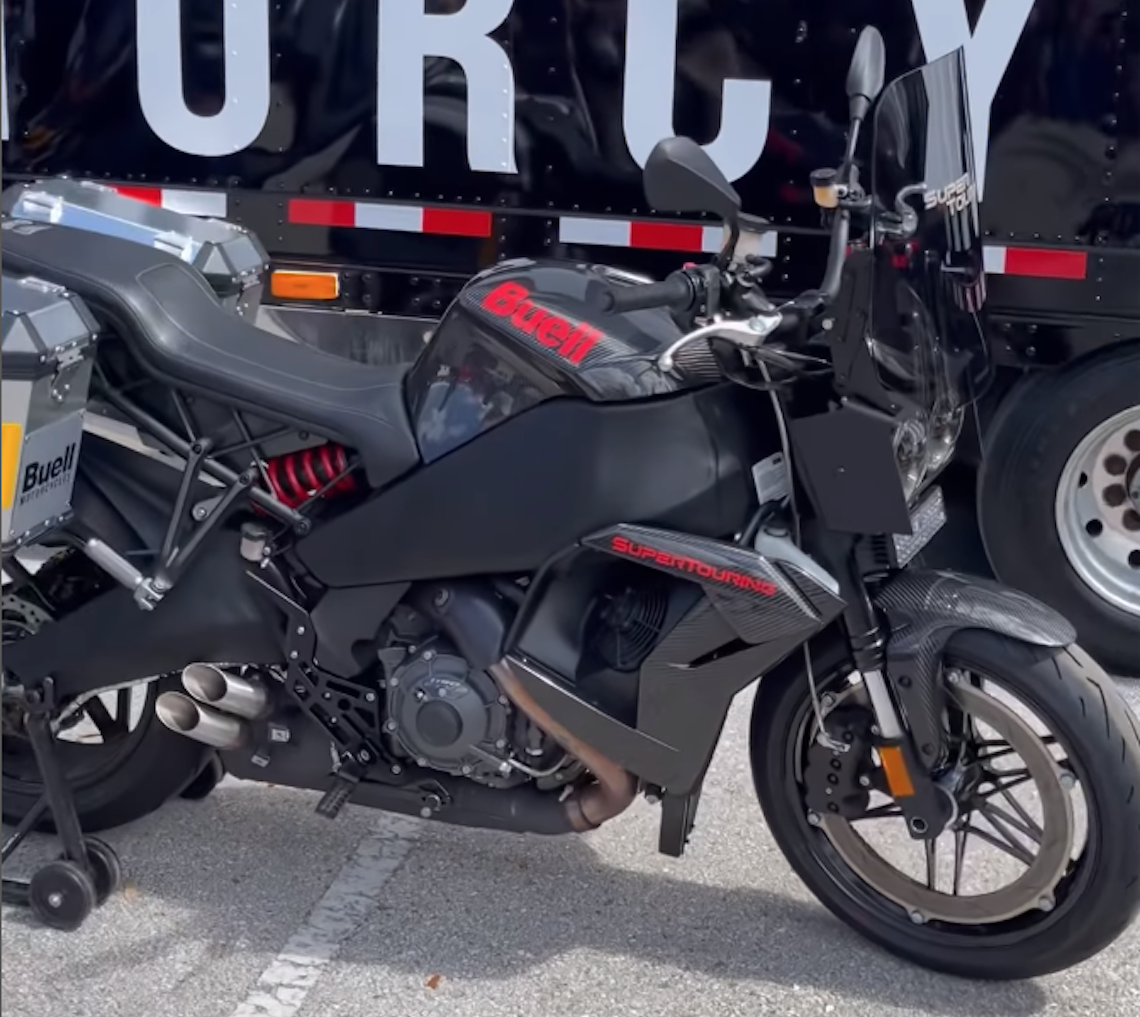 The SuperTouring 1190 will be powered by the same 1190cc V-Twin that's present in Buell's Hammerhead 1190 sports bike, which was launched in 2021.
It's a power plant that produces a whopping 185bhp and 138Nm of torque, although it's likely that those figures will change when the production model is revealed to reflect the touring focus of the new bike.
Other features on the prototype bike include a vast windshield and aluminium panniers, a nod to the covering big distances in comfort, although the sheer size of that windshield is likely to raise a few eyebrows.
Despite the adventurous-looking panniers, the SuperTouring 1190 looks like it's been designed to stick firmly to the tarmac, with cast wheels, a 17-inch front tyre, and a low-slung exhaust that won't want to see many river crossings.
And, so far, that's about all we know. Buell has kept its cards close to its chest with the SuperTouring 1190. It has promised that production will begin towards the end of 2022 and bikes will be available from early 2023, with prices starting at $21,995 (roughly £16,700).
So, what do you think of the new Buell? Let us know in the comments.
To find out more, head to Buell's website or watch a brief walkaround of the bike below.
View this post on Instagram
Stay up to date with the latest adventure biking news and stories
Want to get a weekly digest of adventure biking news, stories, routes, and much more delivered directly to your email inbox?
Sign up to the ABR Bulletin on the right of this page (or below if you're reading on your phone) to find out everything you need to know each week.