One of the most frustrating and dangerous parts of motorcycling is the countless car drivers that pull out on you, often mumbling the catchphrase "sorry mate, I didn't see you" when later questioned. Whether this is just a poor excuse conjured up to ease their conscience or not, there's absolutely no bad that can come from a motorcyclist making sure they're more visible on the road (unless, of course, you use your motorcycle for stalking and stakeouts). This is something that Vectolabs has identified, and the company is addressing the issue with its new VoloCAN Canbus Accessories Controller.
The product, which is currently compatible with, and has been extensively tested on, BMW R1200GS/GSA/RT LC and KTM 1290 Super Adventure R motorcycles, has been designed to help maximise visibility in normal riding, during braking, and when pulled off on the side of the road.
The way it does this is by synchronising your bike's auxiliary lights (which come included with the Canbus Accessories Controller), ensuring that they flash when you honk your horn or activate the flash to pass feature. The VoloCAN Canbus Accessories Controller will also make your auxiliary brake lights flash once per second when using the front or rear brake, and when using the hazard lights the device will instigate inverse flashing through your auxiliary lights to help make you stand out if you've broken down and are standing on the side of a road.
It'll also dim your auxiliary lights when your indicators are active to help make your turn signal more obvious.
As well as offering some potentially lifesaving functionality, the VoloCAN Canbus Accessories Controller also allows you to adjust the brightness of any auxiliary lights with a simple twist of your BMW's Wonder Wheel and control your heated jacket's output.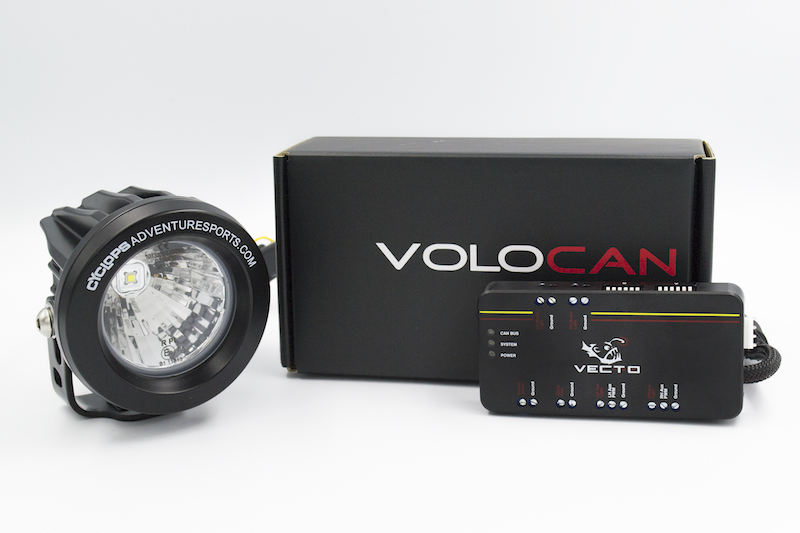 Vectolabs says the device is simple to use and install, and it simply connects to your bike's canbus connector. It requires no apps and is easily operated with handlebar controls.
Vectolabs has partnered up with Cyclops Adventure Sports in the US, though the company is currently on the search for European and South American partners to work with, and the VoloCAN already comes with E-mark, meaning that it's all ready for the European market.
The VoloCAN Canbus Accessories Controller starts at $149 (roughly £112) for the VoloCAN unit itself, to $404.95 (roughly £308) and for that you get the control box and everything you need to set it up, including a set of Cyclops auxiliary lights, which are so crucial to the VoloCAN experience. For more information on the Vectolabs VoloCAN Canbus Accessories Controller, head on over to the company's website, where you'll find a full list of features.