Rushmore Motorcycles Georgia never set out to become a favoured stop for long-distance bikers. But, thanks to a combination of geography and excellent service, the motorcycle garage in Tbilisi is now a hugely popular stopping off point for overland riders from around the globe.
Staffed by fully qualified and certified technicians, Rushmore Motorcycles began life in 2017 as a garage focused on offering high-quality servicing and repairs to local bikers.
However, owner Graham Hodge soon found a steady stream of long-distance riders arriving at his door. They needed their motorcycles serviced, brake pads replaced, new tyres fitted and mechanical faults diagnosed and fixed after riding thousands of miles across multiple countries.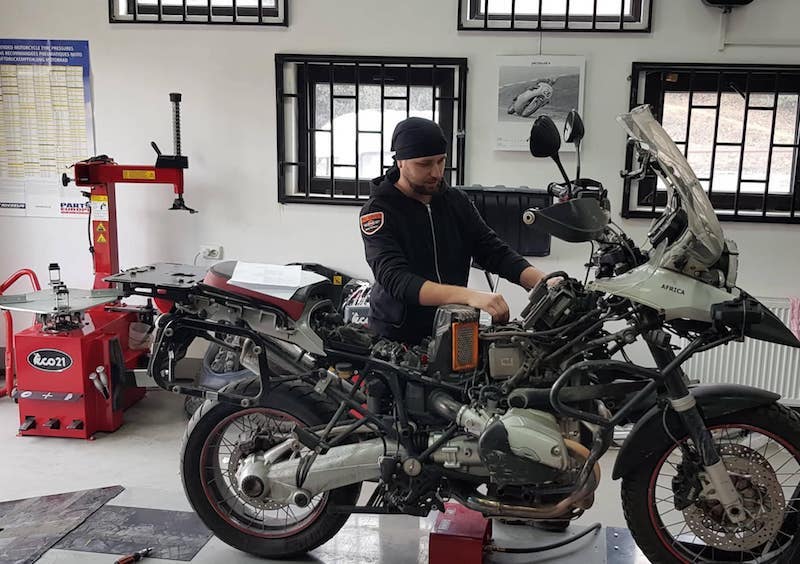 Getting her ready for the next leg of the journey.
The intersection between Europe and Asia
Word of mouth soon spread throughout the overlander community of an English-speaking garage, at the intersection between Europe and Asia, that could be trusted to provide high quality servicing and professional repairs on all types of motorcycles.
In fact, the wide variety of bikes that pass through the Rushmore Motorcycles' workshop means the garage stocks tyres and parts for servicing BMW, Triumph, Honda, Yamaha, Suzuki, Kawasaki and Harley Davidson motorcycles.
People riding other manufacturers' bikes simply need to contact Rushmore Motorcycles around 10 days ahead of their arrival and the team will ensure the parts and tyres are ready for the customer when they arrive.
We caught up with owner Graham to find out what it's like to be the garage of choice for so many long-distance bikers.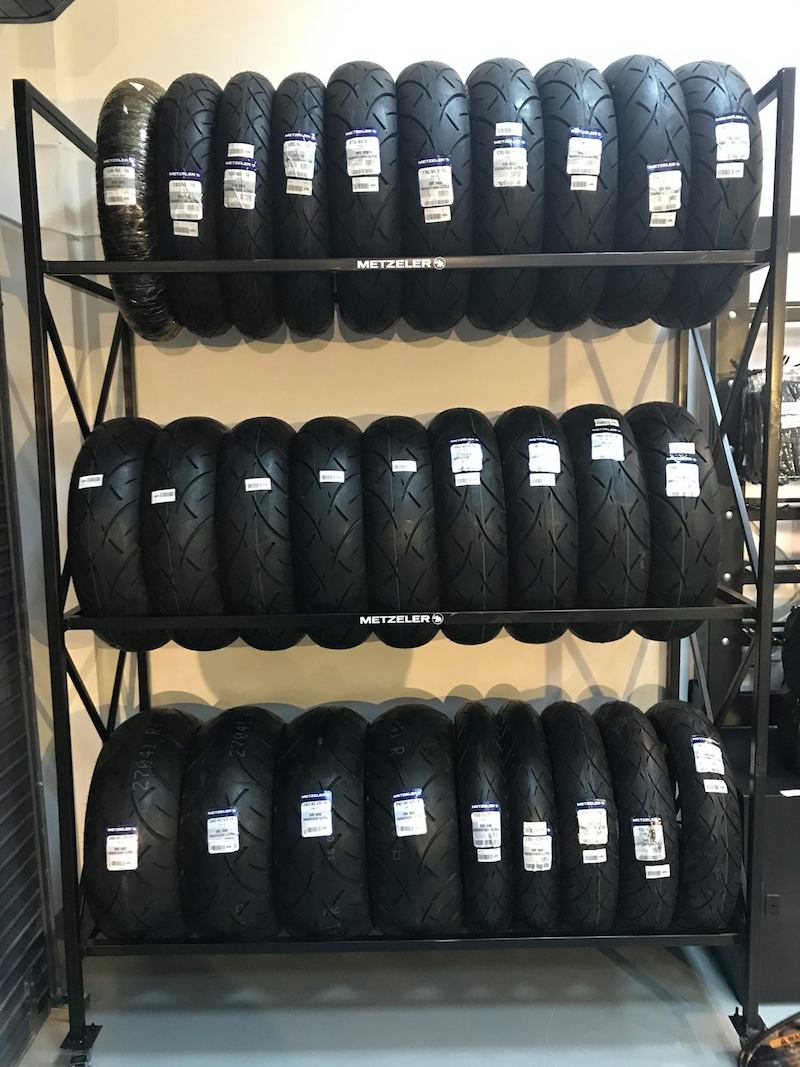 A small selection of the motorcycle tyres in stock.
Why do so many long-distance bikers ride through Georgia?
It is a very common route. If they are coming from Europe, we are the last stop before they head further east to get good quality parts, tyres, servicing, sprockets changed, all that kind of stuff. And, we're the first stop for those guys travelling from the East and need work on the bikes. For example, there are a lot of Australians this season riding to London from home.
What are the most common mechanical issues long-distance bikers arrive at Rushmore Motorcycles with?
Typically, most of them want an oil change, filter change, brake pads and a lot of them want new tyres as well. In some cases it's clutches that are the problem.
What sort of motorcycles do you commonly see? Is it mostly adventure bikes or is there a mix?
People are mostly on adventure bikes but not always. We get all sorts – Africa Twins, Transalps, BMW GSs. You name it, they all come here.  Just yesterday we had two guys from Sweden on Triumph Scrambler 900s. They wanted servicing and some repairs doing. They came east to west, heading home having ridden the Pamir Highway. Both lost an indicator and one lost his number plate.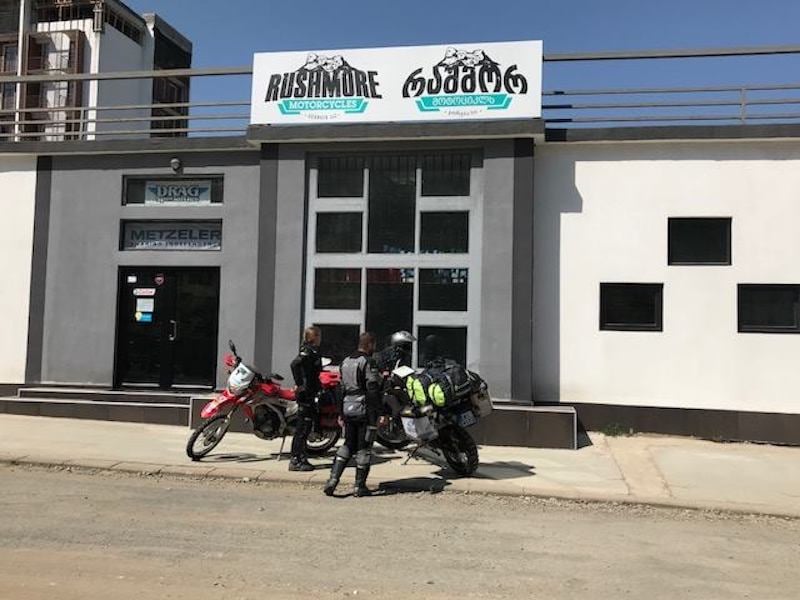 Two long distance bikers are ready to the hit the road after having new tyres fitted.
Where are the most popular destinations people are riding to?
I would say this season we've had maybe 50 guys heading across Mongolia and beyond. It's a mix of everything. Some are doing round-the-world trips, some are going half way, to Australia or New Zealand.
Some are going west to east, some are going east to west. Some guys have been travelling for 10 years, some guys it's their first times. It's a full range. And there are plenty of girls as well, including two girls recently riding Himalayans.
What mechanical advice would you give to people about to set off on a long-distance bike adventure?
For a lot of these guys it's their first time riding long distances. Lots of them are carrying too much weight, especially in their side panniers, which puts a lot of stress on the wheel bearings when cornering. That's something a lot of people don't realise. We've had cases where people have come here with broken hubs. So, pack lighter would be some good advice. Also, make sure your chain is correctly tensioned for the weight it's carrying.
 Would you recommend Georgia as a standalone motorcycle touring destination?
Absolutely, it's one of the most amazing countries. It's got the most beautiful scenery. The whole country is just full of incredible places for people to ride to. And it's easy to find roads to yourself. Come and enjoy Tbilisi for a day or two. Come and enjoy the wine and the great food and then go and explore the country.
Rushmore Motorcycles Georgia
To find out more, to get a quote, or to simply to speak to a member of Rushmore Motorcycles Georgia experienced team, visit the motorcycle garage's website.