In recent years, Chinese bikes have been seen as cheap and cheerful, designed to give bikers shopping on a limited budget the chance to own something brand-new. But times change, and the all-new Benelli 1200GT could be about to blow that stereotype out of the water.
The 1200GT is the Italian manufacturer's first big-capacity bike since it was bought by Chinese company Qingjiang in 2005. While we've been teased with the prospect of a big tourer from Benelli since late last year, the full reveal of the production spec model shows that the larger engine isn't all that's new and exciting on the GT, with plenty of rider aids and tech that'll have touring bikers drooling.
So, what's on offer on Benelli's new grand tourer, and could we see it on British roads in the near future?

First look: Benelli 1200GT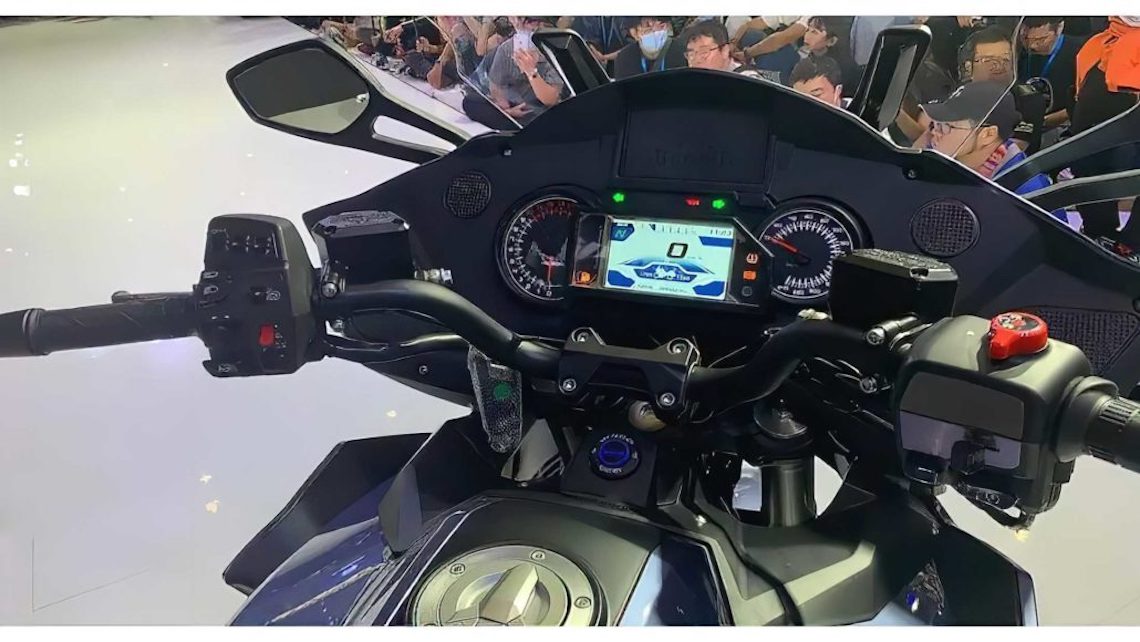 The Benelli 1200GT is powered by a 1209cc triple-cylinder engine, one of the largest capacity engines to come out of China in recent years. That motor produces 134bhp and 120Nm torque at 6,500rpm, which should be more than enough punch to support long-distance, two-up cruising across continents.
With long-distance touring in mind, it's a bit of a shame to see a chain in place of a maintenance-free shaft drive, although there are plenty more new features that promise to make up for it, such as the Brembo brakes with Bosch combined ABS, two reassuringly high-profile names in biking.
A set of cavernous-looking hard panniers and a top box offer plenty of storage for those two-wheeled trips away, while some other impressive high-end features include an electrically adjustable windscreen and wing mirrors, heated grips, and even keyless-ignition. And that's not all…
Tech, tech, and more tech!

Tucked behind the vast front fairing there's an impressive-looking dash, featuring a 15-inch TFT that displays a wealth of information, from tyres pressures through to an in-built SatNav. There's even an in-built audio system, a feature plucked from other high-end tourers on the market, to supply you with your favourite road-trip tunes on the road.
Interestingly there are also front and rear-facing cameras, although we're yet to see what these will be used for on the road.
It's a bike that marks a significant shift in Benelli's motorcycle output, indicating a move that could see the Italian brand producing larger, more powerful bikes, capable of going toe to toe with many of the popular bikes on the market right now.
Could we see the Benelli 1200GT in the UK?
While Chinese-built bikes are sometimes regarded with suspicion over here, we've spent time on the Italian brand's adventure bike, the TRK 502 X, and were seriously impressed by the experience. If the Benelli 1200GT does eventually land in the UK, we'll be first to give it a go. Speaking of which, there's no word yet on when or even if it will.
But, with a listed price of 99,800 Yuan, a direct conversion of just over £11,000, we're sure plenty of riders will be keeping their fingers crossed that the budget-friendly grand tourer will arrive on these shores very soon.