Many of you will know that sinking feeling when you try and start your motorbike but the battery is flat. I've been in this position more times than I'd care to admit, usually because I've accidentally left my aftermarket heated grips switched on overnight.
A dead battery is an inconvenience at home but it can prove a nightmare abroad, especially if you're exploring a remote area and you can't get your bike started. This was one of the reasons I was so intrigued by the NOCO Genius Boost jump starter when I first came across it.
Compact and lightweight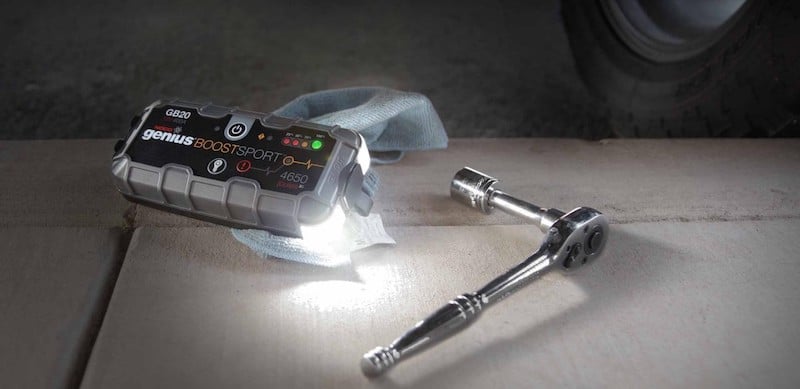 The first thing that impressed me was how small and portable it is. Whether I'm commuting to work or touring in Europe, space is often tight on my adventure bike. However, the Genius Boost range of jump starters are so small, they can easily be slipped into a pannier, my rucksack or even the map pouch at the back of my jacket.
The Genius Boost Sport model (400A / 4,650 joules) measures just 17cm by 7.8cm and weighs 1.2kg. It can jump start a battery up to 20 times before the unit needs recharging. Simply connect the metal clamps provided to your flat battery, turn the Genius Boost on and start your bike. The clamps have been designed with spark-proof connections and the charger features reverse polarity protection to ensure safe use.
It is also easy to charge. Simply connect it to a power supply using the built-in USB port. Once full, the battery holds that charge for up to a year if it isn't used.
USB charging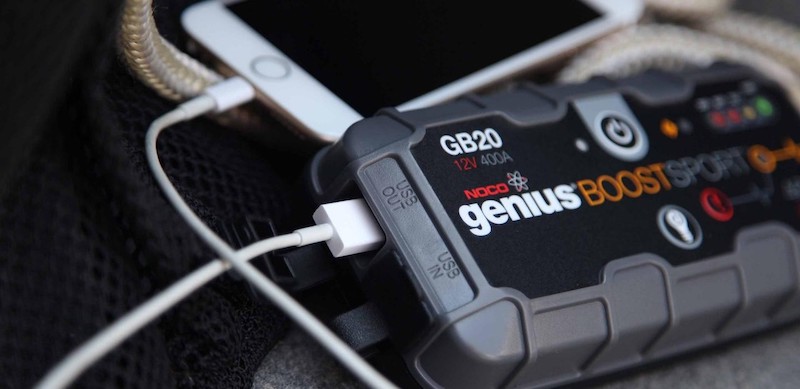 What really won me over about the NOCO Genius Boost is its versatility. As well as being able to jump start my bike, it also has a USB port so I can use it to charge my phone, tablet, SatNav, or GoPro on the move. This makes my usual charging brick redundant, saving more space and weight on the bike.
The more powerful Genius Boost models feature a 12V power supply which can power an air pump to inflate a tyre. This negates the need for you to connect a pump to your motorcycle battery, saving the time and hassle of removing your bike seat and unscrewing the battery connections.
Handy for bikers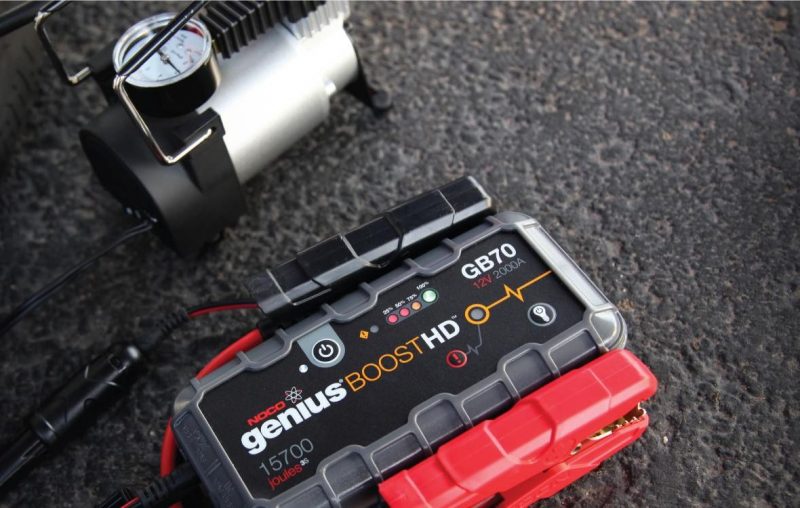 Despite making battery chargers for all types of vehicle, NOCO seems to have given a lot of thought to the needs of bikers. The fact the Genius Boost can charge electrical devices, power an air pump and jump start a bike makes it a valuable addition to any bikers tool kit. The unit also features a built-in torchlight, handy if you're trying to bring your bike back to life on a dark night.
The compact and lightweight design of the Genius Boost Sport model in particular makes it something I'd be happy to take out of the garage and carry with me. I'll be grateful to it next time I forget to turn my heated grips off overnight. It's certain to save a lot of panting and heavy breathing pushing my adventure bike up a hill in a bid to bump start the engine on the way back down.
NOCO produces a range of Genius Boost chargers with various power outputs to suit motorbikes, cars, trucks and commercial use. Find out more about the range here.