Price: £346.37
T‌he Nexx X.D1 is the helmet that Touratech has based the Aventuro on, and while reviews of each helmet will mostly read the same, there are a few differences between the two, notably the inclusion of an internal sun visor on the Nexx X.D1, a different shell material and a few different colour schemes.
The X.D1 has a multi-axial fibreglass shell with 3D organic fibres, special aramid fibres and carbon reinforcement, making it a protective piece of kit and passing all the relevant safety requirements.
The Nexx X.D1 is a popular helmet amongst the adventure riding community. It has great, aggressive styling that compliments the world traveller look that dual sport riders aim for, and on top of that it performs well.
The peak is well implemented, and while it's not adjustable, it comes with an optional extendable tip which works great. I found the peak to be good at lower speeds, but as you move to motorway cruising you may find yourself pulling over to remove it.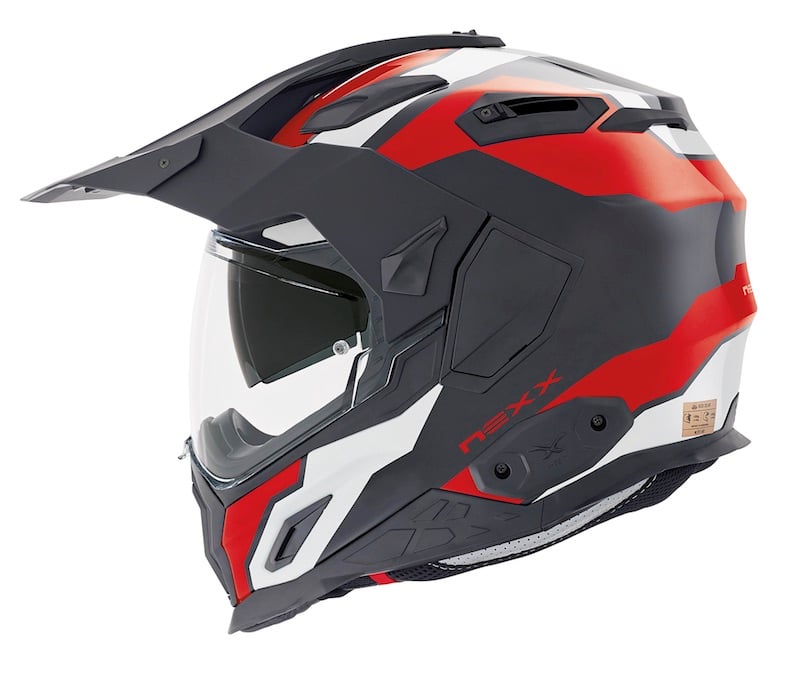 Ventilation is provided via a large chin vent (which can be swapped for a larger mesh cover for more airflow), two brow vents and an exhaust vent. It's not the best set up, but it's effective in most situations, even more so if you ditch the visor in favour of goggles.
The visor provides a great field of vision, though it falls just short of the superb Shoei Hornet ADV, and the three detents allow you to ride with it half open for extra ventilation. The internal sun visor is well designed, with the slider being easy to operate. In terms of comfort, the inner padding is lovely and soft.
The Nexx X.D1 Baja comes well specced for the price, with a host of goodies included in the box. You get a bag full of add-ons, such as various helmet cam mounting points and a Pinlock insert as standard, which is definitely needed as without it the visor mists up almost instantly.
Nexx X.D1 Baja verdict
The Nexx X.D1 is a good adventure styled helmet. It performs well in most conditions that an adventure rider would find them in, and it really looks the part. The field of vision provided from the visor allows you almost unrestricted views of the road ahead of you and the scenery around you, and it's very comfortable to boot.