What ingredients do you need to make the perfect adventure biking trip? I can think of plenty, but if a GS-riding genie were to grant me three wishes to make it so, my choices would be easy.
I'd want short stretches of iconic blacktop amid awe-inspiring scenery. Then throw in a myriad of endless gravel trails and dirt tracks climbing mountainsides for when I want to turn off the tarmac. And finally, the cherry on top, beautiful stops at the end of the day to pop those muddy boots off and relax in.
Sadly, I'm yet to find a genie in my GS tank, but I've done one better and got in touch with the team at Mountain View Motorcycle Adventures (MVMA). They hail from British Columbia, Canada, and they've delivered all three of my wishes, and then some, in a handful of adventure biking trips exploring their corner of North America.
Adventure biking paradise
The western-most province of Canada, British Columbia is sandwiched between the Pacific Ocean and the Rocky Mountains, guaranteeing the perfect blend of coastal tarmac roads and staggering mountain passes and trails. Covering over 350,000 square miles of land, the province is the most mountainous in all of Canada.
And if there's one thing we've learned after ten years of publishing Adventure Bike Rider magazine, it's that nothing goes together better than mountains and motorcycles.
Don't take my word for it though. Before we look at what makes motorcycling in British Columbia so special, check out this fantastic video that gives you a taste of what it's like riding in the area.
So, what's so special about riding in British Columbia?
Epic blacktop
Adventure biking is as much about exploring the world on fantastic tarmac as it is about carving along trails. With their comfortable seating positions and a powerful engines, those adventure bikes of ours make formidable tourers, and if touring is your thing, British Columbia offers up one of the most iconic roads in the world.
Enter the Sea-to-Sky Highway. It does what it says on the tin, and so much more. Starting at the edge of the Pacific Ocean, you're soon climbing skywards into the mountains, hemmed in by steep drops and glistening, snow-capped peaks. It's a superb ride and, at only 100 miles long, it'll allow you to shake off any of that morning tiredness before you turn off in search of the rougher stuff…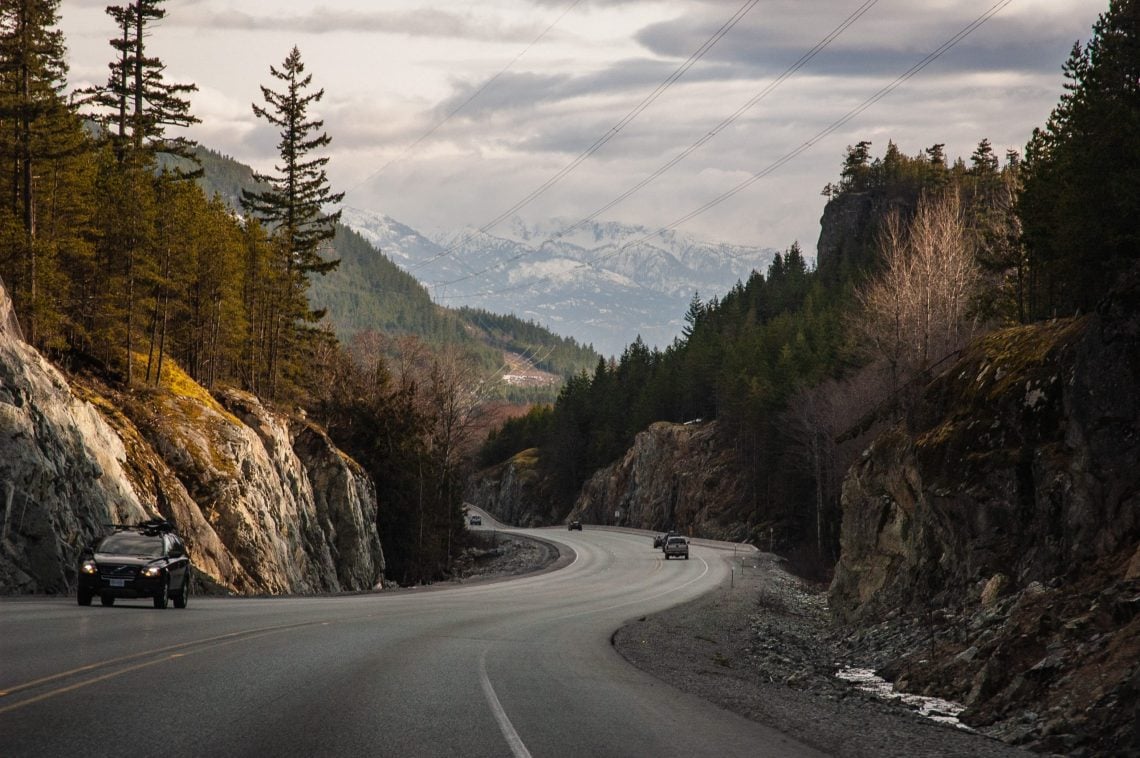 Endless trails
It may be hard to wrench yourself away from British Columbia's beautiful roads, but they'll soon be forgotten as you carve through endless miles of gravel trails, logging roads and muddy routes. In fact, in 2015, the Forest Practices Board revealed that a stunning 92% of the 450,000 miles of roads in British Columbia were unpaved.
So, whether you're a knobbly-novice or a hardcore off-roader, you'll be bound to find something right up your street. The only downside? You'll be so focussed on the riding you may miss the incredible views, which brings us to…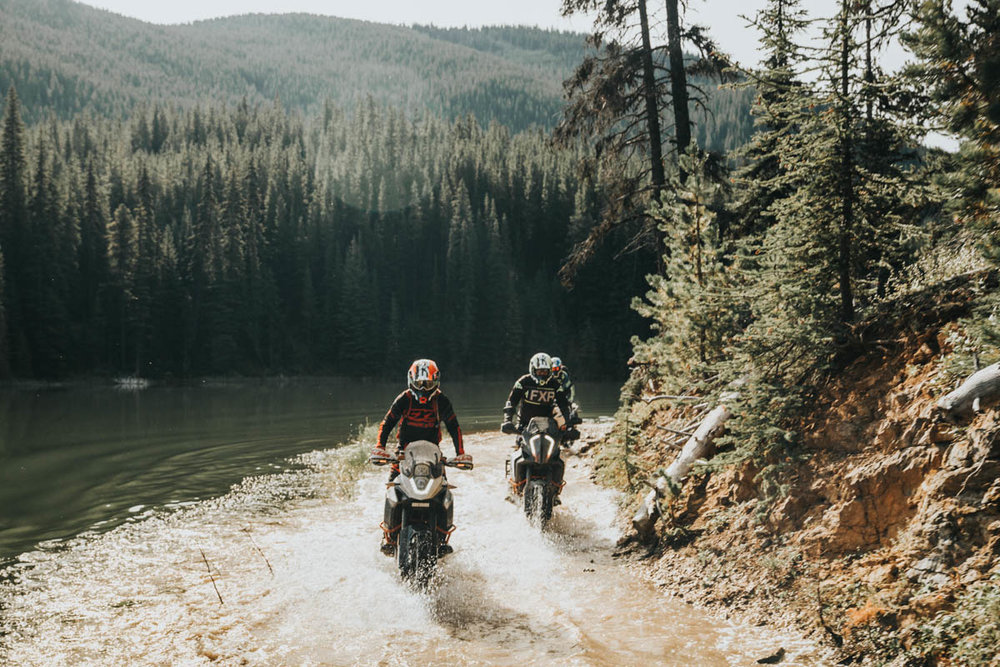 Scenic pitstops
All that riding sounds pretty exhausting, so you're going to want somewhere to catch your breath while you're out of the saddle. Luckily, British Columbia is home to some unforgettable sights and experiences off the bike, ensuring the adventure doesn't stop when your keys leave your ignition.
Overnight stays in mountain-side lodges, grizzly bear viewings, sea-plane and helicopter rides –  there are more than enough activities to fill your time away from the trails. For the adrenaline junkies out there (if by some miracle the riding isn't enough), you also have Banff in the neighbouring province of Alberta which is one of the country's most famous tourist destinations, where you can try your hand at anything from hiking to scrambling to skiing.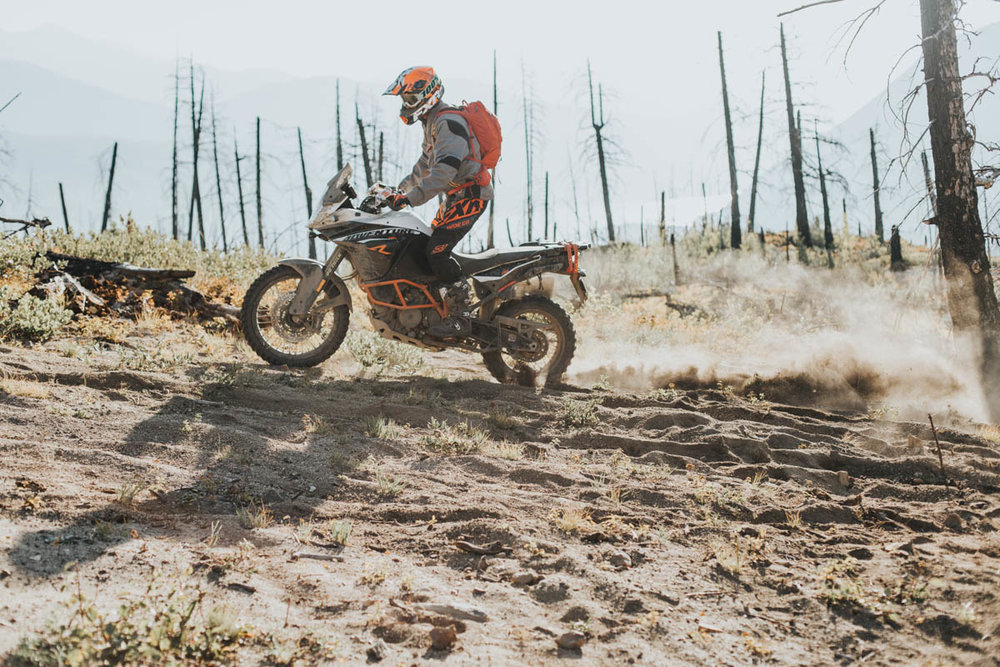 Mountain View Motorcycle Adventures
To get yourself on two wheels motorcycling in British Columbia, contact the team at Mountain View Motorcycle Adventures. They offer a range of tours, from short breaks of three days, to almost two weeks or riding. They can accommodate a range of skill-levels and experience on two wheels.