In an ideal world, all adventure bikes would come fully kitted out with protective bars, plates and guards cosseting every delicate part of your pride and joy.
The reality is manufacturers tend to scrimp on motorcycle protection, consigning it to the expensive accessories catalogue to tempt you to add a few extra pounds to that monthly bike repayment.
Some of the more off-road focused models like the Honda Africa Twin Adventure Sports and the BMW R 1250 GS Adventure do come with crash bars, skid plates and handguards, but these are usually the most expensive versions of a bike and may well be beyond many of our budgets.
Luckily for us there is an aftermarket brimming with accessories designed with the sole intention of keeping your adventure bike as protected as possible on and off road.
With this in mind, we've teamed up with motorcycle protection experts R&G to guide you through some of the key ways to keep your bike protected.
Crash bars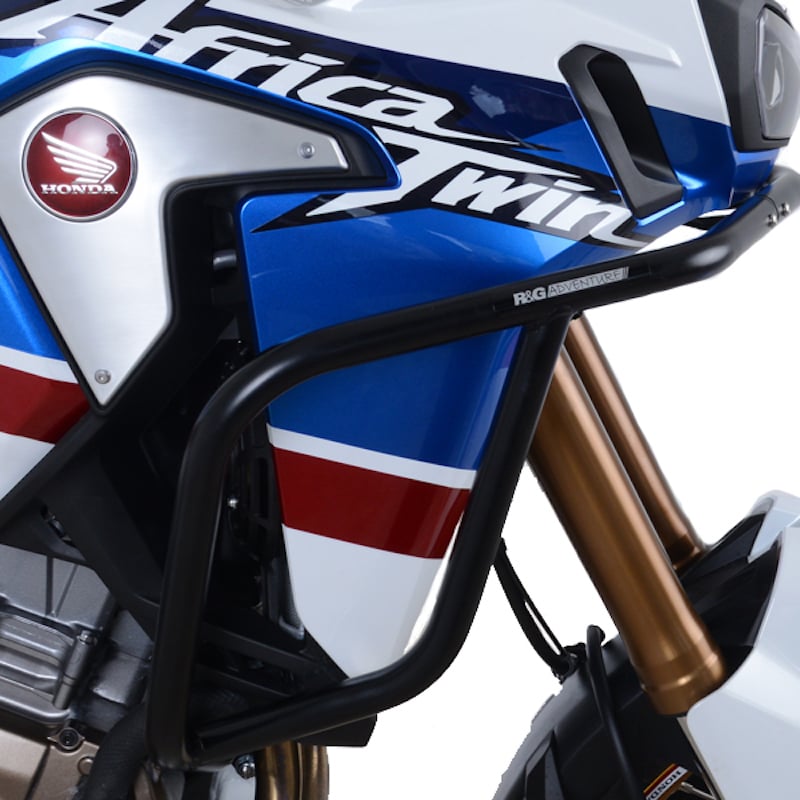 If you're planning to ride off road, it make sense to fit a good set of crash bars to your adventure bike. They should wrap around the exposed body parts of your motorcycle providing a protective shield. Crash bars will save vulnerable areas from dents and scratches if you drop your bike and also provide protection in the event of a crash, limiting the damage to your motorcycle and wallet.
The bonus of crash bars like R&G's 25.4mm gauge powder coated steel Adventure Bars is they also make your bike look rugged and adventurous, even if you're just popping to the shops.
Engine bars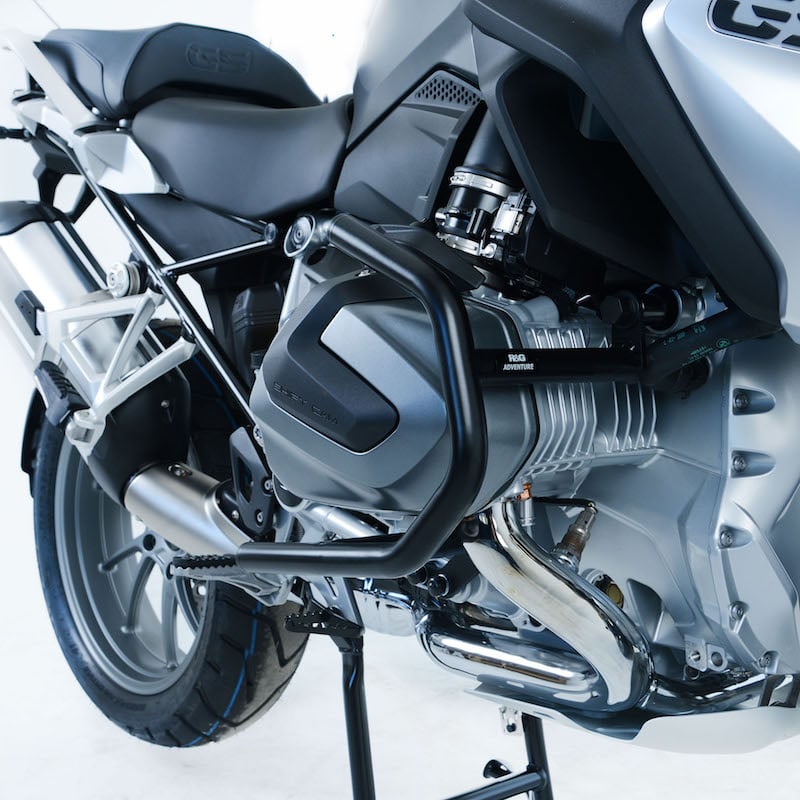 Engine bars, also known as lower crash bars, should wrap around your engine protecting vulnerable areas. Most noticeably these can be seen on the BMW R 1200 and 1250 GS Adventure bikes whose cylinder heads stick out horizontally each side of the motorcycle. This helps keep weight low down but leaves the engine vulnerable to damage. It's a brave rider who takes their new GS off-road without engine bars.
Bash plate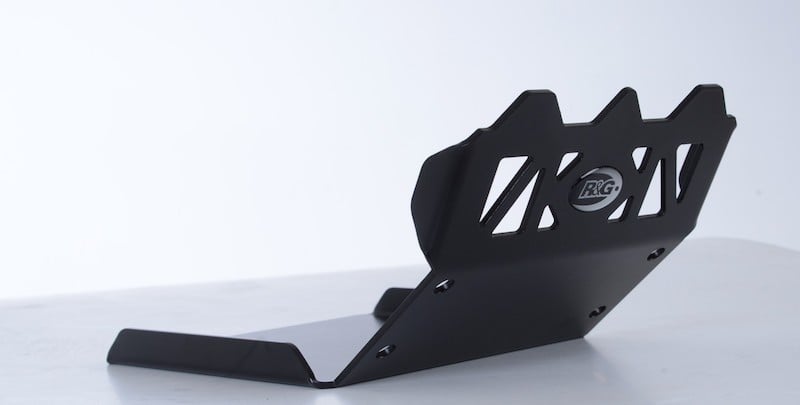 A sturdy bash plate, also known as a skid plate, will protect the underside of your adventure bike from rocks and road debris. Some bikes do come fitted with bash plates from new but they can be flimsy and chances are they won't stand up to the rigours of off-road riding. You may want to upgrade to something sturdier like R&G's range of bash plates made from 3mm aluminium.
Sliders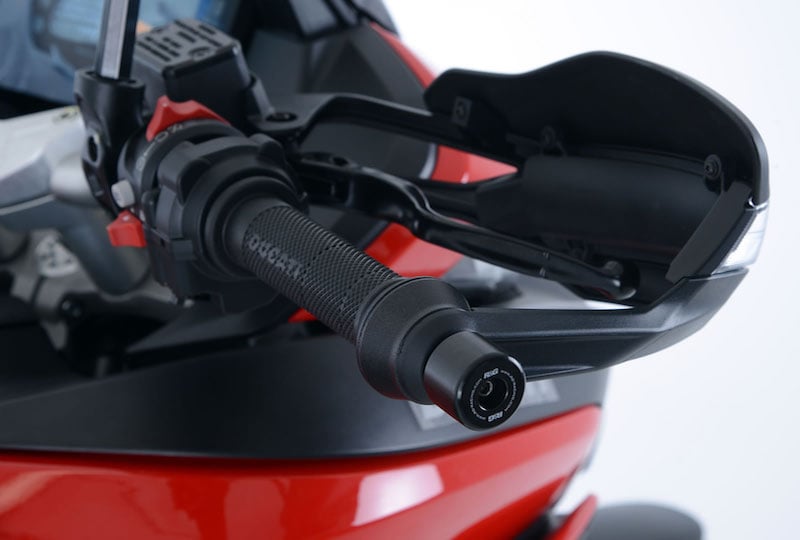 Sliders, like bars, will protect your bike in the event you drop it by providing a contact point with the ground that isn't your motorcycle. You can buy them to fit on various parts of your bike including the engine, bar ends, forks and shaft.
They are more commonly associated with street bikes because they are designed to protect your motorcycle as it slides along the ground, which is more likely to happen during an accident on smooth Tarmac rather than a lumpy green lane. However, as we all know, adventure bikes are also superb on the road so it may be worth the investment.
Handguards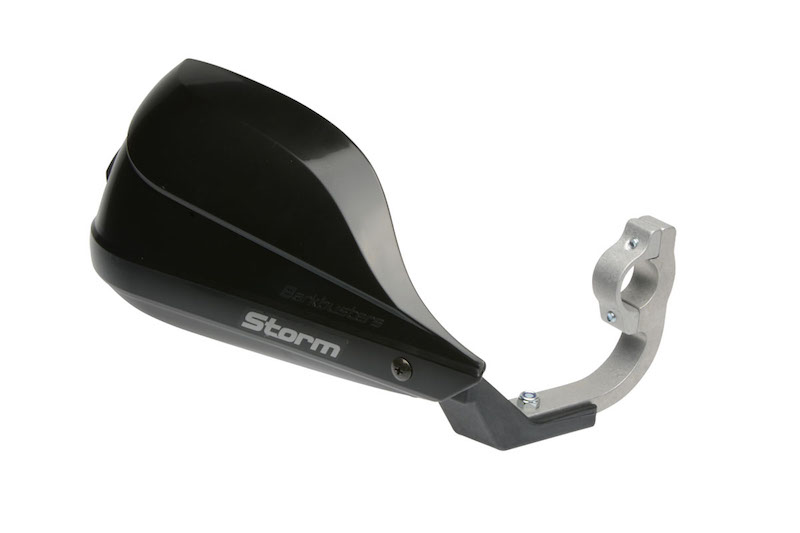 A good set of handguards should perform a dual role. They will keep wind and debris off your hands when you ride and also protect your hands and levers when you fall. Unfortunately, most handguards that come as standard on new bikes are plastic and will break easily if you drop or crash your bike.
If you're planning to ride off-road, we'd recommend a set of reinforced aluminium handguards like Barkbusters to keep your hands and bike protected.
Radiator guard

Radiators are in a vulnerable position on a motorbike and any damage could well put an end to your riding for the day and result in an expensive repair. A guard will protect your radiator from flying debris, keeping you riding as well as protecting your wallet.
Headlight shield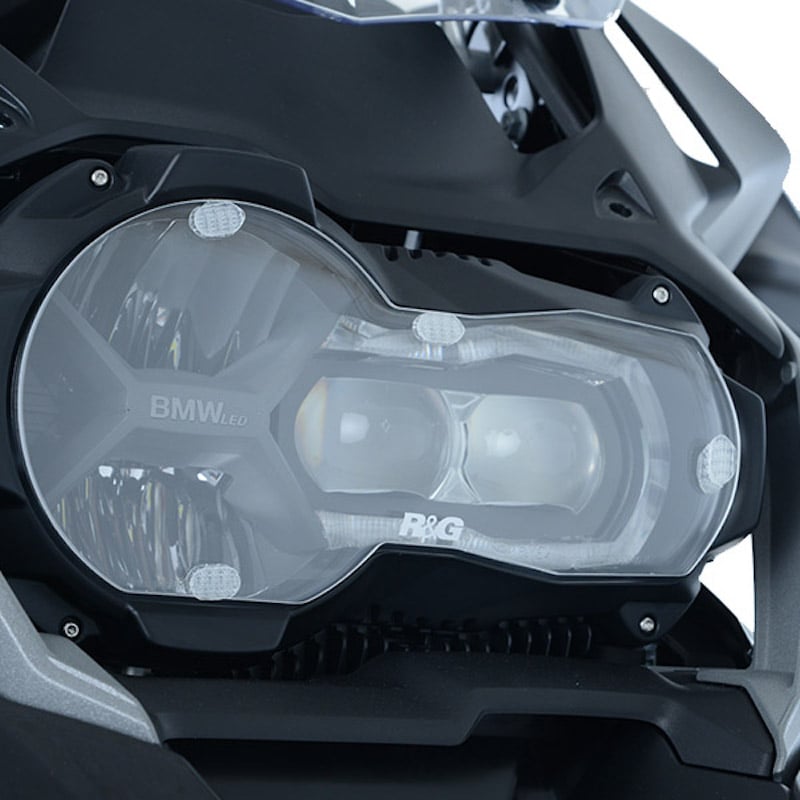 If you're hitting the gravel trails then your headlight is on the front line, particularly if you're following a friend who's kicking up a little too much dirt and dust. A headlight shield will protect this vulnerable area and make sure you can see where you're going after dark on the way home from the trails.
Shocktube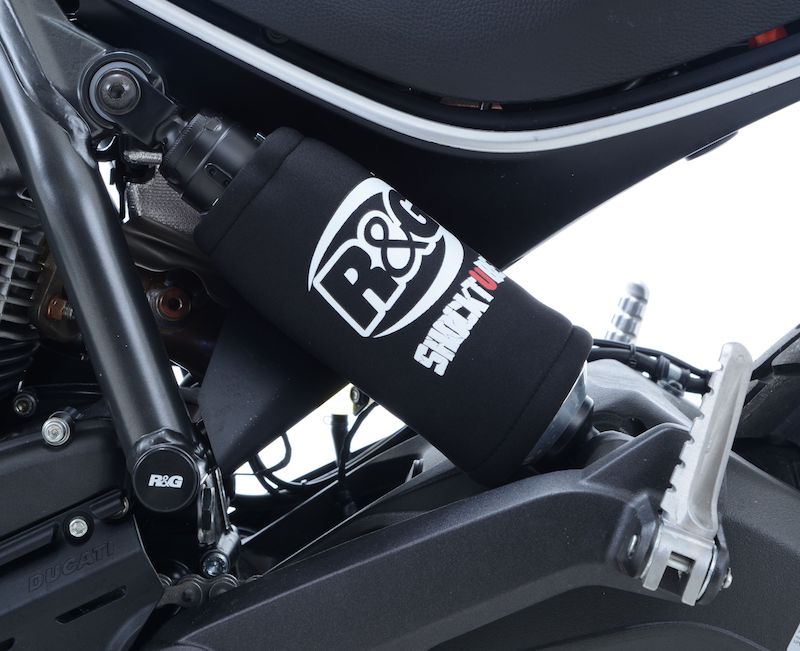 A shocktube will protect your shock from dust, dirt, stone chippings, water spray and road salt which can cause damage if it builds up over time.
Dashboard screen protector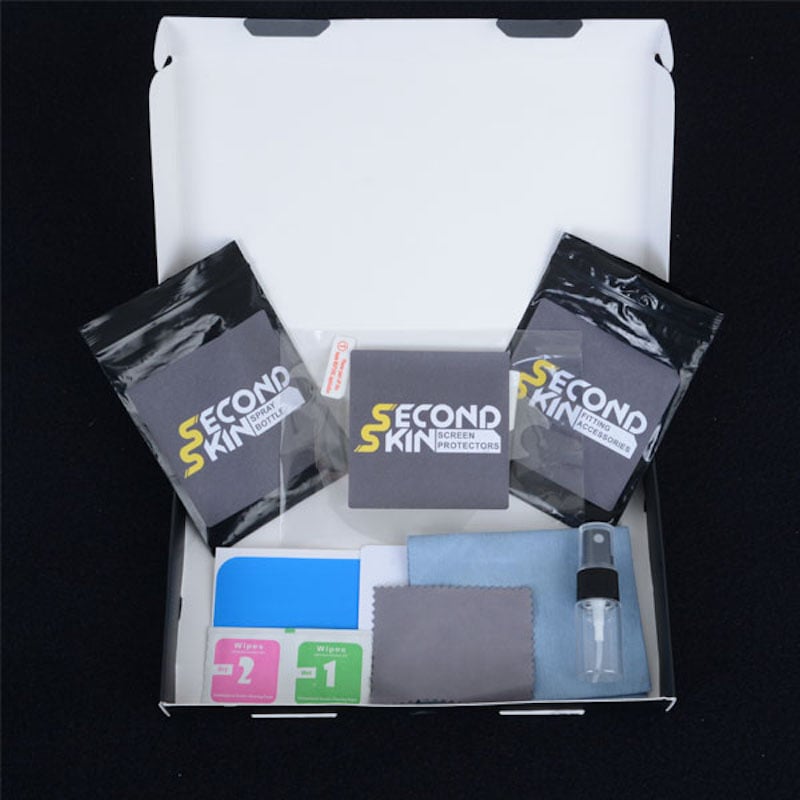 Last year, R&G introduced its dashboard screen protector kit designed to protect your motorbike dash from unwanted scratches and marks, ensuring crystal clear clarity. While your dash screen may seem safely tucked away from flying debris, it can still be vulnerable to damage and there is nothing more annoying than a big scratch catching your eye on your shiny new TFT display.
R&G
R&G is well known in motorcycle racing paddocks around the world, but the Hampshire-based firm is also passionate about providing the products adventure bikers need to protect their machines. Every product R&G offers has been specifically designed and measured to fit individual models of motorcycle to ensure it performs to the highest level.
Andy Proctor, R&G General Manager, said: "We want to give motorcyclists peace of mind when they're out exploring so they know their bike is protected no matter what. We're all motorcyclists here, so we're always looking at ways to help improve our riding experience."