Price: £194.99
www.formaboots.com
The Forma Adventure Boot has certainly caused a stir over the past few years, with many riders swearing by them and their affordable price tag for all-round quality.
Indeed, you just need to look at them to see that they're a beautifully designed pair of boots, with their oil-tanned brown leather offering a gorgeous and adventurous aesthetic.
And the boots' overlanding credentials don't stop there. With a fully waterproof Drytex membrane included, your feet will stay dry in harsh conditions, and the sole offers a great compromise of on-road performance and off-road traction. I'd be more than happy to wear these on most green lanes, where grip is concerned.
The sole unit offers enough stiffness in the arch of the foot to make standing on the pegs for prolonged periods comfortable, though the forefoot and heel areas are slightly soft which adds to all-day comfort.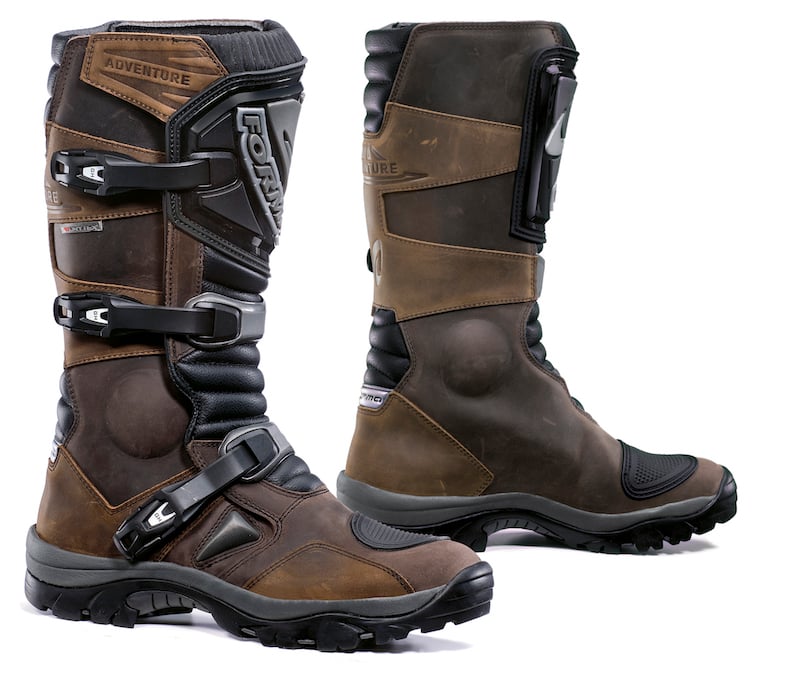 In terms of protection, the Forma Adventure boots perform OK, but not great. You get ankle inserts and a shin guard, though these are flimsy and they won't be of much help if you drop your bike on your leg.
The heel cup and toe box are similarly soft, which adds to comfort, but detracts from the overall foot protection on offer.
>>>Related: 7 of the best adventure motorcycle boots on the market
When it comes to stability, the boot allows for a fair amount of lateral rotation and flexing at the ankle which, again, means they're super comfortable out of the box, but for hard off-roading I'd want something a bit stiffer.
Be that as it may, our usual gear tester, Mike Beddows, has owned a pair for a few years, and he's got nothing but praise for them and they've handled everything he's thrown at them.
Conclusion: The Forma Adventure boots area perfect for those wanting good looking, adventure-styled boots with great on-road and adequate off-road performance.