The pain of having a motorcycle stolen is all too real for many of us. As well as the financial loss, the hassle and the inconvenience involved in dealing with the police and insurance companies, there is also the emotional hit we take at having our pride and joy snatched away from us by a thief.
This can be even worse for the adventure biker abroad who not only faces the loss of their motorcycle, but also the end of their trip.
We do what we can to protect our bikes by attaching disc locks, chains and alarms, but the reality is physical security measures probably won't stop a determined thief.
However, there is a weapon being deployed in the fight against bike crime that is proving successful in thwarting thieves and in reuniting riders with their stolen bikes in record time. That weapon is the motorcycle tracker.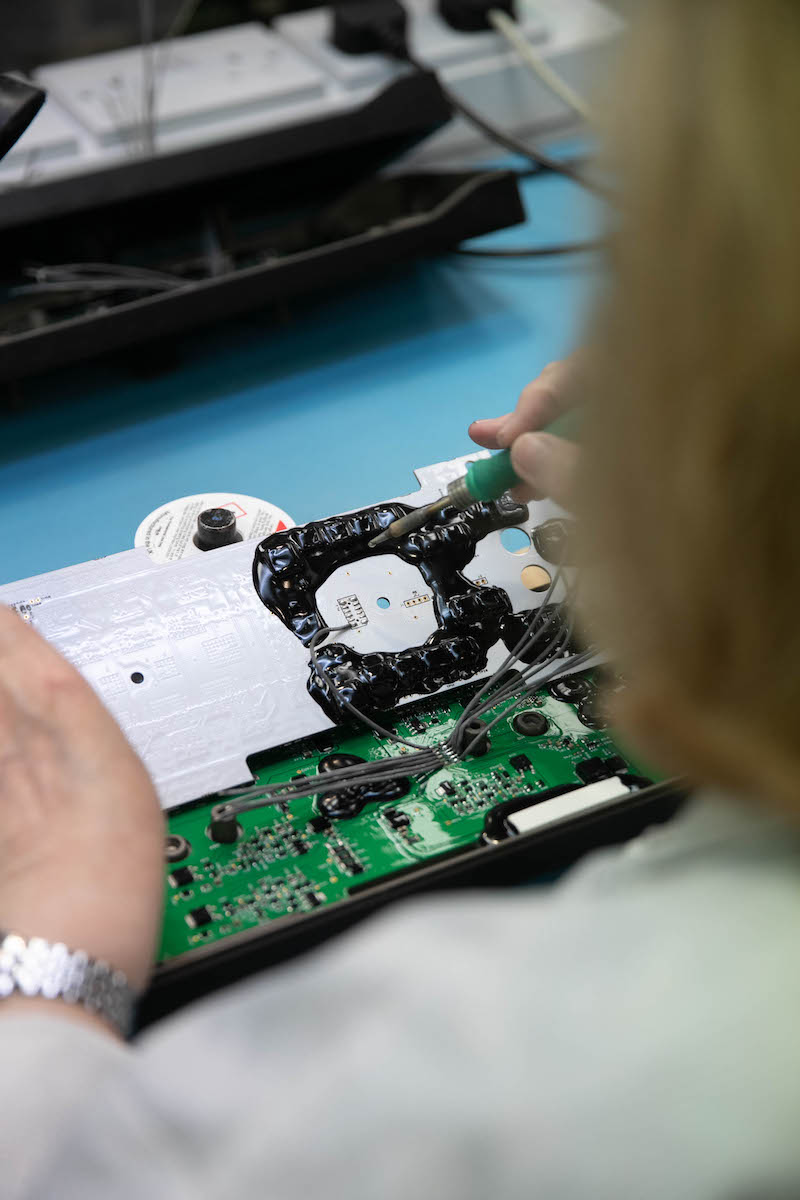 Manufacturing a Datatool TrackKING Adventure
90% vehicle recovery rate
ABR was invited to the headquarters of the UK's leading tracker manufacturer Datatool, located just south of Preston, to find out how this technology works and why it is proving so effective that the company can boast a 90% vehicle recovery rate.
We were joined by a team from Honda which has joined the fight against bike crime by offering a free Datatool tracker, called the TrakKING Adventure, with every new motorbike sold by the Japanese manufacturer, as well as offering a discount on trackers for buyers of used Hondas from dealerships.
The technology uses a collection of satellites circling Earth to pinpoint the location of a tracker attached to your motorcycle. Back at Datatool headquarters, a dedicated team man a monitoring room 24 hours a day, seven days a week, 365 days a year.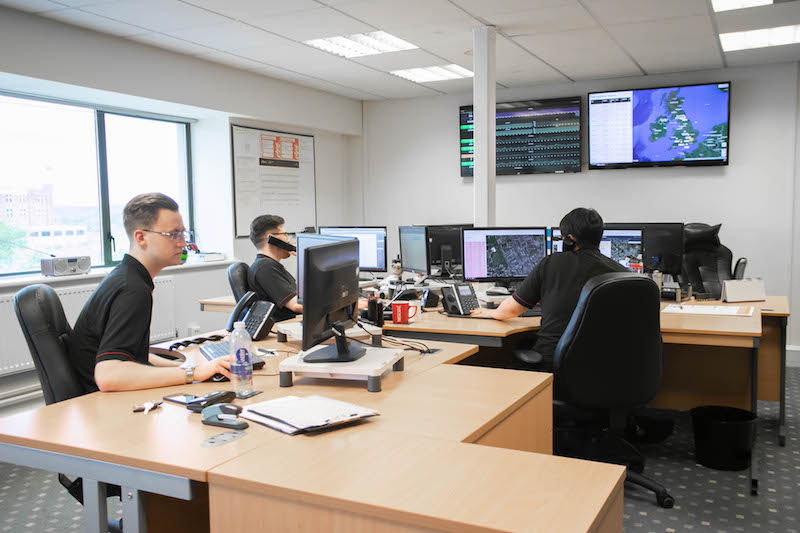 Datatool's monitoring room.
Full alert
If your bike is moved without the key being in the ignition, the tracker will sense movement and immediately send you a text message. These alerts sometimes turn out to be a false alarm if, for example, you were to move your bike around a garage and had forgotten about the tracker.
However, if your motorcycle was to then move outside a small predefined area, known as a 'geofence', without the ignition on, the TrackKING Adventure triggers a full alert and informs Datatool's monitoring room operatives. They then contact you immediately so the police can be called.
The success of this system became all too clear when I looked up at a large screen displaying a Google satellite map on the wall of Datatool's monitoring room. On the map was a cluster of markers which I was told represented 'pings' from a motorcycle's tracker. It turned out I was watching live as police hunted for a BMW R 1200 GS Adventure in East London which had been stolen less than an hour ago.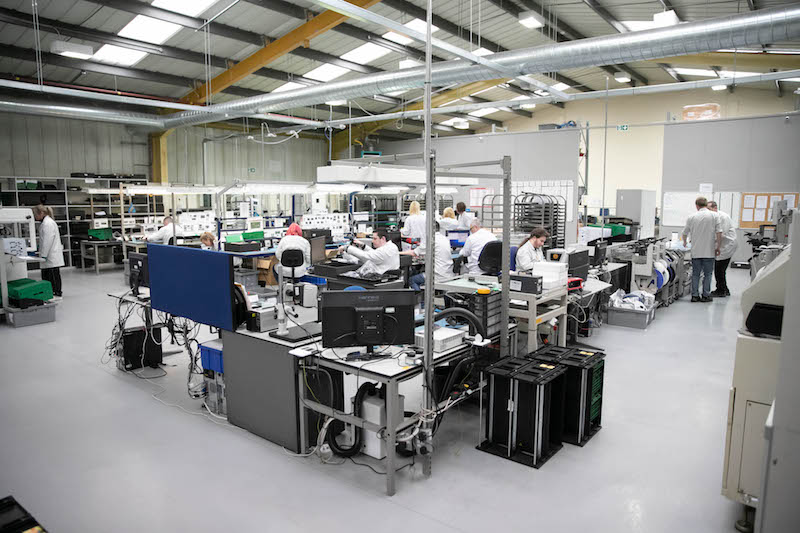 Datatool's factory.
Tracked to a warehouse
On screen were details of the adventure bike's make, model, colour and registration, along with whether the ignition and engine were switched on or off, and the battery voltage. It also displayed which direction the bike was pointing.
Datatool had tracked the stolen bike across London to what looked like a warehouse in Barking. They were certain it had been hidden inside and the monitoring room team were directing police on foot to its location. The thieves had struck at around 12.20pm and the bike was found by 1.47pm, less than an hour and a half from the time it was stolen.
By paying a £9.95 per month subscription to Datatool, the owner of the GS would be reunited with a bike that in all likelihood would otherwise not have been seen again.
I was also told about the theft of a Honda PCX125 scooter earlier that week. It had been pinched at 6:57pm and was recovered at 7:26pm. It seems it is not unusual for a bike to be recovered in less than an hour.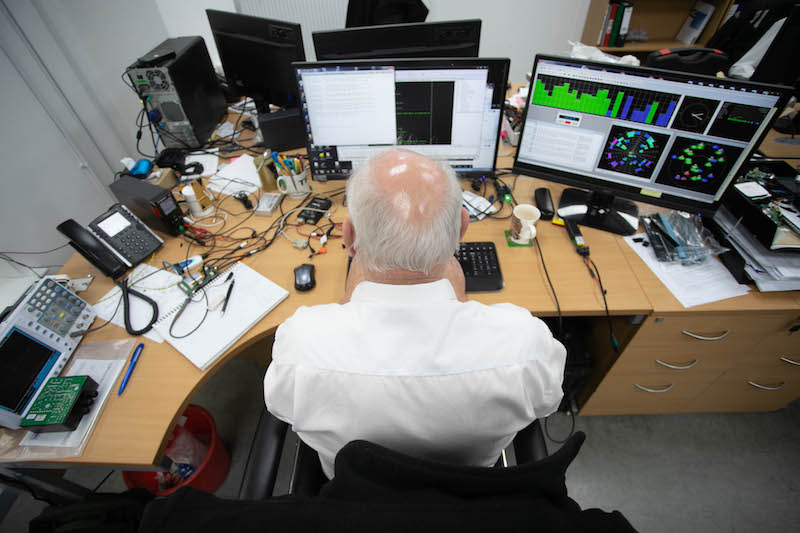 Research and development including available satellites appearing on the right screen.
Track abroad
While the crime fighting benefits of motorcycle trackers here in the UK are clear, there are other features well suited to adventure bike riders. This includes the fact the Datatool TrackKING Adventure works abroad, predominantly in Europe, so anyone heading off on their summer tours can protect their bikes against theft.
Dave Plummer, Head of Motorcycle Division at Datatool, explained more about the benefits of motorcycle tracking when riding abroad.
He said: "It will record you journey history, speed, location and heading every 15 seconds. This is uploaded to the cloud every two minutes so you have a permanent record of where you've been. So, where you found that fantastic little trail down the back of Corsica, you've got a record of it.
"You've got the theft protection, so chances are if your bike gets stolen, you're going to get it back and continue your trip. We'll contact the customer first, get the customer to put us in touch with the local authorities and we'll liaise with them. We've also got the option of translation service, so if there is a language barrier, we can get a translator on the phone to manage the communication for them.
"You've also got crash detection, so if you're riding on your own, you've got a notification going out to a third party that something has happened."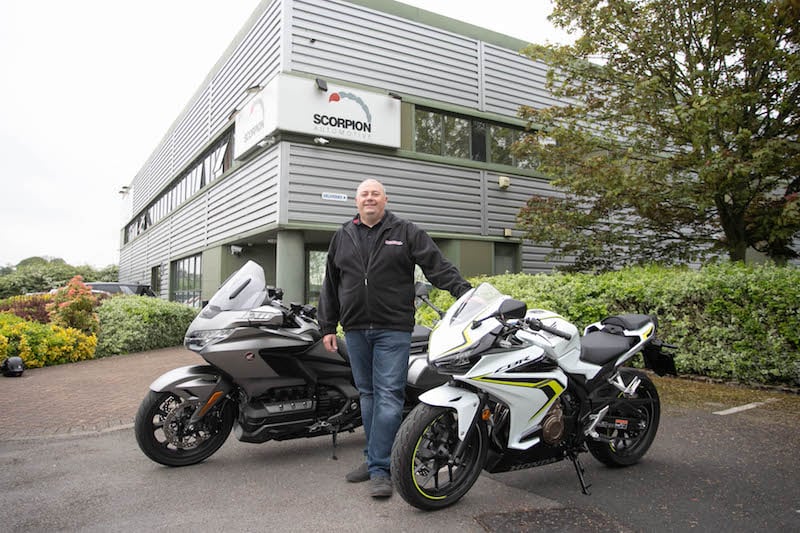 Dave Plummer, Datatool's Head of Motorcycle Division.
Never forget where you parked
Dave added: "The app also offers you directions to your parked location so you can just tap on the app and it will give you directions to where your bike is parked. If you've had a nice walk around for an afternoon and forgotten where you've parked, you can get directions back to your bike."
A criticism sometimes made against motorcycle trackers is the fact they draw power from a bike's battery. This is something Datatool is well aware of and has invested time and resource into research and development to ensure its trackers draw 'virtually zero' current from a bike when the ignition is switched off. The internal battery on a tracker will last around 60 days before it needs to begin drawing power from a motorcycle's battery, if don't run your motorcycle engine in that time.
Datatool's TrakKING Adventure retails for £229 plus the cost of installation which would typically take the price to £349. A monitoring subscription then needs to be paid which costs at £9.95 per month or £109 annually.