Armr Moto has several designs of textile jackets on offer ranging from an extremely wallet friendly £79, to a top-of-the-range £180. The Armr Moto Kumaji model reviewed here is towards the top end of the company's price scale (the brand's third most expensive model) at £149.99.
This is an extremely comfortable jacket to wear and, when tested in light to medium rain, it did not suffer from any leakage at all. The Kumaji is available in two colourways: black with fluorescent yellow arms, or just black.
Our sample came with the yellow arms, and in poor conditions it really stood out. In fact, it was commented that I looked like a police rider, so if you want to make sure people see you when you're off riding in bad weather then this jacket won't let you down.
Armr's confidence in the Kumaji jacket is reassuring, and they offer a 'no quibble one-year guarantee to either replace or refund the purchase' if you're not happy with it. With a promise like this it is hard not to recommend you trying it out to see if it's the jacket for you.
With that said, it soon became apparent that the lack of any form of ventilation was a major downside. During a trail ride I quickly got very hot and uncomfortable and sweat soon drenched the inner liner of the jacket. For the price I would really like to see some vents included.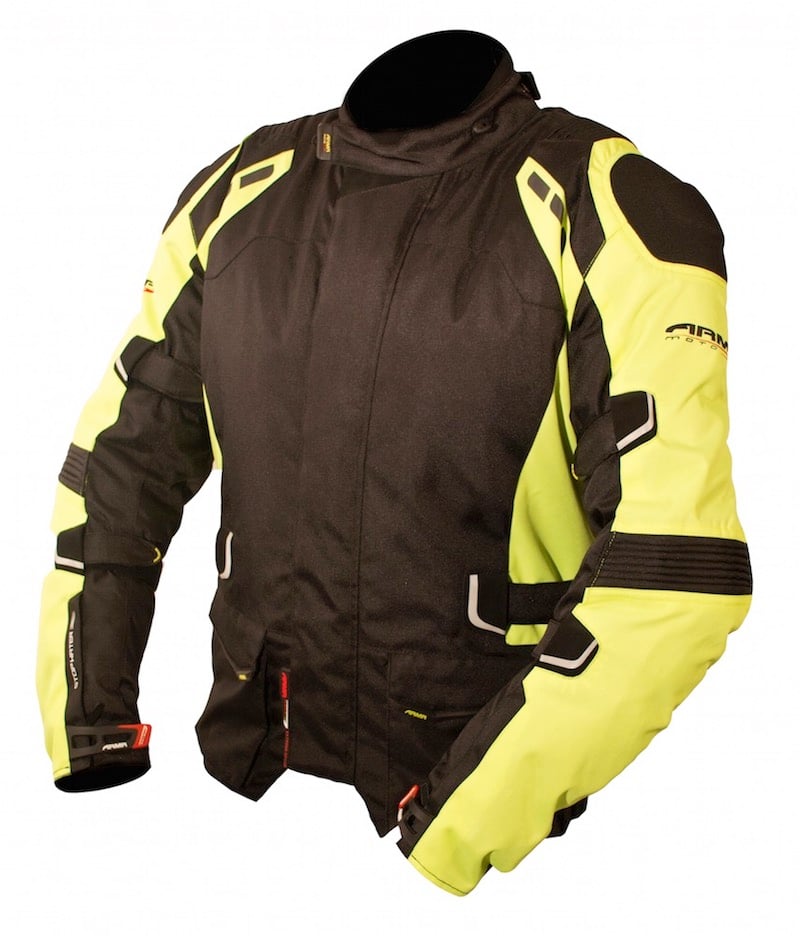 While the jacket's ventilation options left a lot to be desired, I liked the inner mesh liner and it felt comfortable against my skin with only a thin short sleeve baselayer on. The Kumaji has some great built-in armour and the back, shoulder and elbow protectors were some of the most substantial I've tried in a sub-£150 jacket.
There is also the provision to add chest armour, though this will need to be purchased separately. I encountered a couple of offs while wearing this jacket, hitting the ground hard, and I got away without any injuries, which I'm confident in putting down to the adequate built-in armour.
In terms of storage options, the pockets are a bit disappointing as there are only two front pockets and one small inner phone pocket that is far too small for most modern day smartphones.
Armr Moto Kumaji verdict
The Armr Moto Kumaji is a good textile touring jacket for the price. It's comfortable, feels protective and the colourway makes you stand out to other road users. If you have any aspirations of riding off-road, or if you're planning on touring in warm weather, then the lack of ventilation will make for a sweaty ride.