A new player has entered the motorcycle manufacturing game, and it's not who you'd expect. Airbus, the aviation giant which is renowned for making aircraft and military equipment, has begun development of a lightweight, electric motorcycle, and the unique part about it? The frame of it is entirely 3D printed.
The new motorcycle, named the Light Rider, was developed by APWorks, a subsidiary to Airbus Group, to showcase exactly what the company's pioneering Scalmalloy material is capable of.
Scalmalloy, which is a high-strength aluminium-magnesium-scandium alloy, is a corrosion-resistant material that's claimed to offer a light weight while retaining titanium-like strength, all attributes that make it ideal for automotive 3D printing projects. With the Light Rider, APWorks has displayed that perfectly, with the motorcycle weighing in at a measly 35kg. A weight that Airbus reckons is roughly 30% lighter than conventionally manufactured electric motorcycles.
Not only is the bike light, but APWorks say the Light Rider will reach speeds of 80kmph (50mph) and has an acceleration of 0-45k m/h (27mph) in just three seconds. The vehicle comes with a removable battery that will provide enough energy to transport you for 60km (37 miles) before it runs flat.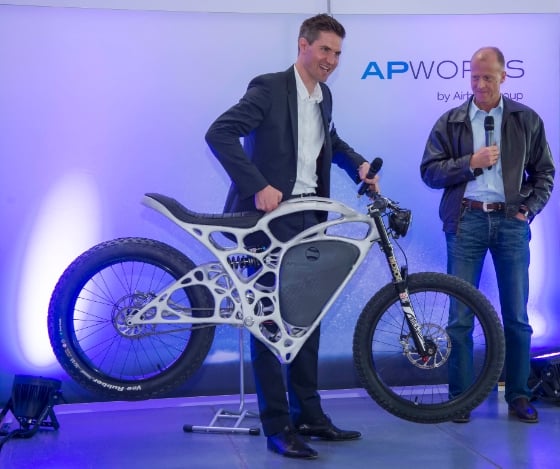 To create the frame APWorks used a 3D printing system to distribute the Scalmalloy powder in layers just 60 microns thick (one micron is equal to one thousandth of a millimetre), building layer on top of layer to create the finished product. The 3D printing of the frame has allowed APWorks to create a complex, intricately designed structure, with hollowed out sections in which the cabling can run.
"The complex and branched hollow structure couldn't have been produced using conventional production technologies such as milling or welding," said Joachim Zettler, CEO of APWorks. "Advances in additive layer manufacturing have allowed us to realize the bionic design we envisaged for the motorcycle without having to make any major changes. With these technologies, the limitations facing conventional manufacturing disappear."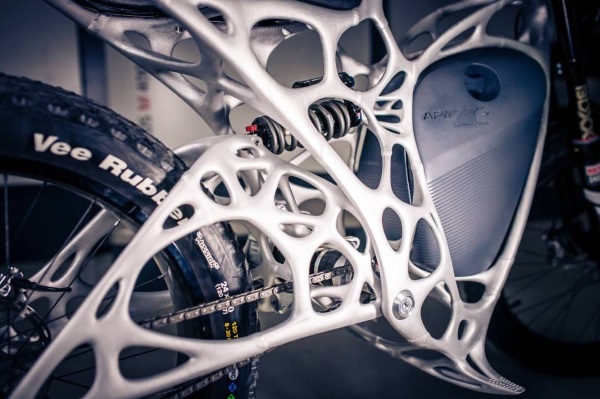 While there will only be 50 of these Light Rider motorcycles produced initially, it is possible that the impact of this development could be felt throughout the world of motorcycling as new manufacturing methods present themselves.
To get your hands on a Light Rider you're going to have to be prepared to part with €50,000 (£38,700), and APWorks is taking deposits of €2,000 (£1,500) right now to join the waiting list – so get your name down quick!