In this AGV AX-9 review, James takes a look at the Italian manufacturer's signature adventure helmet
AGV received rightful acclaim for its AX-8 helmet, which we previously named as one of the six best adventure-style helmets money can buy. It became a firm favourite among adventure riders off-road thanks to a huge visor, light weight, and well-designed chin bar that provided plenty of ventilation.
However, despite being a strong performing lid in the dirt, the lack of Pinlock mounting points and a peak that caught the wind at relatively low speeds meant the AX-8 wasn't the best choice for riders looking to spend more time on the tarmac than the trails.
Improvements on the road
In designing its successor, the AGV AX-9, the Italian manufacturer understood that an adventure helmet needs to perform strongly on the road as well as off it.
For many of us, this style of lid is our go-to commuting and touring helmet thanks to the attributes mentioned above – a large field of vision, light weight and good ventilation, plus the fact they look cool when paired with an adventure bike.
The simplest step AGV took to make the AX-9 more roadworthy than its predecessor was to install Pinlock mounting points on the visor, enabling fog-free journeys when a Pinlock is inserted. The next step was a little trickier – how to stop that peak from causing so much turbulence and catching the wind.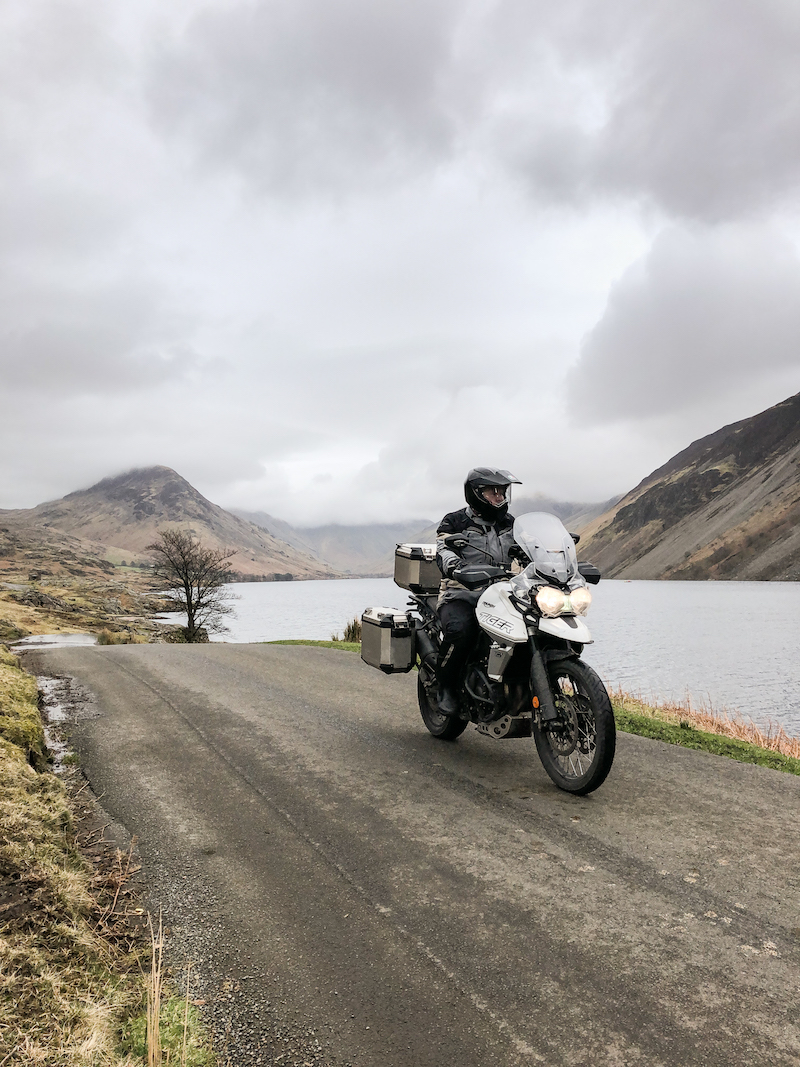 Sail effect
The answer was to test it in a wind tunnel. AGV boffins aerodynamically designed a new peak to limit sail effect and, as far as I'm concerned, they did a good job. While it's certainly one of the larger peaks I've seen on an adventure helmet, sitting high and proud above my head, perhaps the highest praise I can give it is that it's easy to forget it's there.
At motorway speeds I had to crane my neck back further than I ever really would before the wind lifted it like a sail and wrenched my head backwards. Quick glances over my shoulder to change lanes at speed resulted in minimal wind turbulence.
The large peak is also effective at doing what it's meant to do, shielding my eyes from the sun. It can be fixed in high and low positions, or removed completely.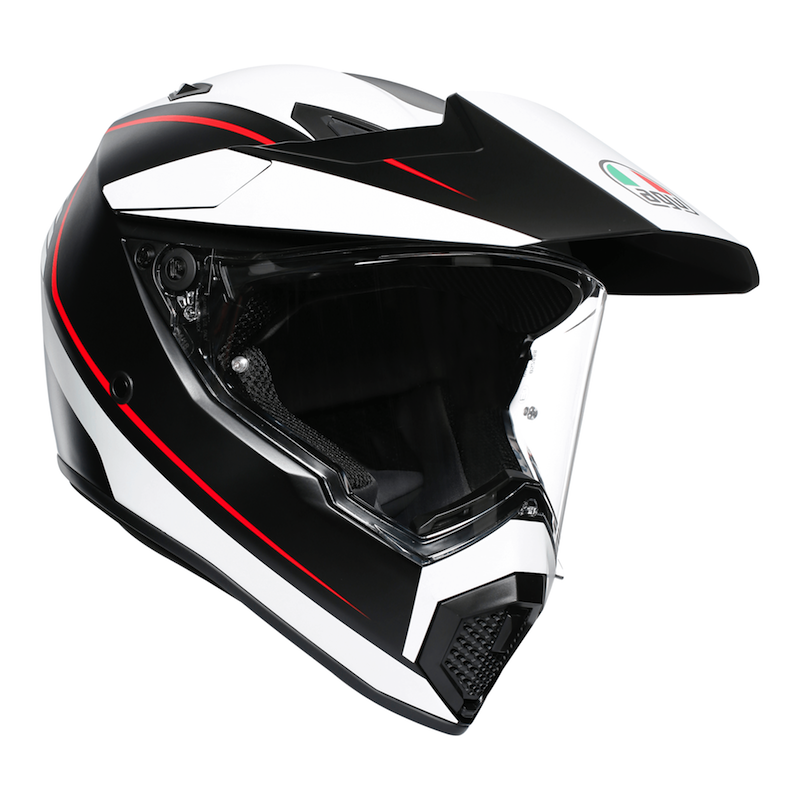 Safety
The Shell of the AGV AX-9 is made from an impact resistant carbon aramidic fibreglass, with an EPS foam inner to absorb energy in the event of an impact. It has met European ECE and American DOT safety standards.
There's every reason to think the AX-9 will protect your head in the event of an impact. The fastening system is a double D-ring, by far my favourite type of chin strap fastener for its security and ease of use.
AGV AX-9 Review: Fit and comfort
The helmet comes in five sizes, XS, S, M, L, and XL. It has been designed to fit heads with an intermediate oval shape, those that are slightly longer front to back than they are wide. My head measures 60.5cm around and I opted for a large size which resulted in a firm but comfortable fit.
The helmet is comfortable to wear thanks to its relatively light 1.54kg weight and its plush, moisture-wicking internal padding, which feels smooth and luxurious against your skin. The neck roll is made from water resistant material in order to prevent water from seeping into the helmet when it rains. It's a nice touch and adds to the helmet's comfort levels in wet weather.
Wind noise is always subjective, but I found the AX-9 to be relatively quiet for an adventure helmet at lower speeds on and off-road, and it wasn't too loud at motorway speeds when wearing earplugs.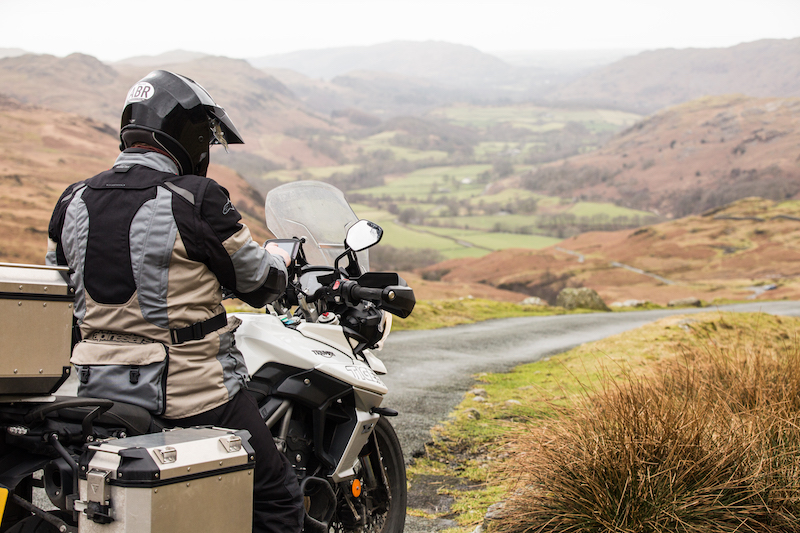 Features
The helmet's excellent venting is one of its best features. There are five vents – one on the chin bar and two on the forehead which are adjustable, along with two fixed exhausts at the rear.
The vent on the chin bar is interchangeable. It can be removed in stages to allow more or less air to flow in and out of the helmet. The plastic pieces simply clip in and out without the need for tools. This proved particularly handy when I wore the AX-9 in the oppressive heat of the Thai jungle. I removed all of the chin vent pieces to allow maximum airflow to keep my head cool. It was very effective.
The visor provides a huge field of vision and can be opened and closed with either hand thanks to lips being placed on both sides. Inside the AX-9 there are speaker pockets so you can fit an intercom. This for me is a godsend on an adventure touring helmet which could be worn for hours on end riding the motorways of Europe.
Looks
Beauty is in the eye of the beholder, but personally I'm a huge fan of way the AX-9 has been styled. That large peak and huge visor let you know immediately it's ready for adventure, but I like the fact there is nothing overly aggressive about its appearance.
It's simply a classy-looking adventure helmet. It can be bought in black, white, or four different stylish graphics.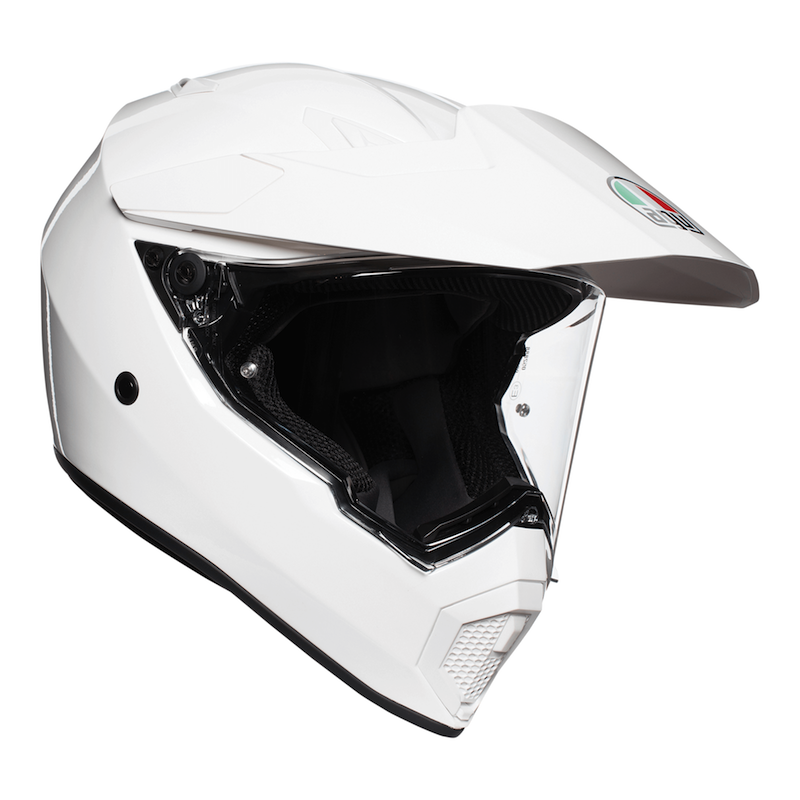 AGV AX-9 Review
As well as using the AX-9 in the heat of the Thai jungle, I've built up a sweat wearing it off-road in Italy and in the UK where it felt lightweight and cool. And I've also been using it to commute up and down the M5 motorway during the winter and spring. This enabled me to test it in lashing rain and high winds over many hours.
These experiences have left me in no doubt the AX-9 will prove an excellent adventure touring helmet, whether you're riding a French toll road, sublime mountain twisties, or the military roads of the Alps. Ultimately, that's why it's earned a place in our list of the top six adventure helmets money can buy in 2020.
Overall, AGV has created a more comfortable, more refined, and more roadworthy update of its successful AX-8 adventure helmet. From £339.99, the AX-9 also represents good value for money. My only gripe is a lack of a sun visor which, for a helmet intended for at least some road use, would be a useful feature.