AGV has a rich heritage in manufacturing motorcycle helmets, having made them since 1947, with the company's knowledge and experience shining through on the AGV AX-8 Dual Evo (RRP £299.99). With a definite nod in the direction of off-road riding, the helmet benefits from a huge visor, a light weight and a well designed chin bar that provides ample ventilation.
The shell is a strong and impact resistant mix of carbon, aramid and fibreglass to make what AGV calls the SSL shell. SSL stands for super-super light and we can't argue with that, as at 1.3kg for a size L, it's one of the lightest helmets on test.
The padding inside the helmet is made from Dri-Lex, a breathable fabric that wicks moisture away from the skin and is incredibly comfortable.
There are numerous vents throughout the helmet; a large, closable chin vent, and closable brow and head vents as well as a further eight, yes eight, exhaust vents that help to provide a very effective venting system that's suited to intense warm weather riding.
The main draw is the impressively large visor that provides an unrivalled field of vision. It has an anti-scratch and anti-mist treatment, but it's disappointing to note that it doesn't have Pinlock attachment points.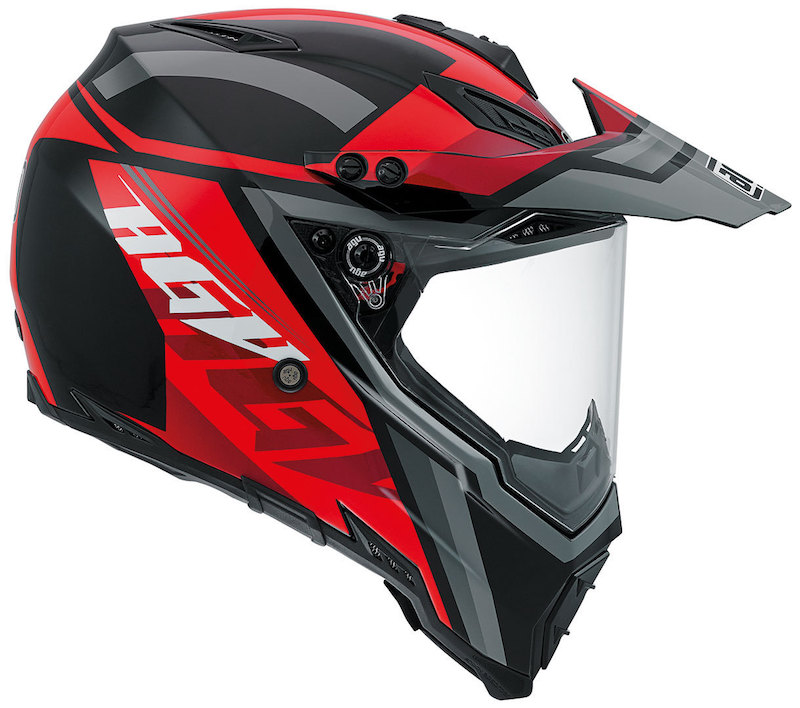 In use, we've found the opening tab to be a little on the small, fiddly side, and with the visor opened fullyi t slightly impedes the wearer's view.
The peak is non-adjustable but can be removed if need be and we'd advise doing so on long motorway rides as it causes turbulence at speeds in excess of 50mph.
AGV AX-8 Dual Evo Karakum verdict
The AGV AX-8 Dual Evo is a helmet that'll suit a specific type of rider. If you find yourself sticking mostly to tarmac, then the lack of Pinlock mounting points and a peak that catches the wind at relatively low speeds means there are more suitable lids out there (like the Shoei Hornet ADV). If, however, you're going to be spending most of your time seeking out green lanes, or you're planning a trip abroad where you know you're going to need adequate ventilation, then the AGV AX-8 Dual Evo is a very good helmet.