We all know adventure bikes are the best type of motorcycle, right? Whether you're taking a trip around the world, heading off for a weekend away, or hitting the trails off road, nothing does it all better than an adventure bike.
And now, after watching a video of a Honda Africa Twin absolutely smashing a lap of Germany's famous Nürburgring, we may have to add track days to the list of things adventure bikes are brilliant at.
Rider Billy Burke rings every last ounce of power out of his standard Africa Twin to lap the 12.8-mile track in a stunning 8 minutes and 38 seconds. This achievement is all the more impressive when you learn the motorcycle lap record currently stands at 7 minutes and 10 seconds, set on a Yamaha YZF-R1.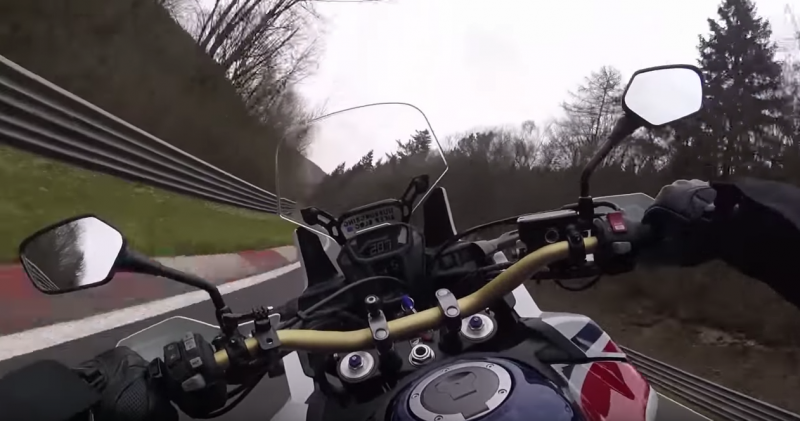 Cornering at 128mph
Incredible skill
While we're big fans of the Honda Africa Twin on and off road, it's not the first motorcycle that comes to mind for a track day. In fact, there are other adventure bikes more suited to the demands of the race track such as the Ducati Multistrada 1260 or the KTM 1290 Super Adventure.
However, watching Billy's lap reveals how well the Africa Twin performs in the hands of a skilled rider. Despite its 232kg weight and 21-inch front wheel, he flings the bike nimby into turns and reaches lean angles that are quite frankly ridiculous.
The speedometer shows Billy reaching a top speed of 224kph (139mph) along a straight, while he takes one bend at 128mph. All this was achieved on one of the most demanding circuits in the world, known for its tricky corners, steep inclines, and perilous crests.
Perhaps most impressive of all are the moments Billy, known as Nürburgring Biker Blog on YouTube and Facebook, scythes through lines of cars also setting hot laps, and out brakes them into corners before accelerating away. The lap was ridden on one of the circuit's public sessions when anyone can ride or drive the track.
XLMOTO Easy-Up Race Tent
Here at ABR, we much prefer mountain passes and green lanes to riding around a race track, but after watching this video we're tempted to give it a go. We reckon the skills we'd learn would serve us well on the twisties of the Furka Pass or the Grossglockner High Alpine Road this summer.
If you fancy heading to the track yourself, Europe's largest online motorcycle retailer XLMOTO is offering 65% off its Easy-Up Race Tent  which now costs just £59.99 (down from £169.99). It takes just four seconds to put up and is an ideal place to park and tinker with your motorcycle before you race, and for storing your gear at the track. The waterproof tent has a footprint of 3m x 3m and an adjustable height of up to 3.2m.
The tent is also a great place to relax and unwind after nailing a hot lap like Billy Burke's sensational lap of the Nürburgring. Check out the Easy-Up Race Tent in the video below.