One of the joys of riding adventure bikes is their versatility. Whether I'm cruising along motorways at speed, carving up silky-smooth mountain passes, or having fun exploring a few trails off road, if I'm on an adventure bike, I can be pretty confident it will be capable of all those tasks and more.
However, the sheer variety of riding styles and environments associated with adventure biking means the gear we wear needs to be as versatile as the motorcycles we ride. And, when it comes to riding boots, us adventure bikers are a demanding lot, particularly those of us who want a boot to perform on and off road. Step forward the adventure motorcycle boot, which combines the demands of riding on tarmac with some of the protective features associated with a dedicated off-road boot, all in one piece of hybrid footwear.
We've teamed up with online bike store XLmoto to help ensure you buy the right boots for you.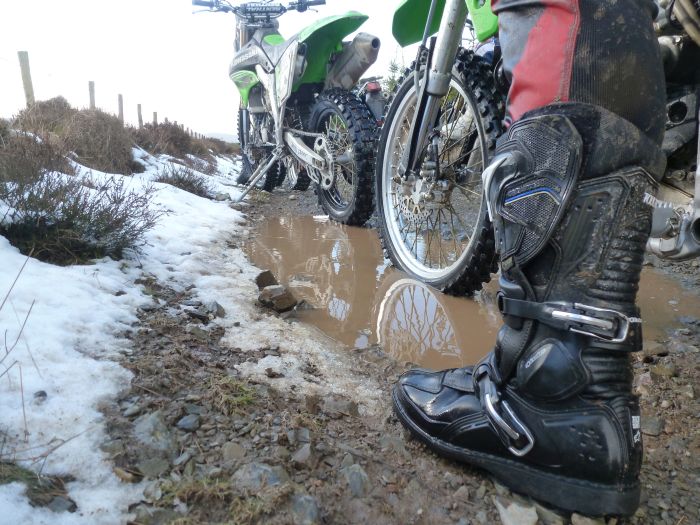 What kind of riding will you be doing?
As is the case when buying any kind of motorcycle gear, I'd recommend taking a few moments at the outset to think about the kind of riding you'll be doing and how much protection you think you'll need. Of course, all motorcycle boots should protect you in the event of an accident, but adventure boots will have additional protective features associated with off-road riding, such as sturdier shin guards, stiffer soles, and more rigid ankle support.
They'll be harder to bend and twist, providing you with plenty of protection if you were to smack your shin against a rock, or drop your bike on your leg on a trail, for example. Unfortunately, the trade-off from all that extra protection is a boot that is less flexible, heavier, and less comfortable to wear than a more road-focused adventure boot.
So, be honest with yourself about the type of riding you do. If you spend most of your time riding on the road, only occasionally straying off it, you may be better served prioritising comfort and looking at a more road-focused adventure boot.
However, if you regularly ride green lanes on your adventure bike of a weekend, you might be happy to sacrifice some comfort for the extra protection a sturdier boot offers. The choice will come down to how much value you put on comfort versus protection. Fortunately, there are a plenty of adventure boots on the market designed to meet our various riding needs.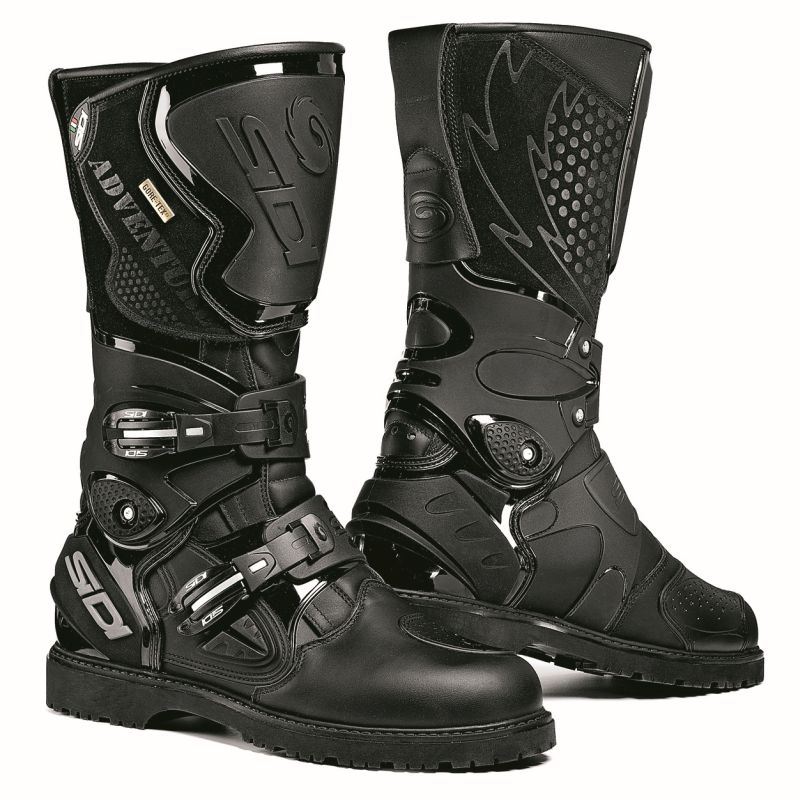 Protection from the elements
I'd also recommend giving some thought to the environment you'll be riding in. Here in the UK for example, I would always opt for a waterproof boot because of the amount of time I spend riding in the rain. However, the presence of a waterproof membrane will inevitably make a boot feel hotter in summer, even if manufacturers do claim their boots are 'breathable'.
So, if you're lucky enough to live in a hot, dry climate, then waterproofing may not be as much of a priority for you as it is for me. And for those of you who spend plenty of time knee deep in water crossings, keep in mind that waterproof boots are very good at trapping water in as well as keeping it out.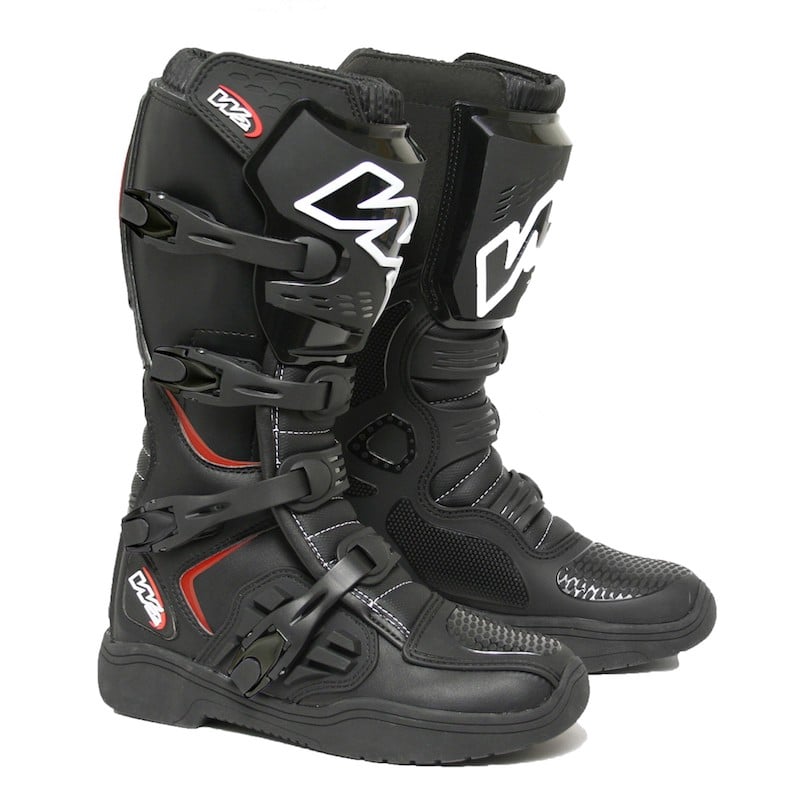 The perfect fit
There is, however, one important consideration we all have in common when buying an adventure boot, or any other kind of riding footwear for that matter – fit. An ill-fitting pair of boots can turn the best of rides into a torturous endurance exercise. Be aware that, just as our feet come in different shapes and sizes, so do motorcycle boots.
For example, footwear made in southern Europe tends to have a narrower fit than those made Europe. It's wise to try a few pairs on from different brands and walk around the shop in them. Gravity also dictates that your feet swell during the day, more so on hot days, and in some cases they can swell by over one shoe size, though half a size is more common. It's best, then, to go shopping for bike boots in the afternoon rather than the morning. It's also advisable to bring along the type of socks you usually wear when riding.
And, of course, if you're buying online, ensure you buy from a retailer with a good returns policy. If they don't fit properly, send them back.
Check out our round up of the nine best adventure boots you can buy in 2020 here.
Anatomy of an adventure motorcycle boot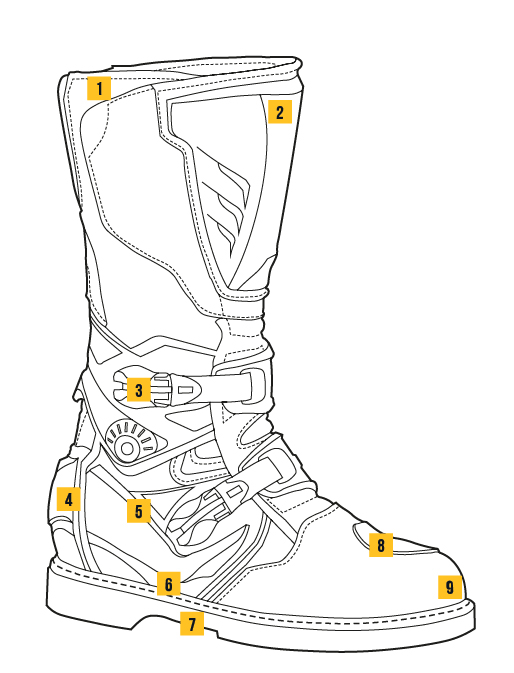 1. Height ­
The higher the boot the heavier and, generally speaking, the more uncomfortable it's going to be. On the flip side, high-rising boots offer a lot more protection to the shins from flying debris and, providing the waterproof lining extends up the wall of the boot, you'll be able to go paddling in deeper bogs and puddles without getting your feet wet.
2. Shin guards and ankle inserts ­
These will provide support and protection against impacts from flying debris, or if you fall and the bike lands on you. The more protection your boot has, the less comfortable it's going to be, but it's important to find the golden middle ground for the type of riding you're going to be doing.
3. Clasps/buckles ­
Adjustable, quick-release clasps can be a godsend when they're well built, or a frustrating pain in the arse if their quality lets them down. Should be easy to secure, and positioned so as not to dig in.
4. Heel cup ­
The heel cup, essentially, is a piece of moulded plastic that has been placed between the inner and outer of the boot. Its job is to keep the foot in place and prevent it from lifting when walking. If it fails to do this then you can expect an increased likelihood of blisters when walking, and a decrease in control when on the bike.
5. Cushioning ­
Most boots will feature a layer of EVA or Polyurethane between the sole and footbed to provide additional shock absorption and help cut out vibrations from the bike. You'll also find extra padding and cushioning through the ankles to provide extra comfort.
6. Midsole ­
The lateral stiffness and flexibility of a boot is determined by the type of midsole used in construction. Sandwiched between the footbed and sole unit, the more flexible the midsole, the more comfortable the boot is in use. However, if you're paddling over uneven terrain, or if you have an accident, a stiffer boot will provide better protection from twists.
You can test the flexibility of a motorcycle boot yourself by taking hold of the heel and toe and twisting it in opposite directions. A stiffer midsole won't budge.
7. Sole ­
A deeper, more aggressive tread is best if you intend on doing any off-roading, and essential when taking on any snow or mud. Equally, a smoother tread is better for riding on the road, as there will be a larger surface area in contact with the tarmac. Consider the sole of your boots as if they're tyres on a bike. If you're predominantly riding on road, you wouldn't put knobblies on your wheels, and vice-versa. The sole can be glued or stitched to the upper, and a combination of both is ideal.
8. Gear shifter pads ­
Most motorcycle boots will have these, and for good reason. They serve to protect the leather of your footwear from abrasion caused by the gear lever during up-shifts. They should be placed in the correct position so that they sit underneath the gear lever in use, and equally, don't dig into the top of your foot when you walk.
9. Toe box ­
A toe box serves to protect the leather of your footwear from abrasion caused by the gear lever during up-shifts. They should be placed in the correct position so that they sit underneath the gear lever in use, and equally, don't dig into the top of your foot when you walk.
XLmoto
For a wide selection of motorcycle boots head over to XLmoto. The website provides a handy breakdown of each boot's features and the type of riding they have been designed for, to help you choose the perfect boots for you.
This article was originally published on 17 January 2019 and was updated on 11 June 2020 following a group test in Issue 57 of Adventure Bike Rider magazine.