It's a problem many of us have experienced. As we're riding along a maze of narrow European lanes, with our phone mounted to the handlebars and Google maps guiding us towards our hotel for the evening, disaster strikes. Your phone's battery has died, and you're left in the middle of nowhere as darkness falls. It happened to me in Spain, and while I did eventually find my hotel, I could have done without the drama at the end of a long day in the saddle.
The sad truth is modern phones have painfully short battery lives, and there really is nothing more frustrating than losing juice when you're riding or on tour. That's where the MotoChargeBar comes in.
Fitting directly to your handlebars, mirrors, or even your brake reservoir, the MotoChargeBar is a phone mount with a difference. Fix your phone onto the mounting plate and, if it's a compatible model, it will buzz into life and begin charging immediately, without the need to wire in a separate charger.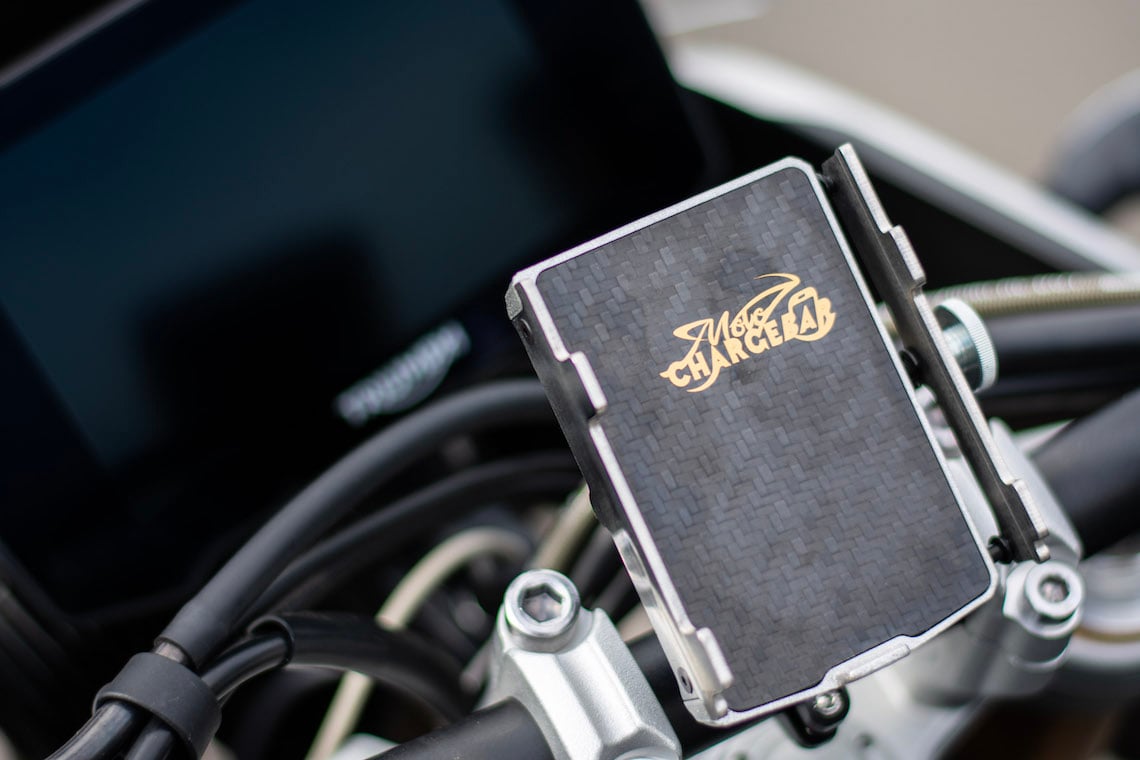 Wireless phone charging mount for your handlebars
Initially fitting the charger is also doddle and it only took me a few minutes to connect the bracket to my handlebars. When it comes to powering the unit, cabling in the box enabled me to connect it directly to my bike battery, or into the charging port on my dash (which is what I did on my Triumph Tiger 900).
Compared to other cases and phone mounting solutions, which require you to wire up your phone, clip on a bulky case, or plug in a separate USB adapter to your dash, the MotoChargeBar asks you to simply tighten the bracket around your phone and voila, you're ready to ride. The fact it's wireless came in handy when I stopped for petrol because there was no hassle or faff unfastening it to take my phone with me when I went to pay.
Modern motorcycle touring also seems to involve enough cabling to rewire a building, and the charging capacity of the MotoChargeBar will prove invaluable in the evening when your come to a stop.
With Bluetooth headsets, laptops and cameras all competing for that all important electricity you can be comfortable in the knowledge that your phone won't need to join the queue.
The MotoChargeBar retails at £129.99 and you can read more about its faff-busting abilities here.
Watch the MotoChargeBar in action