James Oxley plots a day route through South West England that mixes big-bike friendly trails with scintillating roads, for the perfect adventure biker's Sunday ride.
When motorcycle gear manufacturer Klim first approached me about collaborating on a UK route in ABR, it was immediately clear that any journey bearing its name needed to have a trail riding element to it. After all, the American company is well known for its Badlands Pro jacket and trousers, which are popular among adventure bikers who like to explore off the beaten track.
But this being the spring of 2021, travel restrictions made the more remote corners of the UK out of bounds to me, so I struck upon the idea of looking for an adventure closer to home. In particular, I wanted to create a route that combined sensational roads with a selection of big-bike friendly trails that could be ridden in just one day: an adventure biker's Sunday ride, if you will.
My aim was for it to be easily ridden and enjoyed by someone with a large adventure bike, like a BMW R 1250 GS or similar, who may not have ventured off road before, as well as packing enough punch to keep more experienced riders occupied.
So, let me present to you the Klim Explorer, a glorious route through Gloucestershire, Somerset, and Wiltshire that mixes easy-going trails with superb roads, plus a series of fascinating sights to see along the way.
Before we begin, let me tell you that I rode this adventure biking day route during a dry spring day on a KTM 1290 Super Adventure R, accompanied by ABR staff writer Ollie on a Honda Africa Twin, both of which were sporting road-biased adventure touring tyres. The bikes and rubber were perfectly capable on both the road sections and the trails.
However, as is often the case, a spell of wet weather will likely leave the byways we rode slippery and trickier to navigate, which is worth bearing in mind if you're new to greenlaning. If you want to skip any of the trail sections, they can be easily bypassed on nearby roads.
The adventure biking route begins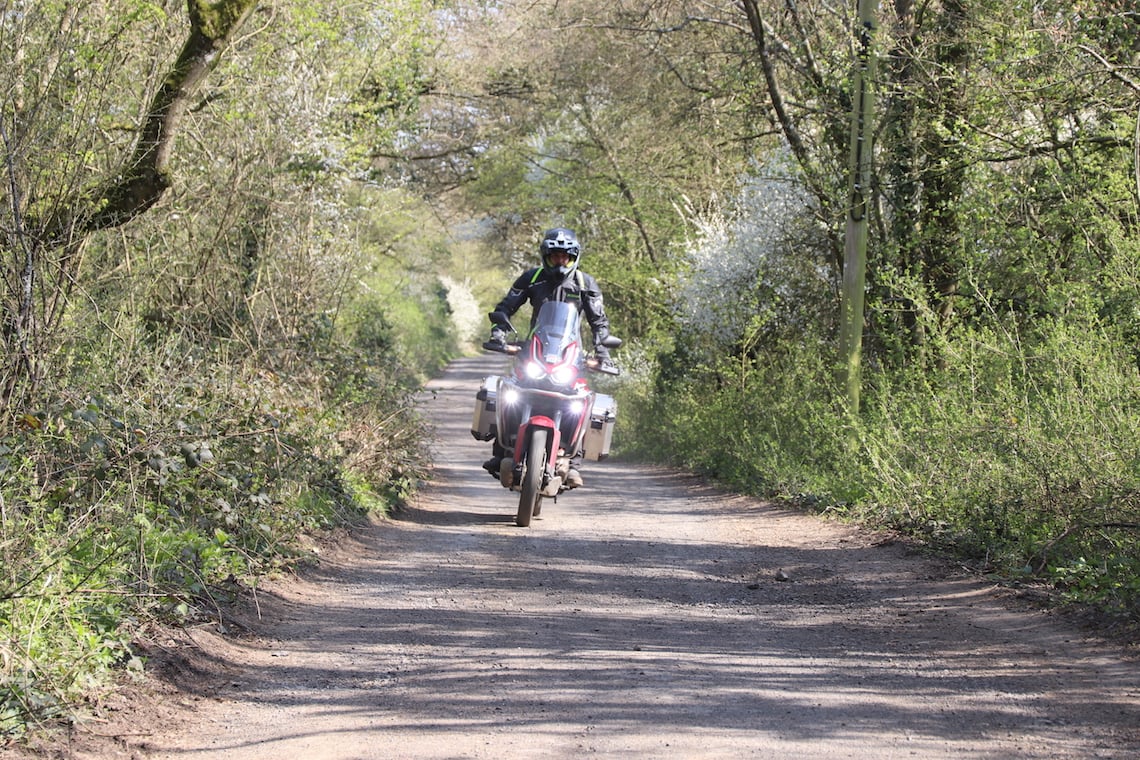 We start our journey in the medieval town of Cirencester, known as the capital of the Cotswolds. The picturesque Market Place, next to St John the Baptist Church, is the perfect spot to park up and grab a coffee while you wait for any mates who are joining you on the ride.
Cirencester is also the first time on our route that we get up close and personal with Roman Britain. The town was second only to London in size and importance during Roman rule.
On our way out of town, we pass a sign for Cirencester's Roman Amphitheatre, one of the largest built in Britain. Constructed in the 2nd century, the large earthworks are all that remain of a venue that once held up to 8,000 people.
It's worth parking up and strolling over to imagine the gladiatorial contests, public executions, and blood sports, such as bull baiting, that are thought to have taken place in what is now a peaceful setting.
Leaving Cirencester behind, we take the A429 through Kemble and then pass Cotswolds Airport. Here we're met by the unusual sight of a large number of commercial aircraft, including British Airways 747 Jumbo Jets, parked up close to the perimeter fence.
Some are retired planes that are due to be scrapped, while others have been stored at the airport due to a fall in demand for flights during the COVID-19 pandemic.
About half a mile on from the airport, our route turns right at Kemble Business Park (not to be confused with the earlier Kemble Airfield Enterprise Park), on a country road signposted to Culkerton. Follow this road for 1.4 miles until you come to our second encounter with Roman Britain of the day, and our first byway, the Fosse Way.
There are no byway signs, so it can be easily missed, but we turn left to join the Fosse Way amid a cluster of trees and bushes. If you have an OS map, the route is marked as a byway open to all traffic. It also disappears off to the right on the opposite side of the road, but this is a more rutted lane that soon comes to a dead end.
Edge of the world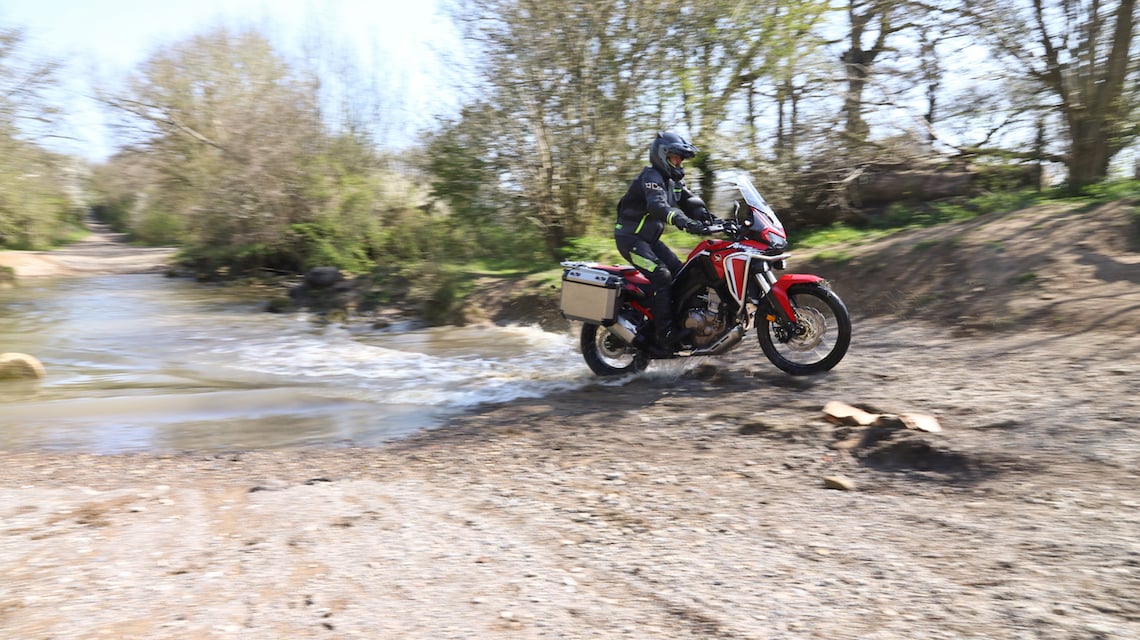 Travelling along this ancient road immediately transports you back in time. It was once the edge of the world for the Roman Empire, marking the western frontier of its territory in Britain.
Running for 220 miles in an (almost) straight line from Exeter to Lincoln, the Fosse Way was once a military road dotted by forts and frequented by soldiers. It later became an important trading route and thoroughfare, and large sections of it remain so today, including the A429 which runs through the heart of the Cotswolds to the north of our route.
Handily for us adventure bikers, sections of the Fosse Way have been left to the sands of time and provide an opportunity to indulge in a spot of greenlaning. From this point we follow the old Roman Road in pretty much a straight line in a south westerly direction towards the city of Bath. The surface in dry weather was hard compacted dirt or gravel, interspersed with some tarmac sections for around 15 miles.
Along the way you'll cross a number of roads, but the route is clear and marked with byway signs. Just be aware of other trail users, particularly horse riders. We switched our engines off and let them pass, accompanied by cheery waves and smiles from both sides.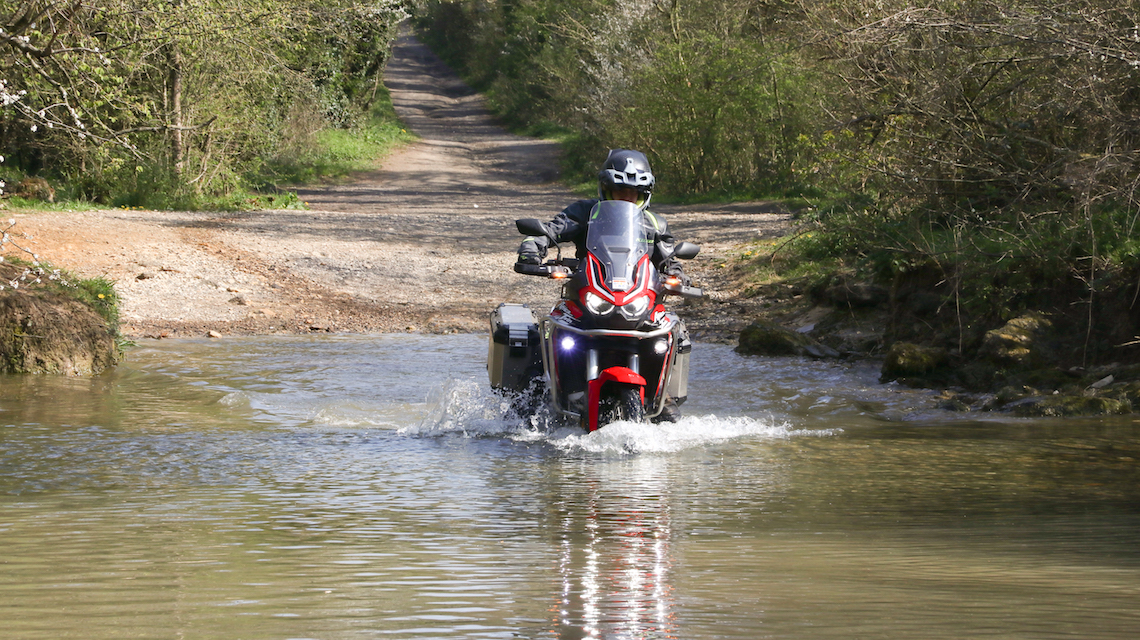 The only tricky section you'll encounter on this part of the Fosse Way is a small ford a few miles along the trail which was knee-deep at most (although it may be deeper if it has rained more recently). There were some larger rocks on the bottom, but we made it across fairly easily.
However, if you're on a bigger bike, and you're nervous about tackling a water crossing, you can always double back to the road and loop around this section, re-joining the Fosse Way at the next road junction.
After we pass under the M4 motorway, the road becomes surfaced all the way to Bath, as we follow a series of narrow country roads into the city, which are a joy to ride themselves. Bath was founded by the Romans as a thermal spa and is now a UNESCO World Heritage Site thanks to its rich Roman and Georgian history and heritage.
Our route takes us on a quick tour of the city's famous architecture before we park up at one of Bath's most iconic landmarks, the Royal Crescent. The sweeping curve of 30 grade one listed buildings is a magnificent example of Georgian architecture, overlooking the manicured green expanse of Victoria Park.
It's an impressive sight that has been used as a location in numerous films and television series, and it's also the perfect spot to stretch your legs for a few minutes and take in your surroundings.
Cheddar Gorge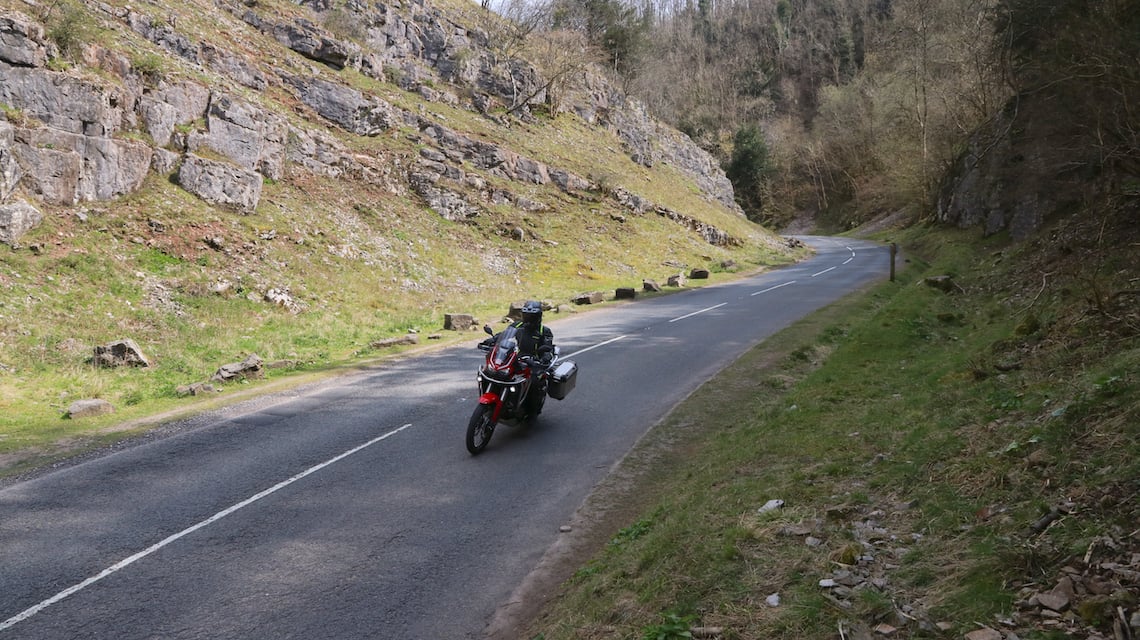 From Bath, we jump onto the A39 for a brief stretch and then meander along a series of leafy country roads, past Chew Valley Lake, and then into Cheddar Gorge. The road leading there is a twisty treat, which gets even better as we carve deep into the gorge itself around a series of tight turns, with the valley signs towering above.
It's only a short ride of three miles, but the 400ft deep gorge is a spectacular sight.
It formed about one million years ago during the last ice age as water from melting glaciers became a river which then carved deep into the rock. The area is also home to a network of caves where, in 1903, a 10,000-year-old skeleton nicknamed Cheddar Man was found. The remains of the man, who died in his twenties, is the oldest almost complete skeleton of a Homo Sapien ever found in Britain.
Leaving Cheddar Gorge behind, we ride through Wells, the smallest city in England, and the setting for the British comedy movie Hot Fuzz, starring Simon Pegg and Nick Frost. Market Place is a pleasant place to stop for a coffee and pick out the movie's filming locations, and the impressive cathedral is certainly worth taking a stroll around.
But we don't dawdle for too long because there's plenty more riding ahead. Picking up the Old Wells Road out of town, we make swift progress to perhaps the quirkiest stop on the Klim Explorer route, Nunney Castle. Turn a corner in the quaint village of Nunney and you'll stumble upon the ruins of a medieval castle, complete with four rounded towers and a moat.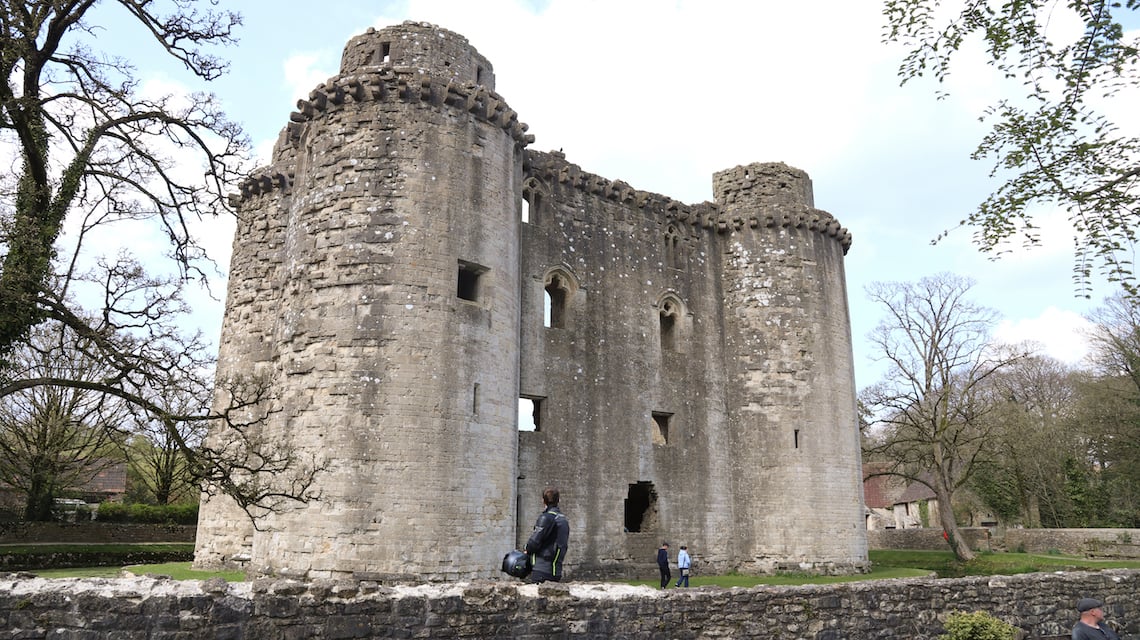 The castle was built around 1373 by a knight, called John de la Mare, who began to enjoy royal favour, and wanted to display his power for all to see. It stood proud until the English Civil War almost three centuries later when it was besieged and ruined by the Parliamentarians. Despite this, its ruins are well preserved and certainly worth exploring.   
From Nunney Castle, we continue west to the charming town of Frome, the childhood home of former Formula One World Champion Jenson Button, and then along a network of country lanes to our next stop, the Bratton White Horse. This huge animal depiction is carved into a chalk hillside overlooking Westbury.
Our route takes us through the town and up the B3098, where you can pull over into a viewing area for an unobstructed view of the White Horse in the distance. Its origins are uncertain but it is thought it was carved into the landscape in the 17th century to commemorate Saxon victories over Viking raiders, during which the victors rode white horses into battle.
We continue on along the B3098 for a short distance, before taking a sharp right back on ourselves up Castle Road, which leads onto Port Way. Continue straight on, ignoring the right turn for the Bratton White Horse car park, and follow the byway you are now riding on, to a T-junction at the edge of Salisbury Plain. Here we turn left and strike out onto the plain.
Salisbury Plain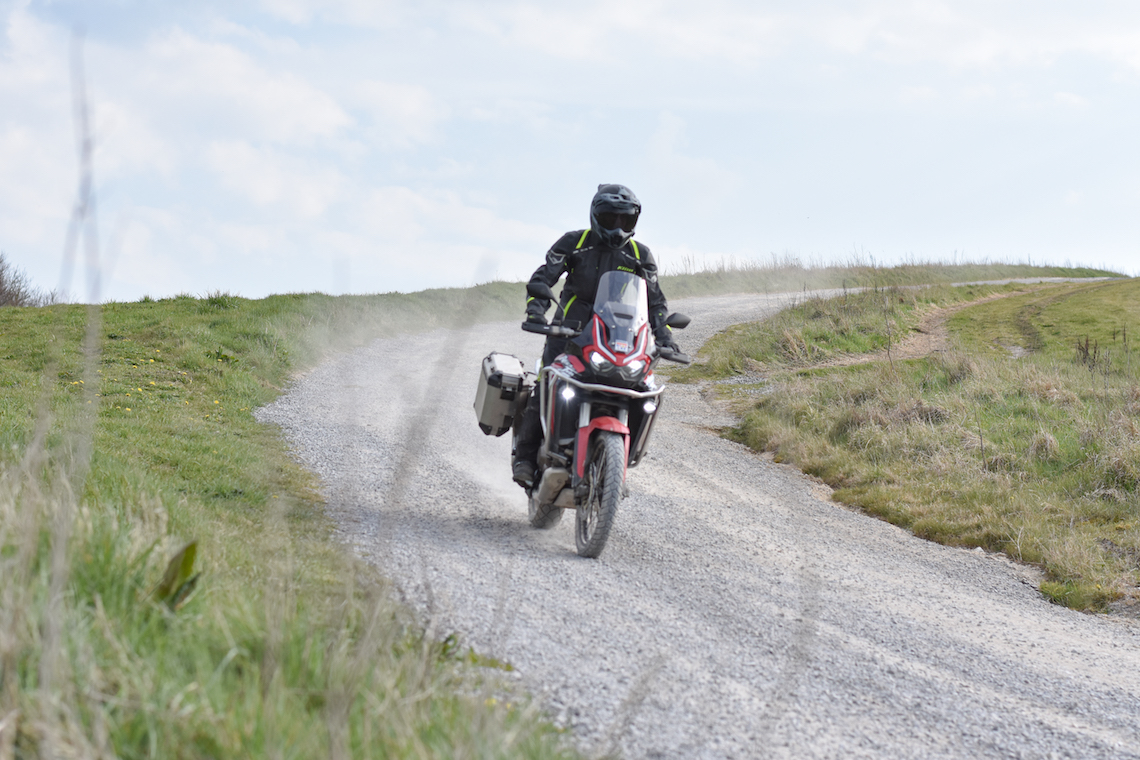 Salisbury Plain is something of a mecca for adventure bikers due to the fact the chalk plateau is criss-crossed by mile after mile of glorious byways just waiting to be explored. Much of the land is owned by the Ministry of Defence (MOD), which regularly operates live firing exercises, but stick to the byways, follow the safety warnings, and you are in for a brilliant trail ride.
You could spend days exploring the many byways in the area, and I'd highly recommend you return another time to do just that. There are plenty of challenging trails featuring whoops, ruts, and water crossings to enjoy, but in the spirit of our big-bike friendly route, we cross the plain on wide hard-compacted trails, with a covering of loose stones.
So, stand up on the pegs and enjoy the feeling of the bike moving around beneath you. The surface does get rough in places, with plenty of holes in the trail of varying depths, but there's nothing an adventure bike's suspension shouldn't be able to handle. 
From the T-junction we reached after Bratton White Horse, we make our way eastwards along a collection of unsurfaced and surfaced byways, until we cross the A360 at Gore Cross.
Here, we pick up the route of the Trans Euro Trail, and we ride a wide arc to the north of the MOD's live firing area, before heading south towards Larkhill, and joining the A345 just north of Durrington.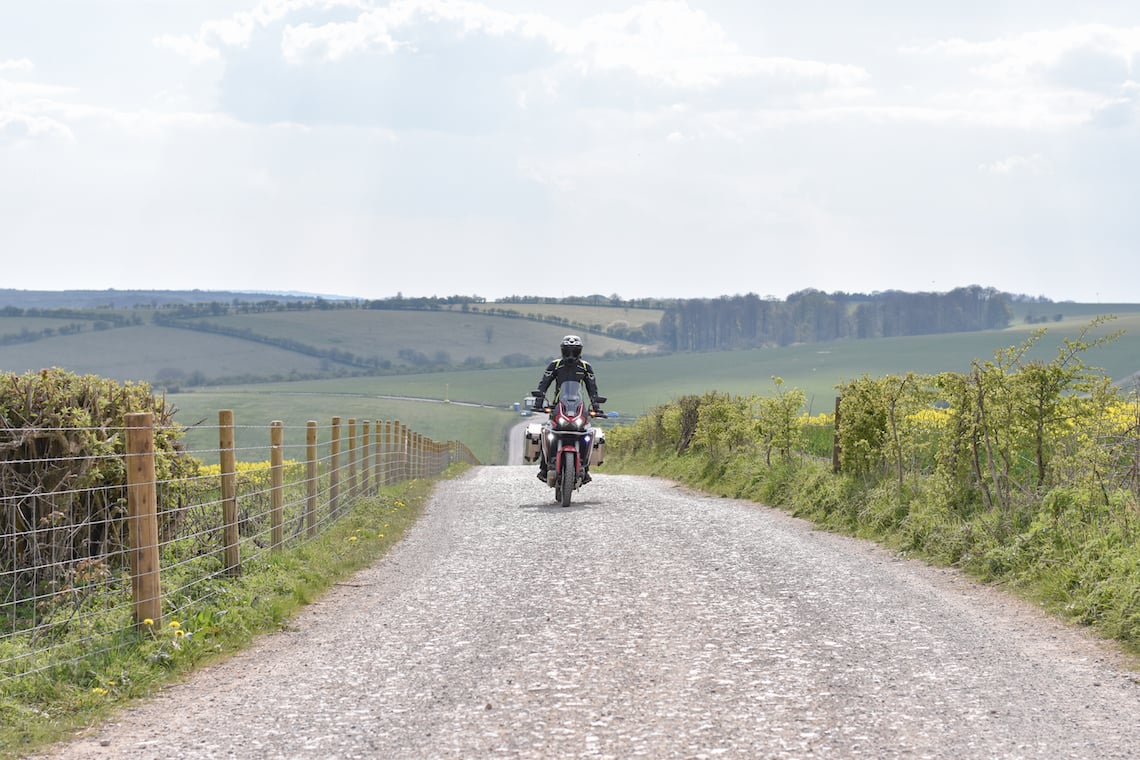 This stretch of Salisbury Plain will give you a flavour of the delights it has to offer, but if you've got the time, I'd recommend exploring further. If you're worried about getting lost, download an app like View Ranger before you leave, and pick up an OS map of the area.
Be sure to pay attention to the MOD warning signs, and if you see a red danger flag flying, you'll need to stop and find an alternative route.
Also be aware that those dry, dusty lanes on a hot summer's day can become sticky and slippery in the wet, which can be particularly tricky if you're on road-biased tyres. If you don't fancy trying your luck in wet conditions, you can stick to the road by following the B3098 from Bratton to the village of Littleton Panell.
Here you'll turn right along the A360, all the way to the Stonehenge viewing point, where you'll rejoin the Klim Explorer route.
A Ghostly trail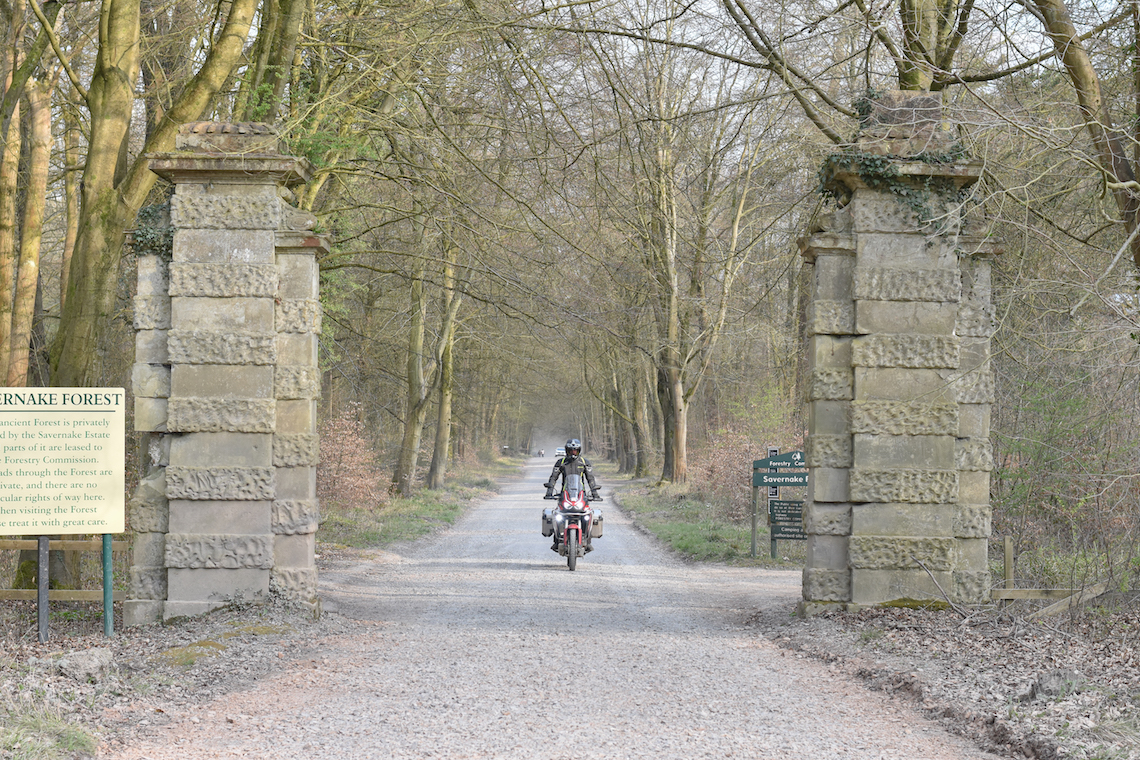 Our route leaves Salisbury Plain about three miles away from Stonehenge. It's certainly worth riding over and parking up at the public viewing point, located on a turning off the A303, to get a closer look at the world-famous collection of standing stones.
The site dates back to prehistoric times with the earliest henge monument being built around 5,000 years ago. It's peaceful spot if you can avoid the tourist crowds, and a great opportunity to relax off the bike and take in your surroundings.
By now, you're probably feeling hot and dusty from riding all those trails, so we hit the road to get some cooling air through our vents. The 25 miles of sweeping country roads we travel to our next destination allows for just that, with some spirited riding along the way.
It's at Savernake Forest that we get to ride our last big-bike friendly trail of the day, along a four-mile, arrow-straight gravel road called Grand Avenue. It takes you through the heart of this ancient woodland, which is more than 1,000 years old.
King Henry VIII is known to have hunted in the forest, and it was during one such visit that he met and fell in love with Jane Seymour, who would later become his third wife.
Grand Avenue is also said to be haunted by a headless horsewoman who is the ghost of a lady decapitated during  a hunting accident. People have reported hearing the spine-tingling sound of horse's hooves galloping towards them along the road, but with no horse in sight.
My ride was accompanied by the more reassuring and sweet sound of  KTM and Honda engines reverberating through the forest. The speed limit may only be 15mph, but the road is perfect for relaxing and soaking up the sights, sounds, and history of the forest, as we near the end of a long yet satisfying ride.
The final leg of our adventure biking day route
After exiting Grand Avenue, we pass through the picturesque market town of Marlborough, before travelling along some of the finest meandering B-roads of the day. It's a chance to get some wind through your vents and revive yourself near the end of what has been a long yet rewarding ride, while taking in sweeping views of the Wiltshire countryside.
We make swift work of the final 28 miles to Cirencester, and the end of this Klim Explorer adventure biking day route. What a fantastic day it has been.
Our Klim riding gear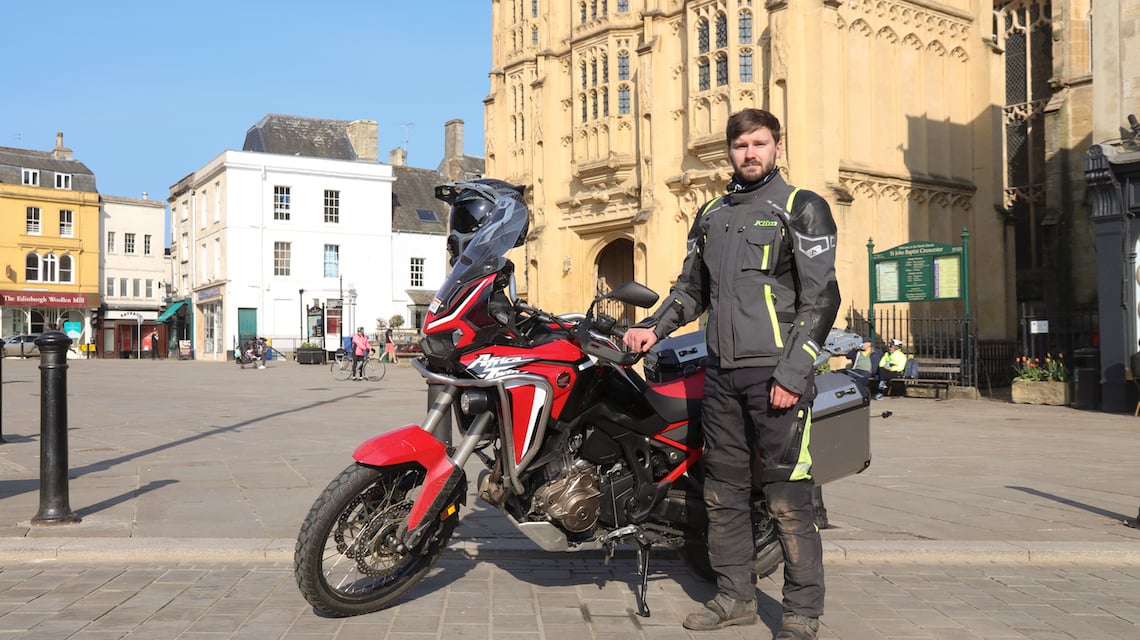 I was on camera duties while riding this route, so it's ABR staff writer Ollie you can see in action on the Africa Twin in the photos. Klim supplied him with its Kodiak jacket and trousers to wear during the ride, along with the Badlands Aero Pro Short Glove. He also wore Klim's Krios Pro adventure helmet.
The Kodiak is Klim's premium touring jacket, and is packed full of features that are designed to keep you safe and comfortable in the saddle, including a three-layer laminated Gore-Tex membrane to help you stay dry when it rains.
The Badlands Aero Pro Short Glove was created with summer riding in mind, with its perforated leather construction offering plenty of ventilation. The Krios Pro proved a lightweight lid, allowing plenty of airflow on the trails, while its Transitions visor worked a treat going from light to dark conditions.
You can take a look at Klim's full range HERE. 
The full adventure biking day route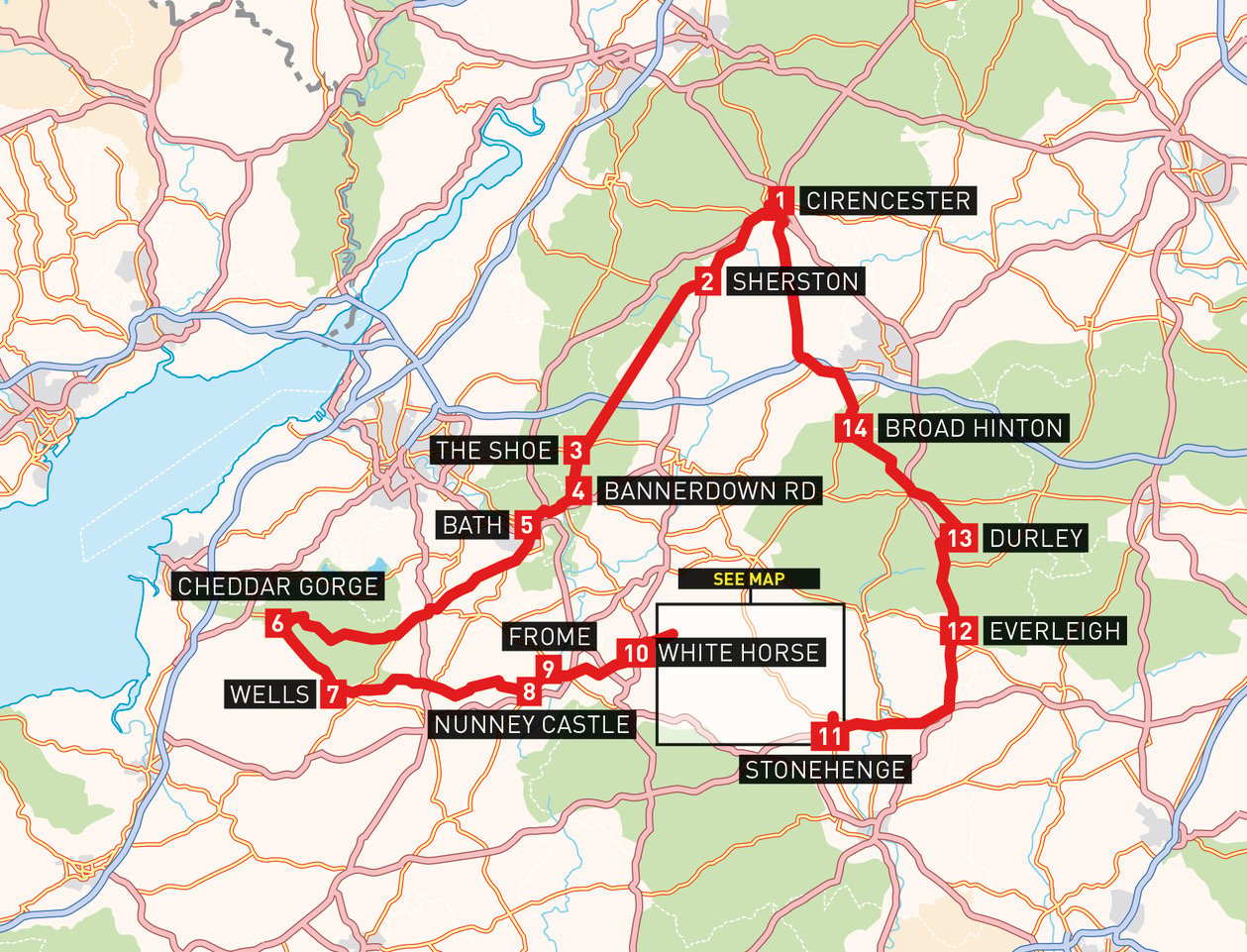 Plug these waypoints into your SatNav to follow, as near as dammit to the Klim Explorer adventure biking day route. It's also available to download as a .gpx file so that you can stick it straight into your device without the hassle of thumbing in a new stop every so often.
Simply head HERE and your download will be waiting for you.
Market Place, Cirencester
Sherston, Malmesbury (road route – for Fosse Way navigation see map)
The Shoe, Chippenham, SN14 8SA
Bannerdown Rd, Bath
Royal Crescent, Bath
Cheddar Gorge, BS27 3QF
Wells
Nunney Castle, BA11 4L
Frome
Bratton Camp and White Horse, Port Way, BA13 4TA (for Salisbury Plain byway route see map below)
Stonehenge public viewing point (unnamed road off the A303)
Everleigh, Marlborough, SN8 3EY
Durley, Marlborough SN8 3AZ (via Marlborough Road and byway)
Broad Hinton
Market Place, Cirencester