Sandra Steliga and her partner Fiona Cheng discover a land of lost civilisations, erupting volcanoes, and dense jungles on a remarkable journey through Guatemala
It was another scorching hot day in Central America. After riding in temperatures upwards of 35C over the past few months, you'd think that we'd have gotten used to it by now.
But strangely, the heat never becomes easier to tolerate. And what makes it feel even more stifling are border crossing days. Today was one of those days. We were travelling from Belize into Guatemala as part of our two-up motorcycle journey from Canada down to the tip of South America on our BMW F 800 GS.
As we arrived at the border, we were immediately surrounded by locals vying to help us with all our paperwork, for a fee of course. We'd already learned that border crossings in Central America are never straightforward.
There is little to no information directing you where to go or what to do. When you are overlanding in particular, there is a bunch of paperwork and admin required to legally enter and exit each country with your bike.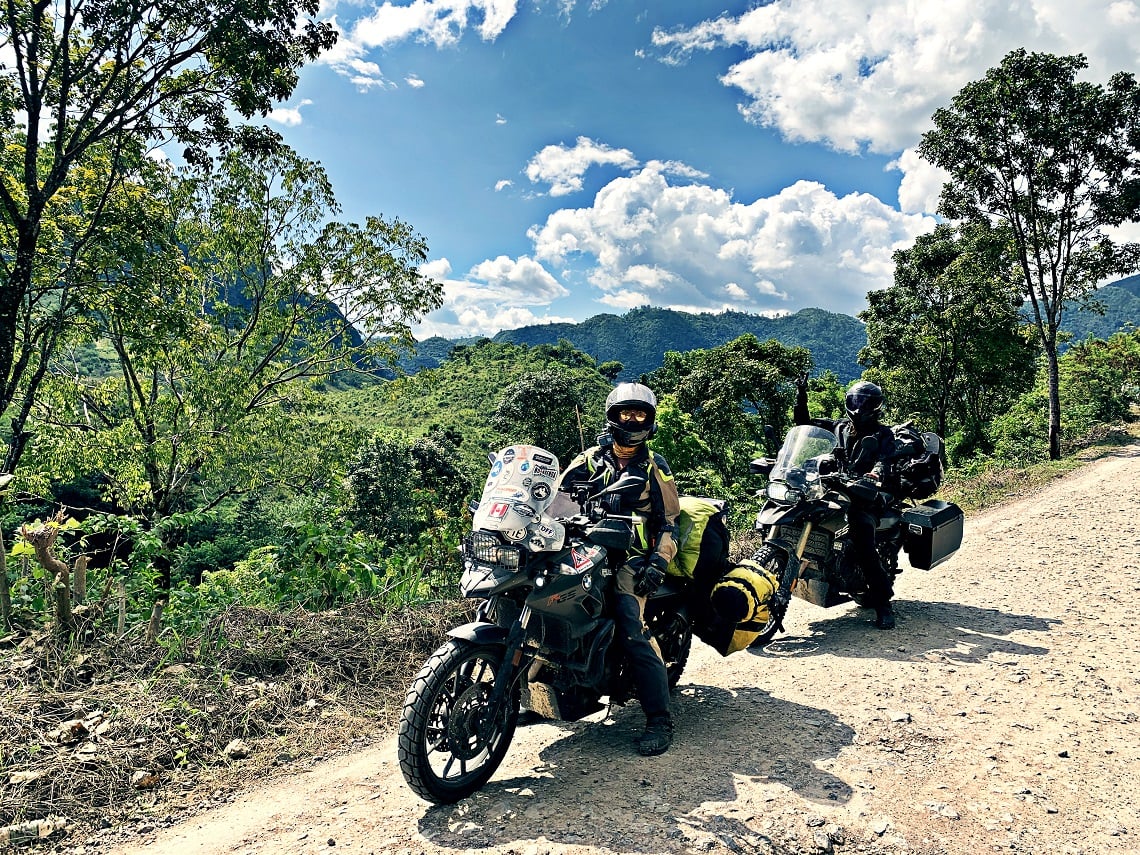 It's really quite confusing and most of the time the people dealing with you look just as baffled. So, most travellers pay for a local person to help them with the process. They often also negotiate the bribes that are needed to pay off officials if you want to skip parts of the process, like having all your luggage inspected. The more you pay, the quicker you'll get through.
However, Fiona and I don't believe it's right to support this system. We should be able to cross borders by ourselves if we choose to, without being given a tough time simply because we are not willing to pay everyone off to do so.
As we prepared to face the bureaucracy alone, we suddenly spotted another female rider on a BMW F 700 GS, who was wearing Klim gear from head to toe. It turned out Tracy, who's in her 50s, left Canada some months ago and was likewise on her way to Ushuaia at the bottom of South America, riding solo.
We were so excited to meet another female adventure rider and we were impressed that she had chosen to undertake this journey by herself. Especially since she hadn't been riding for long.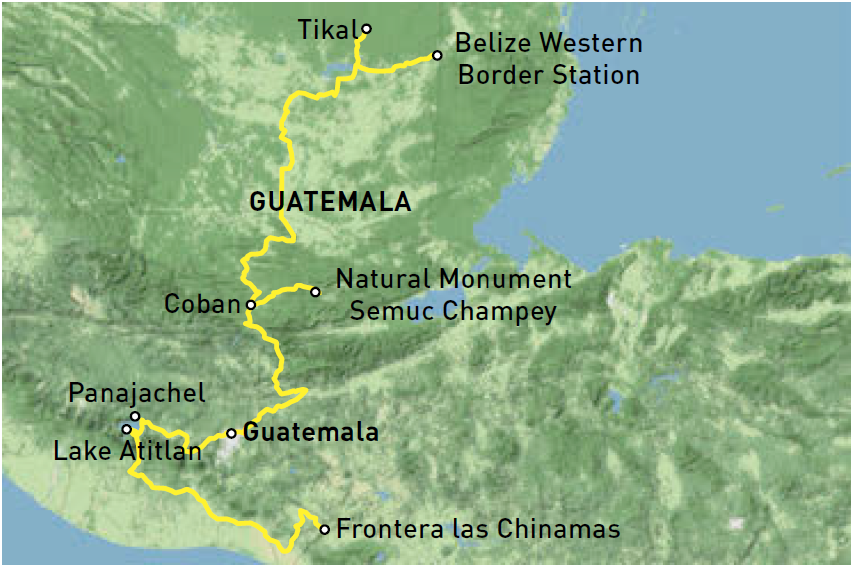 We wanted to learn more about her trip, but after 10 minutes of standing in the heat in our gear, we were all sweating and desperate to cross the border, so we exchanged numbers and promised to catch up later. The paperwork took hours but finally, we were able to get back onto our bikes and ride into yet another new country.
We instantly fell in love with Guatemala as we leaned into winding roads overlooking magnificent mountain ranges. By late afternoon, we reached the sleepy lakeside village of El Remate. We stopped at the first hotel we saw, made sure there was a safe place to park our bikes, and got ourselves a room for $20 (about £14.50).
It was a joy to peel off our sweaty bike gear, enjoy a cold shower, and change into clean clothes. As we stepped outside of the room to have dinner at one of the many restaurants facing the lake, the sun started to set. I don't think I've ever seen such a beautiful pink sky before in my life. Guatemala welcomed us in spectacular style.
A lost world
The following morning we woke up early to travel to the ancient Mayan city of Tikal, parts of which are almost 2,000 years old. At its peak, the ancient Mayan civilisation is thought to have numbered up to 10 million people and boasted great stone cities with palaces, temples, and pyramids.
As well as being handy builders, its people were also mathematicians, astronomers, and teachers, as well as farmers and warriors. Then by A.D 900, this sophisticated civilisation collapsed. The reason for its decline remains a mystery. It's an ancient world lost to time.
Today, Mayan cities like Tikal are popular tourist spots, but thankfully our early start ensured we beat the crowds. Sadly, it was too cloudy to watch the sunrise over Tikal but we still enjoyed getting lost in the lush jungle and marvelled at the ancient pyramid temples while listening to the sound of howler monkeys in the background.
Some of the pyramids rise as high as 44m into the air providing stunning views of the surrounding rain forest. Tikal was every bit as spectacular as we had hoped.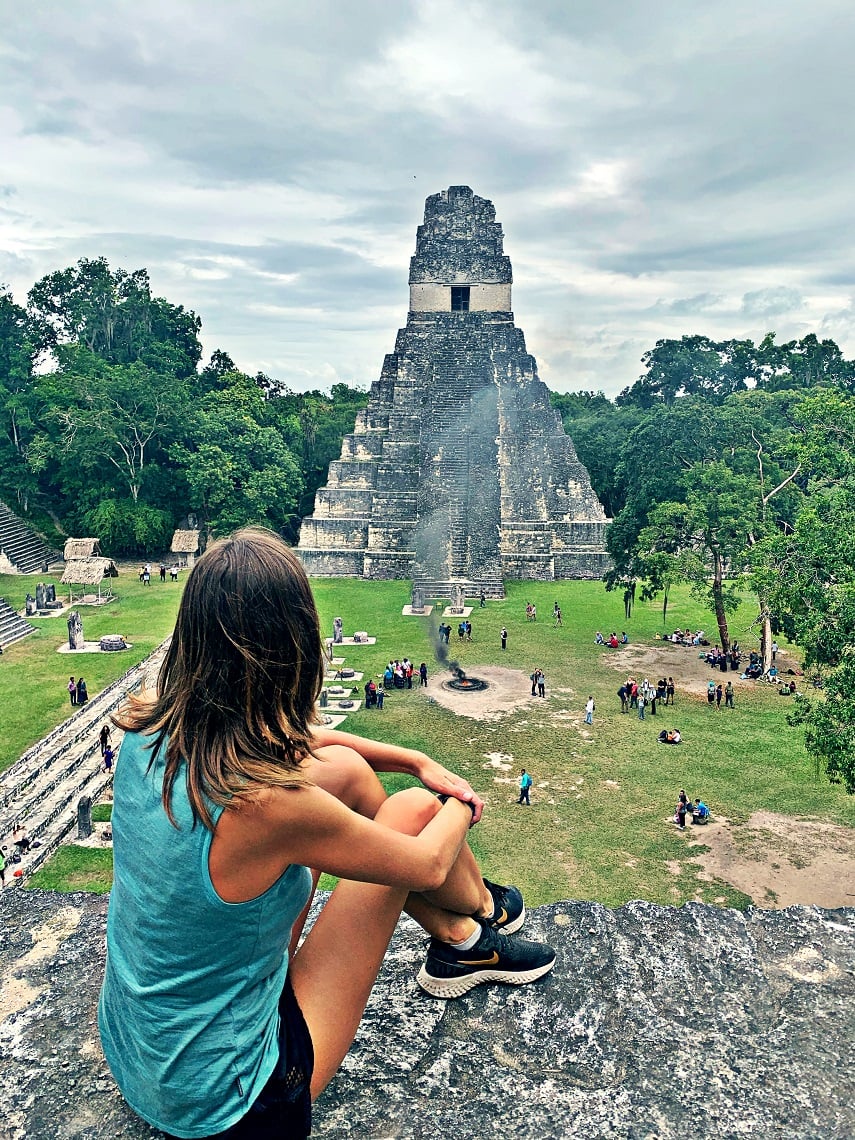 As we were leaving, we couldn't believe our luck when we bumped into Tracy again. As we were all done with visiting Tikal, we decided to grab some food and enjoy our unplanned get together.
We exchanged travel stories about Belize as we were both still buzzing from visiting the Great Blue Hole, a pristine marine sinkhole off the coast, and having seen the skeletons of sacrificed people dating back to Mayan times in the Actun Tunichil Muknal cave.
We also quickly figured out that we were all heading in the same direction to reach Semuc Champey, a turquoise paradise of pools, caves, and waterfalls deep in the Guatemalan jungle. Getting there by bike would require plenty of stamina and half-decent off-road skills.
Knowing that difficult roads lay ahead, it was with a sigh of relief that we all agreed to travel together the next day to help each other tackle any challenges along the way.
So, we made the seven-hour ride to the city of Cobán where we stayed the night before jumping on Highway Five the next morning. After about an hour and a half, we turned off onto a rough gravel road and the start of the tricky part of the journey.
I'm usually comfortable riding on unpaved surfaces but this was a very steep serpentine road used by lorries that left big clouds of dust in their wake, making it difficult to spot the massive potholes along the way.
The steep mountain drop, with no barriers, didn't exactly fill us with confidence either. And the further we rode the rougher it got. Despite riding a very capable adventure bike, I felt shattered after a couple of hours.
We stopped at a random little building which looked like a grocery store to find some shade and get a cold drink. It was there my eyes caught the attention of Tracy's bald rear tyre.
I wondered how on earth she was able to ride these awful roads fully loaded without any tread to grip the road with. She saw me staring and agreed she was in desperate need of some new rubber.
Her brake pads also looked worryingly worn, but this wasn't the time or place to focus on bike maintenance. We were knackered so, in an attempt to lift our spirits, we decided to ask a local about the road ahead.
"Does this road continue all the way to Semuc Champey?" I asked.
"No, road very, very bad," he replied.
"Yes, I know. But is it like this all the way to Semuc Champey?" I repeated, and the man laughed out loud.
"This is the good road," he advised. "Later very, very bad."
We were horrified. The road we'd ridden was already out of our comfort zone, but if this was good, we'd be screwed later on. We were utterly exhausted but, not willing to turn around, we continued on until we reached Lanquín.
It consisted of a steep cobbled street with a bunch of hotels and restaurants on each side, and every building featured a huge balcony with unrestricted views of the surrounding mountains.
The market at the end of the town was vibrant and colourful and we enjoyed watching the locals go about everyday life. We were too tired to do any more exploring so we jumped into some hammocks overlooking the stunning landscape and downed a few too many drinks.
Tuk Tuk and away
The following morning, we discovered that a regular Tuk Tuk service could take us to Semuc Champey. Still feeling rough from all the drinks the evening before, we decided to take it. In retrospect, it was a good call to leave the bikes behind.
We all knew we would have struggled like hell if we'd tried riding there. In fact, Fiona was wondering if we could have made it at all.
Once we got there, we decided to hike up a steep little trail that we'd been told would award us with mesmerising views of the area. It didn't disappoint as we found ourselves overlooking lush, green jungle-covered mountains, and below us, there was a natural limestone bridge with a series of pools on top of it filled with turquoise waters.
We hiked back down, desperate to cool off in them. It was pure heaven.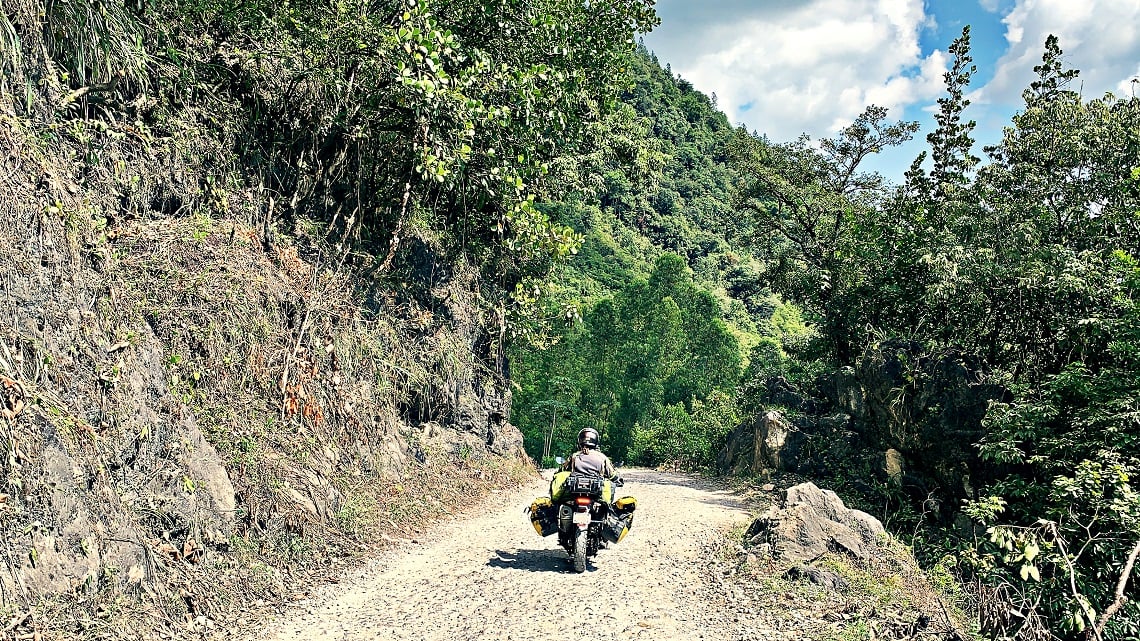 By the time we returned to Lanquín, the weather was on the turn. A thunderstorm was coming, and as we relaxed in hammocks strewn across our favourite bar, heavy rain began to fall that continued throughout the night. According to the weather forecast, it wasn't stopping soon either.
"Why don't we just hang out here for a few days and relax?" I suggested.
Personally, I was tired and needed a break from life on the road to recharge. The town was pretty empty so it felt like we had the bar and hammocks to ourselves. All we needed was to grab our ukulele and have a good time.
Escaping the rain
It was three days before the rain stopped and the sun came out again. We'd been having a great time but we were ready to hit the road. However, as soon as we left the town, we realised that the dirt roads had turned into a quagmire of slick mud. In addition, a lorry had come off the road, blocking the way we came in. Perhaps we should have put off leaving for another day.
Suddenly, a local man approached us offering to transport our bikes back to the main road. Tracy was immediately in but I didn't want to pay anyone to transport my bike. It felt like giving up.
We hadn't yet faced an obstacle on the road that we weren't able to overcome. And each time we did, it made us more confident and more experienced.
But Tracy's mind was made up and I knew I didn't have the skills to ride my bike fully loaded, two-up, through slick mud. Then I remembered the steep mountain drops to the sides of the road with no barrier, so Fiona and I agreed to take a lift.
The next two hours were ridiculous. Firstly, the local man who offered us the deal was surprised to find out that he couldn't fit all our bikes into his tiny pickup. After finding a friend who would transport the other bike, he then looked all over town for a ramp to load them on the trucks with.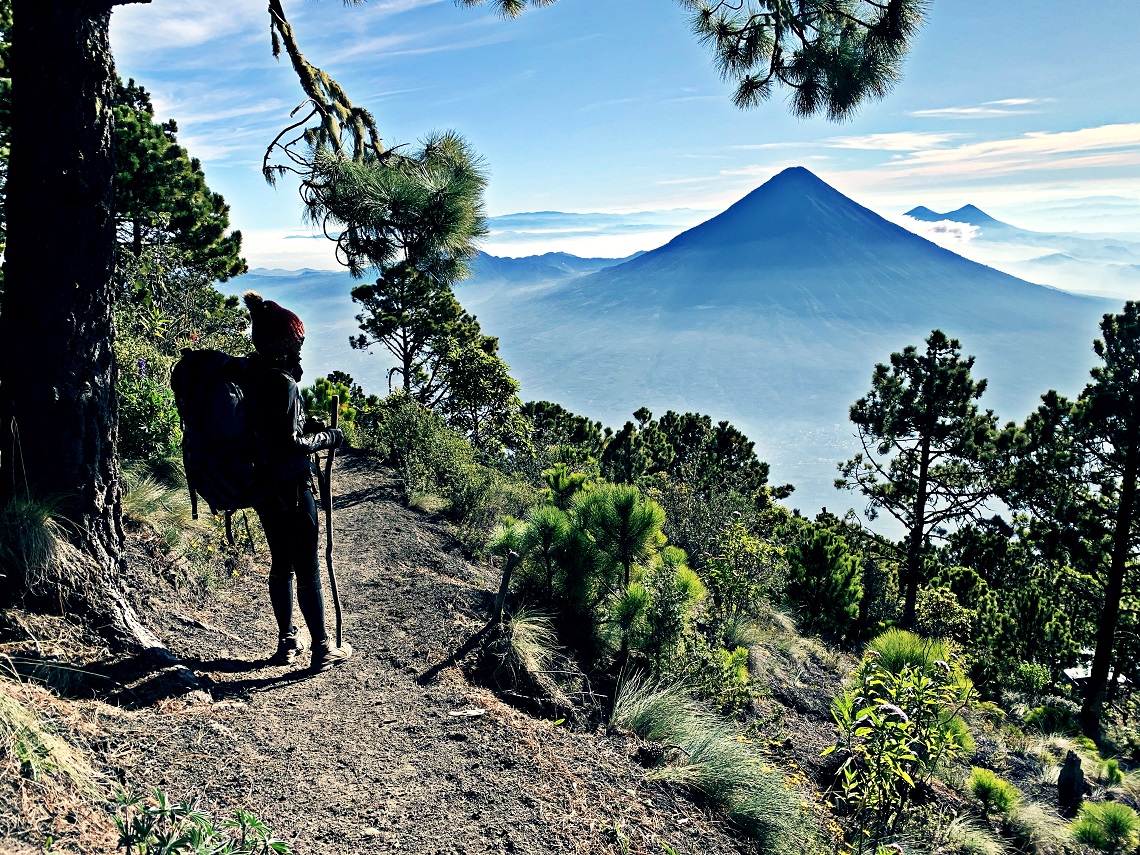 Miraculously, the local school had one. Of course, he had nothing to strap them down with, but we just went along with it. When we made it back to the main road, we managed to unload the bikes and paid our drive, only to find out that our luggage rack was broken.
It was the first time it broke on us and we were pretty worried. But we soon found someone to weld it back together for around $2 (around £1.50) before riding to Antigua.
The old colonial city of Antigua is pretty amazing. We fell in love with the historic architecture, cobbled streets, pastel-coloured houses, and its beautiful backdrop of mountains.
We also met a bunch of other travellers there and everyone told us that we simply could not leave town without hiking up the Acatenango volcano. In fact, people made us promise that we would.
So, with little knowledge of what we were getting ourselves into, we joined a local tour to guide us to the basecamp for an overnight stay. All we knew was that there was a chance to see some real lava. It sounded like an adventure.
A volcanic sunrise
The next morning, we were briefed about what to expect. It became evident that we were ill-prepared in every way, shape, and form. Firstly, we didn't have the fitness to climb up a steep volcano for five hours.
Secondly, we didn't realise it would be freezing up there with temperatures dropping to about -5C at night. Undeterred, we borrowed some old hiking shoes with soles that had worn out a long time ago, along with three jackets that we could layer on top. And then we began our hike up a volcano. Fiona, Tracy, and I didn't see each other for the next five hours.
As I had broken my pelvis in an accident only 12 months previously, I decided to pay for a porter to carry my water and backpack. I simply didn't feel I could make it otherwise. This also meant my climb was made much easier than the others and I found myself among the faster hikers in the group.
Fiona played the constant game of pushing herself up as fast as she could and then pausing for roughly the same amount of time, putting her somewhere in the middle of the group. And Tracy was somewhere at the back swearing and stopping for cigarettes every so often.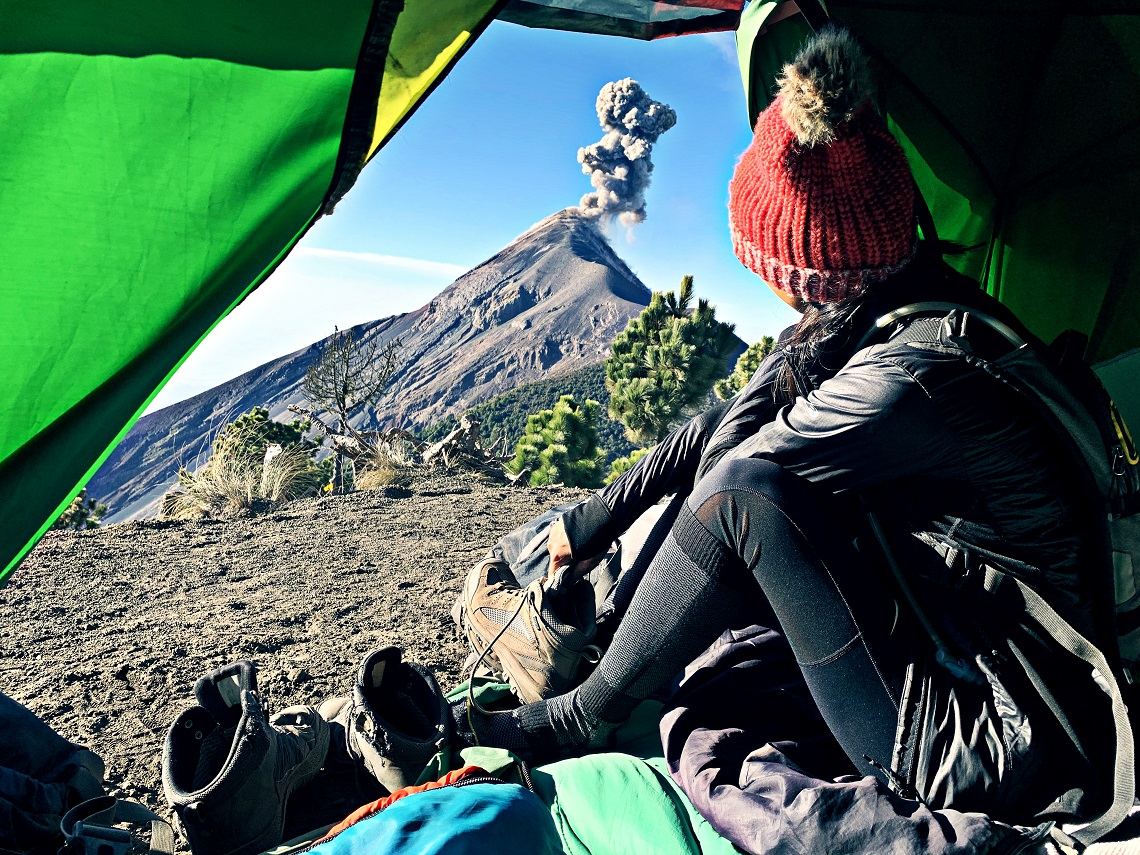 When we met at basecamp, we found ourselves overlooking the volcano which was erupting and was spewing huge clouds of ash into the sky every 10 minutes or so. It was an awe-inspiring sight.
We were so high, we could see the clouds below and, although it was freezing cold, we were elated that we made it up. Not long after, the sunset and nature's display became even more spectacular. As darkness fell, the red lava flow became visible spewing high into the air before running down the volcano's sides. These eruptions were accompanied by the sound of the Earth exploding in front of us. It was an incredible experience.
After making camp, I drifted off to sleep with images of lava flows etched into my mind. At around 3 am, we were woken up to hike to the summit in time for sunrise. This part of the climb was the most challenging yet as my feet would constantly sink into the volcanic ash. I started feeling my blisters in my ill-fitting shoes.
But somehow, I dragged myself to the top while Fiona and Tracy decided to wait this one out. The sunrise was beautiful but it was also freezing cold and I couldn't wait to hike back down as I couldn't feel my hands anymore.
Parting ways
We took a few days to recover from the hike as our bodies were aching after the experience, but we were all excited to head to Lake Atitlán, the deepest lake in Central America. It is surrounded by dormant volcanoes and has several towns dotted around its edge, each with a unique vibe.
No matter if you want to party or look for a yoga retreat with vegan food, there is something there for everyone.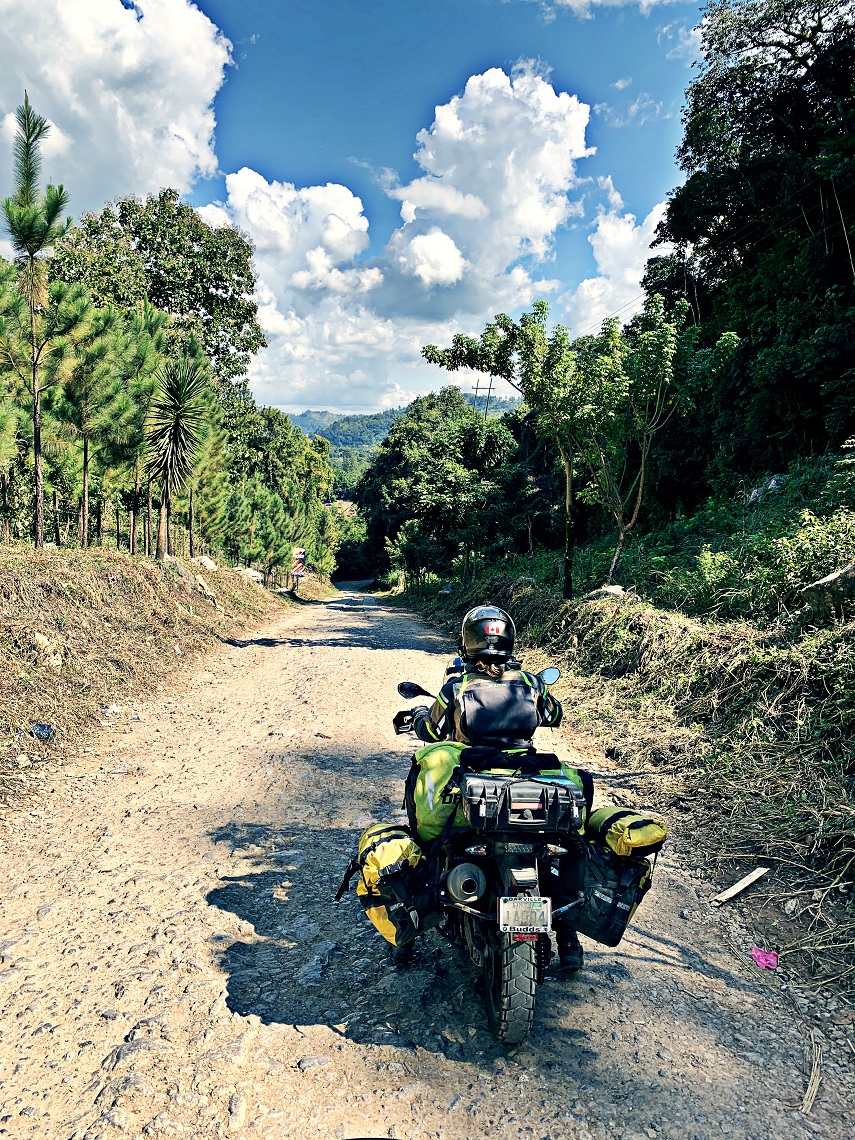 However, despite the fact we were all heading to Lake Atitlán, Fiona and I had a different route planned to Tracy. She was going deep into the mountains and would be facing some pretty challenging switchbacks that would later see her ride through volcanic ash and needing a police escort.
Fiona and I were pressed for time so we chose the most direct route to the lake and one of the towns that was far easier to reach. This was of course only the beginning of a great new friendship.
We didn't know at the time that we'd be spending Christmas together in Honduras, recover from sprained wrists and ankles together in Nicaragua and that we'd all get stranded together during lockdown in Colombia just a few months later.
But that was all to come. For now, I had time to reflect on our time in Guatemala as we rode to the lake. It was hands down my favourite country in Central America.
The stunning landscape, especially the mountains, will be imprinted on my mind forever.
It's a country that has everything for overland travellers from winding roads, challenging off-road sections, and occasional river crossings that all added up to one hell of an adventure.
If you're looking for an adventure on a motorcycle, Guatemala is the place to be.
Want to find out more about Sandra and Fiona's travels? Follow their journeys around the world on their website, ADV Travelbug, and on Instagram @adv_travelbug.
You can also watch a video of Sandra and Fiona's Guatemalan adventure on their YouTube channel HERE.