After two years without setting foot outside of the UK, Ollie Rooke hops on a plane to Spain and discovers the ultimate adventure biker's weekend away
I've never been a fan of people cheering and clapping when a plane lands at an airport.
It's not that I'm ungrateful, far from it. I'll always politely thank the pilot and cabin crew when I step off a flight. But, as an Englishman, I'm not prone to spontaneous emotional outbursts, and I can't help but cringe whenever a round of applause erupts as a plane touches down on terra firma.
Having said that, I admit that even I added a few claps to the jovial celebrations that greeted Ryanair flight FR2156 as it landed at Malaga Airport in Spain. Hell, maybe I'm even underplaying my enthusiasm slightly. The truth is, when those wheels touched down, I felt ready to let off a klaxon and cheer for joy.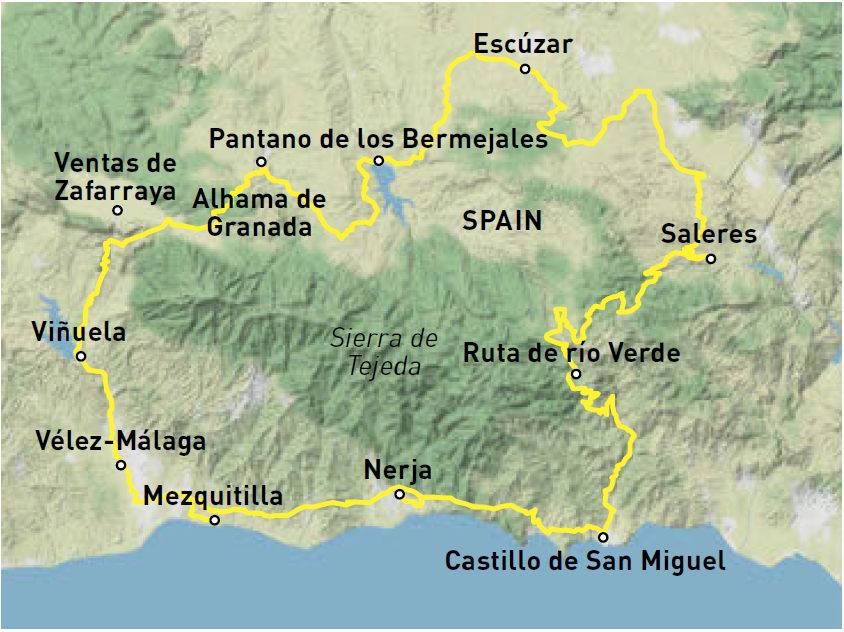 My giddiness was down to two things. Firstly, the flight marked the first time I'd left the UK in almost two years, thanks to you know what. As a keen motorcycle traveller, it had felt like a particularly long time away from the continent, and my feet were most certainly itching.
Secondly, just a few miles down the coast in the town of Nerja, lay a Yamaha Ténéré 700 with my name on it. And that motorcycle came with the promise of an epic day of exploring the trails and tarmac of Spain's south coast.
I was on the trip at the invitation of British tyre manufacturer, Avon, to ride its TrekRider adventure tyre, and my travels would be guided by Ed from local tour company Redtread on his Ténéré Experience trip. Seeing as he's guided riders around southern Spain for well over 20 years, I knew I'd be seeing the best the area had to offer, the perfect return to two-wheeled overseas travel.
Fly'n'ride
This would be a little different from my last trip to Spain. Rather than setting off on my own fully-loaded bike, and taking the ferry crossing from Portsmouth to Santander, as I'd done previously, I was giving the fly-and-ride school of motorcycle travel a whirl for a long-weekend adventure.
Not only is it a lot quicker and easier on the stomach than the ferry (yes, I suffer from seasickness), but it's also noticeably cheaper. At around £60, my return flights to Malaga with Ryanair cost about as much as a good bottle of whisky in duty-free, a realisation that quickly justified the purchase of one. So far, so good.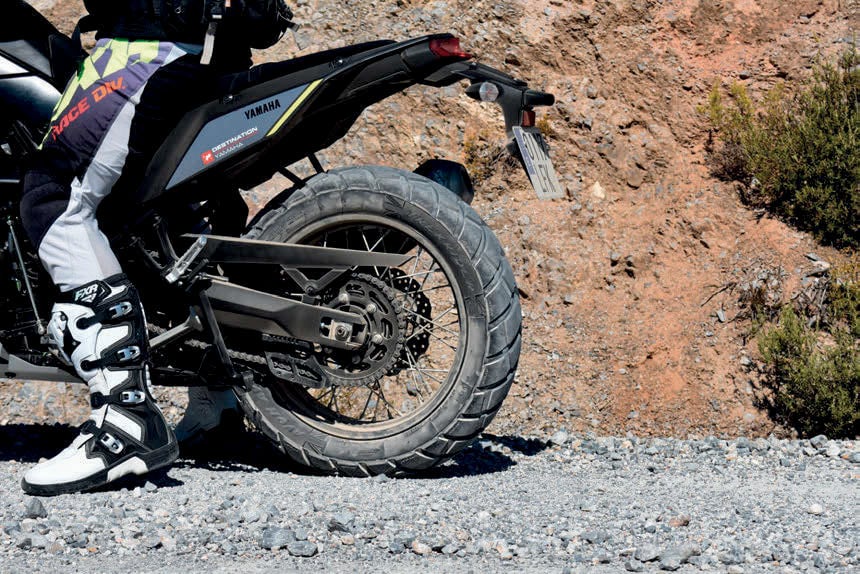 The good times continued when I stepped out of the airport and felt the hot blast of Mediterranean air on my skin for the first time in far too long. With the temperatures hovering in the mid-twenties (C), I stuffed my English winter jacket into my bag and set off to find my lift to Redtread.
Some 45 minutes later, I arrived in Nerja at Redtread headquarters, which has a number of en-suite rooms for guests to stay in and a large open-plan living area. After dumping my kit, I sat out on the terrace by the pool and enjoyed a beer from the fully-stocked fridge as the late-afternoon sun drifted across the sky.
I couldn't wait to jump into the saddle, but it's safe to say I was in no rush to finish the evening as a few more beers followed, along with a selection of authentic Spanish tapas down in the town.
Forget the rigours of the motorcycle touring that I'm used to, like finding a campsite and cooking up some pasta over a little gas stove. This was a riding holiday, and I was loving every second.
Coastal cruising
The next morning, after a quick breakfast of pastries, orange juice, and black coffee, it was time to get acquainted with the Ténéré 700 I'd be riding throughout the day. It was gleaming. In fact, it had a meagre 400 miles on the clock, reflecting the fact that the Redtread team began hosting the Ténéré Experience back in March 2020, but only managed to squeeze one tour before the world stopped spinning on its axis.
This meant that the sturdy crash bars, robust bash plate, and spoked tyres clad in chunky Avon TrekRider rubber were still virtually brand-new. As far as bikes go for tackling a day of adventure riding, taking in mountain roads and unpaved trails that cut through deep, uninhabited valleys, there were few I'd rather have been on.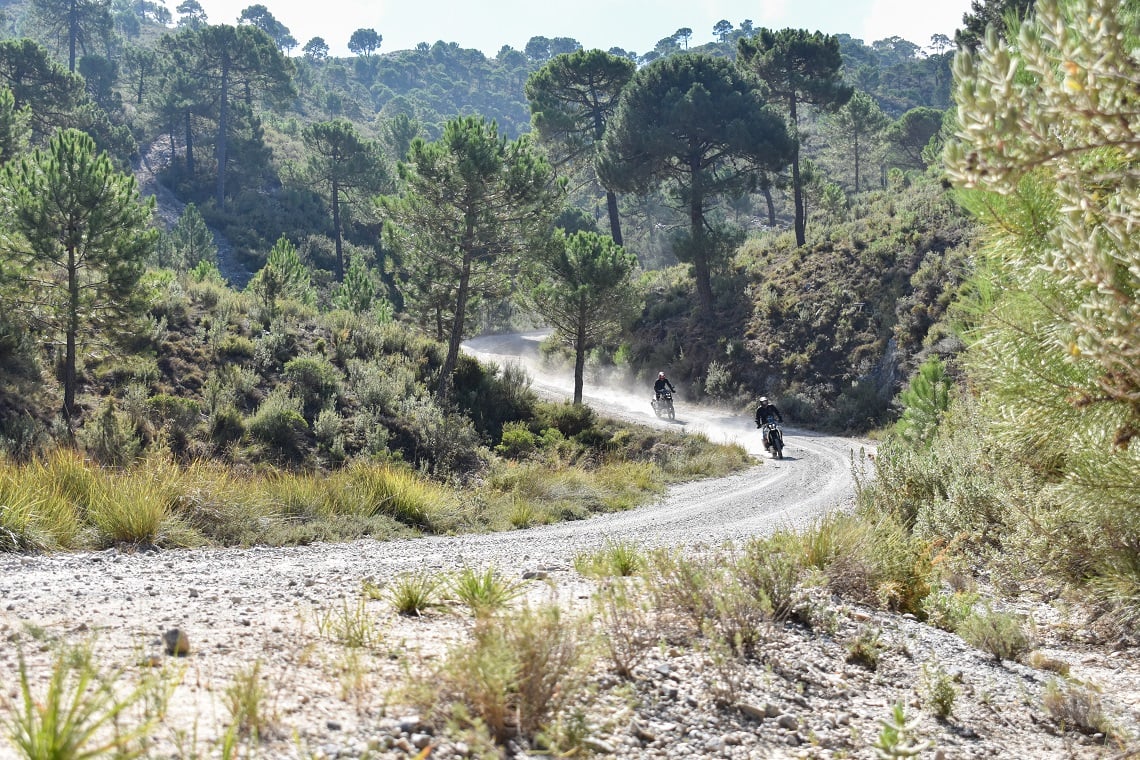 With a familiarisation briefing done, and clad in brand new, lightweight FXR and Knox riding gear, which was provided by Redtread, it was time to saddle up and hit the road down to the coast, making sure I remembered to ride on the opposite side of the road to back home. This riding was sensational from the start.
Heading east out of Nerja, we picked up a snaking coastal route that rose and fell between headlands, and it was gloriously traffic-free thanks to a nearby motorway that kept commuters away. With the Mediterranean twinkling away to my right, and the sun warming the air even at 10 am in the morning, I was in heaven. Autumnal riding does not get better than this.
Onto the Ferrari road
Soon enough, we turned left away from the coast and started a steady climb into the mountains on the A-4050, also known as the Carretera de la Cabra (Road of the Goat). Neither name does it justice, but the night before over a couple of cervezas and tapas, Ed had called the ascent the Ferrari Road because so many sports car manufacturers use it to capture marketing photos and videos.
He described a 40-mile long strip of wiggling tarmac that begins in the seaside town of Almuñécar and climbs 1,363m into the mountains. It's devoid of traffic and littered with tight hairpins, steep drop-offs, and billiard-table smooth tarmac.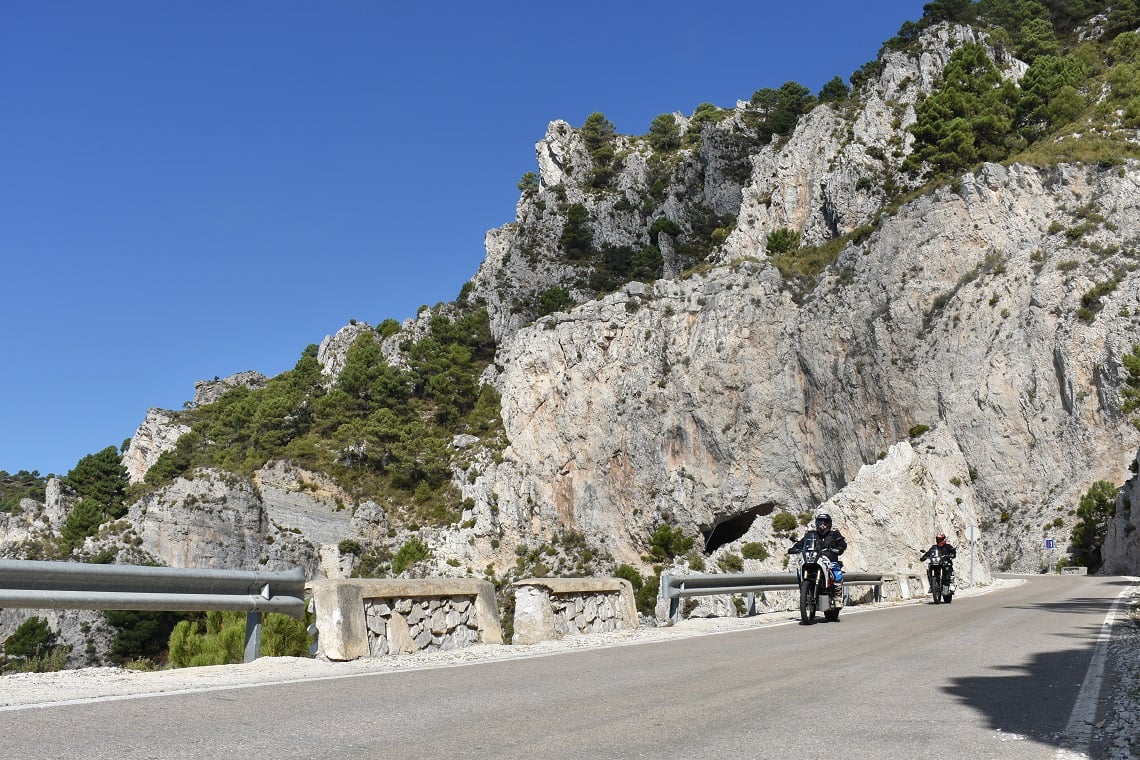 Even in the foothills during the early stages of the climb, it was clear the road deserved its nickname. It was about as straight as a plate of cooked spaghetti, an endless succession of curves that climbed higher and higher past haciendas and farms. I was loving every moment, so I was slightly disappointed when we pulled up in front of a restaurant about 20 minutes into the ride.
"You were right, the Ferrari road is a cracker," I said to Ed as I pulled off my gloves.
"Oh, we're not even into the good stuff yet, but this is the last time we'll be in a town for a while, so I figured we'd grab a cuppa," came his reply.
With the promise of even better riding to come, I ordered a black coffee and sat on the veranda, nodding a buenos dias to two old boys sipping Estrella beer a table over. If there's anything that sums up the laidback atmosphere of southern Spain, it's beer at 11 am, and I was half tempted to join them. However, Ed's anecdote about seeing a brand-new sports car being pulled out of the wall further up the road convinced me to stick with caffeine and one sugar instead.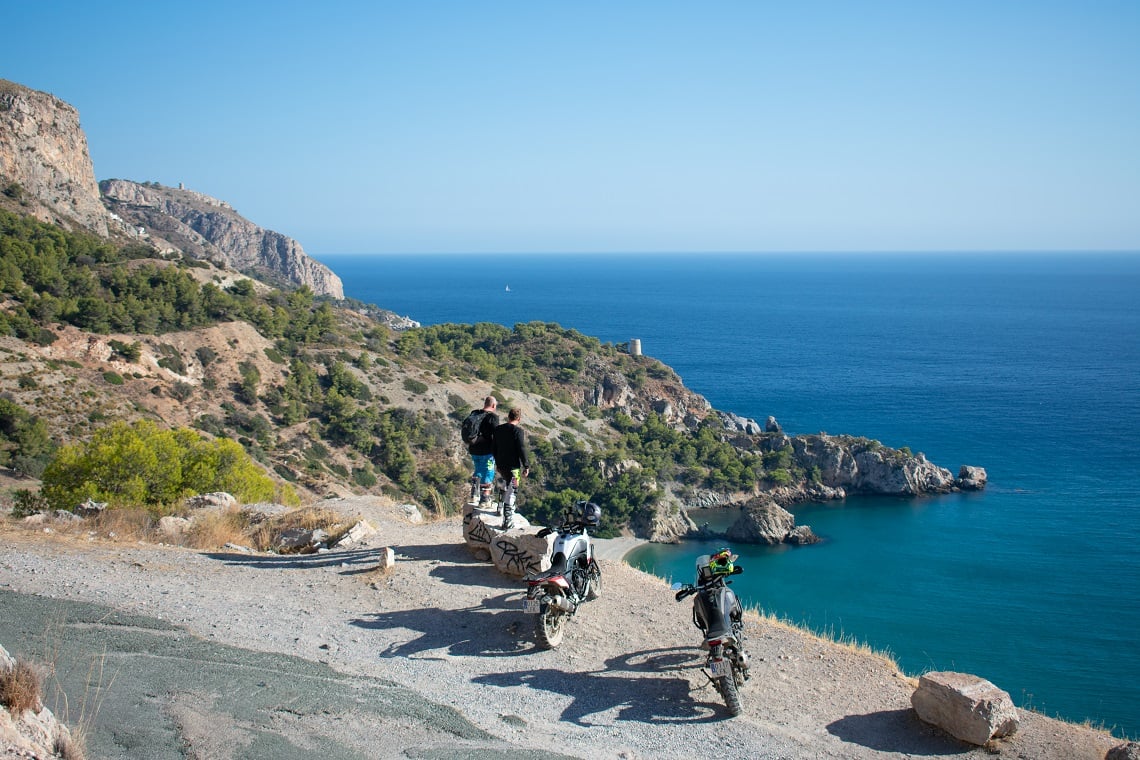 Once we were back on the road, we got stuck into the 'good stuff', as Ed described it. And boy, he wasn't wrong. If you ever find yourself in the Costa del Sol, whether you're motorcycle touring or on family holiday, I implore you to rent a bike and take it up the A-4050. You won't regret it.
And I was seriously impressed with the Avon TrekRider. Despite the fact it is described as a 50/50 tyre, it was proving to be smooth, stable, and provided all the grip I needed as I pushed the Ténéré 700 ever harder in the twisties.
Into the mountains
We stopped at the top of the pass where I was half-tempted to do a U-turn and fly back down the mountain, but the road could wait. It was time to find out how the TrekRider tyres performed on the trails.
The night before I'd asked Ed what the legality of trail riding was in the area. He'd explained that, as a rule of thumb, if an unpaved trail was wide enough to take two cars, it was fair game. It sounded a lot easier than breaking out an OS Map back in the UK and combing areas for byways and unclassified roads that hadn't been slapped with restriction orders. In short, Spain is a trail rider's paradise.
Ahead of us, the gravel road stretched off through dense forests, a fertile contrast to the sun-baked coast over 1,000m below us. I stood upon the Ténéré's pegs as Ed led the way, keeping a fair distance back to avoid the cloud of dust his rear tyre was kicking up.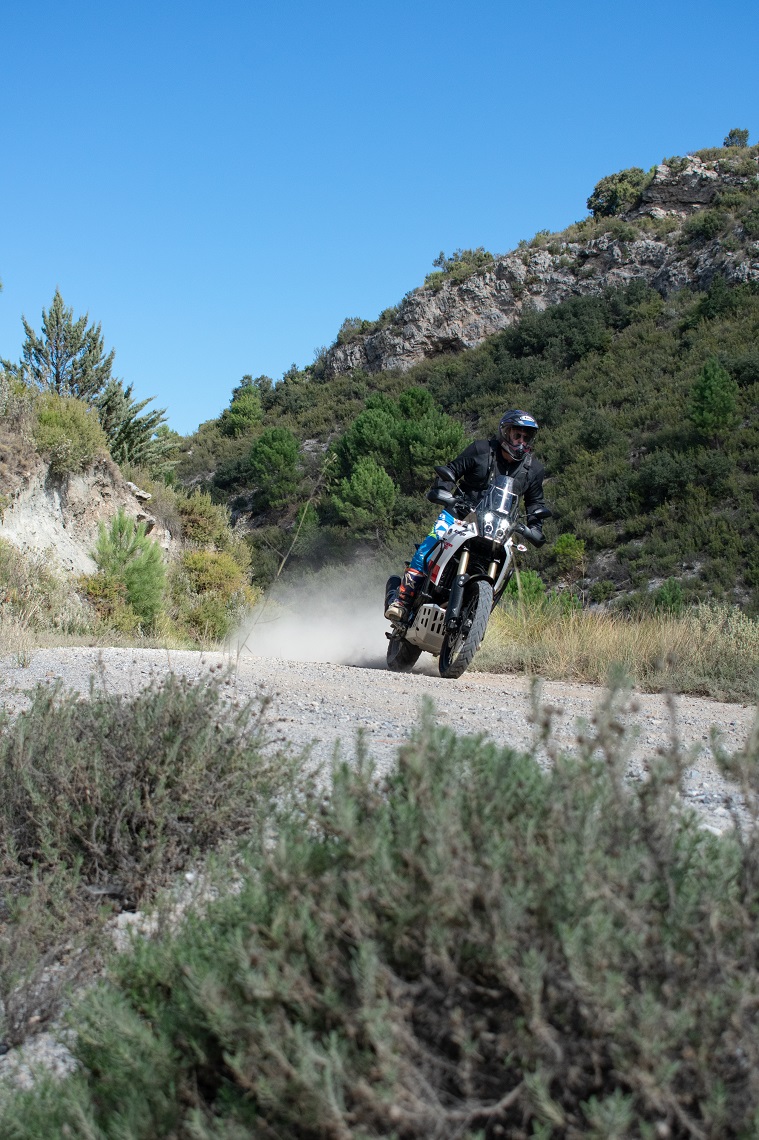 The flowing trails weren't too technical, it's a Ténéré Experience rather than a rally after all, and it was just a case of enjoying the seemingly endless miles of gravel rather than dodging ruts or contending with slick mud.
While I love green laning back in the UK, Spain truly puts our motley collection of trails to shame.
Suddenly, I spotted a flash of movement to my left. Rolling off the throttle, I caught the distinctive outline of an Iberian ibex, complete with large, curved horns. It was a reminder just how far we were exploring off the beaten track and I was tempted to stop for a photo. But, that morning, Ed had warned us that ibex are prone to a headbutt if they felt threatened. Not wanting to be on the end of a Glasgow kiss from a 100kg lump of muscle and horns, I hurriedly got back on the power and out of Dodge.
The trails continued for miles, cutting further into the tree-lined valley before picking up a route that flanked a dried-up riverbed. I'd lost track of where we were, happily trusting Ed and his vast local knowledge, but suddenly the landscape opened up to reveal an unmistakable hulking silhouette of the Sierra Nevada mountain range, the highest point of which is Mulhacén at 3,479m.
Continental Spain's highest peak was well worth a photo and, as I stopped, I realised we'd been in the saddle for over three hours.
With such engaging riding, the morning had flown by and I took some time to reflect on the Avon TrekRider I was here to test. It had transferred onto the trails with ease, providing plenty of bite under acceleration and through the turns.
I was snapped out of my reflective state by Ed who said it was time to head for lunch in a local restaurant. Our bikes, gear, and faces were covered in a layer of fine dust, but I've always found that the Spanish love bikers and we were welcomed with open arms as we tucked into some cracking grub.
A difficult choice
There was no time for a siesta though as we once again mounted our bikes and turned back towards the coast. Unsurprisingly, Spain delivered even more impeccable trails, and we turned off the tarmac for a blast around a lake on a winding gravel track before Ed pulled over and offered me a near-impossible choice to make.
"We've got two options," he said. "We can either ride another trail down a disused railway line or follow a stage of the Vuelta a Espana (Spain's famous multi-stage bicycle race) on the road to get back to the coast. Which do you fancy?"
It was a proper Sophie's Choice but with the morning's ride on the Ferrari Road still fresh in my mind, I fancied enjoying some more scintillating road riding. It was a great decision.
The Spanish roads once again offered a brilliant ride, a constantly winding ribbon of tarmac that dropped the 1,000m or so down towards the coast.
By the time I found myself back at sea level, I was almost grateful for the lack of curves on the palm tree-lined promenade so I could give my clutch hand a rest. The feeling of cruising back to base, knowing a cold beer by the pool in the late afternoon sun was waiting for me, was one of pure happiness.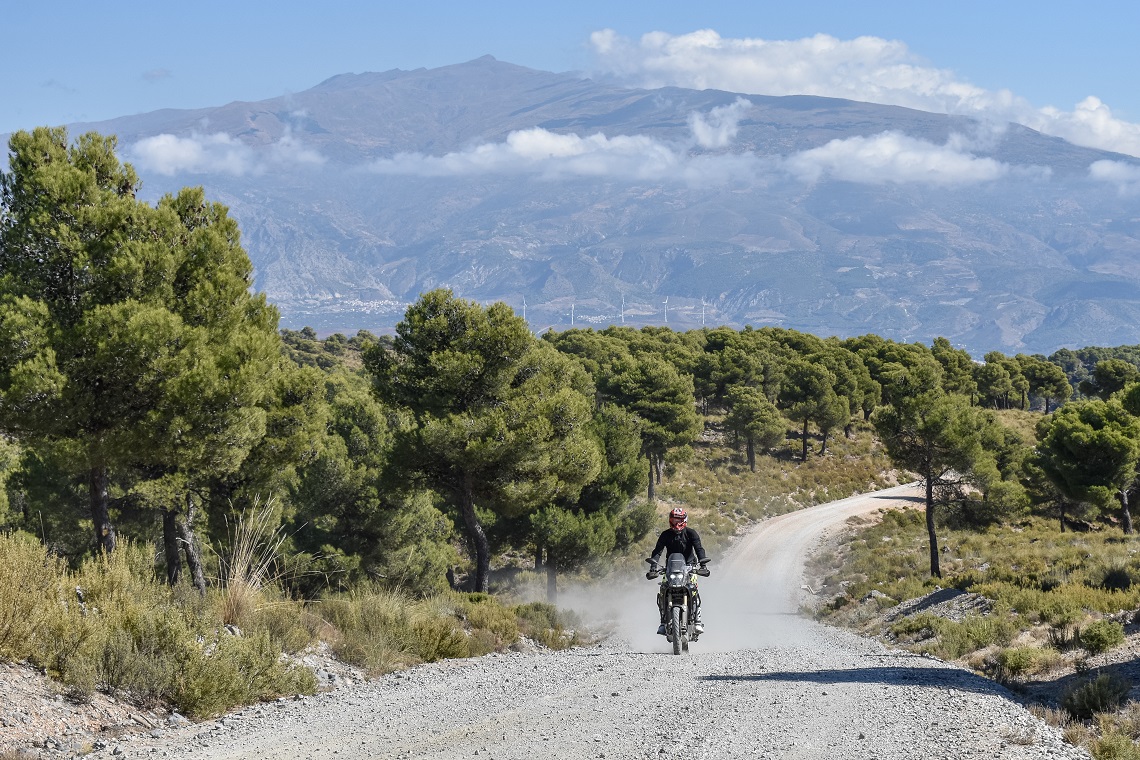 It had been a sensational day in the saddle, and a welcome return to riding overseas. Make no mistake, I love riding in the UK, but few things beat scrubbing in some rubber on the type of roads that you'll see in a luxury Ferrari advert. On top of that, after finding myself riding meagre British green lanes over the past two years, the opportunity to spend time riding uninterrupted trails in the Spanish mountains was an absolute joy.
By the time my flight touched down in a grey, dreary Birmingham Airport the next day (rest assured there was no clapping on arrival) I'd been away from home for just 48 hours. In that time, I'd cruised along the coast, soaked up the sun with a Cerveza, and ridden epic mountain trails for hours on end.
As long weekends go, it may be the best I've ever had. If you've never given the fly-and-ride world of motorcycle travel a go, put your magazine down right now, book a flight to Malaga, and let the guys from Redtread show you an incredible time. I guarantee you won't regret it.
Avon TrekRider tyres
Alongside experiencing the ultimate adventure biker's long weekend, I was in Spain to test the Avon TrekRider adventure tyre. In short, I was seriously impressed. A combination of winding mountain roads and never-ending gravel trails provided the perfect proving ground. And, I was joined on the ride by Avon's Motorcycle Tyre Development Manager Ashley, who was there to answer any questions I had.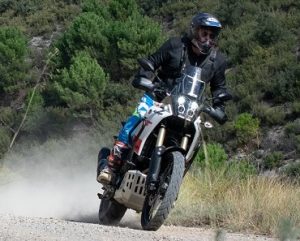 On the road, the biggest compliment I can give the TrekRider tyre is that I didn't once feel that I'd even got close to their limit, despite pushing my Ténéré 700 hard through the mountain passes. This is important because, no matter how much fun I had on the trails, the truth is that adventure bikes spend the majority of their time on the road, so any adventure tyre needs to perform on tarmac.
During my ride, the grip never faltered, feeling smooth and stable, no matter how far I leaned the bike over or how many mid-corner corrections I made when blind hairpins unexpectedly tightened.
I was also impressed by the fact the deep lugs didn't cause any noticeable rumbling noise or intrusive vibration on the road at high or low speeds, unlike some tyres I've ridden in the past with aggressive tread patterns.
The reason for this lies in the arrowhead tread design. The chevron-shaped blocks ensure there are no empty horizontal gaps in the tread, which is the cause of noticeable rumbling in some adventure rubber.
Off-road, the TrekRider provided me with plenty of confidence to attack the trails. On dry and dusty gravel tracks there was plenty of traction when accelerating, braking, and cornering.
However, I did notice that grip started to fall away, and the tyre was more likely to spin out when the gravel got particularly deep at the edges of the trail, which I'd imagine would also be the case in slippery mud. But compromise is the name of the game when it comes to adventure tyres and, in my eyes, Avon has struck an excellent balance between on and off-road performance.