Here at ABR we're big fans of cruise control. Sure, the presence of tech on an adventure bike may not be every rider's cup of tea, but when you're putting in long days in the saddle on tour, the chance to sit back, relax, and let the bike do the work on motorways and toll roads is a welcome luxury.
Plus for some riders, including ABR editor James, resting their throttle hand can be a need rather than a want. Repetitive strain injuries and carpal tunnel syndrome, amongst other conditions, can cause pain on long-haul trips, and stopping for a break every half an hour or so doesn't quite cut it when the countdown is on to reach your ferry in time.
Not everyone has cruise control though, which is where the ATLAS Throttle Lock comes in. After spending hours riding with both electronic cruise control and the ATLAS, we reckon it's one of the best alternative approaches to the problem around, with a design that's built to be used specifically on the rotating throttle found on motorcycles.
What is it and how does it work?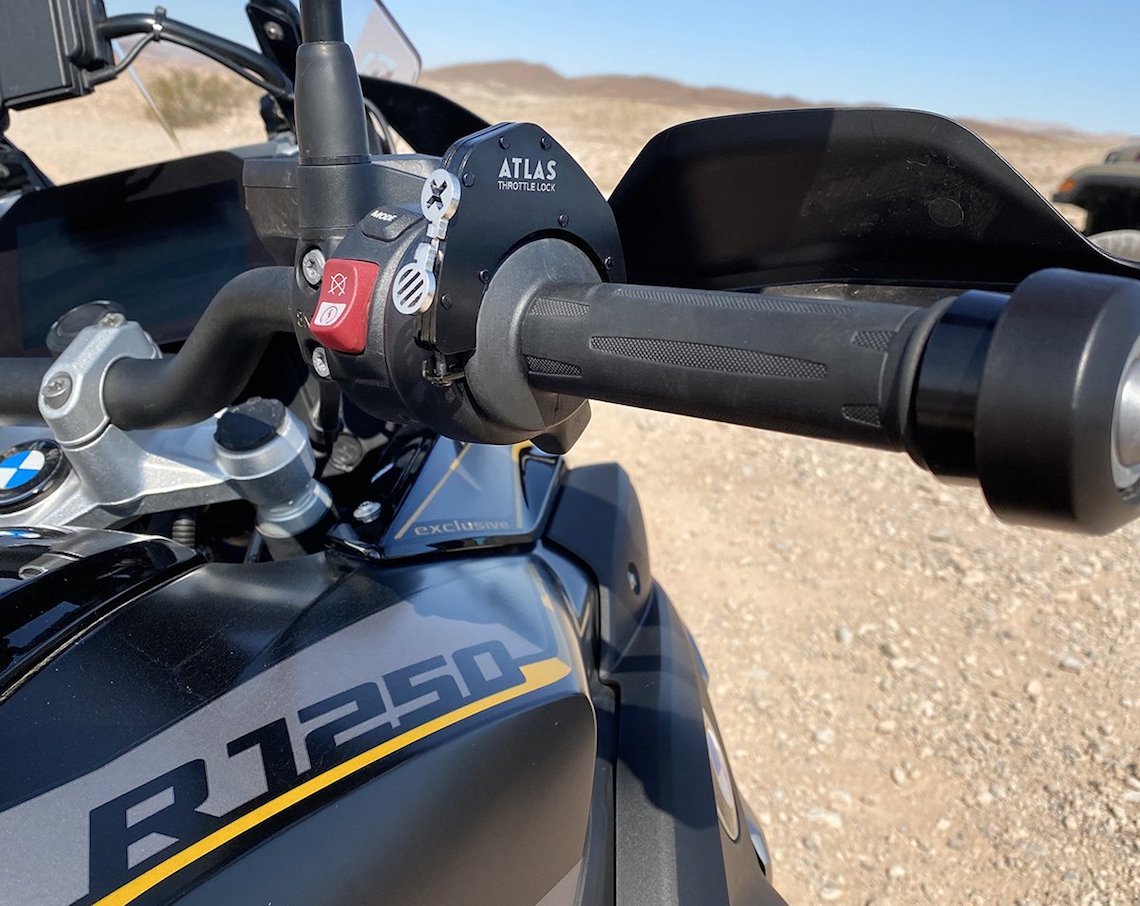 The ATLAS Throttle Lock can fit any set of handlebars and simply clips over your right hand throttle grip. While riding along, you can hit an easy-to-locate button by your thumb to engage the device, which then holds your throttle in any position you leave it.
Of course, to keep riders safe, the ATLAS doesn't fully lock your throttle completely. Instead, it relies on a friction pad, which rests against the throttle housing.
While this is secure enough to hold the throttle in place and maintain a set throttle position as you ride along, it can also be easily manually overridden by rotating the right grip if you need to slow down quickly or make adjustments to your speed as you ride along. It can also be completely disengaged with a simple push of a button.
The benefits of this are obvious. If your bike doesn't come with cruise control, a throttle lock is an inexpensive and simple way to give your right hand a break on long-distance tours and road trips, without turning to your manufacturer's expensive optional add-ons brochure. And, if you're lucky enough to have more than one bike in your garage, ATLAS' invention can also be transferred from bike to bike and in around five minutes.
How did it come about?
While they were sat in a tent during a thunderstorm on New Zealand's magnificent South Island, American RTW motorcycle travellers, David and Heidi Winters, had a brainwave. David had been using a bar-end throttle lock (basically, a manual cruise control) on their 15-month trip after he broke his wrist so he could relax his injured hand during.
However, he found the design cumbersome to use as he tried to engage it with his pinky finger at 70mph, or while slowing down required him to pull the clutch in and briefly roll off the power, not ideal when there was traffic around. He thought riders without the luxury of factory-fitted cruise control needed a safer, more practical solution to cruising on the open road.
Inspired to find their own solution, and desperate to relieve David's discomfort, the couple worked late into the night sketching out a new design that would be easy to engage/disengage and include a few more features to make life in the saddle that little bit more comfortable. Soon after, the ATLAS Throttle Lock was born.
Atlas Throttle Lock
Made by seasoned adventure bikers for adventure bikers, the ATLAS Throttle Lock is a bit of kit that we can see a lot of two-wheeled travellers finding useful on future trips.
Find out more by heading to the ATLAS website, or watch the throttle lock in action below.