I was 13 when I first visited Morocco. My dad decided to take my sister and me on a backpacking holiday around the country, starting in Marrakech and then heading to Essaouira on the coast. From the bohemian stronghold on the shore of the Atlantic we travelled to Agadir before eventually making our way back to the red city in the heart of the country.
My experience of the African nation then was unforgettable. For my life leading up to that point I'd never travelled outside the confines of western Europe, and as I walked across Morocco's famous Jmaa el Fna square, I couldn't help but be overawed by the delightful assault on the senses. Colourful textiles dazzled the eyes, the tempting smell of spices teased the nose, the sound of snake charmers playing their hypnotising tunes seduced my ears, and the feeling of a monkey's arse on my shoulder taught me not to walk too close to the men who handled them.
Back then Morocco was a different place than it is today. The iconic square is more organised, it has been paved and there are strict laws prohibiting street sellers from overly harassing tourists, but despite the more western influences on the country, as I walked through this same square 14 years later with my tour guide Greg, the childish grin that was plastered across my face back then returned, for I was in Africa, the continent of adventure.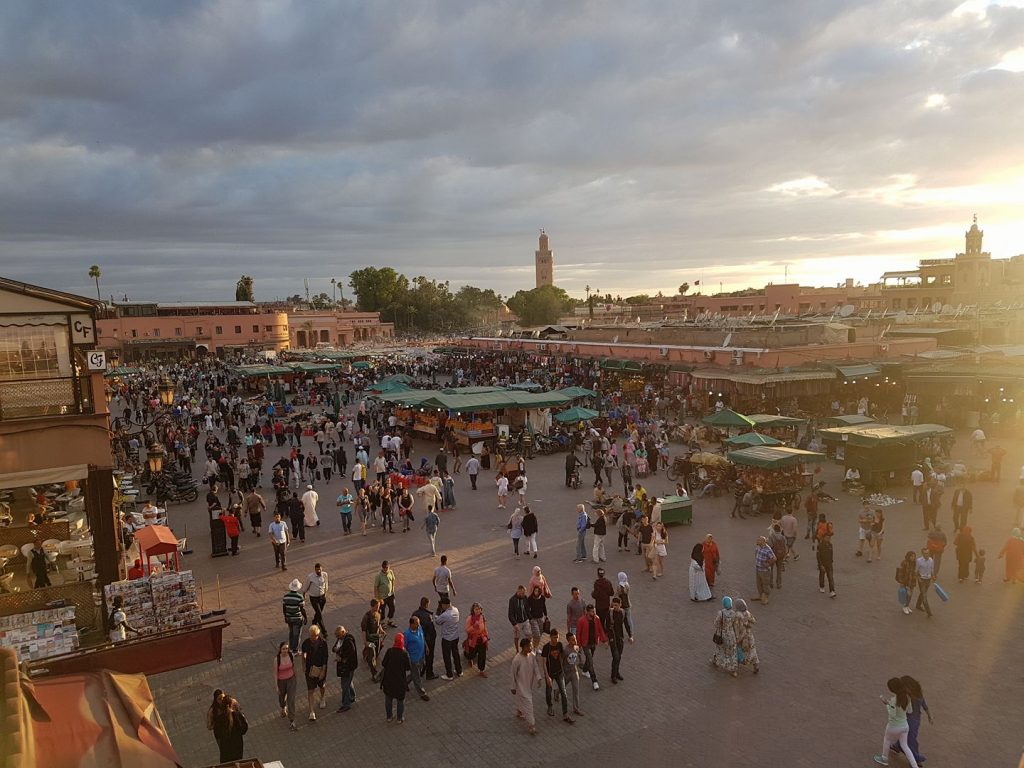 I was in Marrakech to ride a long weekend tour with Wheels of Morocco, a BMW Motorrad certified tour company that's owned and operated by Greg and Viktoria, and after being picked up by the former at the airport, I was whisked off to a luxurious villa on the outskirts of the city which acted as a tranquil and serene safe zone amidst the chaos and frantic lifestyle on the streets of Marrakech.
I was introduced to Patrick, who owned the villa, and Mick who would be my riding buddy for the next few days, and then we were briefed on how the three days of riding would proceed. With the map sprawled across the table and the anticipation and excitement building, I couldn't help but feel like we were planning a military operation. Our aim was simple, a three-day triangular route from Marrakech to Marrakech, via Taroudant and Ouarzazate. Along the way we'd take in the country's two most notorious mountain passes, the Tizi n'Test and Tizi n'Tichka, as well as visits to a lush oasis and the film studios that have led to Ouarzazate being known as the Hollywood of Africa.
The next day we mounted our steeds, black BMW R1200GSs, and headed towards the snow-capped Atlas Mountains on the horizon to the south. Within an hour of riding we'd left the hustle and bustle of Marrakech behind and were navigating our way through small villages. As we rode by, kids would rush out from whatever they were doing to try and get a high five. I indulged the first one I saw, and after seeing the poor lad wince away after my armoured hand slapped his at 20mph, I decided it'd be best not to encourage the others, especially as they probably lacked the awareness to account for the extra width of the panniers.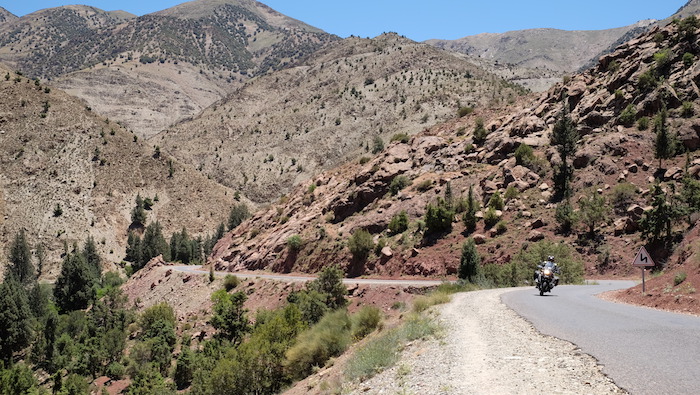 Onwards we went, the mountains growing in size with each mile we covered, and before long we began the arduous climb of the Tizi n'Test. I had read many, many stories about this pass over the past few years, eager to tick it off my bucket list, and the general consensus amongst riders was that it's a spectacular but hair-raising ride that's not for the faint hearted.
The route was blasted through the mountains in 1929 by the French, and it's a remarkable display of engineering that is also demonstrated in the Alps. At times, the tarmac hugs the walls of huge cliffs, 500m high, and comparisons could be drawn to the magnificent Combe Laval in the Vercors (which you might remember from issue 30 of Adventure Bike Rider), though this Moroccan route lacks the luxury of safety barriers between you and certain death. It was the first modern road to link Marrakech with the fertile Sous Plains, and became one of the country's most important trading routes. Unlike its big brother, the Tizi n'Tichka, it appears the Test has become forgotten about in time, with the tarmac being in a terrible state for a majority of its length.
The northern flanks of the Tizi n'Test are great, if a little unnerving as you feel that every blind corner is a throw of the dice where you might meet a truck or grand taxi on your side of the road, but it is the southern side that will leave an unforgettable impression on you.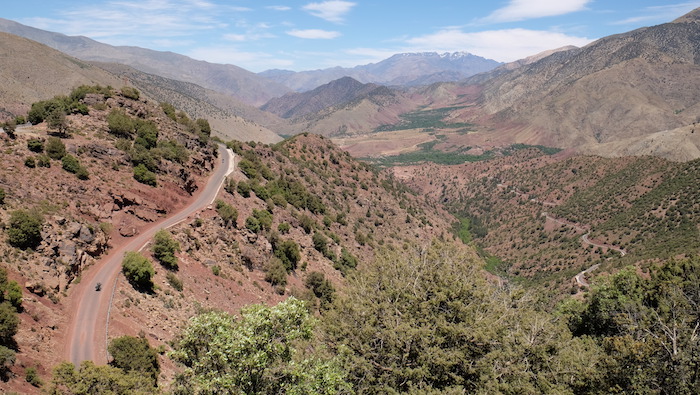 As you crest the pass the view opens up and you're riding on the very edge of the High Atlas Mountains. Below, the Sous Plains stretch as far as the eye can see, and directly opposite you stand the foothills of the Anti Atlas. Greg had planned what must be the most scenic lunch stop in the world for us at La Belle Vue, a small restaurant near the summit, where the only dish they serve is omelette du Berber, a traditional dish that's essentially an omelette on a bed of vegetables. For such a simple meal it tasted so, so good.
Despite wanting to ditch my bike, sell all my possessions and spend the remainder of my life living as a hermit on the slopes of the Tizi n'Test, we descended the southern side of the pass, which was in slightly better condition. Eventually we found ourselves rolling in to the walled city of Taroudant to spend the night in a beautiful riad.
The majority of the next day saw us riding east towards Ouarzazate along the N10, a beautifully tarmacked stretch of road surrounded by a Martian landscape of red sand and rock formations. Characterised by long, straight sections broken up sporadically by hectic twists and turns for its first 130-or-so miles, this route offered a completely fresh style of riding to the day before, but it was just as enjoyable.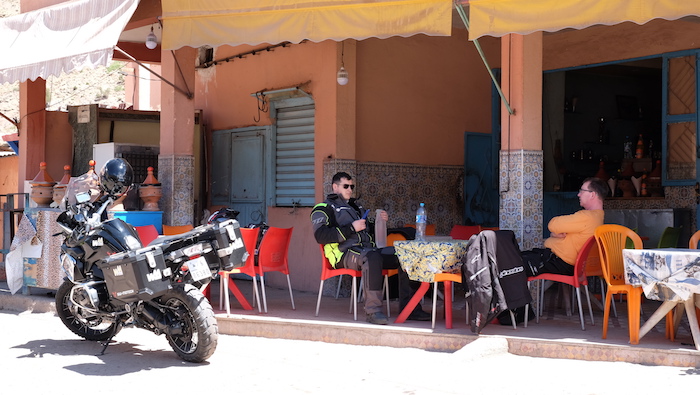 I couldn't help but look towards Greg, who was leading the pack on his BMW GS Rallye, as he stuck his machine in cruise control and bopped around to music, clearly enjoying the stress-free ride. I, meanwhile, spent the time wondering if there was a way to scientifically calculate the effective velocity of a fly splat to the cheek at 60 mph as I rode with my visor up. I was closing in on my Eureka moment when I saw a sign approaching in the distance.
'Gas Haven,' it read. 'Last stop for 200 miles.' We pulled in to inspect the clearly abandoned American-style petrol station. Rusted cars littered the forecourt, along with various other bits and bobs. Beyond the amazement that I felt while exploring this bizarre location, I couldn't help but think it was all a bit Hills Have Eyes-ey, and I wouldn't have been surprised if a gang of bloodthirsty mutants had set this place up as a trap.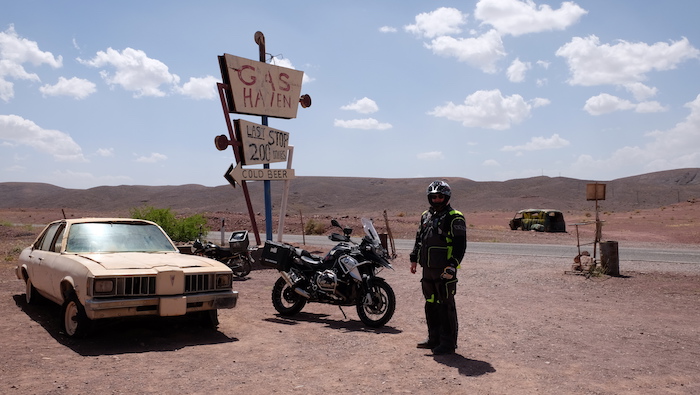 There was good reason for this feeling. The place had been built in 2006 specifically for the film The Hills Have Eyes. I knew I had seen it somewhere before. After the novelty wore off, the movie set hinted that we were closing in on Ouarzazate and its famed movie studios. A short ride through a sandstorm later and we had passed through the famous town on our way to an off-road trail that would take us to, what Greg promised, was an amazing oasis with a brilliant river crossing.
The easy off-roading had been presented to us as a means to access to Oasis de Fint, an oasis of lush green life about seven miles south of Ouarzazate, and as we rode through the thick 36C heat, surrounded by barren desert, I found myself thinking that it would be impossible for anything to grow out here (and this was a cool day by Moroccan standards). Feelings were reinforced as we rolled through the surreal streets of a town that hadn't even been built yet. The plots had been marked out and the roads built around them, complete with street lights and bus stops, but there was nothing or no one else around. Apparently, the intention to build a town was there, but money ran out and things were taking longer than expected to proceed.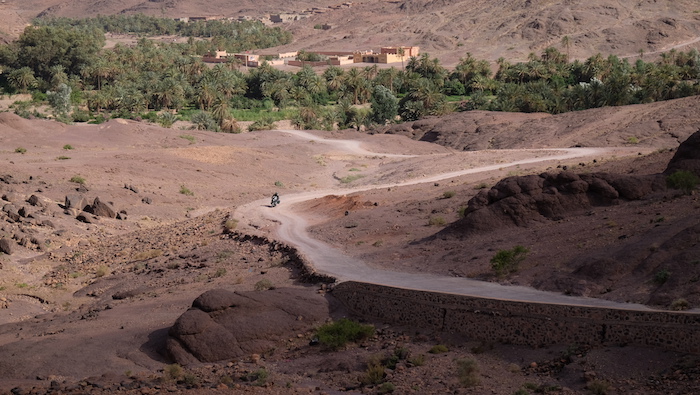 We followed a gravel track into the heat haze and I had some fun turning the traction control off and trying to kick up as much dust as possible. Before long we turned off down a smaller trail, and as we descended into a valley the green tips of trees came in to sight. Bemused, I rode on and slowly unravelling below me was a bright green oasis, teeming with life and stretching off down the valley. Like an artery taking oxygenated blood around the body, a river (which was more of a stream at this point) trickled its way through the valley, breathing life into the land for a width of about 20m each direction.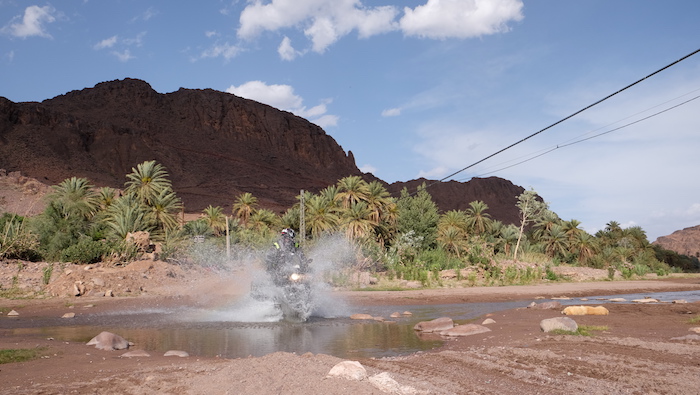 Kids played in the water, women washed their clothes, and we happily disturbed the serenity of the place by cooling off ourselves and our bikes in the water. Time was taken to refresh at La Terrasse Des Delices before we disappeared back the way we came to our resting place for the evening, a luxury villa with an infinity pool on the shores of the vast El Mansour lake.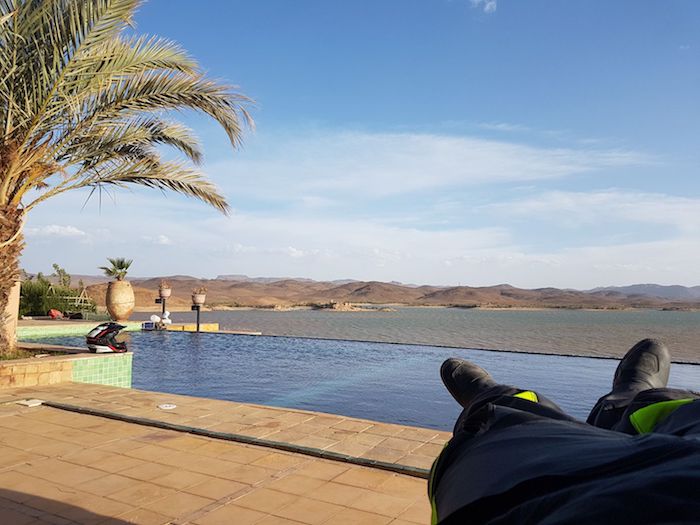 The next morning saw us depart our luxury villa in search of some famous movie sets around Ouarzazate. I was particularly keen to see the sets of Game of Thrones, Troy, and Gladiator, before taking on Morocco's highest and most famous mountain pass, the Tizi n'Tichka. But rather than approach the pass on the busy and touristic N9, Greg proposed that we follow an old French military road, the P1506, that was cut out of the mountains in the early 1900s.
>>> How to ride the challenging terrain of Morocco
This route would take us past the ancient fortified village of Aït Benhaddou, which has become a popular destination for film crews over the years, with Gladiator, Alexander and Game of Thrones amongst other choosing it as their location of choice. Of course, being in Ouarzazate we had to check out other filming locations, so on our way to the Tizi n'Tichka pass we explored the Atlas Film Studios, which is said to be the largest film studio in the world, covering more than 322,000 square feet.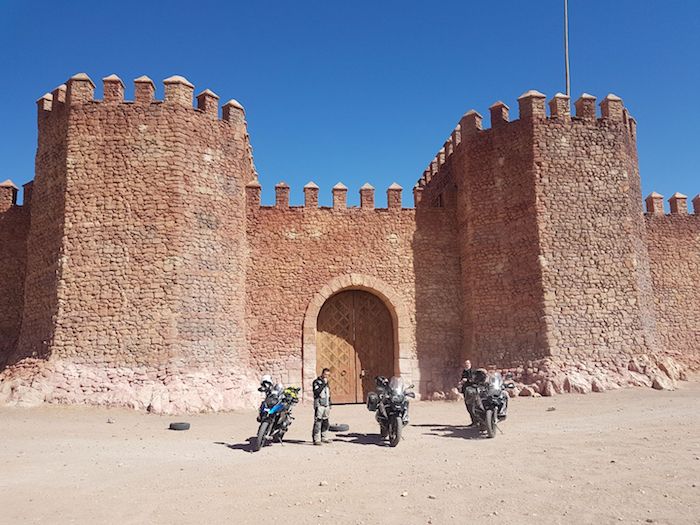 We eventually reached Aït Benhaddou, and as I sat in the saddle admiring the view, imagining how it must have looked centuries ago when the fort atop the hill was still intact, compared to how it must have been when Khaleesi arrived with her army of Unsullied to free the slaves of Yunkai, I'm interrupted by a voice. "Iguana?" It says, and I turn around to see three young lads approaching with iguanas in hand. "What on earth am I going to do with an iguana?" I asked Greg. His reply informs me that they're not selling the creatures, but selling you the opportunity to take a picture with them.
As I examined the goods on offer, I couldn't help but feel sorry for the animals who were so helpless to resist the clutches of these boys, especially as one of them looked positively dead. I decided that I could easily get a picture of an iguana from Google and we rode away, stopping for a coffee in a café that offers a brilliant view of the ancient fortified town.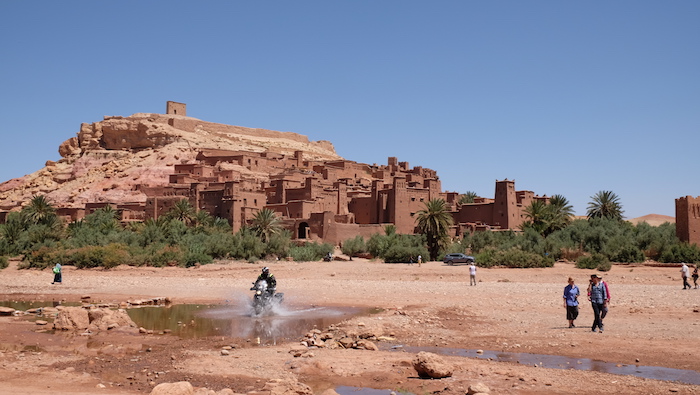 With our thirst for historic architecture quenched, we began the long journey back to Marrakech along the old military road. For miles, we travelled along a deserted route, every now and then passing through remote villages where more kids would come out and wave to us. After an hour or so the fun began, and the tarmac disappeared. For the next 15-or-so miles we glided along on a gravel track, standing on the pegs in our adventure stances and feeling like Indiana Jones exploring some forgotten ancient land.
>>> 9 things you need to know about riding in Morocco
We were eventually deposited onto the Tizi n'Tichka near its 2,260m summit and we began the epic ride down its northern flanks towards Marrakech. While the Tizi n'Test was like a scruffy old dog, the Tichka was well groomed. The tarmac was fully intact, it wasn't single-track, and there were stretches of new tarmac – it was just begging to be ridden, and ridden fast. Take a look at this road on Google Maps and you'll see a line crossing the Atlas Mountains that looks like it was drawn by a carefree child. For 34 miles from the summit it wriggles and writhes excitingly down the mountains, presenting epic views along the way.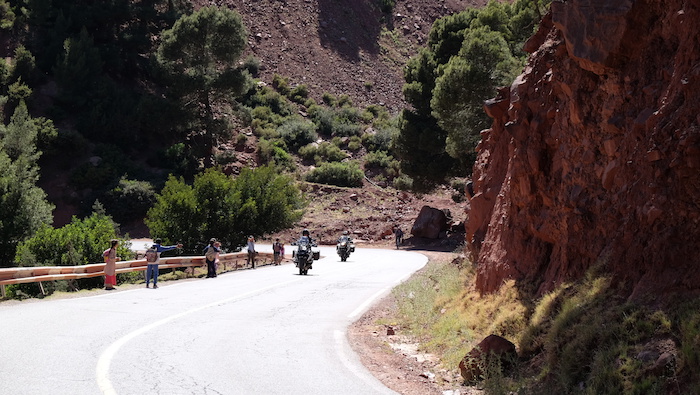 Usually I'm one to advocate bumbling along and admiring the scenery rather than flowing with the road, but here I just couldn't help myself. The BM stuck to the tarmac like glue, and before long man and machine became one and we were rhythmically sweeping around the wide bends. In true Moroccan fashion, you must have your wits about you still as large vehicles encroach onto your side of the road, but damn, was this a ride I'll never forget.
Later that day we rolled back into Patrick's compound in Marrakech, marking the end of our long weekend ride. Both Mick and I chatted excitedly about the route we'd just done, while thanking Greg for making it all such a remarkable experience. We'd only been riding for three days, but boy had we seen some incredible sights and ridden some marvellous roads.
Want to ride this motorcycle tour in Morocco? Here's how you can…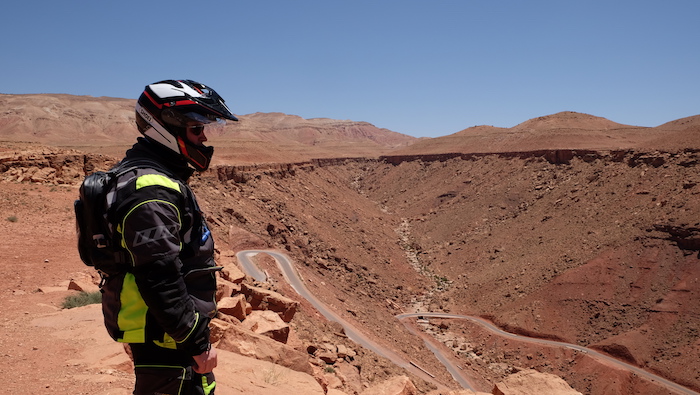 Get there
Wheels of Morocco are based in Marrakech, and this iconic city serves as the perfect place to begin any two-wheeled assault on the Atlas Mountains. Getting there is easy and affordable from the UK, and I flew from Birmingham with Lufthansa, but as there are no direct flights on this route I went via Munich. Ryanair offers direct flights from Stanstead to Marrakech Menara for around £225, while EasyJet starts from around £280 from London Gatwick. Once in Marrakech, transfers from the airport to your base are provided by Wheels of Morocco.
Ride this route
I was visiting Morocco with Wheels of Morocco, an official partner of BMW Motorrad. Greg, who owns the company, is a superb tour guide who knew the answers to every single question I could fathom to ask about the country, and he speaks six languages to ensure that your ride goes as smoothly as possible. The long weekend tour, which runs from Saturday to Monday, starts from €1,299 per person, while longer tours are also offered. For more information head to their website.
How long to take off work?
To ride the tour that I was on, if you work a typical Monday – Friday job, you'll need to book three days off work, Friday, Monday and Tuesday to allow for travelling.
What to take
As you might expect, the temperatures in Morocco can be high, even in the winter months. On my visit in May we were regularly riding in 30-37C. With this in mind, it's well worth ensuring that you have a good pair of well-ventilated summer gloves, well-ventilated textiles (jacket and trousers) and a suitable helmet that is, again, well-ventilated. Cloudless skies mean that you'll be under the sun for most of the day, so sunglasses are vital, as is sun cream for your face – I burnt my cheeks and my nose from not heeding this advice! A hydration pack is a very useful addition as it means you can keep hydrated on the go. I'd suggest opting for sturdy boots without a waterproof liner in them if you want to be as comfortable as possible, but I wore a pair of SIDI Adventure boots (which have a full Gore-Tex lining) and while my feet were warm and sweaty, they weren't too bad.
The Route
Our long weekend route took us from Marrakech to Taroudant via the brilliant Tizi n'Test pass which bisects the Atlas Mountains. On day two we headed east to Ouarzazate, and from here it was a day's ride north back to Marrakech over the famed Tizi n'Tichka pass. All three days were packed with exciting roads and stunning scenery – each starting at about 9:30am and coming to an end at about 5:30pm with an hour or so for lunch plus coffee stops.
Need more inspiration to tour Morocco? Check out this awesome video of riding in Erg Chebbi