About a month ago I was lucky enough to be handed the keys to our long-term loan Honda CRF1100L Africa Twin Adventure Sports. I've been hugely impressed with the bike on the road, but a few weeks ago I was lucky enough to put both variants of Honda's flagship adventure bike, the standard and Adventure Sports model, through their paces off-road.
During a jam-packed week of riding I tackled a few green lanes in Wales, before heading down to the Honda Adventure Centre in Devon to get stuck into some of the muddiest trails a drizzly Thursday could throw at me. It was eye-opening to see just how well each Africa Twin performed and below are five things I loved when I took Honda's flagship adventure bike off-road.
Read the full review of the Honda Africa Twin in issue 56 of Adventure Bike Rider magazine, available on the Digital Library. Sign up here.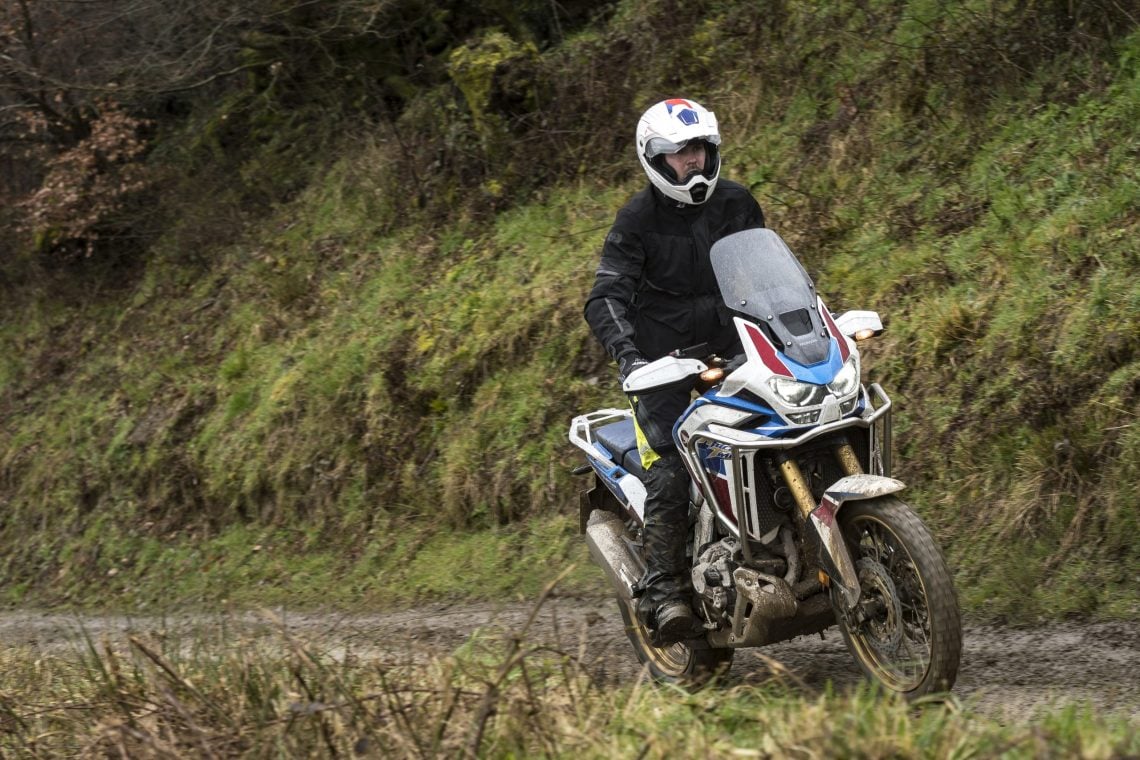 1. The standing position
My first taste of the rough stuff came in the form of the byway circling the Claerwen Reservoir, a gravel track set in achingly beautiful and remote surroundings that can offer a comfortable introduction to the world of green-laning.
As soon as I stood up on the pegs it was clear the Africa Twin was confidence-inspiring off-road. The standing position felt natural and comfortable for my six-foot frame, I wasn't leaning too far forward and I felt I could have stayed in that position for hours.
Indeed, a few days later at the Honda Adventure Centre that's exactly what I did, riding all day without feeling any aches or pains. This makes for an easy experience when handling the Africa Twin off-road, as you can shift your weight on the foot-pegs to turn the bike with ease.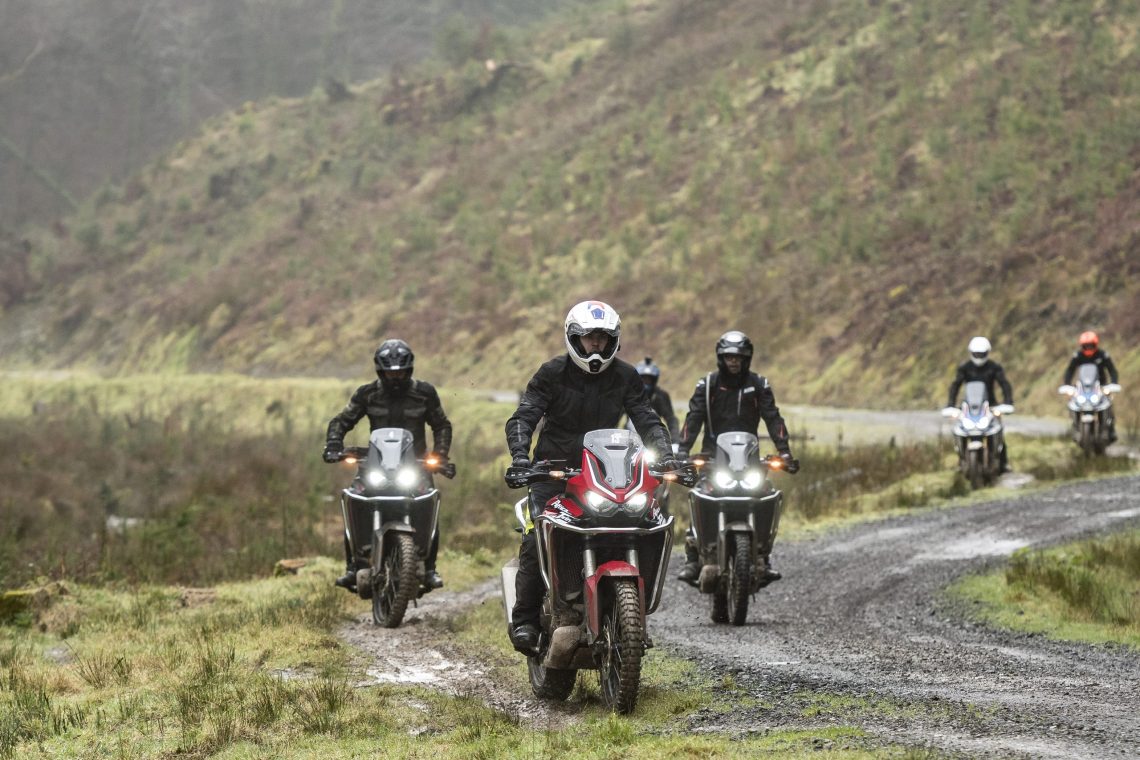 2. Carrying that weight
The Africa Twin holds it's weight remarkably well for a big adventure bike.
A wet weight of 226kg for the standard Africa Twin, and 238kg for the Adventure Sports, look intimidating on paper. But, as soon as those wheels get moving the weight disappears. On the road I take this for granted as I flick through corners and carry out slow speed manoeuvres with ease. Off-road however, this balance and poise means you can throw in tight U-turns and figures of eight while standing up on the pegs with absolute ease.
The result is an incredibly confidence inspiring bike to ride off road that enabled me to rider harder and faster than I may have been able to on a less competent machine.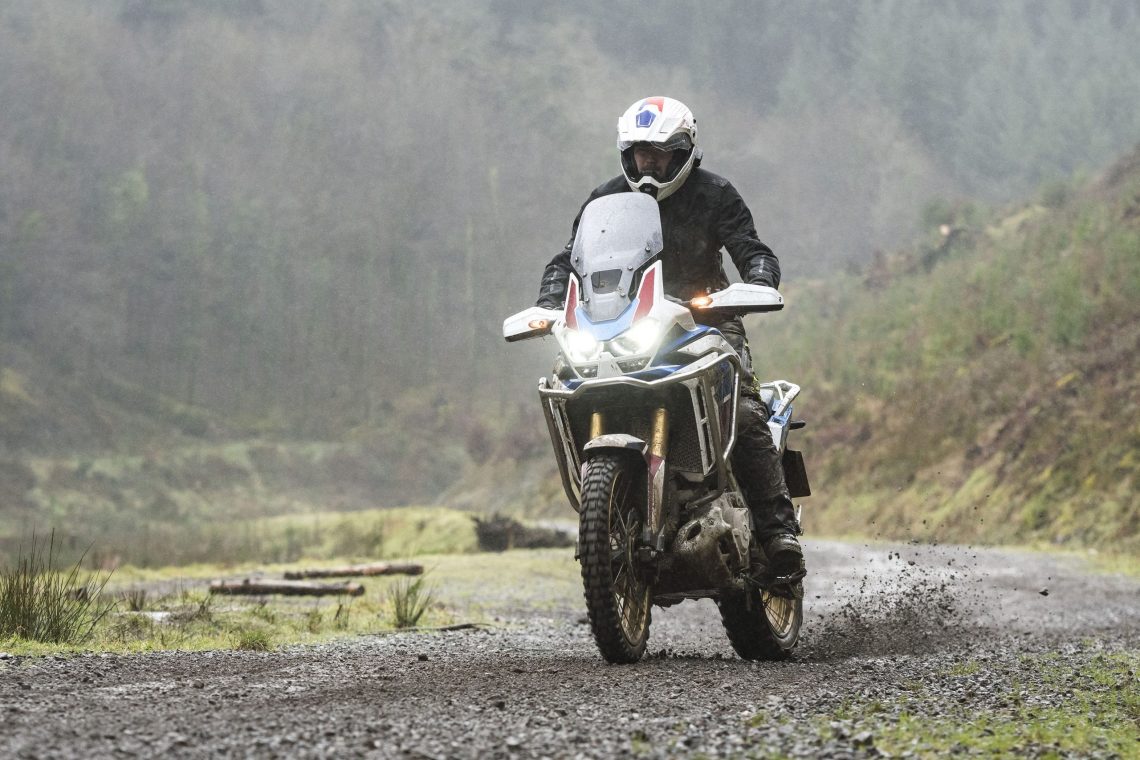 3. All those rider aids and electronics
On first glance the huge selection of buttons on the left-hand switchgear of the Africa Twin do seem a bit excessive. But, having lived with the bike for almost a month now, it has proved intuitive to use and my thumb has been flicking away like a teenager playing a Playstation. Those buttons give you quick access to a range of customisable rider aids and electronics that make off-roading a dream.
Flick down into the pre-set gravel or off-road mode and acceleration is neutered, while ABS switches to its off-road setting. The traction and wheelie control are both also fully adjustable with seven modes for the traction control and three, or completely off, for the wheelie control.
With the settings turned up to full, the Africa Twin kept an invisible hand on my shoulder ensuring the bike was as sure-footed as a mountain goat. On the other hand, when I turned those electronic rider aids down, and even off, I felt the force of the engine kicking the back wheel.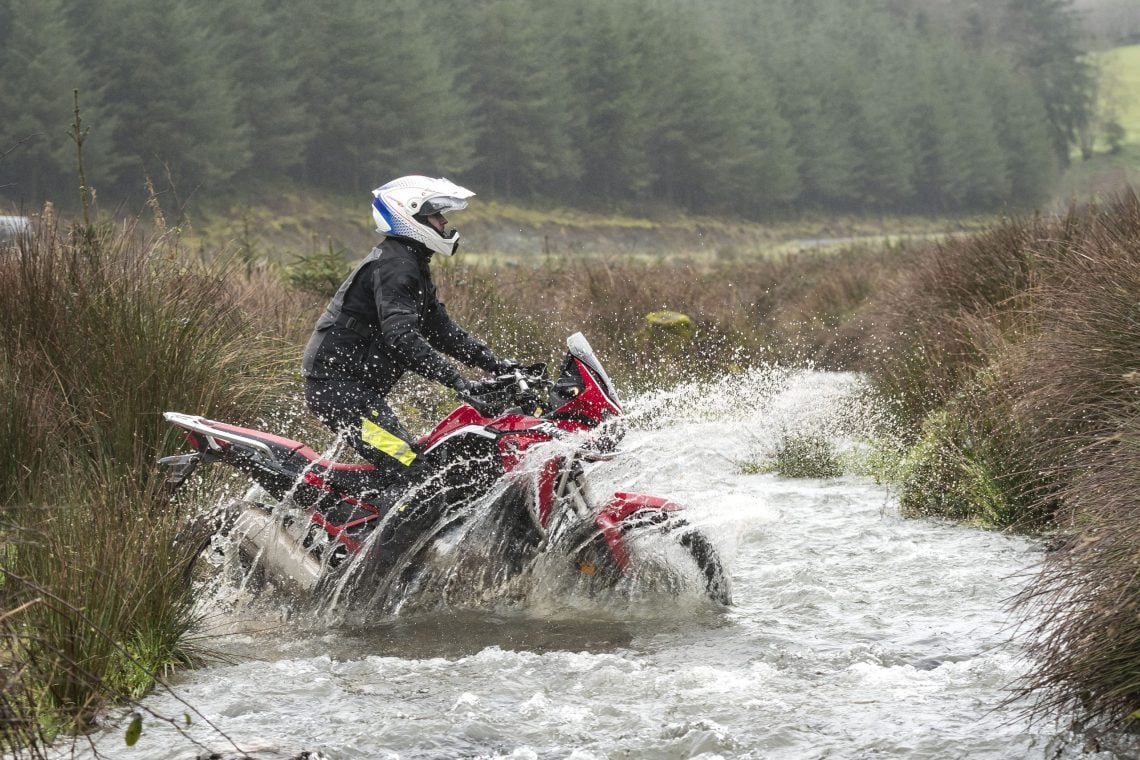 4. DCT
Following lunch at the Honda Adventure Centre, I found myself switching bikes to ride on the Adventure Sports, equipped with Honda's Dual Clutch Transmission (DCT). With a tough off-road loop to tackle, and no prior experience using a DCT bike before, it was going to be a serious test of Honda's technical innovation off-road.
It passed with flying colours. While I initially struggled with the engine braking, or rather lack of engine braking, in the automatic mode I found that by using the paddles located on the left-hand switchgear, I effectively found myself with a quick-shifter that could over-ride what the DCT was doing.
For those new to off-roading, the practice of shifting gear while riding standing up can feel alien, so being able to do so with your thumb or forefinger will prove a smoother introduction to riding on the trails.
DCT also means there's no clutch to feather, and no chance of stalling. Just stand up, allow your right hand to control the throttle and focus on shifting your weight from foot to foot and keeping upright in the mud. I was seriously impressed, if you're a beginner off-road and heading to the Honda Adventure Centre I'd highly recommend getting to grips with the basics while on a DCT model.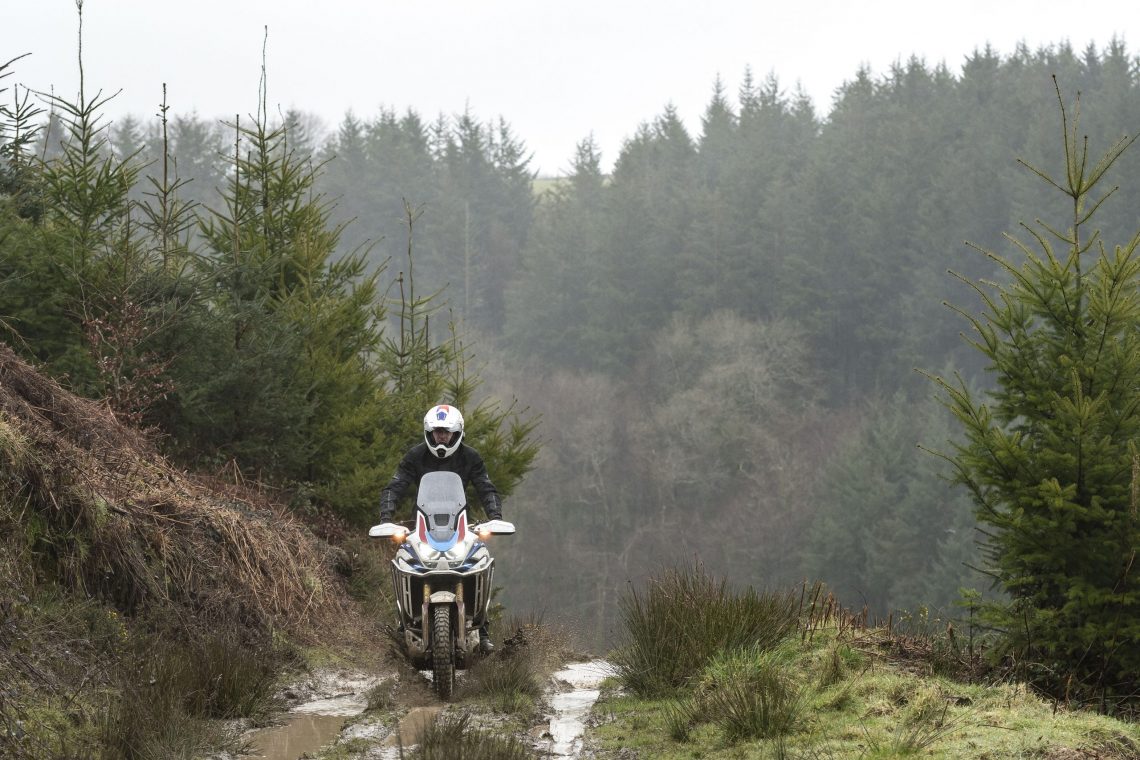 5. Power, or lack thereof…
Finally I'll come on to power. With that 1084cc engine pushing out just over 100bhp, in comparison to other heavyweights in the adventure bike world, the Honda Africa Twin comes up short.
And this is true, on paper at least. But, don't be fooled into thinking the Honda Africa Twin is breathless. The power spat out by that engine is more than enough to get you into trouble on the road, or out of it as you start to get bogged down on the trails.
In 'off-road' mode, the neutered power poutput makes for a more than manageable ride in the dirt, while the power on offer is available in spades throughout the rev range. Combine this all with the electronic riding aids we talked about earlier and I found a formidable partner that always seemed to find traction without ever threatening to shake me off if I gave the throttle an overeager snap.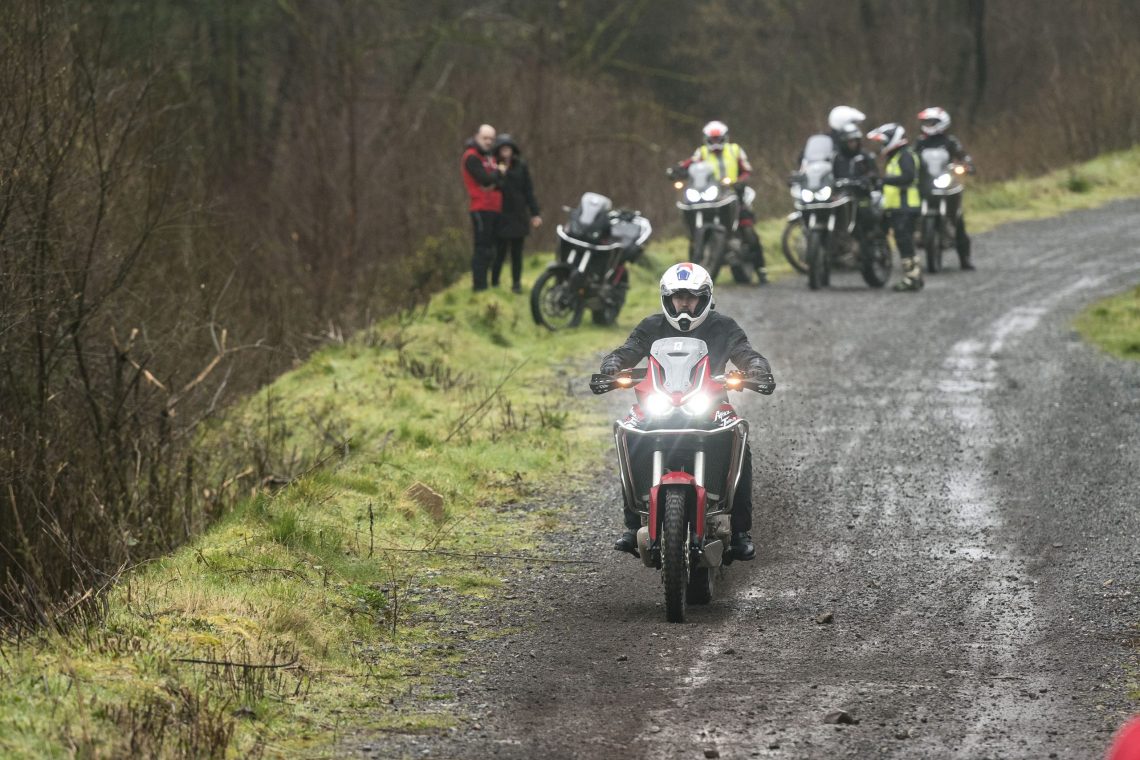 Why we love riding the Honda Africa Twin off-road
Honda's new for 2020 Africa Twin is a formidable adventure bike that continues a fine lineage. Honda says it is a bike designed to 'go anywhere.'
And, on the basis of a week where I tackled gravel tracks and river crossings in glorious sun, to boggy farm lanes and fords in British drizzle, I think Honda has once again delivered on that brief.
The best part of it all? After a day on the trails I jumped on the Adventure Sports and spent the next three hours cruising on the motorway back to the Midlands in the utmost comfort. That's what adventure bikes, and the Honda Africa Twin, are all about.
Check out a video of my day at the Honda Adventure Centre below: