Held is a family run business that's been manufacturing motorcycle kit for the last 70 years and the company's kit has a strong fan base throughout Europe. Recently we've been using the Held Makan, the more expensive of the company's two adventure helmet offerings. The Makan retails at £189.99, and for that price it's a very well-featured lid which also has a fibreglass shell.
A unique inclusion on the Held Makan is the integral pump system. This can be used to inflate the cheek pads to provide a snugger, more comfortable fit. In use it works well, being easy to inflate and deflate, and while it might take some time to get used to the feeling of the inflatable cheeks, it allows you to get a secure fit every time.
When this unique system is coupled with the nice and soft interior lining, the Makan becomes one of the most comfortable adventure styled helmets I've worn (and I've worn a lot).
The peak on the Makan isn't adjustable, which is a bit of a shame as you'd certainly expect it to be so at this price, though it is well designed and well positioned to provide a useful sun shade. It'll catch the wind at high speeds, but there are very few peaks that don't.
In terms of ventilation you get a single chin vent and two closable brow vents, complemented by a large exhaust outlet on the rear. While this set up is adequate for most UK touring conditions, I'd have preferred some more venting options to make it more suitable for those really hot days or when working hard off the tarmac.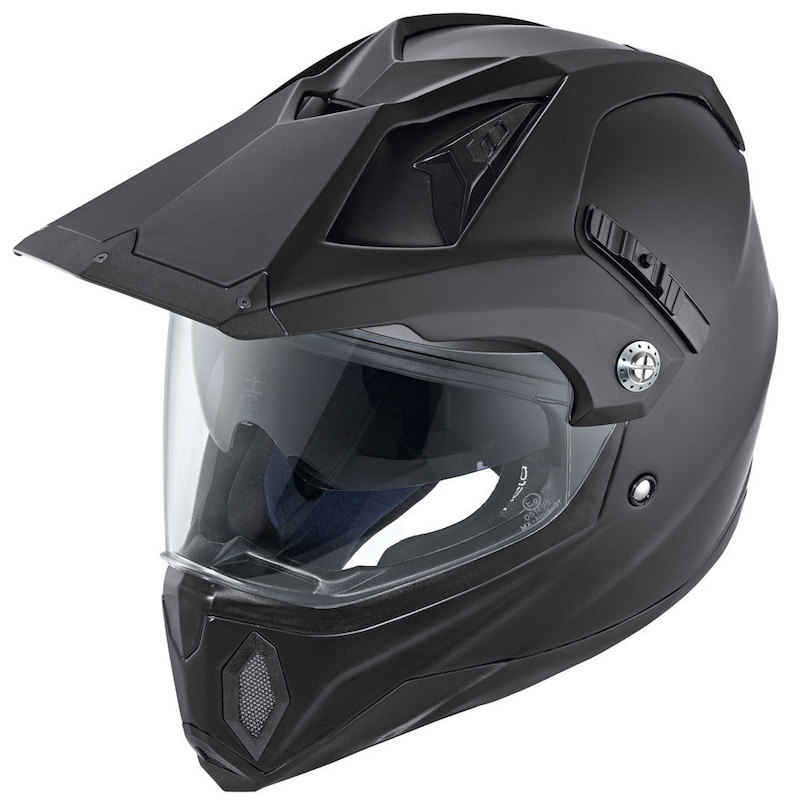 An internal sunshield works well and the operating mechanism is easy to locate and use. In terms of the visor, it comes with Pinlock mounting points as standard, and the field of vision on offer is good.
As the helmet is, there's no opening tab on the visor, though it bulges out slightly to make it easier to push up. Be that as it may, when my hands are gloved up I'd always prefer a substantial opening tab to make it as effortless as possible.
Held Makan Verdict
All in all, at £189.99 (or £209.99 if you want the graphic version) the Held Makan is a good buy. It's a step up from the rest of the sub-£200 adventure styled helmets terms of quality and features, and the fibreglass construction is a plus.