In years gone by the wave of hot weather hitting the UK would have had bikes out on the roads in their thousands, but this is no ordinary year. Instead, the COVID-19 pandemic has scrapped touring plans, kept many of us indoors and left many riders with a case of the blues.
With plenty of time on our hands, and only so much cleaning and polishing to be done, motorcycle forums were soon flooded with photos of the shiny new additions riders were installing at home.
Intrigued and inspired to get farkling myself, I had a chat with the team over at Moto-Mate to find out what I could install from the comfort of my own garage. And, after the forced break from riding, I was also keen to find out which accessories could keep us that little bit safer when we do take to the tarmac again.
Auxiliary Lights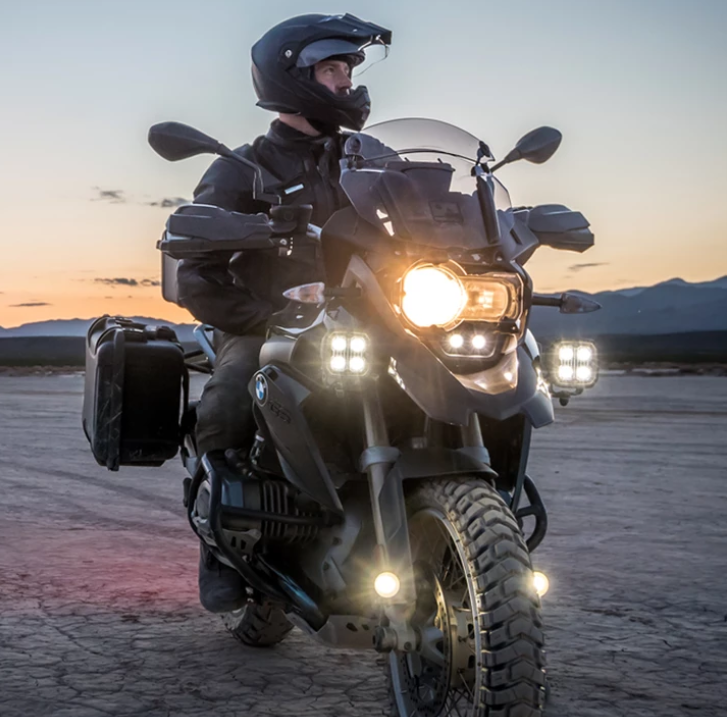 First to add on is a set of auxiliary lights. The single front headlights present on many adventure bikes can be poor at lighting up country lanes when the sun sets and they're also not the best at enhancing your road presence to get you noticed by other road users.
A pair of Denali D4 LED lights, positioned at each side of your headlight, look like they'll do the trick to light up the road ahead. Additional auxiliary lights will also add perceived width to your bike and ensure that you'll be unmissable in mirrors when filtering, if drivers use them of course.
Creating a more dominant triangle of lights when combined with your pre-existing headlamp, you'll be far less likely to be missed by a 'micro-glance'. And if drivers do take a longer look, the perceived size of the triangle of lights, in contrast to a single headlight, will make them think twice about chancing that gap.
Auxiliary Horn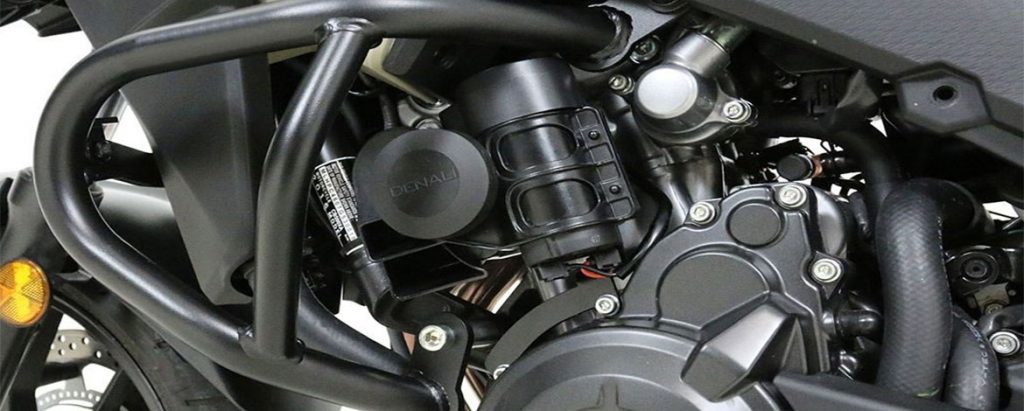 After a few months stuck at home it's safe to say that some drivers are a little rusty behind the wheel. So, if some are neglecting their sense of sight, let's make sure they can hear us when we're on the road. There's one problem though. Stock horns are a bit, well, piddly.
A near miss and your only response is a stifled 'toot' as they drive on; stereo blaring, windows up and completely oblivious to how close they were to putting you in hospital. An auxiliary horn will cut through the distractions and ensure that those around you know you're there. Even the smallest auxiliary horn is about twice as loud as the stock offering on your bike.
The Soundbomb Mini looks like an easy option for those who would prefer to self-install, with it designed to fit to most factory horn set ups. Some manufacturer fittings do differ, so it's worth checking with the retailer, while Moto-Mate also offer mobile installation if you'd prefer to let the experts do their thing.
Motorcycle Dashcam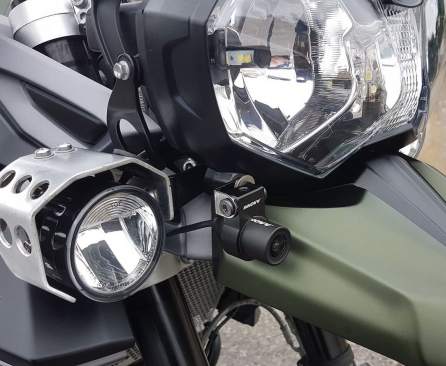 Capturing riding footage is a great way of remembering those epic European roads from a tour years down the line. It can also help if the worst does happen. After all, there's no denying how important it is to have an accident captured on video (but be aware that your footage could also incriminate you).
Helmet cameras can be cumbersome, particularly at high speeds and when doing lifesavers, and they can also be dangerous. They can put undue strain on your neck when catching the wind or they can catch and rotate your head during a slide. Not nice.
They're also hardly the most discreet bit of kit; fans of YouTube compilations will be all too familiar with the sight of an angry driver grabbing at them after an incident.
Look no further than the INNOVV motorcycle dashcam. It can be permanently fitted to your bike, and begins recording as soon as you set off. It loop records throughout your ride and overwrites the oldest files as you trundle along, before ending a few seconds after you park up.
With the camera running off your battery there's no need to worry about charging it up each evening. A free-to-download app allows you to connect to the system and download the videos, while you can also remove the internal memory card if needed.
With front and rear facing options you can be confident that you won't miss a second of stunning blacktop, or vital footage if an insurance claim is challenged.
Battery-powered tracker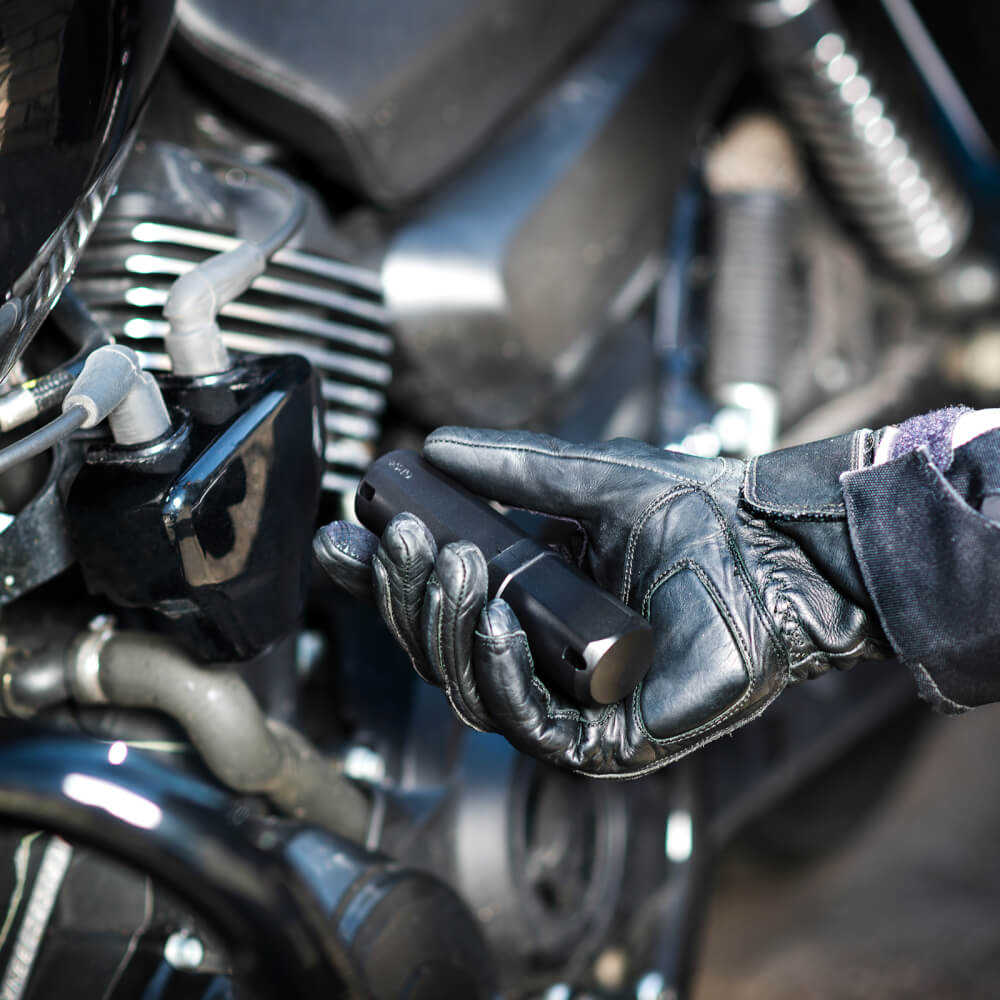 I've written about the Monimoto previously, and was seriously impressed by the waterproof motorbike tracker that's smaller than an iPhone.
Unlike other trackers, it doesn't need to be professionally fitted, you can get creative and do it at home in a few minutes using two cable ties (included) and loops on the unit itself. And, because the device runs on its own batteries, it will remain active during a theft and over a significant length of time, without draining your motorcycle's battery.
It's also an ideal companion for those touring overseas. The MM5 tracker's internal SIM comes with full European coverage, ensuring you'll still receive a call regardless of how far from home you find yourself on that first group tour once travel restrictions are lifted.
Running all these accessories
If you're adding the above to your bike, as well as a GPS, heated clothing and other electronics you may be putting your battery at risk of running flat if you forget to power everything down at night. The terminals will also be a mess of wires, a real pain when it comes to organising your add-ons.
With a PDU you can ensure that your battery terminals are kept neat and tidy, and that any starting current isn't immediately drained by a hungry sat-nav, keeping your battery in the best of health.
Once again, speak to the retailer about which is best for your demand and models of bike, as they can vary.
Moto-Mate
So there we have it, some essential upgrades to keep you tinkering in the garage and safe on the road this summer.
If you're interested in any of the modifications we've suggested get in touch with the team at Moto-Mate who'll be happy to tailor their advice depending on what you ride and what your requirements are.