Ray Hall QPM has taken early retirement and is enjoying life as a full-time adventurer. His steed of choice is the Super Ten, but what does he make of it?
I owned two bikes prior to this one, a Yamaha XT660 Tenere (2008) and a BMW R1200GSA (2009). I bought the BMW as the Yamaha; despite being a very good bike, it just wasn't big enough to take my wife Karen and I around the world for several years in reasonable comfort. When Yamaha announced the Super Tenere, I was one of the first to order it, unseen and online. This may sound a little rash to some, but having enjoyed many happy years of Yamaha ownership and the quality of the XT660Z, I was confident that the XT1200Z would live up to its ancestry; I was not to be disappointed.
IN SHORT
Time owned: eight months
Mileage: 3,500
Maintenance costs: £0 (Oil and filters supplied free for first 12 months; DIY service)
I like: The ease and safety of use
I dislike: The screen, panniers and sump guard
In a line: A "thinking man's adventure bike"- a fitting quote from Sp!ke, one of Yamaha's Ride for Life testers. It's a good choice for big trips. The bike will look after you when you're knackered and you need to self service.
On my return from the 2010 Isle of Man TT, I collected the bike with most of the Yamaha farkles already attached, including the ones that came with it as part of the original purchase. Before even sitting on the bike I changed the tyres for TCK80s, so I still don't know to this day what it handles like on stock tyres! I also had the Yamaha 'big' screen fitted and have never used the stock screen either. Even so, I can tell you that the 'big' screen is pathetic – as is the stock one I understand, so nothing gained there. Both screens are the same height, but the 'big' one is a bit wider and more laid back. The wind hits the middle of my helmet, which prevents me from opening my visor at any time, and on top of that the turbulence hits the top of Karen's head, which invariably gives her a headache after some miles.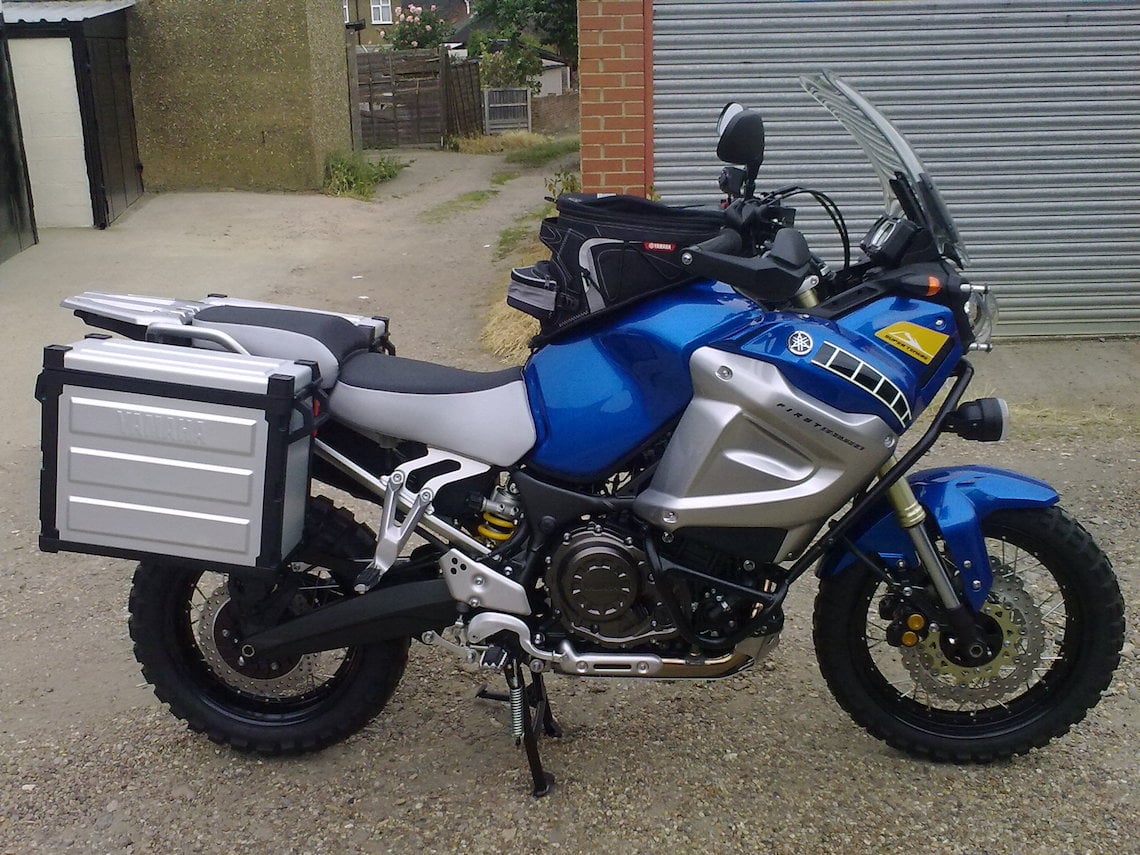 Photo: Ray Hall
With the knobbly tyres on, I've found the bike looks after me in the dry as well as the wet. Both the ABS and TCS work so un-obtrusively in fact that I only know they're in use by the light on the dash. The Yam's ABS makes some of the other big trallies seem almost Neanderthal in comparison. I took the Super onto my in-laws' farm and tried the brakes out on a steep, wet, grassy slope and the bike stopped dead, very quickly, without any drama at all. I later tried this same manoeuvre on long, loose gravel down hills in Spain and the result was the same. I've played about with the Yam's traction control on the wet grass, too, and its performance was just as impressive. In mode one it will nurse you out of trouble and in mode two it will allow a small amount of slide and then stay put. It lets me ride like the pro I am not. My one complaint with the Yam's off-road setup would be the gearing. First is a bit too high for use in the rough stuff, but this is offset by its ease of use; more on this later.

Lastly, the lights on the Yam are brilliant. They only have one filament and when 'dipped' an eyelid-like shade closes over half of the lamp. This means there is no pause when switching from high to low. They are also very bright. I've added the Yamaha driving lamps, which aren't going to help it win any beauty contests but which work very well. Another flaw in the Yam' aesthetics are the switches used for the extra lamps and heated grips, which look very aftermarket, and the grip control attached to the wing mirror mount, which sticks out in the wind. I've moved this unsightly carbuncle to a more practical position under the clocks. Why these switches aren't integrated as on other big trallies, I don't know.
I have the bodily proportions of a Silverback; 5'10″ tall with a short 29" inside leg. The Yam has such a low seat that I can almost flat foot while solo and totally when two-up. On top of that the centre of gravity is so low that it is possible to ride at walking pace. This helps with picking it up, making it feel relatively light despite its mass.
The supplied bash plate is adequate but the fixings are like cheese. We've only hit it twice and both times the fixings have squashed back into the sump. On top of that the rear fixing actually bolts into the sump itself. The supplied panniers (Shad) have a fundamental flaw in that they're only supported on three corners. The rear lower ones hang in mid air (like the XT660z) and a crash on that corner snaps the plastic fixings off completely. This hasn't happened to me, thankfully, but two XT1200Zs suffered precisely this fate during Yamaha's 2010 Riders for Life event in Africa.
On top of this the side-mounted radiator is too vulnerable in my opinion. The spokes on my bike took a battering while parked for a week on a storm-bashed beach in Spain and went rusty very quickly despite numerous wax washes. Yamaha has supplied new ones under warranty but I beat them to it and had some stainless ones made up by Hagon. The good thing was I managed to replace them myself without even taking the tyres off… which leads me onto another of the Yam's excellent characteristics: its ease of servicing. This, to a great degree, makes the high initial cost of the bike more palatable. Due to our nomadic lifestyle (we have retired early and live in a motorhome – jealous!?) I do all my own servicing and this bike will only see a workshop when it reaches 24,000 miles to have the valves checked. Everything else is extremely simple to maintain and could be carried out on the road by any would-be adventurer, even if you were stranded in the middle of nowhere.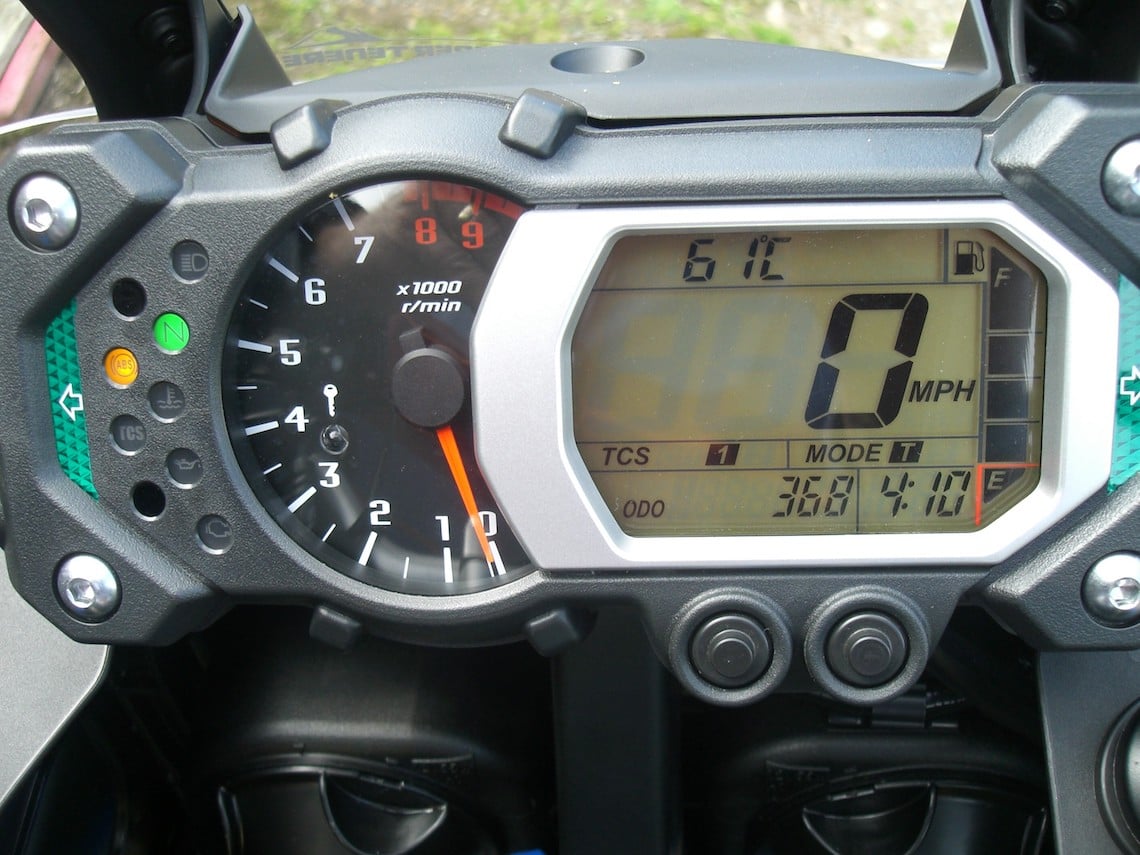 Photo: Ray Hall
Performance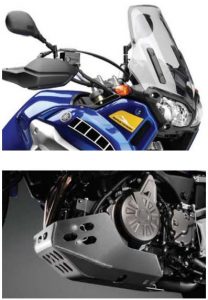 The bike's engine is totally controlled by computer. The throttle is not connected to the inlet manifold, all it does is actuate an electronic variable switch. The bike monitors this 500 times per second and then decides how much to open the throttle butterflies. The upside of this is that is the power delivery can be altered depending on the best conditions at the time. This is also utilised through the throttle mode settings, T – touring and S – sport. I find this feature very useful and spend most of my time in 'T'. This gives a much softer throttle response and is very good for driving around town. When I hit the open road I simply close the throttle, switch to 'S' and the bike takes off like a scalded cat. Another interesting feature of this computer control it that the bike does not deliver all 110 BHP in first or second gear.
Handling
The suspension is fully adjustable at the front but lacks rebound at the rear. Riding on TCK80s, I don't push the bike too hard, but it is easy and stable up to my limit of 100mph where my boxes and tyres make the bike weave somewhat. I usually ride with all the boxes on regardless of whether they are needed. I also have my suspension set soft for off-road use.
Comfort
On the road it's very comfortable and will cruise at 80-90mph all day long, the only problem being the Yamaha screen. I have not tested it above 100 due to the tyres. The seats are also very comfortable being soft, wide, and flat. Riding in town in mode 'T' stops helmets bashing together when two up, a big plus for passenger comfort.
Off-road
Off road, this bike is a bit of a handful but then it's a big bike and anyone buying one is unlikely to be doing motocross on it. That said, even two-up, it's very capable and will go most places that the 660 would. The sump clearance is a bit low, but then so is the seat, so there's a balance to be had for anyone with short legs like me.

Photo: Ray Hall
The Verdict
The upshot of the incredible ABS, the TCS and the throttle control is that the bike is very safe to ride. It doesn't have the snappy performance or sparkle of some other trallies (probably because of the reduced power in first and second) despite producing roughly the same power, but it's a lot more user-friendly.
I've made many simple modifications and the bike is now about as good as it's going to get and I am very happy with it; I regard it as a proper adventure bike. It's easy to ride and pick up. It is extremely comfortable. All in all, this bike has a very good core and is only spoilt by the bits surrounding it which fortunately are easy to fix. The 2012 model (for 2011) does not come with panniers and a sump guard and is ripe for aftermarket farkling.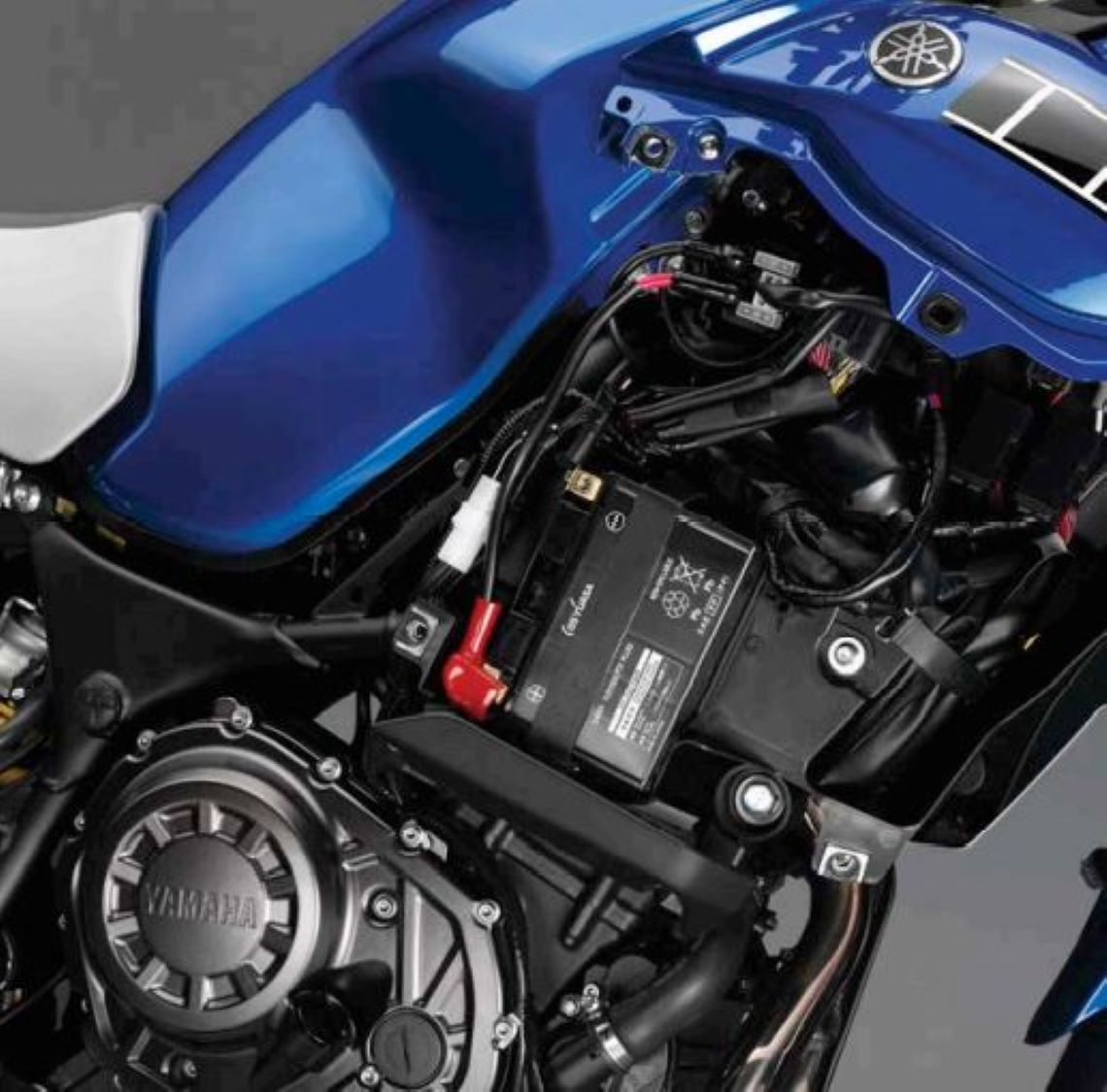 From the photo taken in the snow, you can see the bits I've changed to overcome the shortcomings mentioned above. I have a set of Metal Mule panniers and a rack. I have an MDA Vario screen, an SW-Motech sump guard, a Powerbronze front mudguard extender, a Zumo 660 GPS, and an Autocom unit. I also made up some hand guard extenders from go-cart number plates, to shield my mitts from rain and snow. I have also extended the Yamaha crash bars to protect the radiator and to support luggage if I choose to later. I may have gone over the top with the bars; the bike looks a bit like it wants to pick a fight. We intend to use this bike to slowly travel around the world and I'm confident that it will do just that. I would have given this bike an overall rating of five out of five if the screen and panniers were better thought out. On the plus side, SWMBO absolutely loves it.
THE STATS
Manufacturer: Yamaha
Model: 2010 XT1200Z Super Tenere
List price £13,499 (£12,999 for 2011)
Top Speed: 130mph
Insurance group: 15
Engine size: 1199cc
Engine type: in line twin, 270 deg crank. Computer controlled throttle
Compression ratio: 11.0 : 1
Power: 108bhp
Torque: 114.1 Nm (11.6 kg-m) @ 6,000 rpm
Gears: 6
Seat Height: Adjustable between 835-860 mm
Ground clearance: 205 mm
Fuel Capacity: 23 litres
Average MPG: 46
Tank Range: 240
Wet weight: 261kg
Front suspension: 45mm dia. upside down forks with preload, compression and rebound adjustments
Rear suspension: Mono shock with preload and compression.
Front tyre size: 110/80R19
Rear tyre size: 150/70R17
Brakes: Linked (selectable), permanent ABS
Front: Hydraulic dual disc, Ø 310 mm wave discs
Rear: Hydraulic single disc, Ø 282 mm wave disc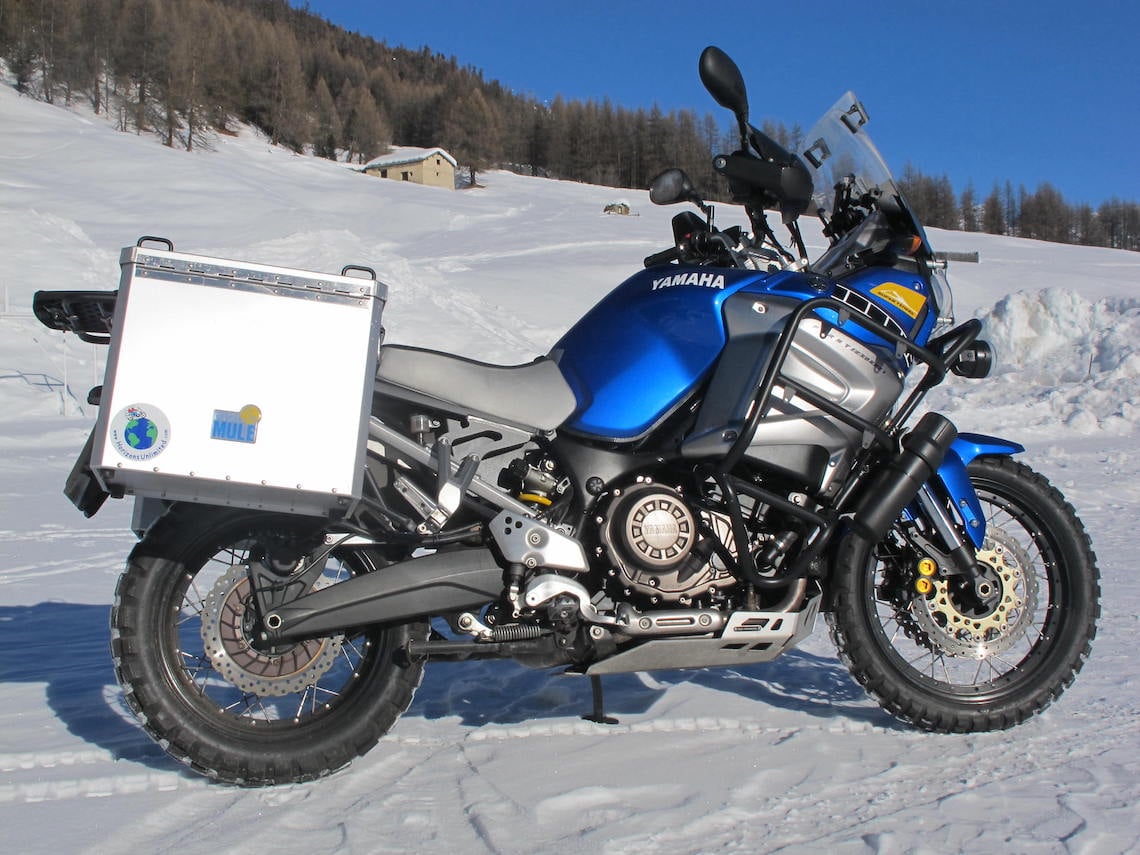 Photo: Ray Hall
RATINGS (OUT OF 5)
As a long distance tourer: 5
Off-road capability: 3
Around town: 4
Accessory availability: 3
Reliability: Too early to judge
Handling: 5
Engine: 4
Value for money: 4
OVERALL RATING 4
Ray's modifications
A set of Metal Mule panniers and a rack; an MDA Vario screen; an SW-Motech sump guard; a Powerbronze front mudguard extender, a Zumo 660 GPS, and an Autocom unit complete Ray's list of mods.