Want to share travel stories, seek advice from fellow adventurers or simply meet like-minded biker folk? Then join us! Log on to www.adventurebikerider.com and become part of the ABR community. Here's a taste of 'wassup' online at the moment…
Sign language
Oh, the hilarity. More wankers. This time it's ABR reader Louis, well-disguised outside a dodgy sounding hotel in Austria. Let's be honest, it's never going to stop being funny. If you can get a pic next to this, or indeed any rudey road sign, send it in to [email protected] and we'll make you infamous.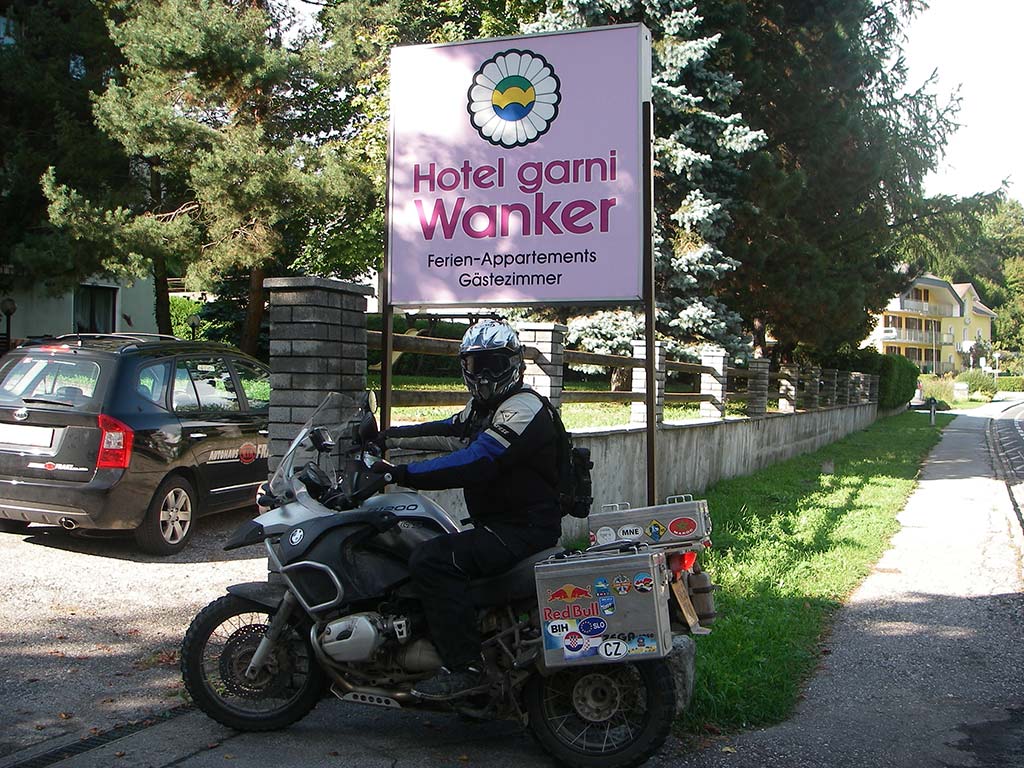 Photo: ABR reader Louis
Groups
ABR members are hooking up all over the country, to talk and ride bikes and share travel stories. Here's where to find one local to you… and if your area's not represented, why not start one?
North West Adventure Riders
Dorset Adventure Riders
Yorkshire A B Riders
Scottish Adventure Riders
Essex AB Riders
East Mids ABRs
East Anglian Bimblers
Warwickshire ABRs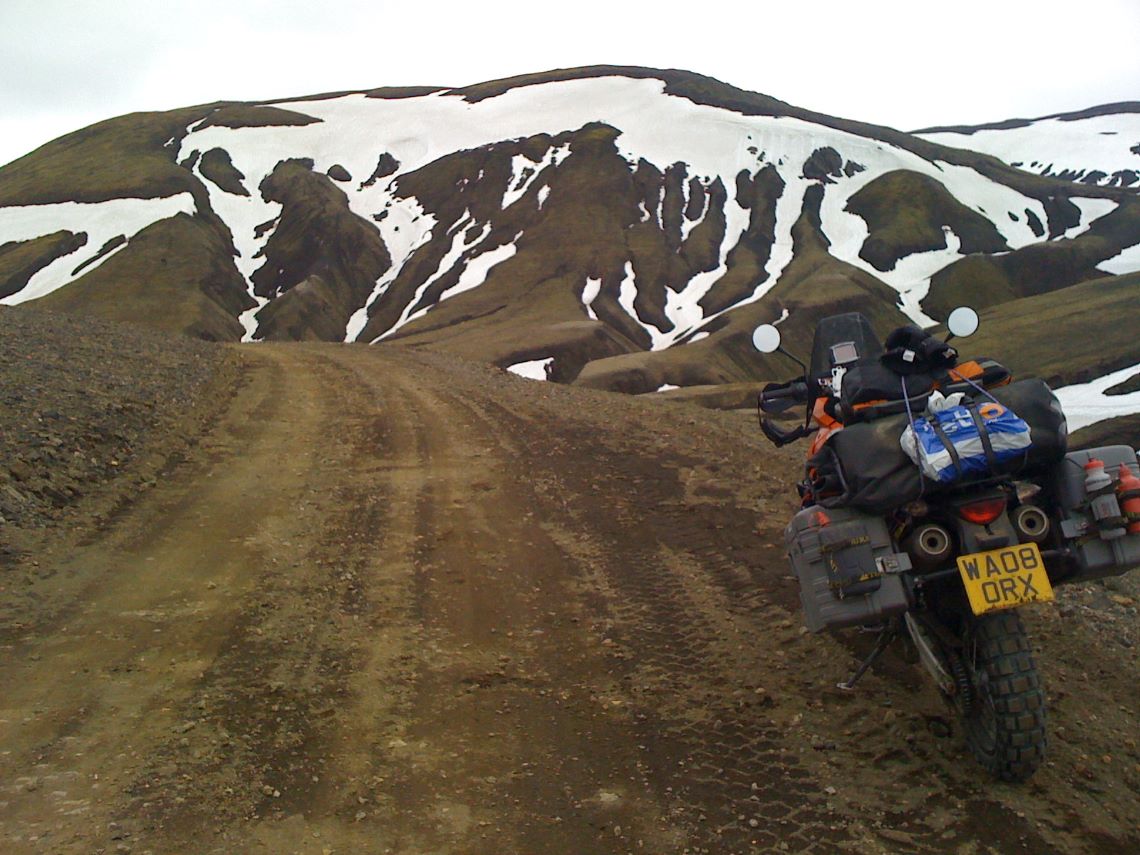 Photo: Chris Corky, Iceland
ABR Natural Rally UK 2011
This year's looking to be a good 'un for ABR meets and rallies. The forum's buzzing with plans for ride outs across the country, which we love, and in particular the 2011 ABR Natural Rally, dreamed up by site member James Owens, looks to be a belter.
The basic outline is thus: visit as many of the 20 National Parks which make up the rally as possible over in the next 12 months; when you've done a park, get a pic of you and your plate at that park's designated spot and tick it off your list. Simples.
There's a gold award for riding all 20 parks; silver for 15 and bronze for 10. It's free to enter, so why not meet up with other ABR members or get sponsorship, to raise money for your choice of charity? For details, see www.adventurebikerider.com and click on Forum. Don't forget to nab some ABR stickers for taking part. Email your postal address to [email protected] and we'll send them out to you. Good luck!
Blog Post
The Road of Bones: We made it!
Mick McDonald, aka Compass Expeditions
Full of anticipation for the ride on the Road of Bones, we crossed the Lena River once more and began the 2,000km ride to Magadan. The road was a mix of loose gravel and limited sand areas through the vast forest of the Taiga. The traffic had become non-existent now and we were on our own. We rode all day, enjoying the lonely roads before making camp on a small hilltop overlooking the forests.
Riding out next morning, the weather had turned against us. We reached a pass just under a 1,000mts when I came crashing to the ground, as did others, numerous times. We had hit ice and it was incredibly slippery, even walking proved a challenge. The ride had suddenly become very challenging; we had to get off the mountain asap. We all rode down at walking pace, taking a couple of tumbles as we went, the temperature struggled to top 5ºC.
We were amazed to see another biker riding toward us, a solo Romanian guy who had ridden the Road of Bones to Magadan. He had enjoyed the ride so much that he decided to turn around and ride it again, back to Yakutsk! What became of our not-so-fair-weather friends?
Read more at… http://www.adventurebikerider.com/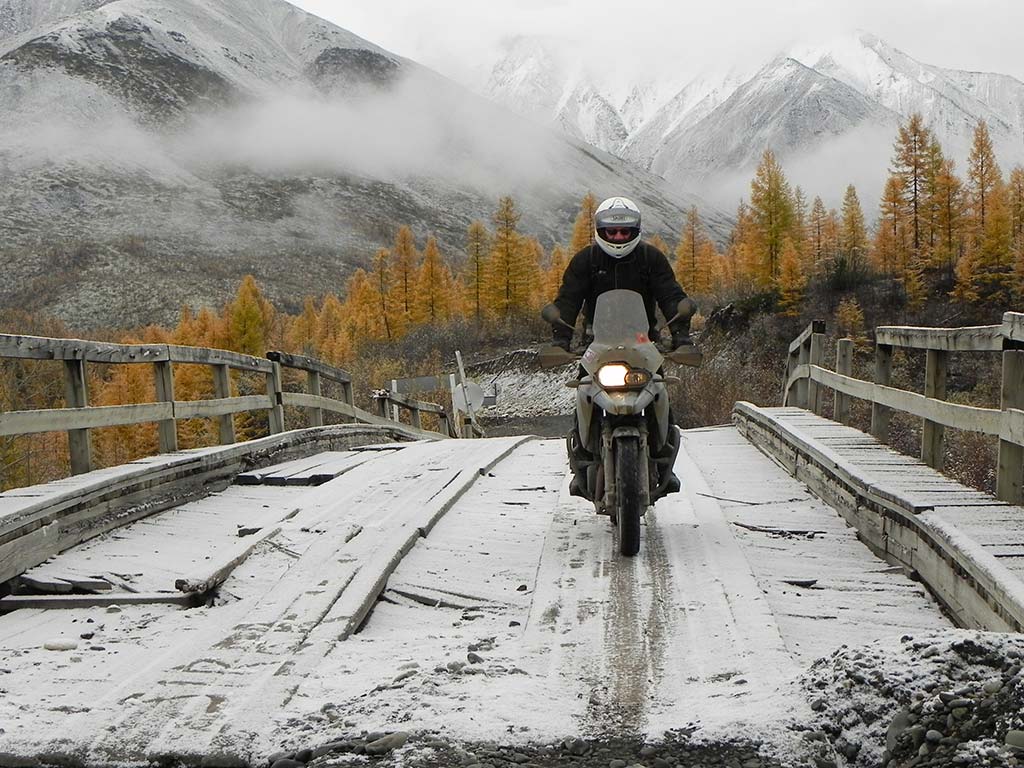 Photo: Mick McDonald
LOL!
Cheap laugh
Getting away from it all without spending a fortune is the dangling carrot that keeps 'budget' airlines in business. If you've ever been on the receiving end of 'cheap' flight policies, however, this comical musical number by singing trio Fascinating Aida's sure to tickle your funny bone… Go to www.adventurebikerider.com, then forum, index and then click on videos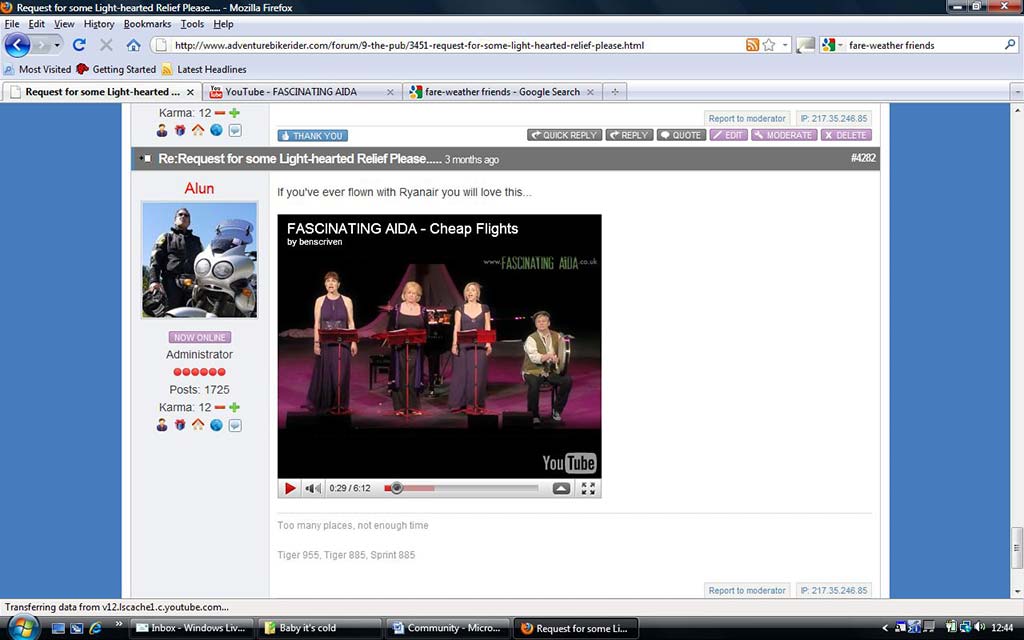 First to the Boil Rally 2011
The First to the Boil Rally started out as an open forum invite for like-minded adventurers to meet up, camp out, ride out and pit their stoves against one another's in a 'boil-off ' at site-member Paul's brand-new campsite in Cumbria. Over 15 forum pages later (and counting) it's become the first official / unofficial ABR rally, with over 100 attendees expected and a cracking weekend's riding and entertainment to boot.
The rally will take place on the weekend of 15 April. Camping will be at the Takoda Campsite (CA17 4AP, on the A685 between Brough and Kirkby Stephen). Pitches cost £12 per person, and due to the massive response booking is advisable. If camping's not your bivi bag, though, see www.kirkby-stephen.com for nearby guesthouses. The riding will be a mix of on-and off-road – 'tourance' for want of a better word, and suitable for most bikes. For more details, or to book a place, contact Paul on 01539 623261 / 07711 882112, or Maria on 07794 754099 or email e[email protected]. See you there – and don't forget your stove!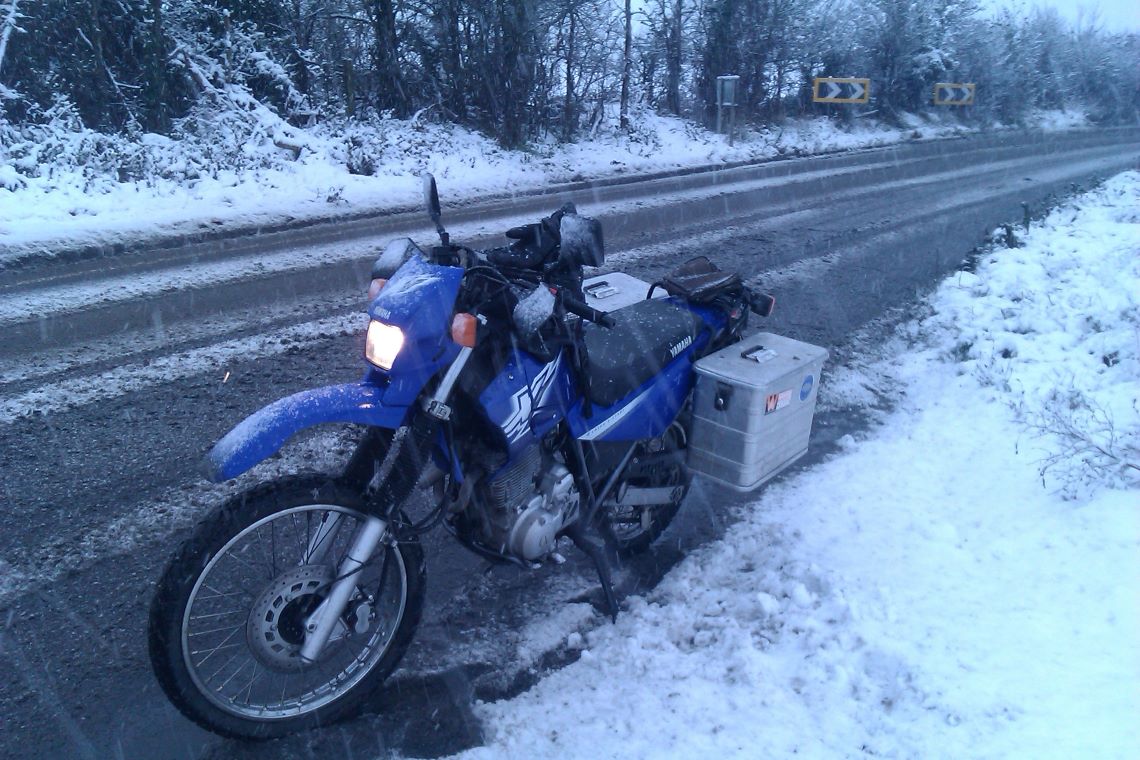 Photo: Rich Walby, Chadwell, St Mary, Essex
"The thing is, I can't get drunk no matter how much I consume. Many people think this is "fantastic" but it's a pain is to see all your friends getting more and more stupid, falling off their chairs and sleeping with the neighbour's donkey." Niklas
"I'd like to raise the flag for the Mini Trangia. Having strayed from my old 25 to have a fling with a dirty little Primus – I must proclaim my unbridled love for my new-found Trangia. She's dainty and sweet-looking – gets plenty hot enough and just like her mother (the 25) doesn't mind it getting a bit rough." Lee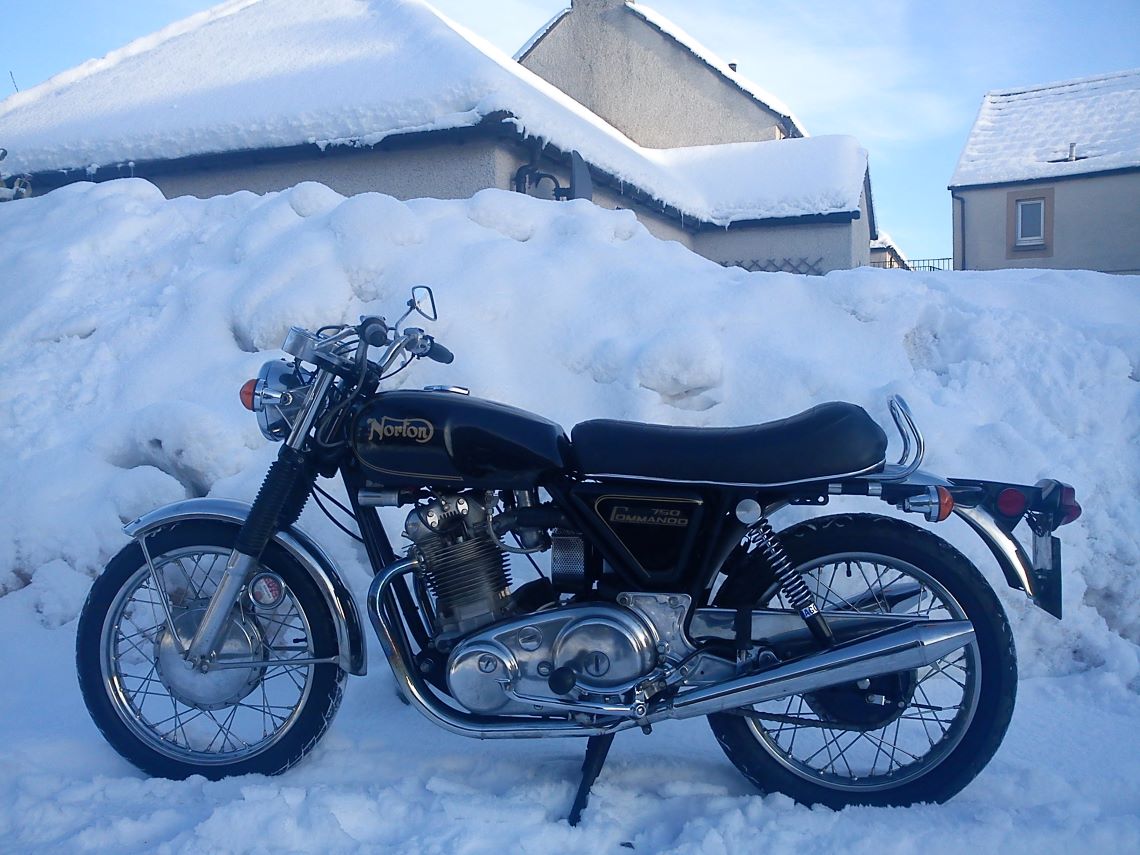 Photo: Gino Randelli, Edinburgh