HIGH CALIBRE BULLETS
Spencer Grey's dodging tornados on (and quite often off) a Royal Enfield 500CC single-cylinder Bullet in Nepal
Every time I see a promotion for a Royal Enfield holiday somewhere exotic, I drift off and imagine myself doing one. There's something about old classic machinery battling through third-world environments that sets the imagination running, so I placed it on my mental to-do list, along with going to the gym and Cheryl Cole.
In February came my chance – I got a phone call from an old friend asking if I wanted to go on one of these trips to Nepal. The invitation went roughly: "Are you up for it?" followed by, "if not I'm going to come over and shoot you in the knees," followed by, "they even have beer called Everest Beer." My options clearly spelt out, May was set as the departure date.
The plan was to fly into Kathmandu and then on to Pokhara, 200km west, where I would meet up with the lads (Manne, Thomas and Dougal) for a 10day circular trip anti-clockwise around the central Kathmandu region of Nepal.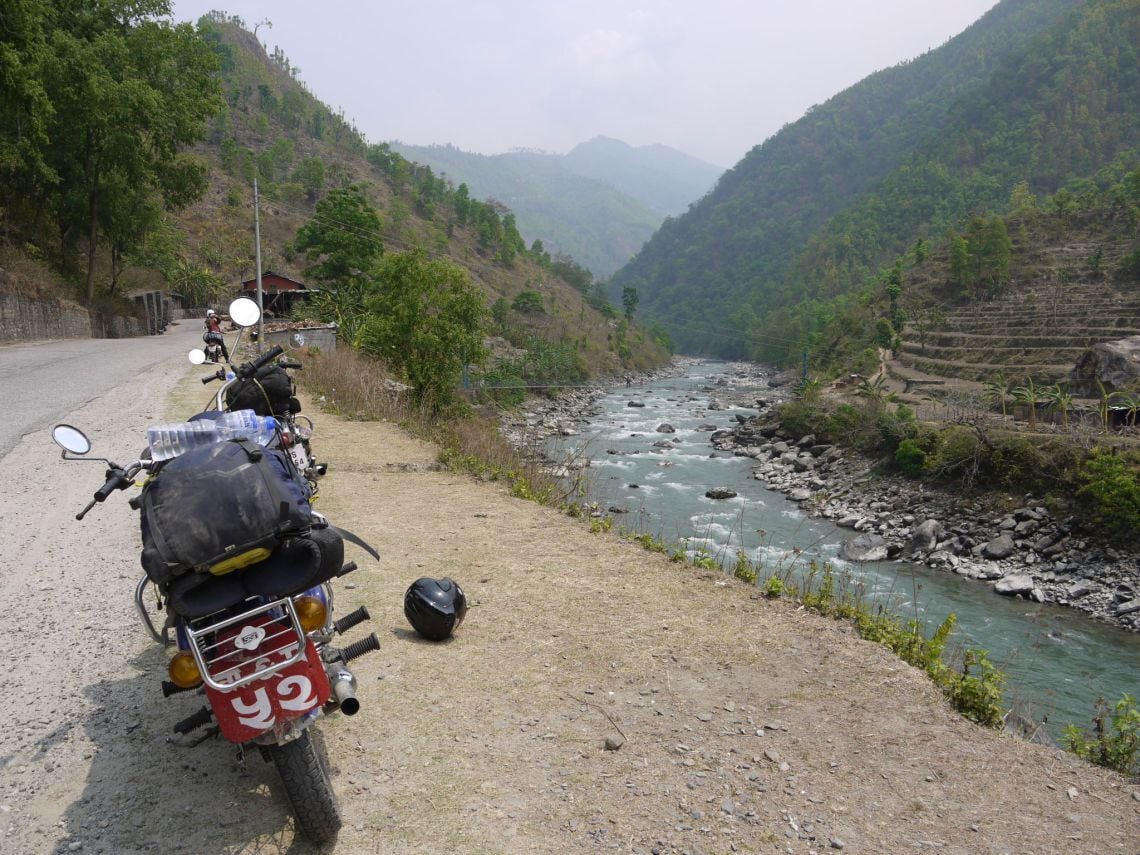 We would take in the national parks, visit the Tibet and China border, pop up to the departure point for Everest base camp at Jiri, which is as far as a motorbike can get to Everest from the Nepalese side of the Himalayas, then go back around via Kathmandu. To finish we'd turn into mountain goats and get as far up to Jomsom along the trekking trail at the edge of Annapurna I as possible, all on the motorcycling equivalent of a moggy minor. Oh, and have a couple of Everest beers.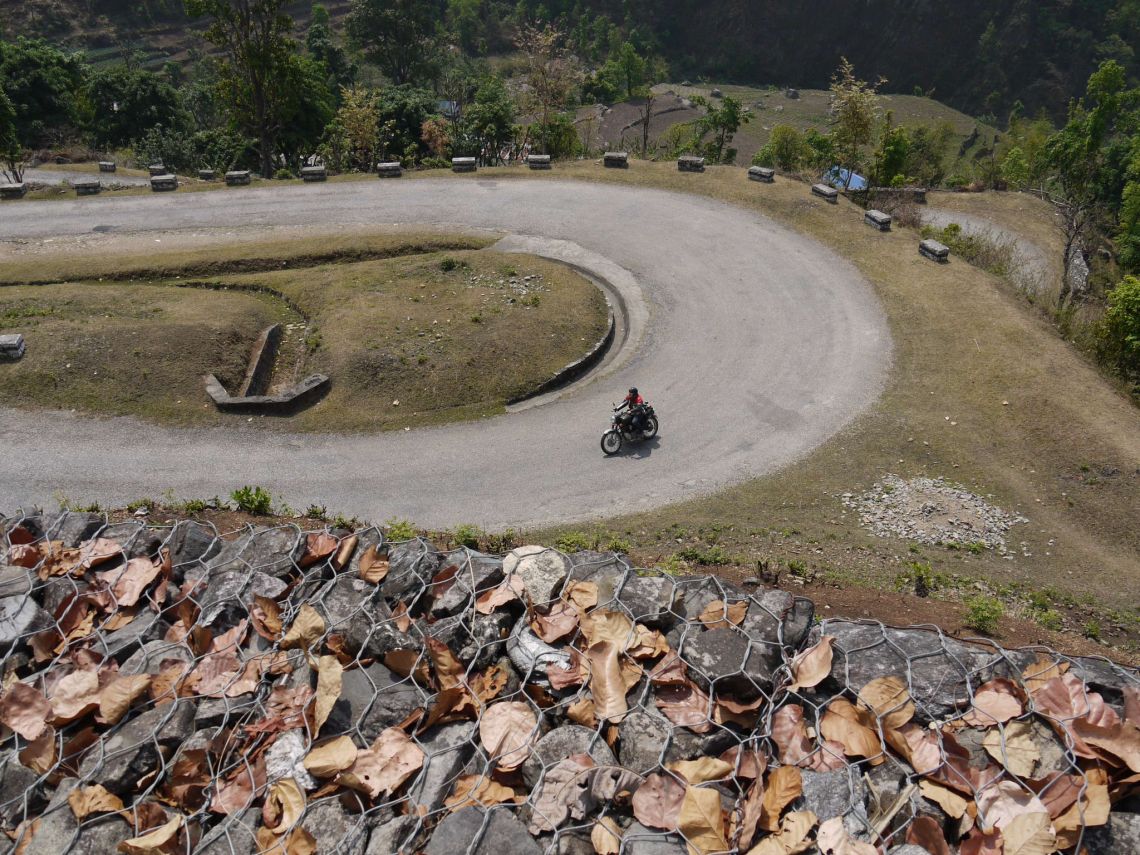 Our meeting point in Pokhara was at Raju's Bullet Surgery, a back-street workshop that was small and dishevelled in appearance but renowned and robust by reputation. Raju is the OBI Wan Kenobi of Royal Enfields. He started out as a racer and later became head mechanic for a larger tourist operation offering Enfield rentals in Nepal. Raju now has an independent business and had helped Manne when his KTM had an electrical tantrum on the way from Phuket to Sweden.
They'd stayed in touch ever since.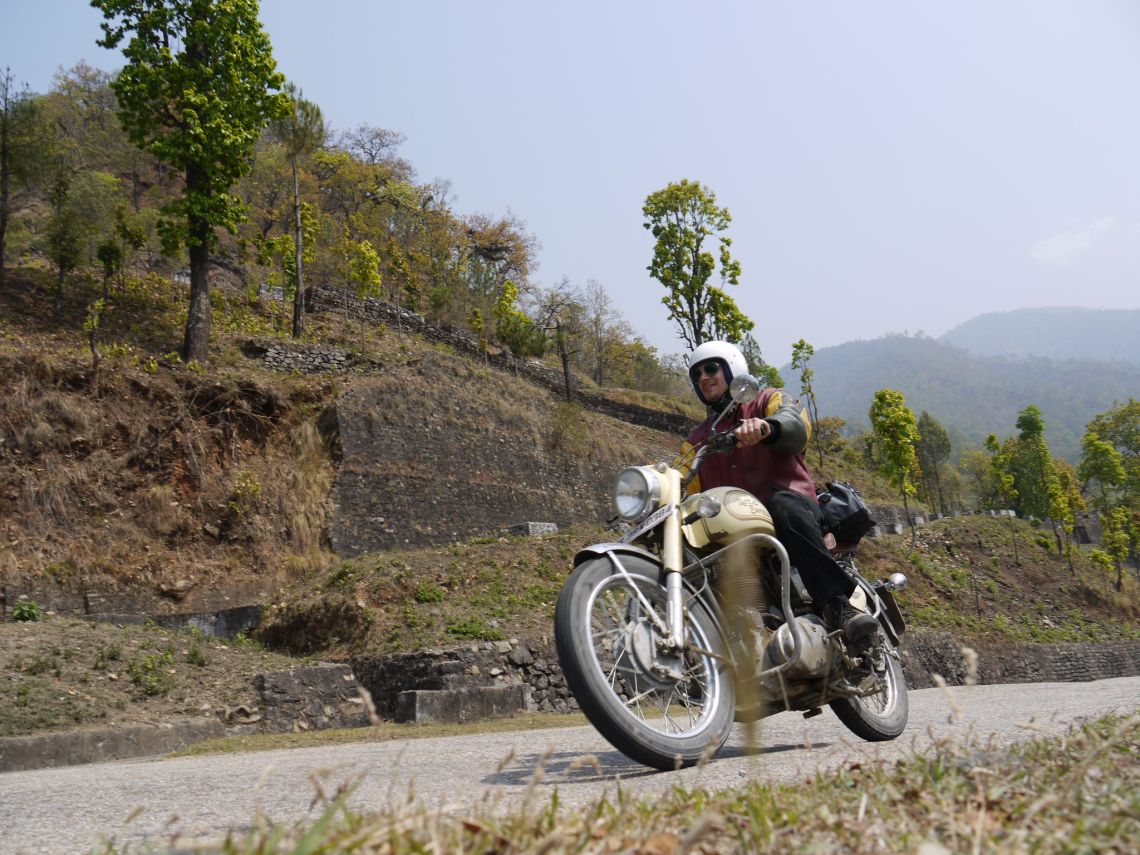 Raju had set aside four Royal Enfield 500CC single cylinder Bullets for us at $550 each, and we went out for a quick run to shake them down and fuel up for the next day's departure. This proved a little more challenging than we first thought, as an Enfield's clutch, gears and brakes are the opposite way round to the format we're used to – especially wearing flip flops. And then there are the front drum brakes, which could be better described as front Play-Doh brakes.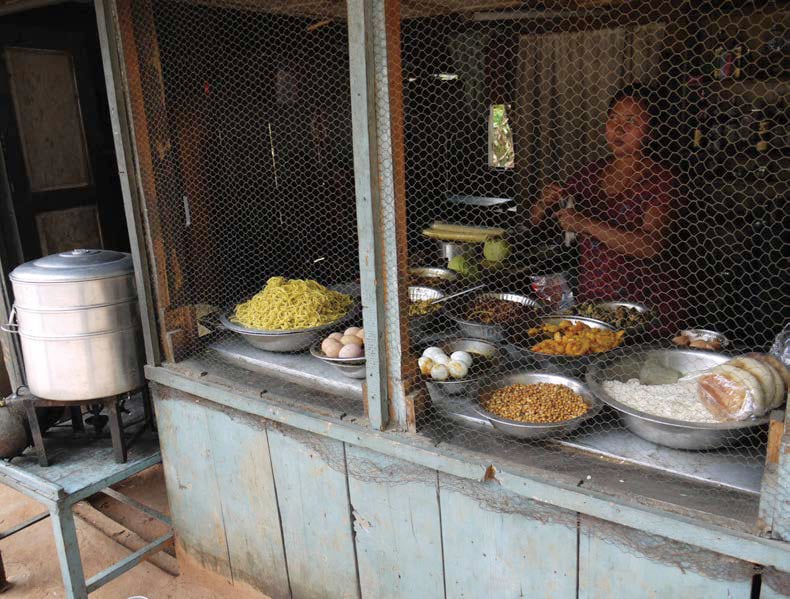 They simply offer no stopping power even when in full working order, so flip flop brakes it is then. Welcome to moggy minor motorcycling.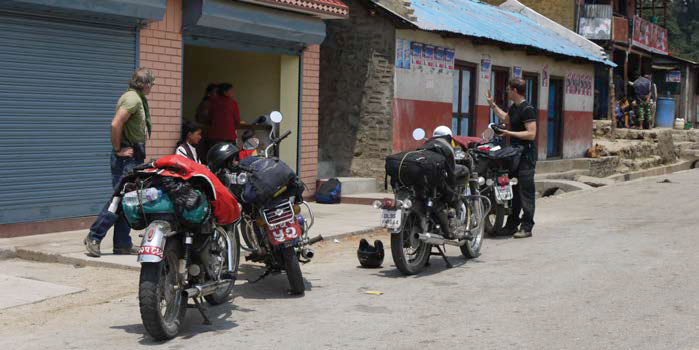 Overall though the bikes were great and quirky and everything I'd hoped they'd be. The only thing nagging me was, we were about to ask them to do things I would have left my F800GS at home for…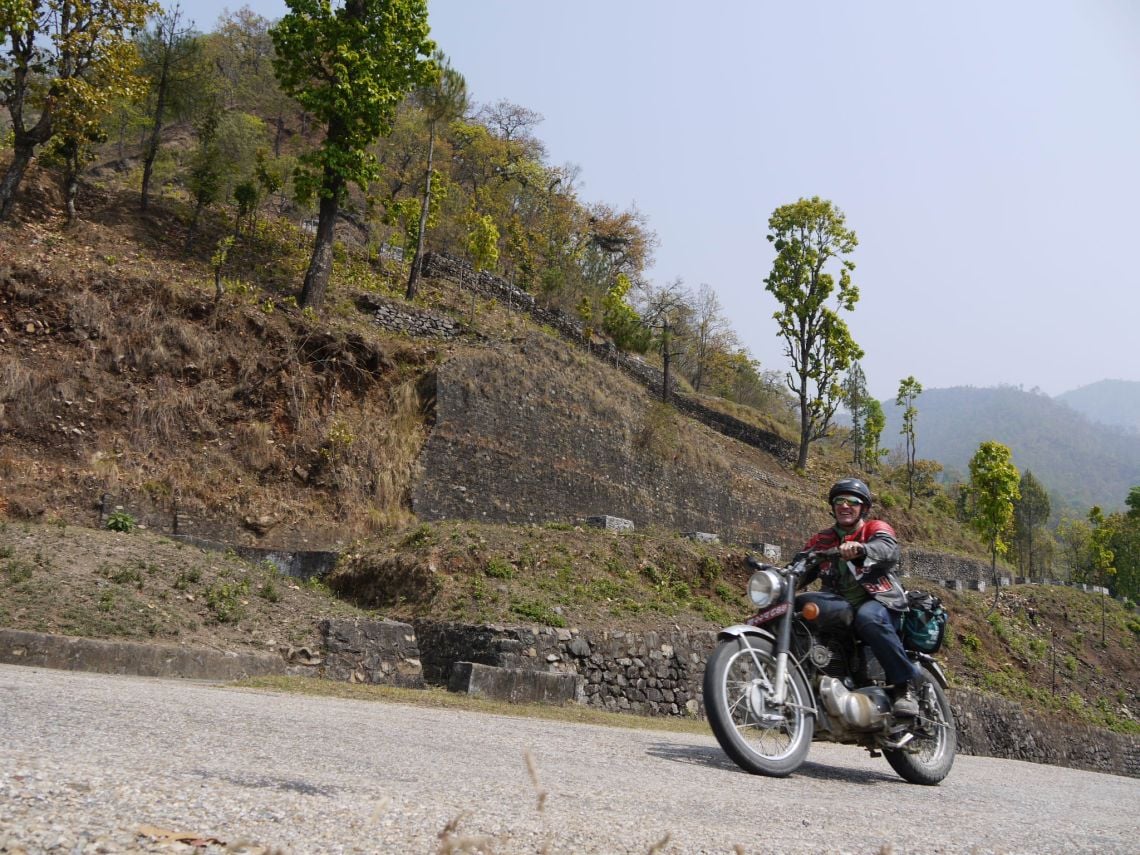 The plan was to leave Pokhara early and go west towards the town of Butwal. Butwal offers no attractions other than a fuel station and water stop, but the route there is another story. Think winding mountain roads, steep inclines and rapid descents with hairpin after hairpin framed by lush green terraced hillsides.
Villages passed us by as we wove up into the mountains and the cooler temperatures. Kids gave us friendly smiles as we thumped past like four old Lancaster bombers – what a start.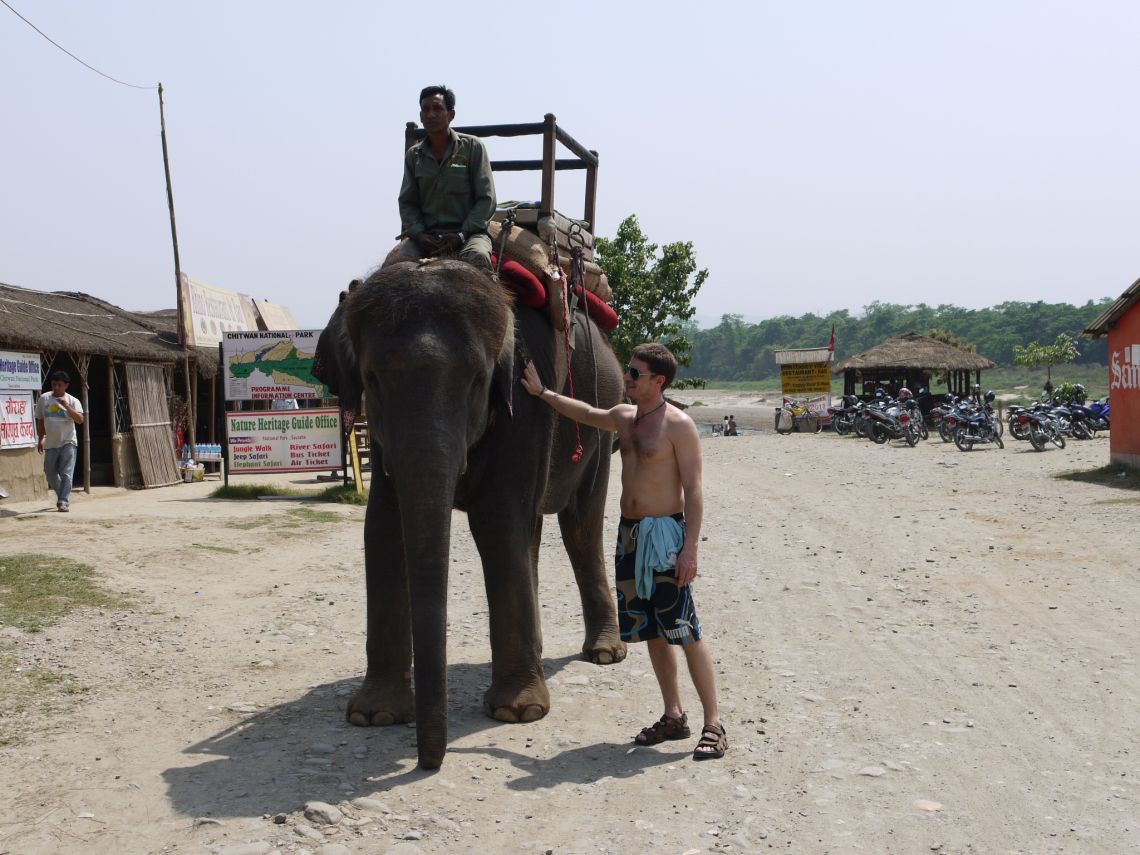 We'd planned to get to Butwal and go as far beyond it as we comfortably could so we could have a short day trip to Chitwan National Park on day two. This was fine until we noticed some heavy weather forming in the valley that would essentially funnel us down into Butwal and on towards Chitwan.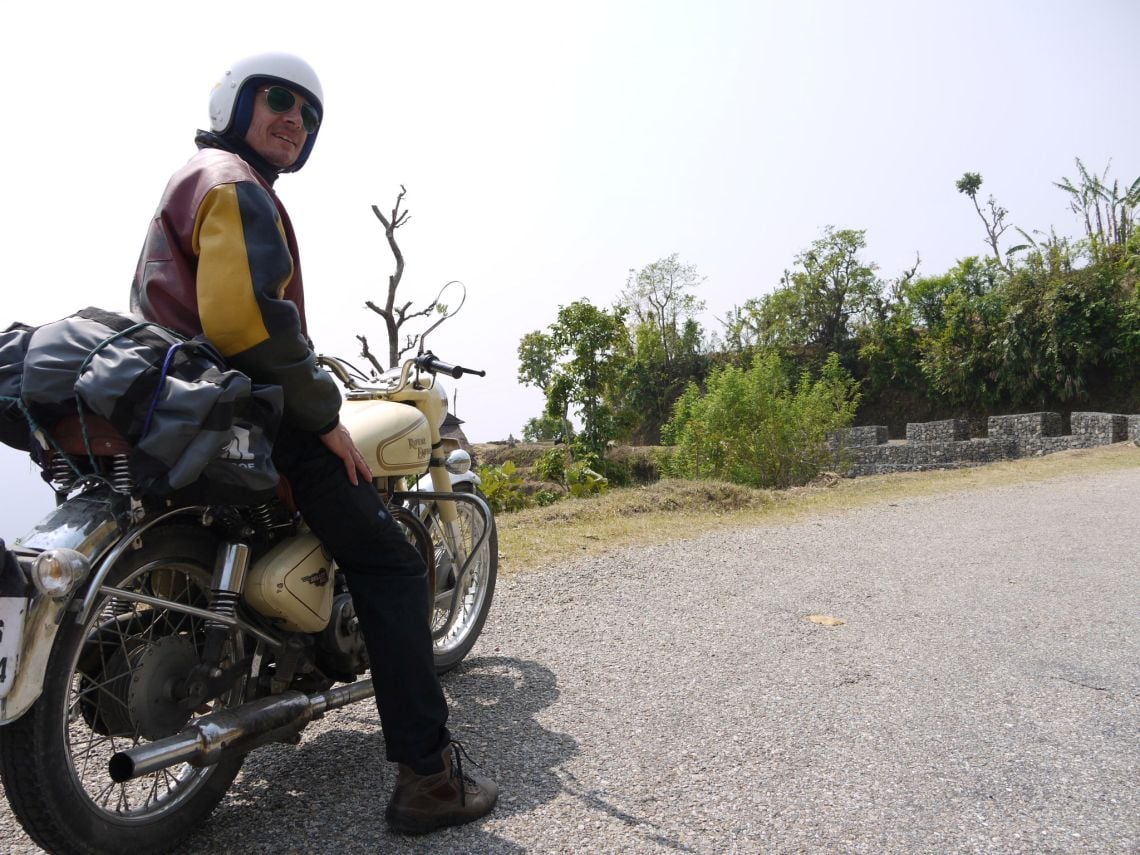 At the fuelling station in Butwal, we stopped and discussed the plan of action. The wind had picked up and we could see small sandstorm twisters dancing around the flatland areas outside of town, so we decided to head onwards, find the next decent town and call it a day.
After about 30 minutes, the weather kicked off. We got caught in the most surreal biking conditions imaginable.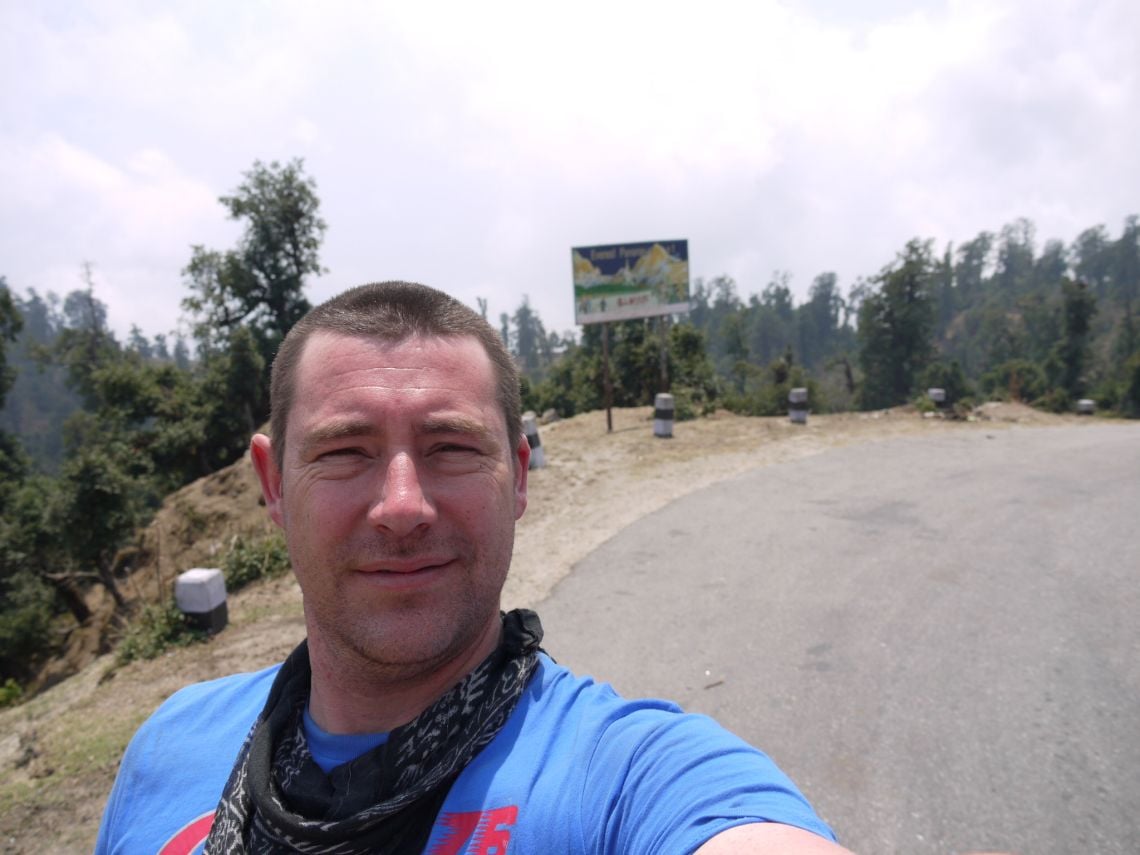 Winds of about 100km per hour were ripping across the valley from left to right, and we were leaning off the bikes over the left side pegs to keep in a straight line. Visibility dropped so far because of the sand that we dropped to crawling pace. We'd got caught in a tornado's slipstream as it ploughed down the valley, dragging us behind it – along with a debris field that was building fast and getting past the novelty stage. Buildings started to disassemble and get swept upwards into the air.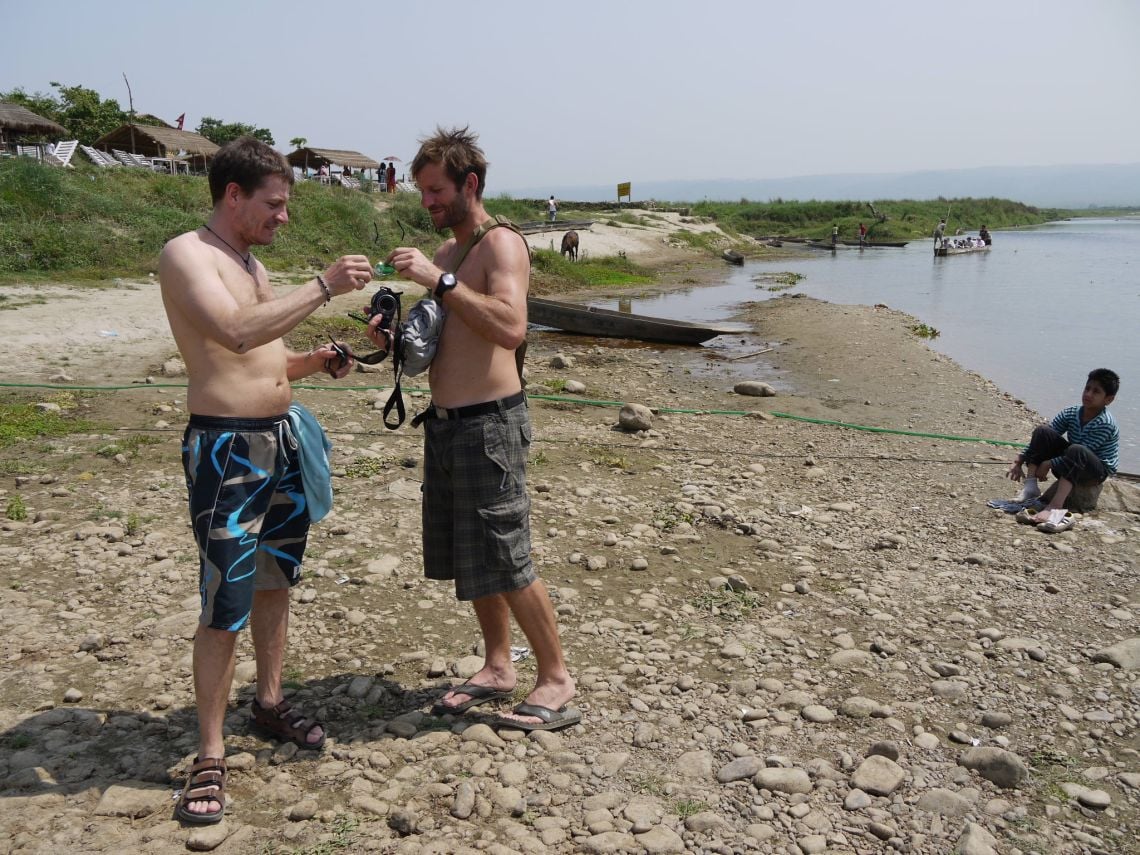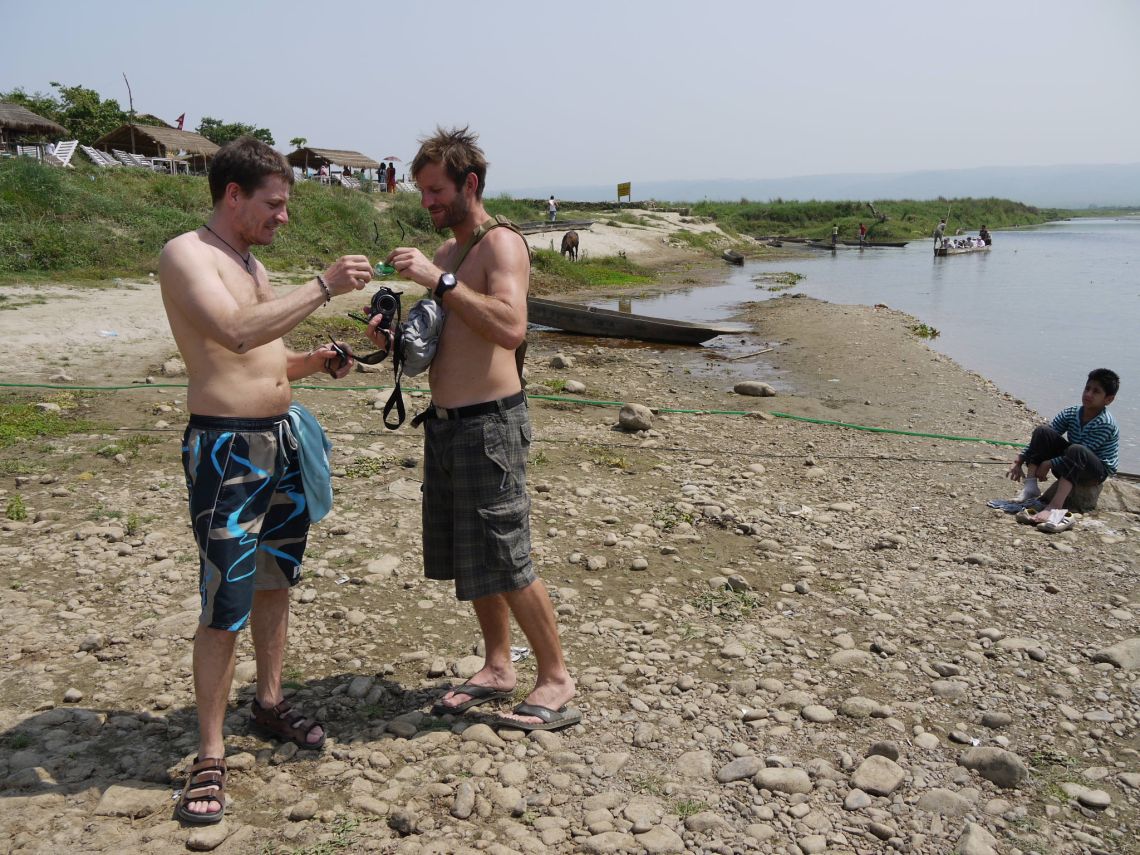 Dougal and I were side by side using each other as a reference when a shanty house made of corrugated steel and barrusti branches exploded beside us as a sudden gust blew it (and us) hard across the other side of the road. Its wooden framework and sheets of metal were everywhere and the roof section cartwheeled across us – all we could do was grip the bars and pucker the portholes.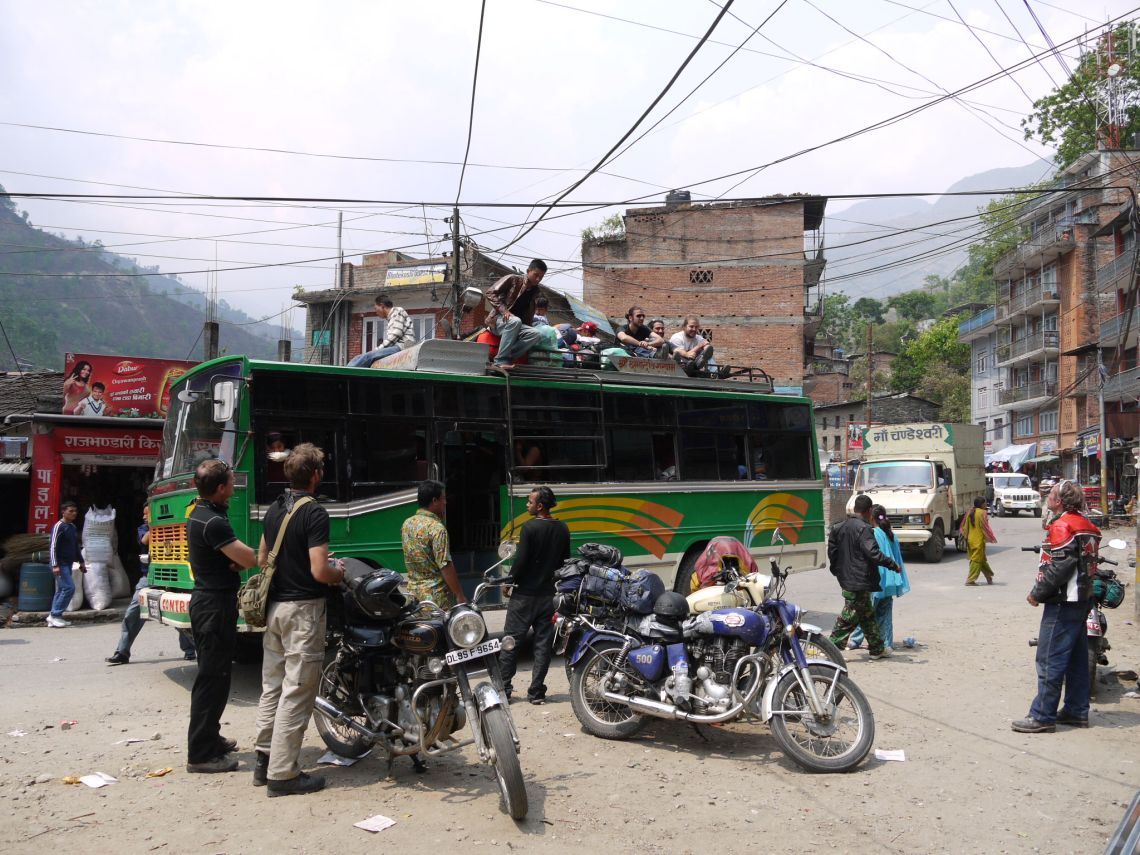 "Bloody hell, we just drove through that guy's roof," shouted Dougal. I was about to comment when one by one the telegraph poles started crashing down. It was like motorcycling between the Wizard of Oz and Apocalypse. Our only option was to find shelter and fast.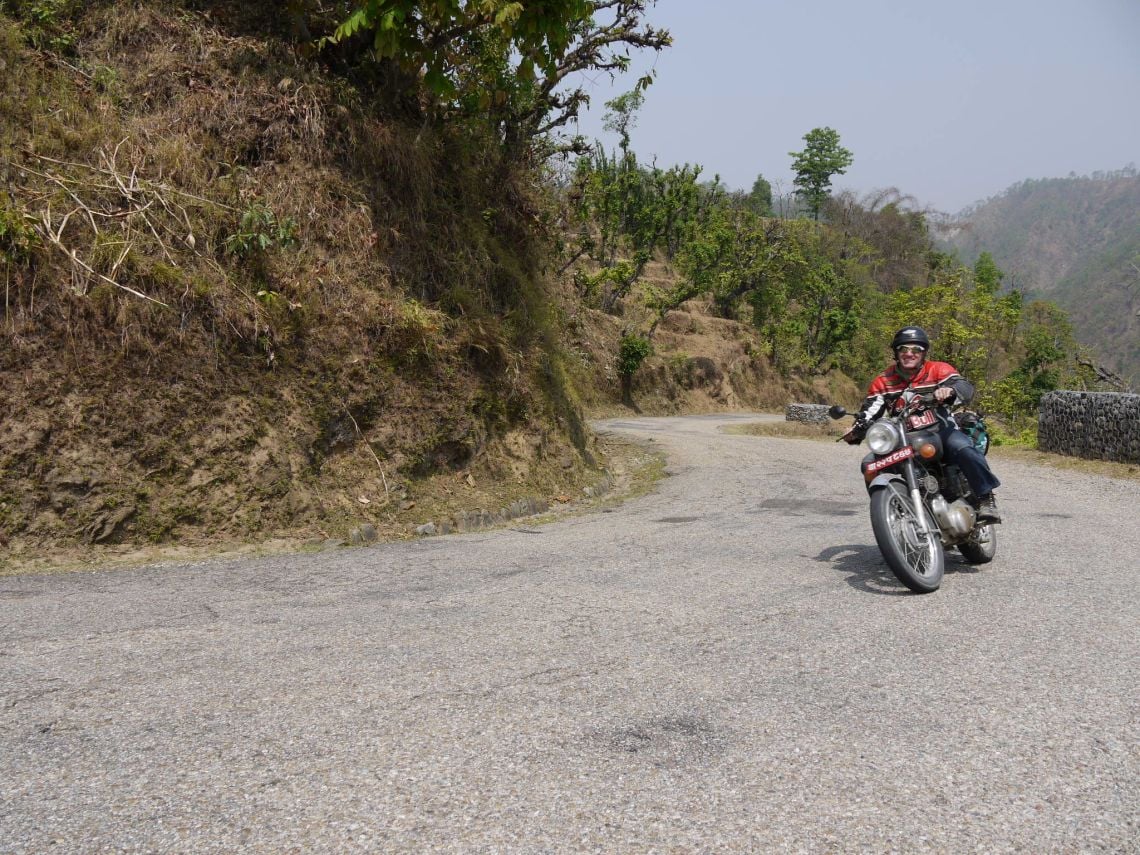 We pulled into a small linear town on the roadside called Bhedabari around 50km from Butwal. The concrete buildings offered a little shelter and we managed to get a local roadside food station to give us lodgings for the night. We locked our bikes inside the grocers next door and watched the show as the weather continued to ravage from valley to valley. We all agreed that out of all of our experiences of travelling and motorcycling, that had been the most amazing, exhilarating and ludicrous day of motorcycling any of us had ever had. And that was only day one, my God.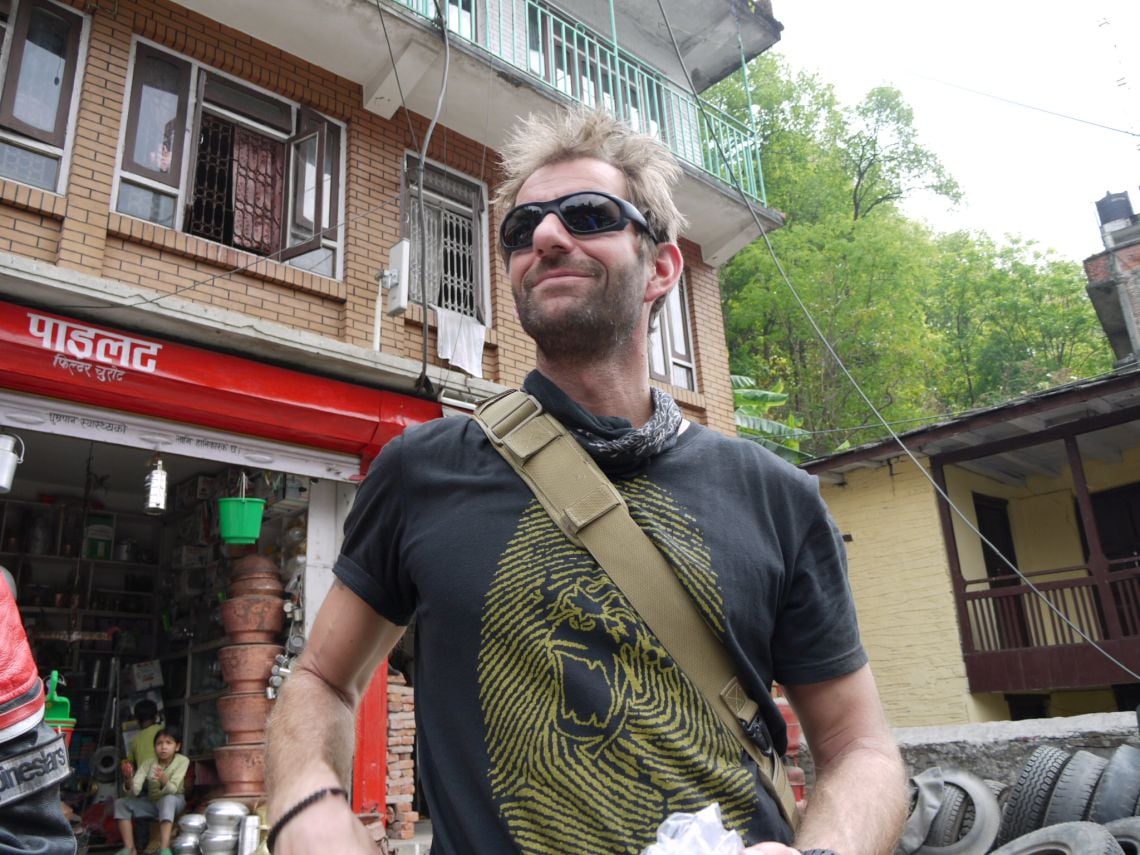 After a respectable 50km trip to Chitwan National Park where we bypassed elephant trips for a reasonable hotel with a shower and some kip, day three saw us heading out on a notorious section of road called the Prithvi Highway. The Prithvi Highway is considered one of the most dangerous in the world. It's essentially the main supply route into Kathmandu from the west, climbing for many miles with tight hairpins and steep mountain drops at the sides. Add hundreds of eager truck and bus drivers heading to the capital with 70 people on the back seat and another 30 on the roof and you start to get problems.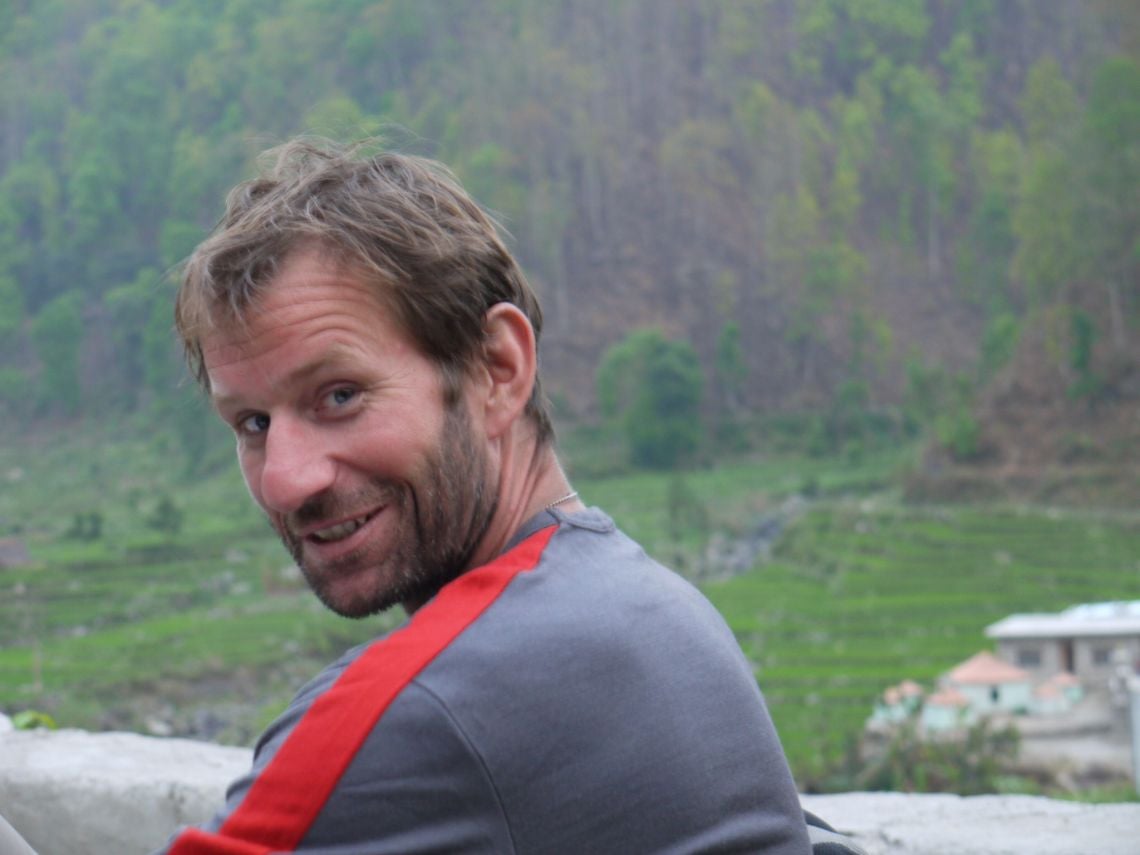 We fought with truck after truck but found ourselves being pushed up the inclines as we were unable to power away from the heavier traffic up the slopes. The road is two lanes wide yet they overtake four abreast into oncoming traffic. You get funnelled between trucks that are screaming in low gears only six inches beside you, and there are three-foot potholes that look like mortar strikes randomly cast across the road.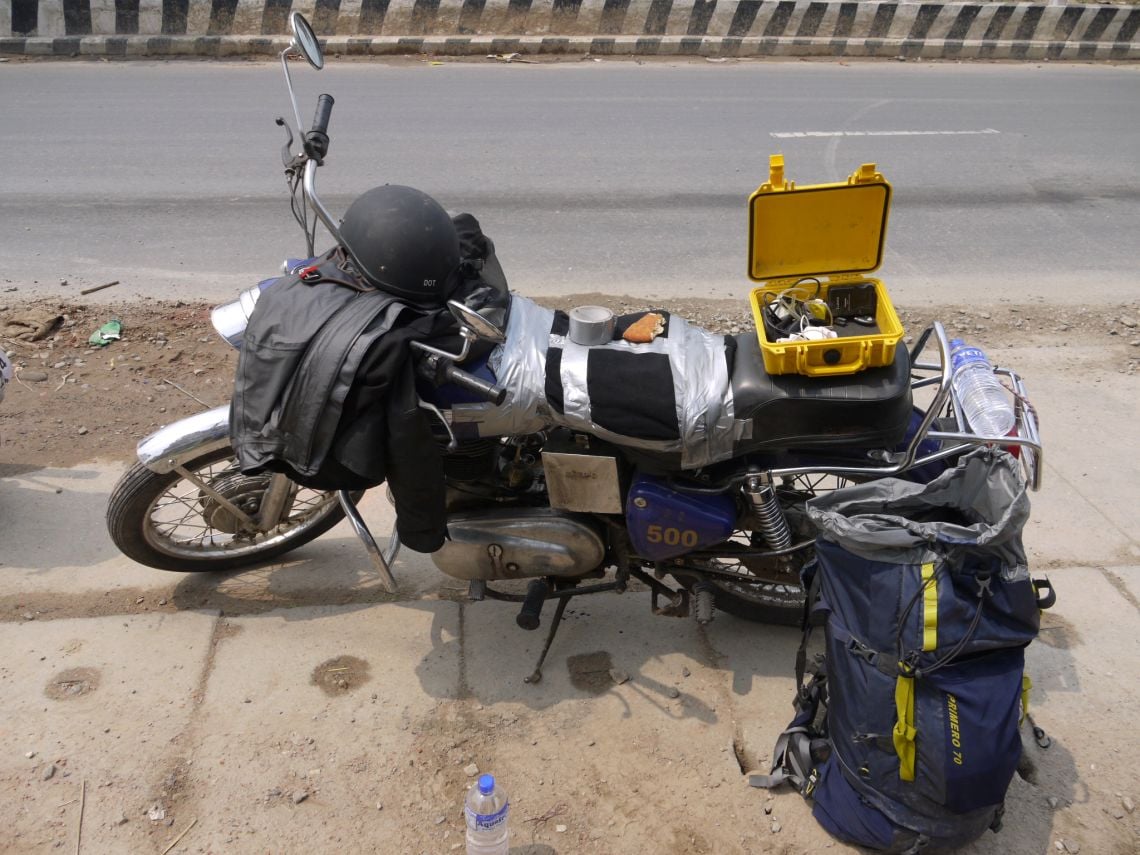 As we rounded one of the penultimate hairpins Dougal's bike died. He was in a precarious position with trucks bearing down on him while he held the bike stationary on a very steep gradient. The air horns were deafening as he kicked and kicked at his starter. A mixture of adrenalin and fear was the saving cocktail that fired his bike up as he nearly ripped the kick start off it and came past me at what seemed 100,000rpm, bellowing something about getting the f**k out of here. I couldn't have agreed more.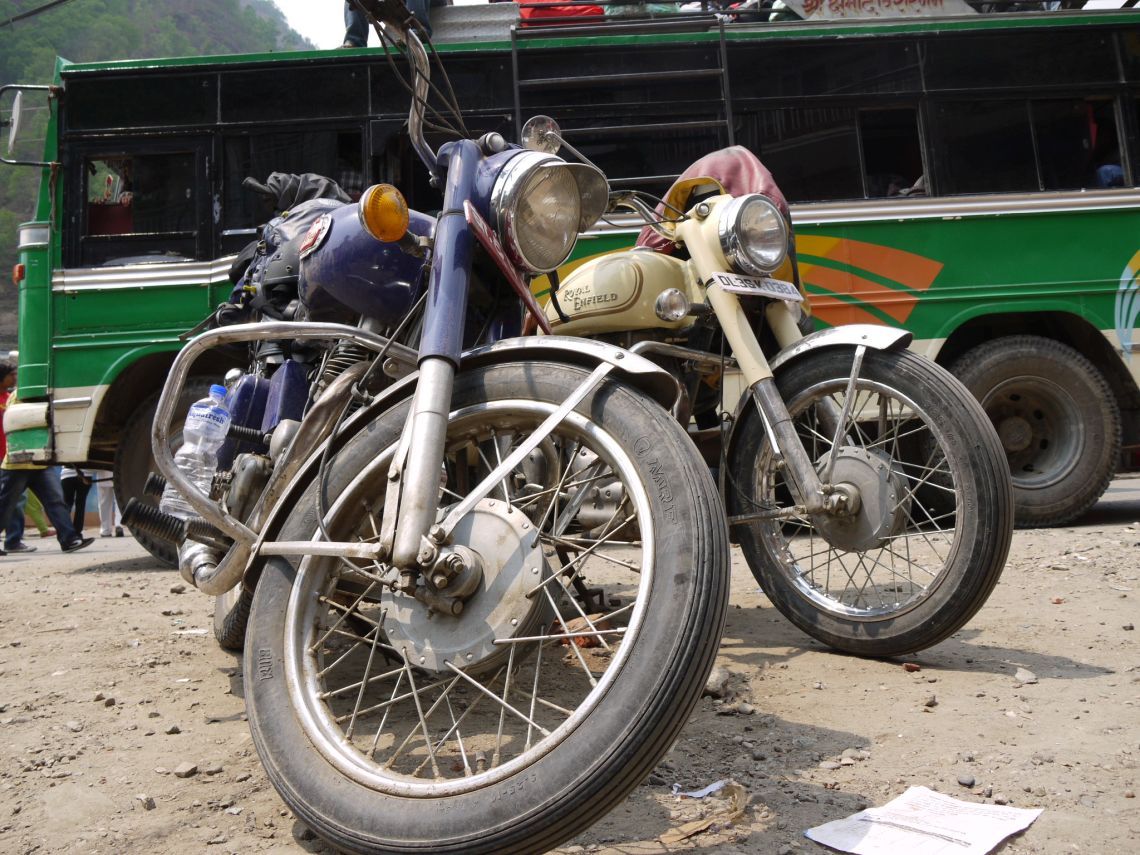 With a frightening couple of hours behind us, we hit Kathmandu, or at least the miles and miles of traffic heading into Kathmandu. We crawled through the sweating traffic using all the local routes along with everyone else – pathways, sewers, river beds, central reservations – you name it as long as you gained a yard on the guy next to you. Kathmandu is a bustling third-world metropolis with a serious overpopulation problem, but it was great to soak up some real culture after the earlier terror. And the road out the other side to Nagarkot was gorgeous – pine-edged switchbacks – as we again climbed out of the Kathmandu basin up into the mountains. At the aptly named Hotel At The End Of The Universe, we'd earned our beers.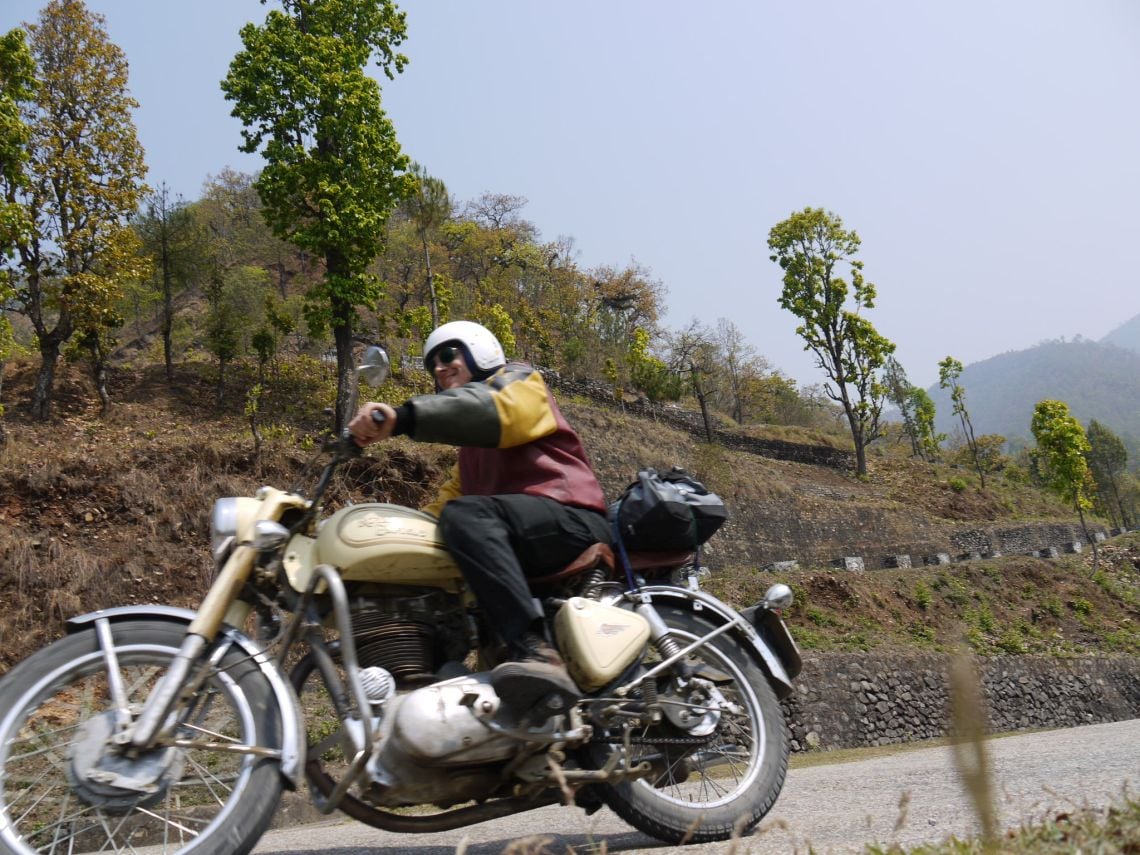 And so the adventures continued. At the China Tibet border I ended up looking down the blunt end of a machine gun as I dipped a toe into Chinese territory, so we all decided it would be a good idea to behave like adults. On the way to Everest base camp, I had a head-on argument with a truck – or at least the bike did because I was offski into the ditch way before impact. It survived with mere bent handlebars, bent crash bars and a knackered footpeg, which is lucky as we were really falling in love with our Bullets.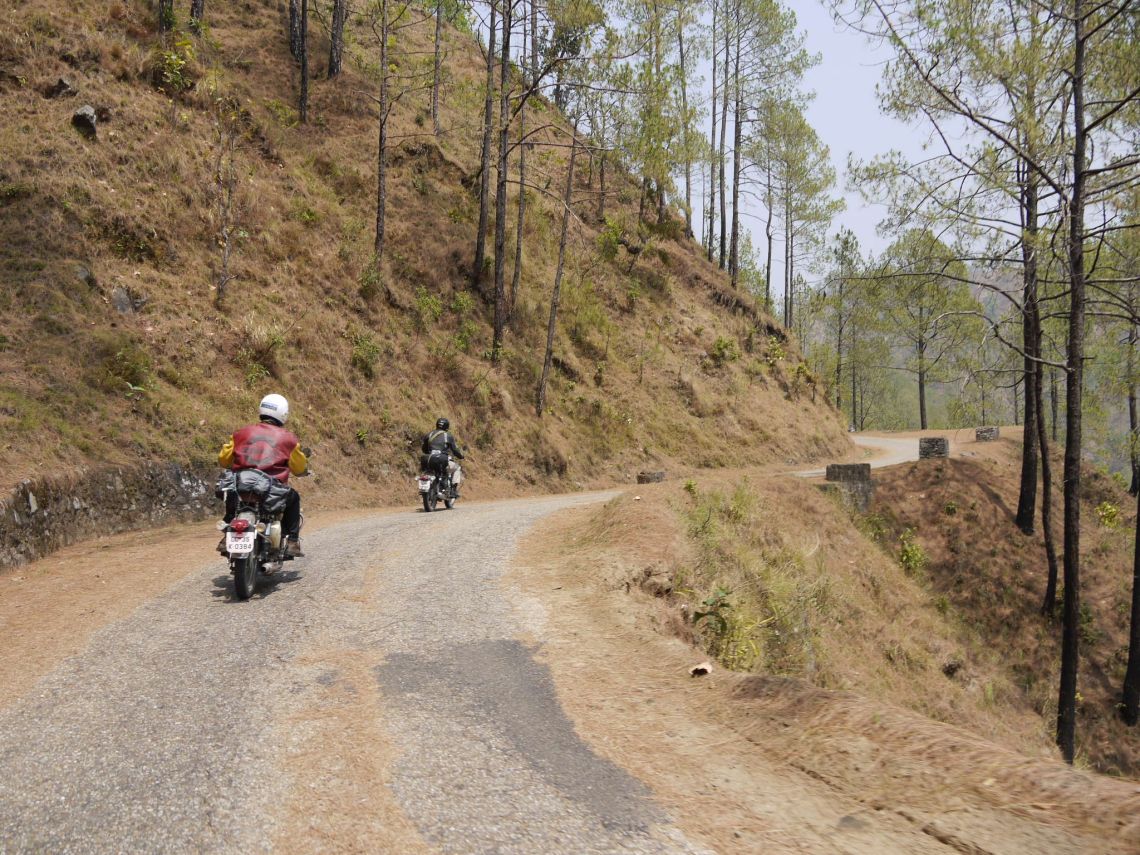 At Beni, at the bottom of the Annapurna trail, we left the soft, smooth tarmac and headed up a trail more suitable for donkeys and trail bikes at best. We were aiming to get to Jomsom, stopping at the hot springs town of Tatopani on the way.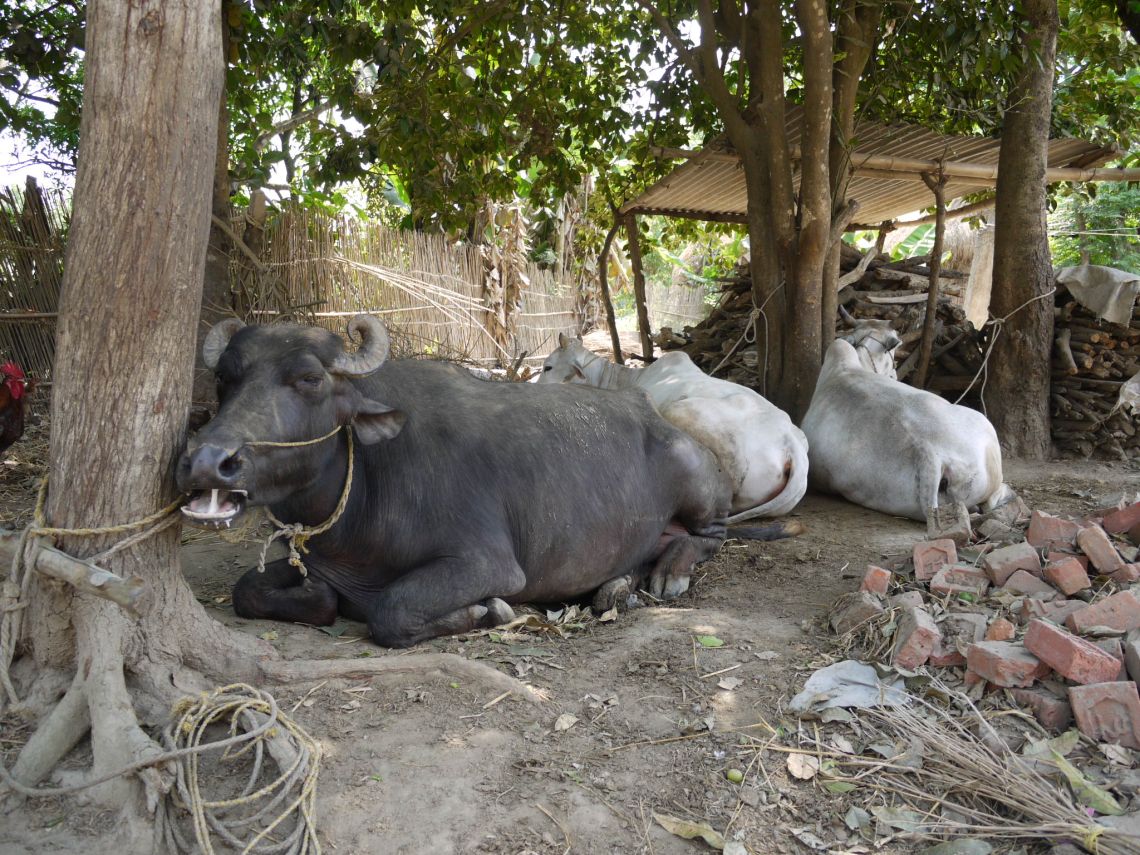 The road is too small and winding for a grader to be used effectively and it crosses streams and navigates around fallen boulders in many places. All of the bikes had taken a battering anyway, but after an hour all our front shocks were damaged, Dougal and I had reoccurring clutch issues and I had broken my chassis on both sides under the saddle.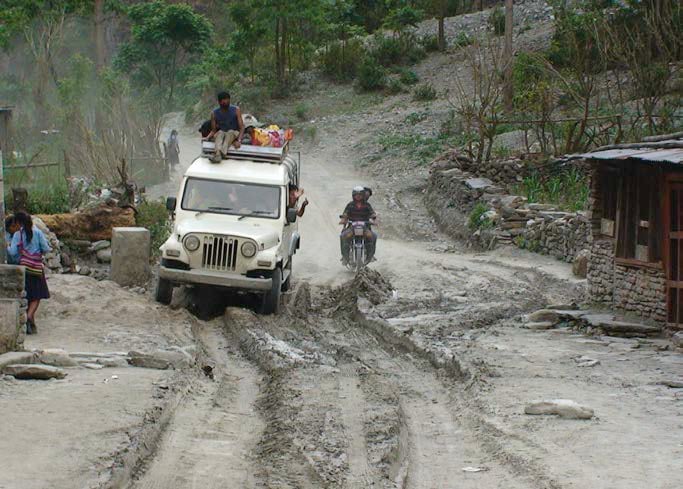 We exhausted the tie wraps and duct tape and resembled a Blue Peter birthday card more than a group of adventure bikers. When we crawled into Tatopani it was nearly dark and we didn't even stop to discuss our route – we grabbed a bottle of rum and jumped into the springs, which are a must for any visit to Nepal.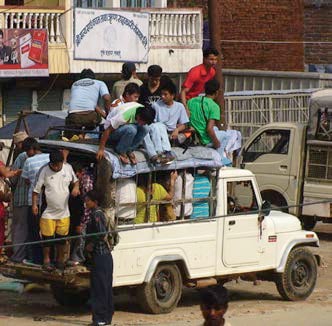 By the final drive home my gearbox was cracked and leaking, I had two more breaks in the frame and the only way to stop the back of the bike from dragging on the tyre was to tie a rope to the front stock, over my shoulder and tie it on to the back so I could hold it up while I rode. We had pushed them hard and they really had given us their best. Saying goodbye to them back at Raju's, Manne and Thomas declared they couldn't do it, so we spent the next hour (and a few more beers) talking to shipping companies so they could ship their beloved Bullets back home. Aw.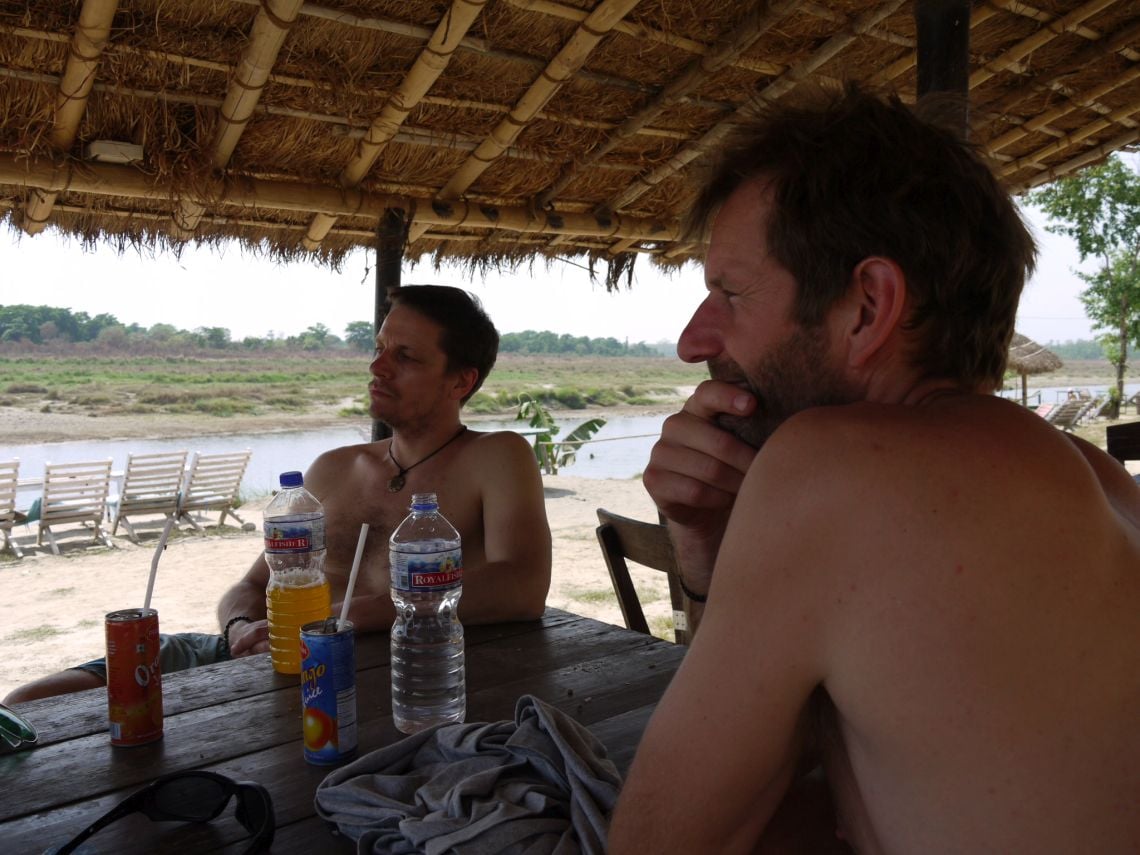 ---
The Five B's of a Bullet
Breaks
Don't expect great things for early models, the new ones have front discs
Backward Controls
Takes some time but you'll get used to it
Balance
Travel light as transporting kit is limited and the bike suffers with weight
Break Downs
Mechanically if you drive normally on tour they're terrific, rough roads will be their demise
Buy One
It's the same price as renting one and you can sell it back at the end, even if it's in four pieces!
---
Break it down
Spencer's day by day itinerary
Day 1: Pokhara to Bhedabari via Butwal, 200km
Day 2: Bhedabari to Chitwan National Park, 50km
Day 3: Chitwan National Park to Nagarkot, 250km
Day 4: Nagarkot to Kadari and back to near Lamosangu, 160km
Day 5: Lamosangu to Jiri, 100km
Day 6: Jiri to Nagarkot, 160km
Day 7: Nagarkot to Pokhara, 280km
Day 8: Pokhara to Tatopani, 120km
Day 9: Tatopani to Pokhara,120km Total: about 1,450km
---
Who's riding?
Spencer's a car dealer from the UK who gets away as often as possible and is usually lured into the next hair-brained scheme by Adventure Bike Rider's editor Alun. He's ridden most things in most places, currently a BMW GS with jerry cans strapped all over it.
Dougal is English, lives in Thailand and is ex-British forces. He currently works between Iraq and Africa protecting rich oil workers and banking officials (I could tell you more but I'd have to kill you). He rides an F800 GS and has covered most continents on his bike. For planning and execution he's great on any trip, don't upset him or drink his beer!
Manne is Swedish and a full time adventurer and thrill seeker. Larger than life and an experienced solo bike traveller, he rode his KTM home from Phuket, Thailand, to Sweden last year and is planning South America next year when he gets back from his naked Harley trip round Greece in July.