ABR's green lane expert Mike Beddows details two exciting green lanes, one in North Wales and one near Manchester, just a short ride from the M62
39 – Pheasant Penn steps, North Wales
2 miles | Wow factor ✪✪✪✪✪ | Words and photos: Mike Beddows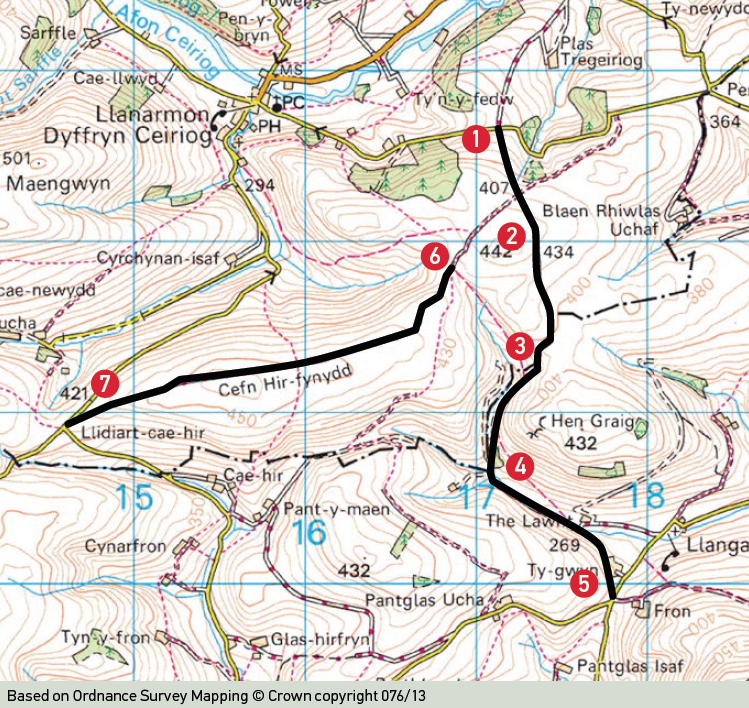 This trail used to have some tricky rocky steps to bounce up (or down) and, when done in reverse, it used to be a good challenge. The more difficult areas have since been graded, which is a real shame. I can understand the need to grade some trails but it does restrict the more adventurous riders who like a challenge. Don't get me wrong, the trail is still really good, hence why it is detailed here, and there is enough of the old trail left to make it challenging. The grading also means it has opened the trail to the beginner trail riders out there which is a good thing.
After a couple of hundred metres the trail hits a crossroads. It is possible to turn right but after double-checking the map and Trailwise there is a short 0.35-mile section that is just a footpath and has no vehicular rights. On the ground, it appears to be a farm track and I have previously ridden this section being unaware that it was not legal, I have even spoke to the farmer here and he has never mentioned that I wasn't allowed to ride the track.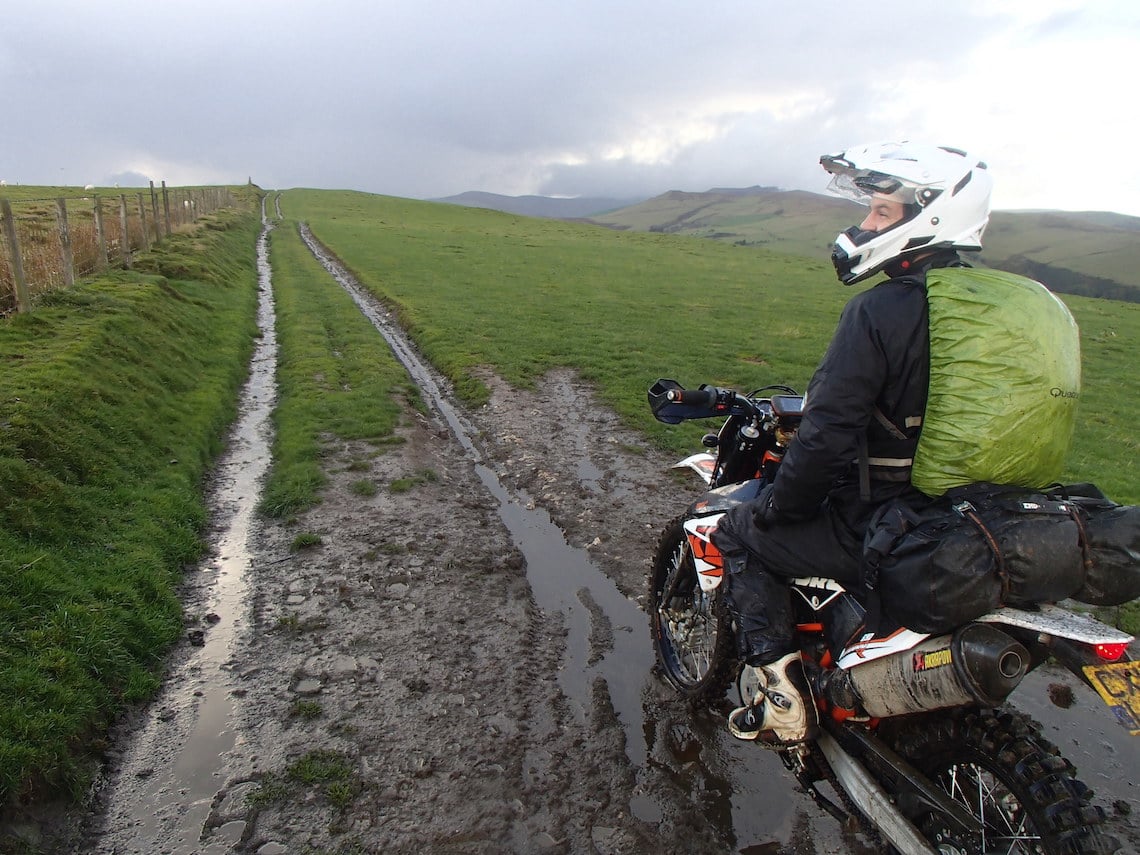 There is a very deep puddle on the trail and his only concern was some riders might bypass this and go off-piste. Regardless, just be aware this short section is not legal and has no vehicular rights whatsoever. This does not stop you riding the main Pheasant Penn Steps trail in either direction though.
As there are sections of stone, mud and ruts I suggest that previous off-road riding experience is a must and the right tyre choice essential. If you are a beginner try this trail in reverse first. You will hit the graded section to begin with. The Wayfarer trail (which is over six miles long and one of the finest trails in North Wales) that was documented in ABR issue 10 is only a few miles away. There is a fantastic network of legal trails in North Wales, especially around the Llangollen area.
The Route
1-2
Start at the gate. Proceed uphill along a rocky track. Riding in the centre between the ruts is easier as they're fairly deep and may cause injury to legs if not careful. As you approach the top there are some rock steps to bounce up. Try not to stop on this section as getting started again can prove tricky. Proceed to the crossroads.
2-3
The correct route for Pheasant Penn Steps is straight on at the crossroads. Continue uphill along the track. The ruts are deep but wide enough to ride without any major issues. The wild and remote scenery is fantastic. Proceed to the gate and pass through, here the track levels out. There may be plenty of puddles on this section and the nice, hard compact track soon turns into fairly deep ruts. The middle section is muddy and on an angle so riding it is difficult.
Chances are you will end up in the rut so take it steady. You will see a daunting muddy puddle approaching. Ride through it (you may wish to probe the depth-first with a stick). It is about knee to thigh deep but maybe deeper if there has been significant rainfall. Do not be tempted to ride around the puddle. I have seen the farmer on this trail looking for excuses to confront riders. I have managed to get a bike through this section when it's been at its deepest (it can't get any deeper than overflowing the edges).
If you are uncomfortable do not continue, turn around and head back to the start.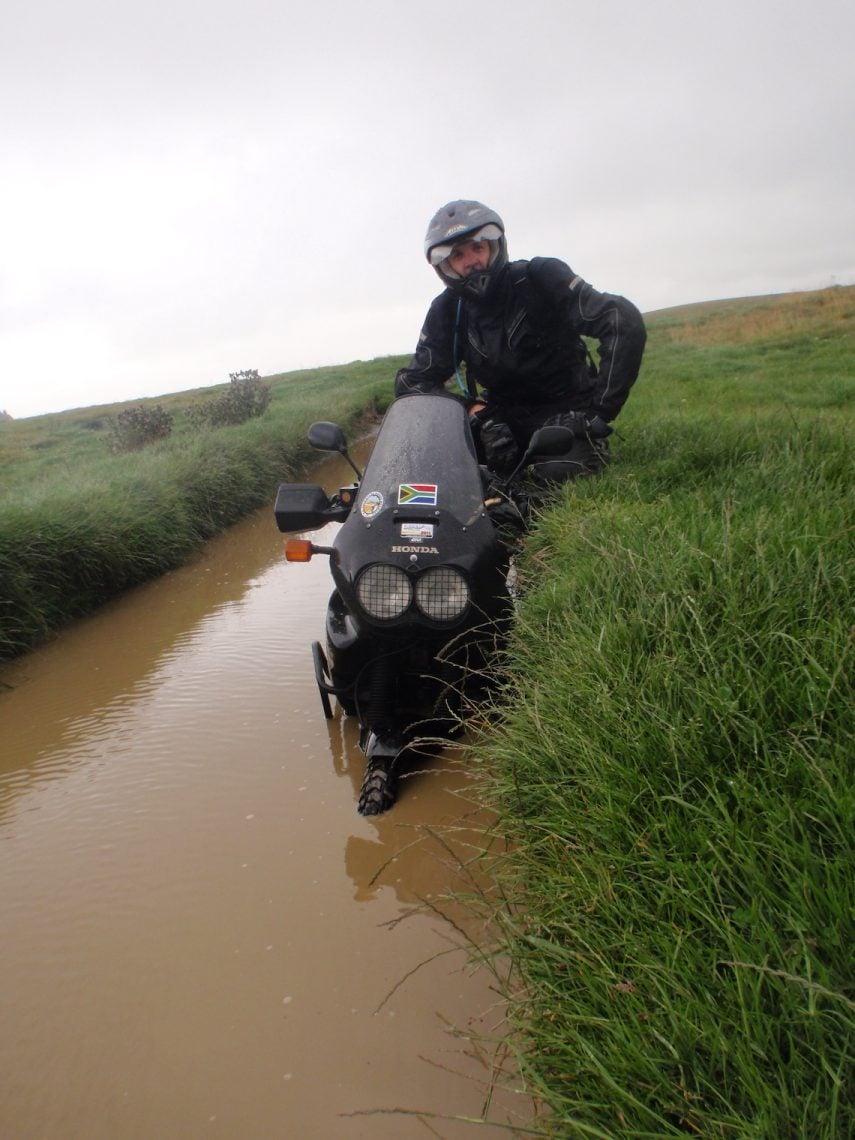 3-4
The next section used to be fantastic, both up and down, but it has now been graded. There used to be steps all the way to the bottom and it was fairly technical, but now it's easy all the way to the bottom. However it is still a fantastic trail, and maybe in time water erosion and 4x4s will turn the trail back into its former glory. This section is really good in reverse but be careful as it's all too easy to ride back uphill far too quickly.
4-5
Ride through the gate and small ford (this may be a large ford after rain and the waterlogged area may pass the gate, but it is not deep). Continue to the end of the trail along a farm track. Take it steady past the farm. If you intend to ride the other section of this trail (below) then it's best to turn around before the last gate to save passing the farm twice.
5-6
Be aware that the OS map does not show this small section (0.35 miles) as a legal trail. Neither does Trailwise. I have ridden this section a few times without knowing that it was not legal, it just looks like a farm track. Even with the farmer around it's never been an issue. However, I must stress this short section is not legal.
6-7
Proceed through the gate. The OS map and Trailwise now show this as a legal ORPA. There are lots of deep puddles but nothing that should trouble anyone. Please do not be tempted to go around. As previously stated I have seen the farmer on this section and he does not like riders deviating from the track. If you cannot ride through puddles then this trail is not for you. The track winds uphill (some rocks at the crest of the hill). Continue to the gate.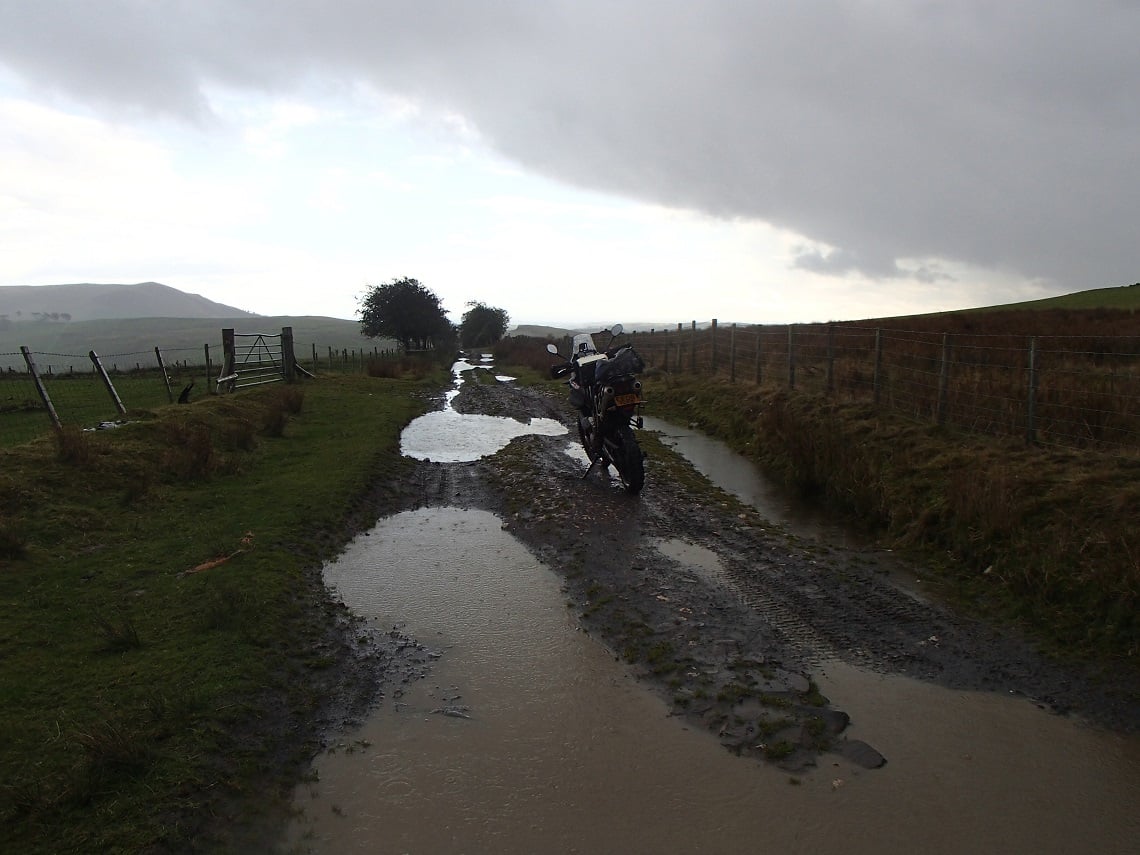 There are now a couple of very deep puddles, but not as deep as they once used to be. There is evidence of grading which has resulted in the depths being a lot lower than they once were. Please probe the depth-first to make sure you are happy. You are a way from the tarmac road so a drowned bike here would result in a long push. The route from here is pretty much the same. Long sections with deep ruts between gates. There are some fairly deep puddles along the way, but nothing as deep as what you have already come through.
---
Did You Know?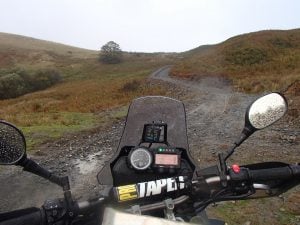 The Berwyn Mountains are just a few miles west of Pheasant Penn steps. in 1974 there was a 'Ufo incident' in the mountains that was dubbed as the Welsh roswell. officially recorded as an earthquake and a meteor combined, however, locals report a different story.
Villagers ran out of their houses and eyewitness accounts reported a blaze of light on the mountainside. some say they saw an egg-shaped craſt on the ground with a pulsating orange and red glow.
It was later alleged that a Ufo crashed, that non-human bodies were recovered by the British Government and a big cover-up was put in place. there were even claims that the area was cordoned off by the military while the wreckage was recovered and that villages within the vicinity were visited by 'men in black'.
---
40 – Harrop Edge, near Manchester
2 miles | WoW factor ✪✪✪✪✪ | Words and photos: Mike Beddows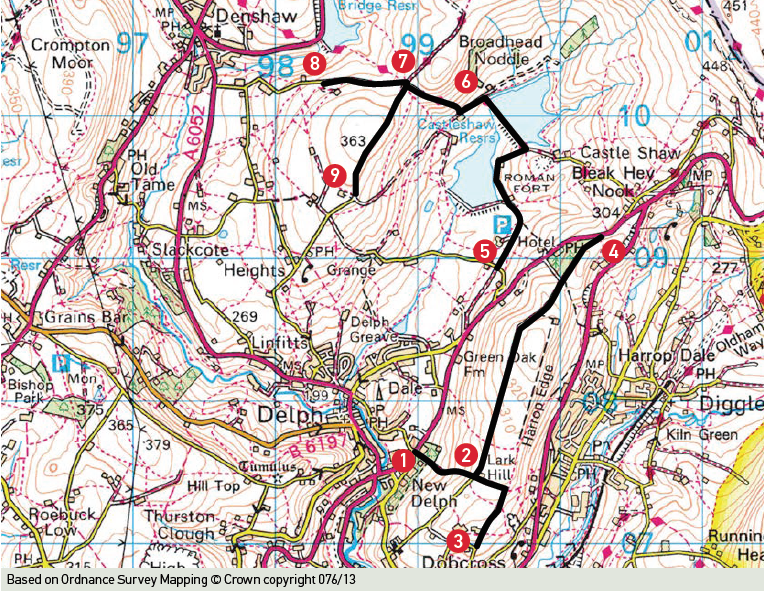 This trail is located a few miles northeast of Manchester which is a very limited area for trail riding. There are not many legal trails to attempt around here therefore it is doubtful that these get much vehicular traffic from recreational riders, probably more use from locals and dog walkers than anything else.
I only planned this trail to break up an otherwise boring motorway journey, and being just a short distance from the M62 it is in an ideal location to do this. Most people will head south to the trails in the Peak District, further east there are a few trails in South Yorkshire (as detailed in ABR Issue 9, Ramsden Road), north you will have to head into the Yorkshire Dales to encounter a better selection of trails and west you have to venture into North Wales.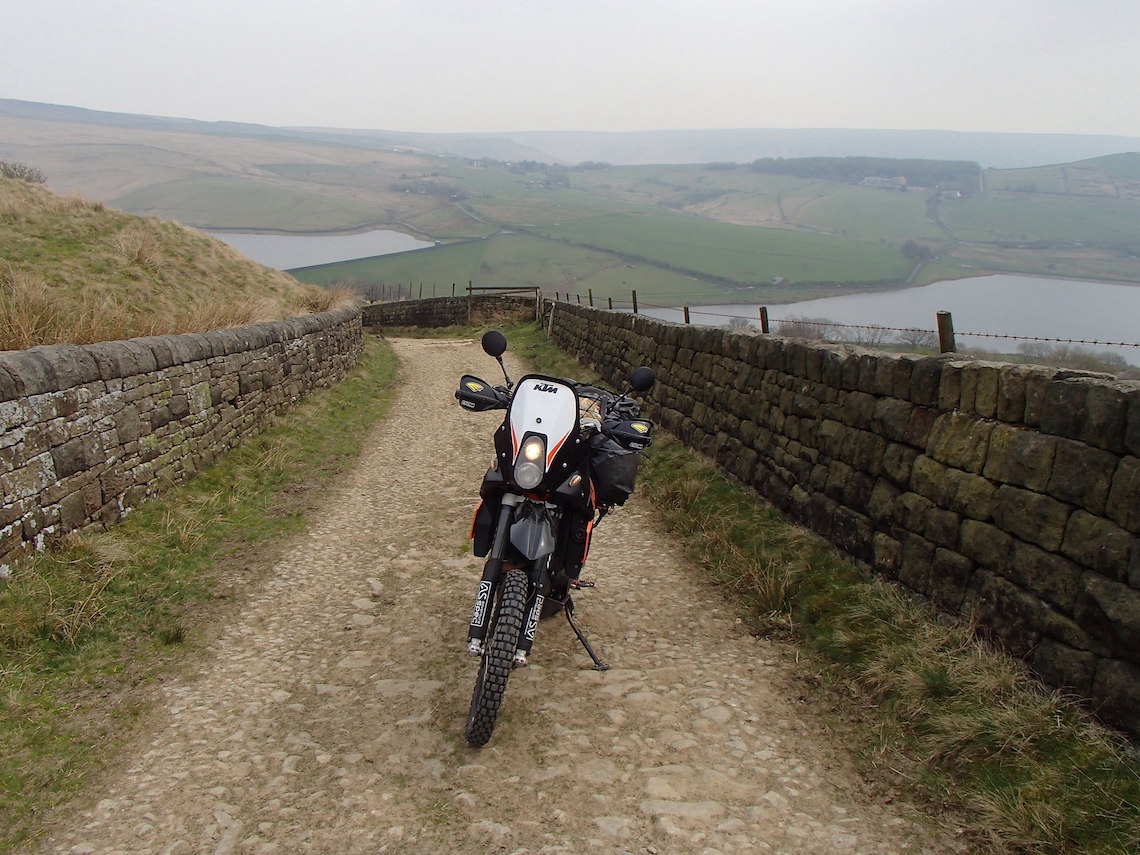 The main section of the trail is fairly easy and would suit beginner riders, and could be attempted with any tyre in dry weather, take note of the route sections so you can attempt the part most suited to your riding style.
There are a couple of offshoots which will be more entertaining for advanced riders. The views from the top are fantastic especially looking over Castleshaw Reservoir. Well worth the slight detour from the M62 if you are passing this way to break any motorway journey up.
The Route
1-2
Starting from the town of Delph the trail is easy to find. You can see the track leading up the hill and it starts off as Lark Hill Lane. It is fairly wide and rocky and you will bounce from rock to rock as you proceed uphill. It's not too technical but I'd still class this as grade three to the top, so if you want an easier approach use the tarmac section to go round to get to point two. There is off-piste 4×4 evidence as you proceed up, stick to the track. At the top there is Lark Hill House. Take it steady at this point.
2-3
You have a choice now, the easier route is to the left along Harrop Edge Lane or continue straight on. Straight on heads downhill along a well-worn track with plenty of rocky sections to keep the ride interesting. From the right-hand corner, there are fantastic views. Continue along the track to where it ends when it turns to tarmac.
This is great in reverse (grade three).
3-4
Turning left at Lark Hill House you proceed along the wide Harrop Edge Lane. The track is very easy and could be attempted on any bike, with any tyre (in the dry). In the wet, there will be a few puddles but nothing deep and the base will still be solid. There is evidence of old well-worn tarmac in sections hinting that this used to be a tarmac road that is now well beyond its best.
It is well used and compact across the top. The views to the left are fantastic. At the top, there is an old quarry area where there is more evidence of 4×4 activity. Stay on track. There are views down to the reservoir in the distance. If you look closely you will see the next trail heading up the hill in the distance. Continue as the track proceeds downhill, over a crossroads and to the tarmac road.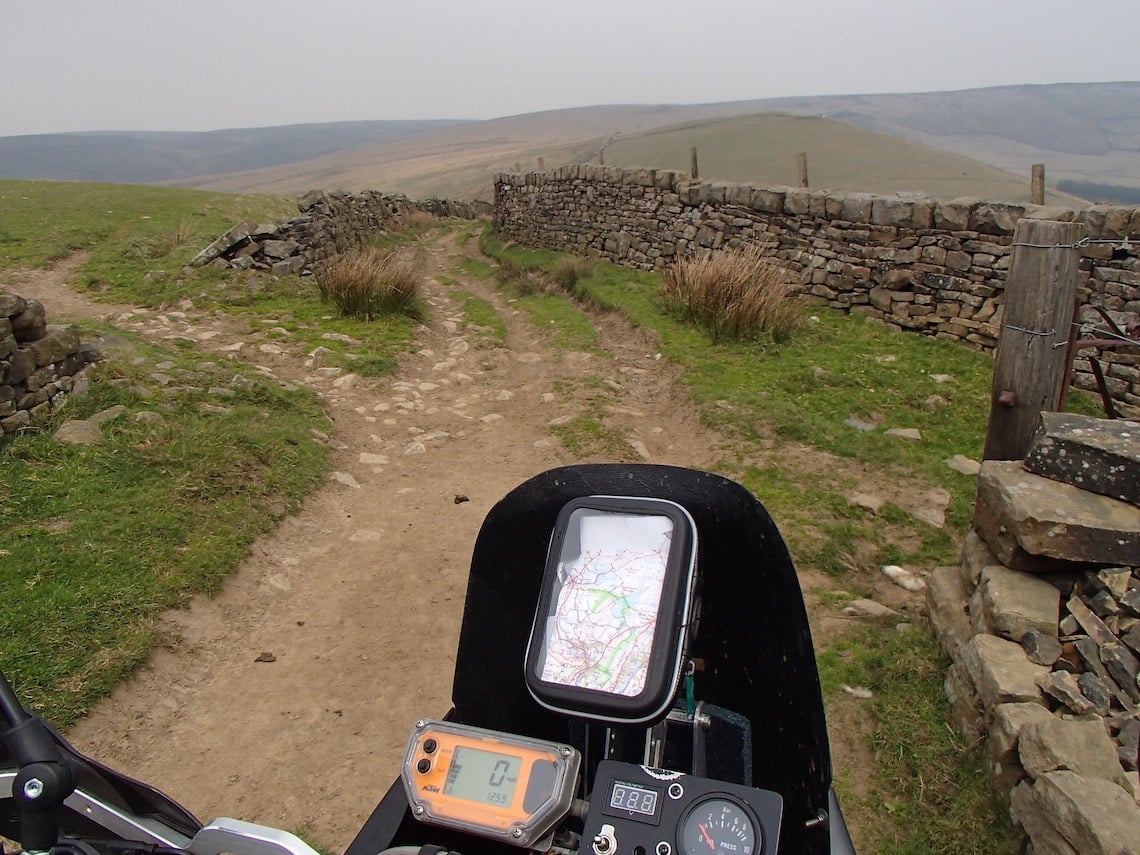 4-5
Tarmac section
5-6
This is marked as an ORPA on the map but is a tarmac road leading past the reservoir. Turn left at the end of the reservoir and proceed along the gravel track towards the house. Immediately before the house turn right and proceed through the gate.
6-7
The track now winds its way up the hill along a solid rocky base. Nothing too difficult (grade two). Proceed through the gate. There are great views looking back towards Harrop Edge if you turn around.
7-8
Turning left is a lot more gnarly and suited for the more adventurous. It is a single track rutted section between two stone walls. There is nowhere to turn around until you get to a gate. So if you opt for this route make sure you are comfortable with completing it (grade three).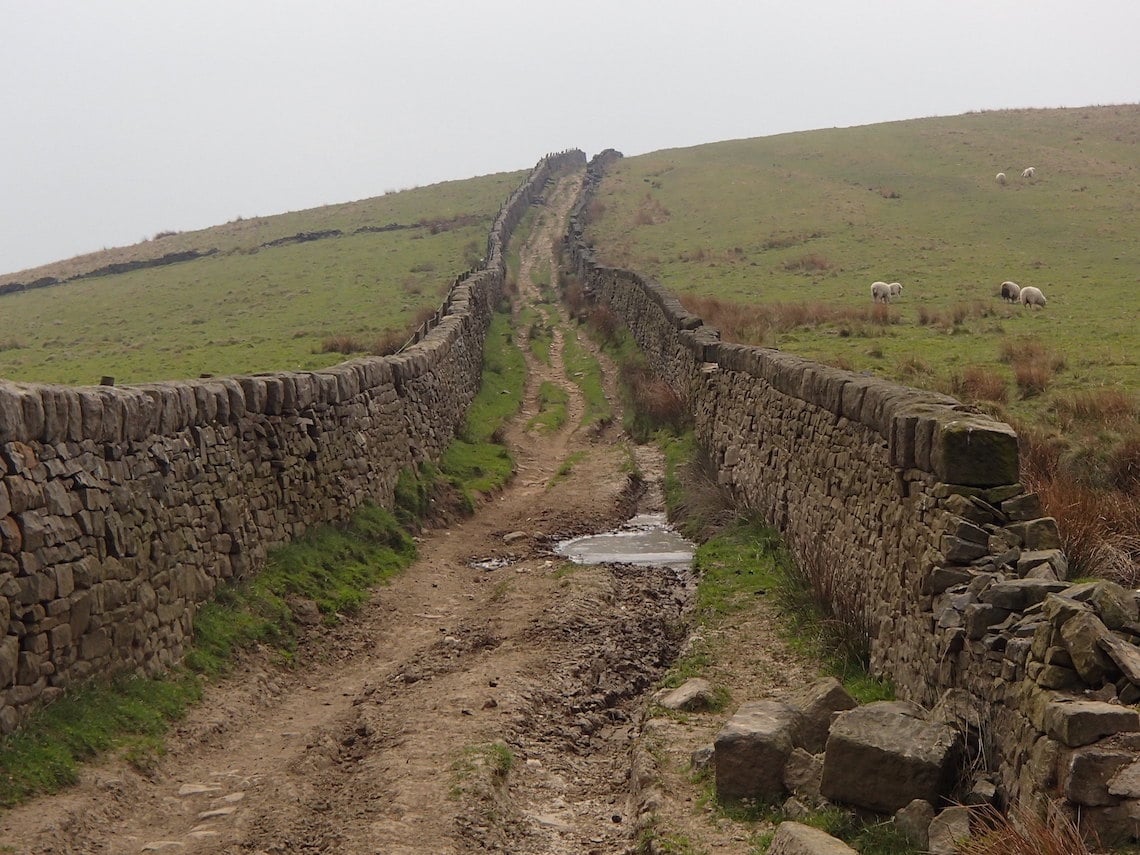 8-9
Continue straight on, the going is easy all the way to the end.