Four blokes, all on V-Stroms, set out to ride Australia's punishing Oodnadatta track. Only two finished the ride. Paul Taylor tells the story of travelling on the epic road
On the brochures, the Outback is one definition of Australia – impossibly big open spaces, and the towering red rock, Uluru (previously more widely known as Ayers Rock), in the middle with a scorched-orange dirt moat that goes for as far as you can see. Then, on other pages, you see the iconic landmarks that are still somewhere sort- of nearby, the Opera House and Sydney Harbour Bridge; a glorious sun-drenched jewel.
In reality, they're thousands and thousands of miles apart, and me and my mate Mike covered that ground, there and back, in 12 days on our V-Stroms. 'A trip of a lifetime' we'd called it, prepared for tarmac, gravel, and the infamous Oodnadatta Track, a 385 mile-long, four-lane wide highway of dirt, rock and sand. The track is one of those trips you have to do for your adventure bike rider stripes.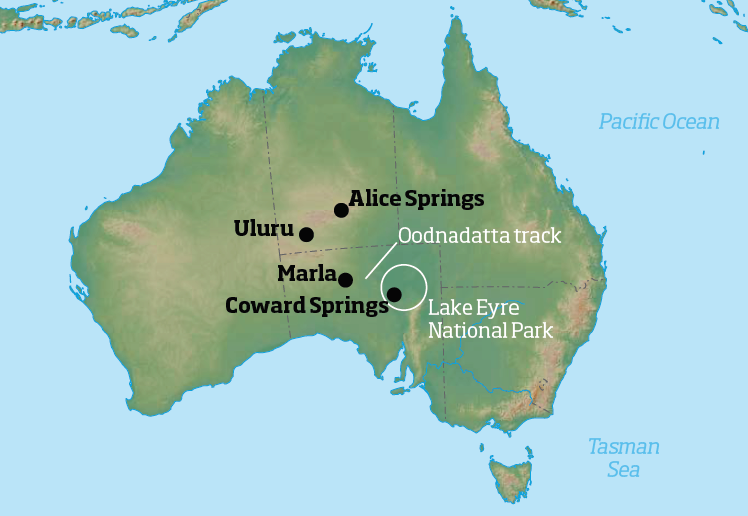 If it wasn't for a cattleman with a scary-looking rifle and his busted bore pump, we might've ended up flying home with my bike still in the dirt.
We were originally going to be four blokes, all of us on V-Stroms, but the trip of a lifetime quickly claimed a couple of casualties and highlighted how dangerous this country can be. Contrary to what you've heard, it's not the spiders, the snakes or the infamous drop bear (look it up) that will make your trip to Australia unpleasant. Instead, it's the two-legged animals on our coat of arms – the kangaroo and the emu – that will really scupper your plans. And the cuddly, fluffy bastards are everywhere in Outback Australia.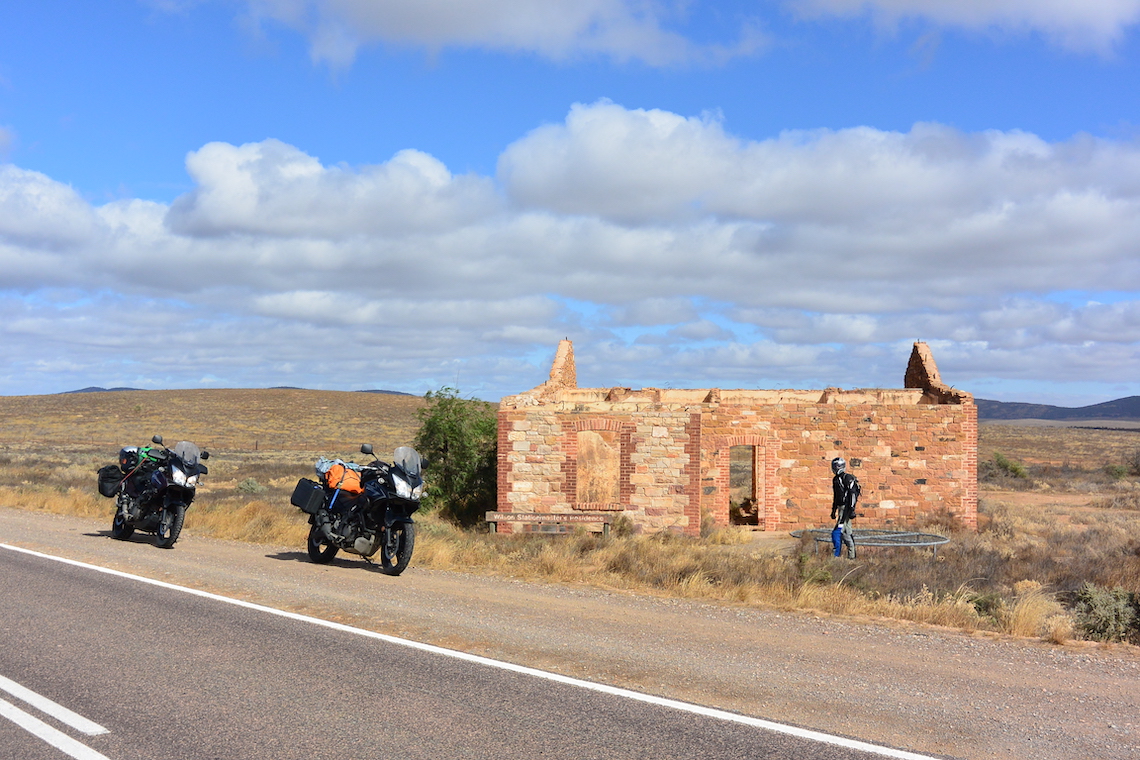 Mike had recruited two other blokes, Simon and Chris, who were keen to see the 'real' Australia. We'd agreed to meet in Port Augusta, South Australia, before starting the trip proper. Simon and Chris were coming from the eastern side of Melbourne, and we each had about 950 miles of dull, boring highways between both points of origin.
It was a surprise to meet them a day early at a campground in Hay, a small town in New South Wales – they were a few hundred clicks off course. Being keen and confident, they'd gone on a joyride through central NSW – a rock, dirt and dust appetiser before we were to hit 500 miles of the stuff – and Chris collected an emu while belting along at 65mph. "We'd talked about what we'd do if we were gonna' hit 'em," said Chris, "'cause there's no point yanking the brakes on the dirt – best thing is duck and throttle."
So that's what he did. As he sighted the emu legging it out of the bush Chris tucked behind his 650 Strom's windshield and gunned it, ploughing the nose through the bird, and miraculously kept the bike upright. The plastics were utterly obliterated. All that was left between his front wheel and handlebars was his left indicator. Trip over.
Day two was a chore to clear 400-plus miles and cross three states to a campsite at Port Augusta, a miserable excursion on mostly straight, flat roads through rain and crosswinds that had us tilting a few degrees over to keep the bikes in a straight line. It was already dark as we pulled onto the site. Torches on, tents out, we set up in record time and immediately took off to the pub for a monster steak and four pints.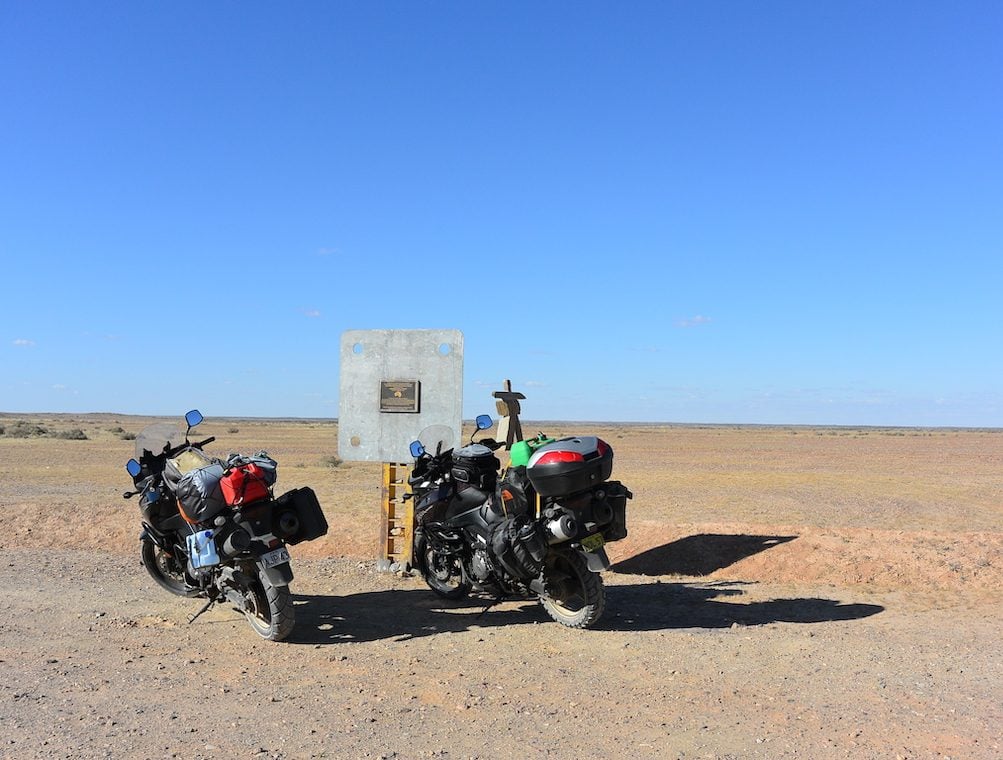 Pub dinners were built into the itinerary, and we'd alternate those with dehydrated packs, which we got stuck into on night three. While the re-hydrated Nasi Goreng was filling, it was a weak full-stop after a brilliant day. It began with a blast through South Australia's Flinders Ranges, a joyful respite of curved roads that flicked back and forth through alpine regions.
It's also a great example of the terrain in this part of the world, greenery skirted by arid deserts, and a National Park that's begging to be explored on foot – this part of Oz is worth a trip on its own. Although we were tempted to take a stroll around Wilpena Pound, a cluster of peaks on 50 hectares of parkland, we needed to crack on and make it to William Creek before nightfall.
As soon as the low-grade tarmac ran out and we began on the Oodnadatta Track, we knew we weren't going get to William Creek. Rocks and dirt I was prepared for, but I hadn't anticipated how severe the corrugations would be, and over the next couple of days it would start to literally shake the bike to bits. Travelling at 40mph felt like a sensible speed to get used to the terrain, but meant I'd hit every bump – much better to take it up to 55 or 60mph and glide over the top.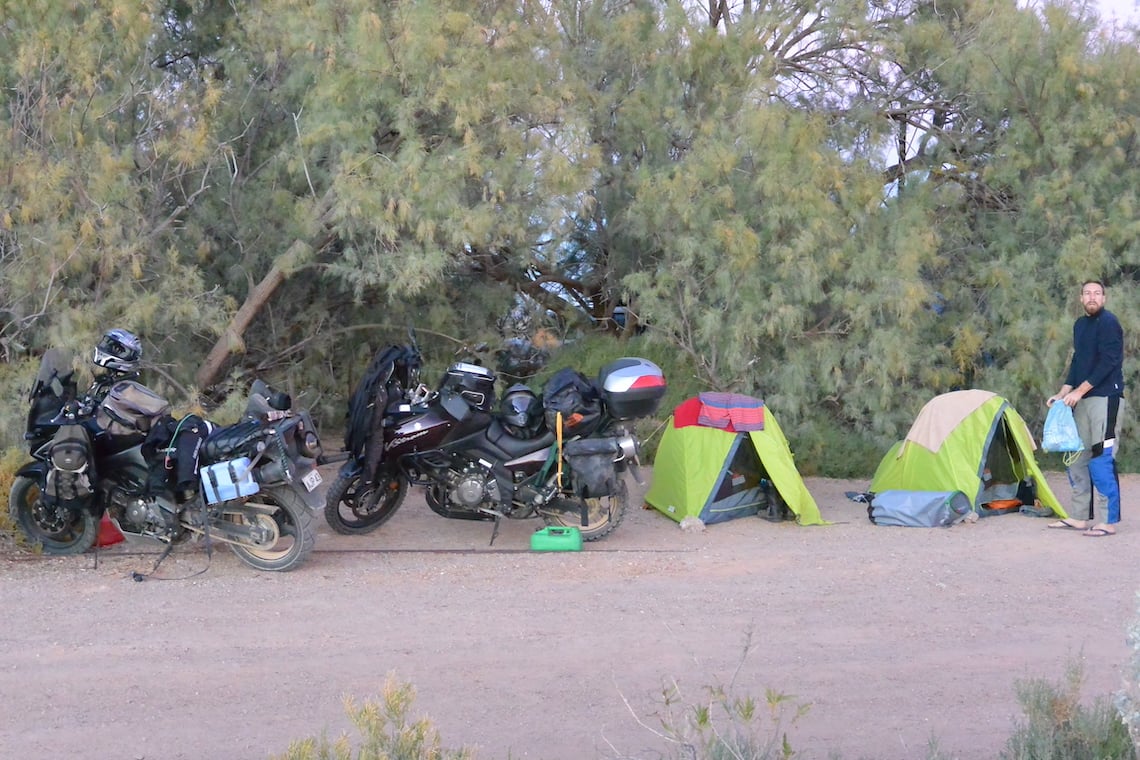 To fresh eyes, the track seems like a very wide, unofficial trail that you wouldn't expect to see marked out on maps, but it's a graded main route for road trains – trucks that are up to 53.5 metres long – and other traffic. People live around here, too, and have taken advantage of all the space, building huge, looming sculptures out of rock, bits of scrap metal and god-knows-what.
They're a fantastic sight, as all that exists is scrubby bush and dirt. If it weren't for daylight haemorrhaging out of the sky we would've taken a closer look, and I was sure I could see kangaroos hopping around on the horizon. Hit one of those and you're in serious trouble, and plenty of cars bore battle scars – usually a folded-in bonnet – after colliding with the beastly marsupial.
On the track, road trains carve out where every other vehicle's tyres are going to go, as a messy layer of loose rocks sat in between the ruts. Clipping these put the Strom into a sphincter-tightening fish-tail. Couple that with the setting sun and we were desperate to find somewhere – any- where – to pitch our tents.
Then, in the middle of this anywhere, we found Coward Springs, a campground with loads of space, plenty of other travellers and a natural watering hole that made for a perfect bath. Tent up, rinse off, dinner, bed.
The next day we'd divert off the track and visit Lake Eyre, an enormous salt lake in the middle of Kati Thanda-Lake Eyre National Park. At the entrance, a sign warned us the route was suitable for four-wheel drives only. With a 'she'll be alright' we found ourselves on a violent trail to the lake.
I fell off in sand as I dodged a cow that loped in front of me (losing a bar end and loosening an indicator), while Mike dove into a wheel-sized pothole that cracked a fork seal. We got to the lake and gawped at the blinding nothingness of it all. It's one of the few locations on the planet where you can see the curvature of the earth on land, over a disc of pure white salt.
Back on the Track we had just over 125 miles to ride into Oodnadatta itself, a small pocket of civilisation with a powered campsite, decent pub and place to grab a monstrous feed. Riding was getting easier, and I was actually enjoying it rather than being terrified I was going to come off in the slushy rocks. During autumn the temperature is bearable, high 20s, with clear blue skies against the red of the earth. The colour of the land is incredible, and it exploded around me when I rode through a flock of bright pink galah cockatoos carting in the air.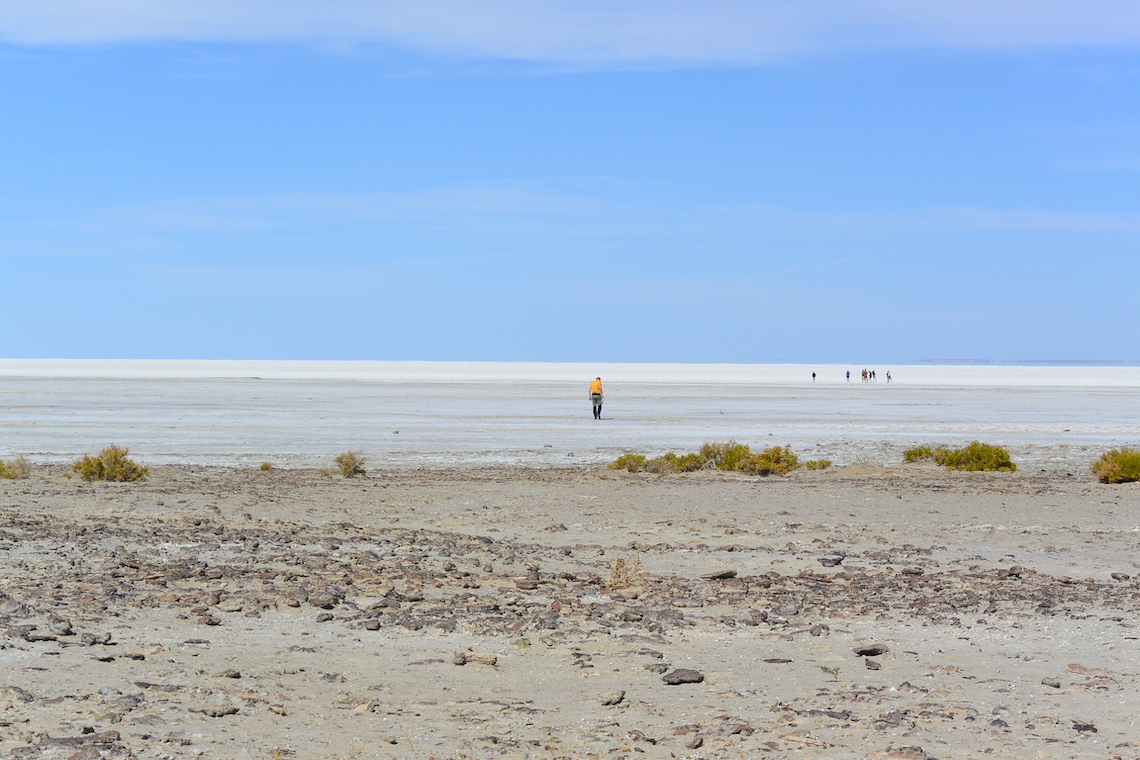 The next day was 'the big one' – 450 miles to Uluru, 120 of that on the Oodnadatta Track. Mike's fork seal was holding up and it looked like it'd be okay until Marla at the end of the track. Then it all fell to shit. A hundred-odd miles in I came to a sloppy, deflating halt after a long left-hander.
My rear tyre, a new Heidenau, was dead flat, with large ruptures on either side. My heart jumped into my throat then sank to my guts. I still don't know what happened. We were in the middle of no- where with no phone reception, so there was nothing else for it but to keep going.
The Strom limped on for another couple of miles until the tyre was utterly shredded. Although it was barely 10.30 am, we had several hundred miles to go to reach Uluru and needed to come up with a plan, fast. My brain clicked into clinical mode, and the moment I said. "You'd better go on and find help" to Mike was weirdly detached.
So Mike left me in the sun with enough water and food for 24 hours. We agreed that if he hadn't returned by nightfall I'd hit the 'come rescue me' button on the SPOT tracker I was carrying. All I could do was wait and set up my tent for shade.
Then I got lucky. An hour after he'd taken off, Mike came back – riding in a ute towing a trailer. The driver, Daniel, was a country bloke through and through with a big smile, bigger hat, and built like someone that spent his days pushing cattle around. "Bit stuck there are ya?" he beamed. You could say that, as I pointed at the tyre.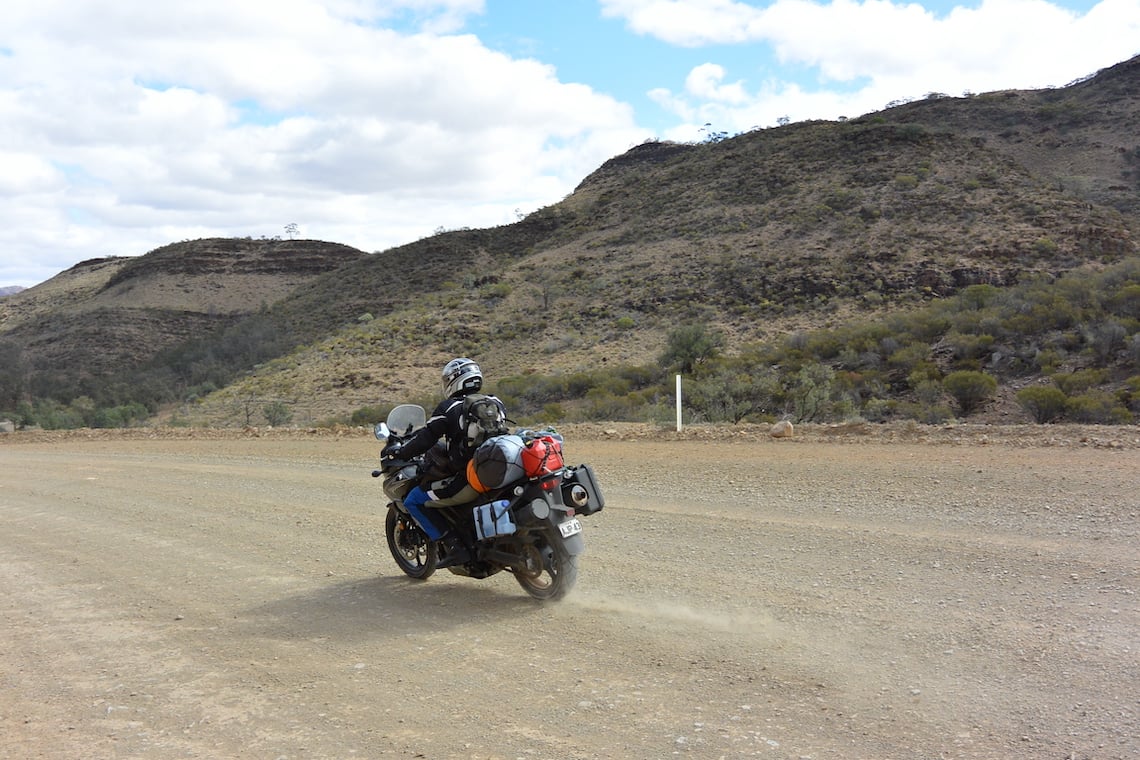 We tied the bike onto the trailer and I hopped in the passenger seat. A large rifle, mounted with a scope the size of an baby's arm, casually lay across the dashboard. It looked like a serious bit of kit.
"Oh that? Yeah, I need it to keep the wild dogs and 'roos away."
Daniel told me about how he, his family and a couple of employees, lived on a cattle station six miles up the road. Between the land they owned and leased off the local indigenous population, their remit for their cattle was two million acres – that's nearly the size of Puerto Rico.
If it wasn't 'roos eating the cattle's feed, he was dealing with dogs that picked off the smaller calves. Daniel's morning had gone south when he'd driven to the other end of the property to fix a busted bore pump, didn't have the right part, and came back home. Mike rolled in not long after Daniel pulled up.
At the station I figured out I'd have to call in a new tyre from Alice Springs, as Daniel told us that Marla (40 miles away via the Track) was nothing but a petrol station, pub and restaurant (all in the same building). Alice Springs was 250 miles north, so we'd be on the station for the night waiting for the tyre to arrive.
Then my lucky streak continued when Daniel turned to one of the blokes he worked with. "Reg, check out that dead bike from the shed."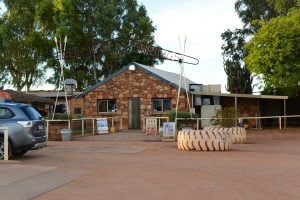 The bike in the shed was, I think, a crashed VTR. While the wheel was too wide to fit the Strom for a straight swap, its tyre was the exact diameter and width – and in flawless condition. Two hours later a near new Michelin sat in place of the Heidenau, but before we could set off Daniel invited us inside for lunch. He refused to accept any money for helping us out, but settled on two cases of beer with instructions to leave them behind the bar at Marla, as he'd be going there in a couple of days. The bloke is on my Christmas card list.
By the time we got to Marla, refuelled, and left the beer behind the counter (try doing that at your local) we only had a couple of hours before the sun kissed the horizon. Mike's seal was worsening, and he'd sprung a leak in his rear tyre. Uluru was a no-go, so we had to reach Alice Springs. While a lot of people casually link the two together they're hundreds of miles apart, and this would be an enormous diversion. With 250 miles to town we took off, racing against the clock.
Dusk started to creep in and we were still a fair way out. Part of me wanted this arsehole of a day over as soon as possible, and part of me wanted to get where we needed to be.
We flicked past a roadhouse and I motioned to Mike that we stop there – neither of us were sure how long his tyre was going to stay inflated.
Up ahead, a road train was cracking on towards Alice and it was our best shot of getting to town in the dark. Unless they hit another vehicle, road trains don't stop for anything, so we tucked behind it and used its enormous size and headlights to clear the road ahead in case any 'roos came bounding out.
With my headlights touching the road train's rear tyres, and Mike's on mine, we made it to Alice Springs and a hotel by 8 pm, shattered after more than 12 hours on rock, dirt and road.
The next day, we got the seal fixed and cracked on. Rather than camping at Uluru's pristine but expensive resort, we stopped at Curtin Springs, a free campsite 60 miles from the monolithic rock – even better, it came complete with its own pub and steakhouse using livestock from the premises.
We woke on day seven to finally get to our goal. With all the gear off the bikes the engines were singing on the smooth road.
A quarter of a million people visit Uluru each year, and it's the spiritual home for many indigenous communities. I took my time walking around the base, blown away by how much life there is in a place that I'd ignorantly thought would be pretty desolate, but I hadn't properly considered that Aboriginal people have lived here for 30,000 years. There's life and water in the land, you just have to know where to look.
Another easy 50-odd clicks down the road is Kata Tjuta – also known as The Olgas – a series of dome-shaped structures that tower over the desert, and in the folds of the rocks a fierce streak of greenery ripples against the consuming red. Both Uluru and Kata Tjuta go hand in hand, and both command your attention, as looming structures that are 300 million years in the making. After a week that had gone wrong while being so right,
it was an occasion that made me appreciate more about the country I lived in, and how incredible it is in scope. I sat there and looked out on the horizon, trying to comprehend how Aboriginal people would travel here. They'd be on foot, and we'd done it on bikes. Even then we'd nearly been defeated. Make it here and you'll love it. Just watch out for the emus.
---
Want to ride the Oodnadatta Track? Here's all you need to know…
How do I get to Australia?
It takes approximately 24 hours to fly to Australia from England. We did the trip in April, and you can get return flights (if you're quick to book) from Heathrow to Sydney Kingsford Smith with Etihad for £675, landing late March and departing late April.
Where can I hire a bike?
A place called Bikescape, located less than 20 minute's drive from Sydney's CBD, in Annandale, has a good reputation for adventure hires, with a large well-maintained fleet and no-nonsense advice. They're known for supplying gear (boots, gloves, jackets, helmets) as well as bikes. A BMW F800GS for two weeks is $2,380 (~£1,100). That's $140 (~£65) per day, plus fuel, though Bikescape do have 650 and 1200 variants, plus other models which alter the cost. See bikescape.com.au for more.
How do I get my own bike to Australia?
To ride your own motorctcle in Australia, it is recommended that you obtain a Carnet de Passage organised through the RAC. James Cargo Services Ltd. can transport a BMW R1200GS sized motorcycle for arrival into Sydney for £1,595 by airfreight or £845 by ocean. Visit www.jamescargo.com for more information.
Do I need to take petrol?
Paul and Mike each took a 5L can and only needed to use one of them once, and that was because Paul wanted to see exactly how far a fully laden V-Strom will travel (457km, by the way). There are petrol bowsers every 300km or so, which should be enough for any adventure bike. However, since you'd be mad to go solo across the Oodnadatta Track as a stray 'roo/cow can leave you for dead, one person in your group could carry a can to be on the safe side.
What should I take?
Water is essential. Take at least 5L per person, per day. The water out here is fresh (and clearly labelled when it isn't potable) so you don't need Imodium, but treat it with respect as there isn't much rain in the Outback. Although the SPOT tracker was pretty dormant, there's often no reception in the Outback so it's a must in case you have an off.
When should I go?
Paul and Mike went in early April (Australian autumn). Summer's too hot and liable to rain, which turns the track to mud, and you'll either be arrested/laughed out of town/die because you didn't use a 4WD (pointless), or dodge it entirely and only use the Stuart Highway (boring). Winter will be bitterly cold at night and not much fun in a tent, so stick to autumn or spring. Nights can still dip to low single digits but it's manageable.