THE DAY JOB
Do you dream of making your bread and butter from riding bikes? Twenty-one-year-old professional stunt-bike rider Chesca Miles explains how she turned her love of motorcycle tricks in to a money spinner…
Ask most little girls what they want to be when they grow up and answers will likely range from princess to actress to the next Lady Gaga. But if you'd put that same question to female freestyle and street stunt-bike rider Chesca Miles when she was five years old she'd have given you a very different answer.
"My family have always been Formula 1 mad, but I veered off towards loving motorbikes when I was about five or six," explains Chesca. "Some friends of the family used to pull stunts around the streets and performed at a few [motorsports] shows. They would even let me sit on the back of the bike while the rider did tricks. Once I'd seen it, experienced it, then I knew I wanted to be involved."
It was that enthusiasm that led a 14-year-old Chesca to save up and buy her first bike, an Aprilia RS 125, on which she learnt the basics of riding. It was another four years before Chesca plucked up the courage to start stunting, but now aged 21, she's turned pro, making a living performing across the UK and Europe at shows as the UK's first female stunt rider on a 600cc bike.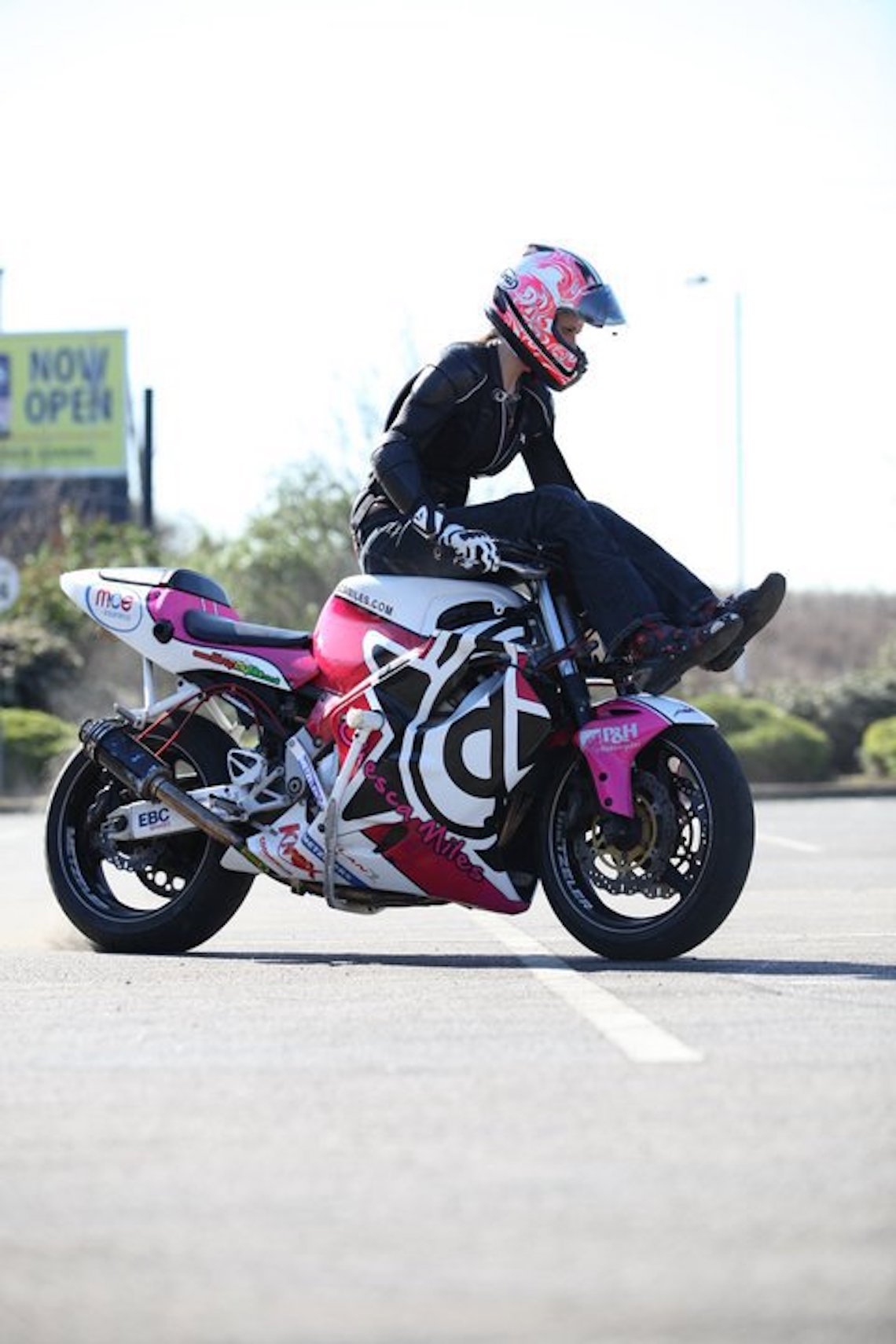 From hobby to job
Everyone has to start somewhere and for Chesca, stunting in the early days meant hooking up with friends that were into it and trying out basic tricks. Such was the thrill that she decided to take it more seriously. "I realised how much of a passion it really was to me, so I thought to myself, 'what more is there that I can do?'. Taking it up as a full-time job seemed like the way to go," she explains.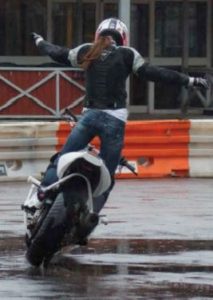 Making the move from a bit of stunt fun to professional stunt rider meant dedication and hard work to get good enough to join the stunt circuit and perform in shows. "I train for three to seven hours at a time and much of what I learn is self-taught as every rider does tricks slightly differently," she says. Advice from highly skilled and experienced riders is always welcome, though, and Chesca has spent time training with the likes of Mattie Griffin, previously ranked fifth in the world at street-bike freestyle riding, and drifting extraordinaire, Jorian Ponomareff.
Chesca has been performing professionally for almost a year on her Honda CBR 600 F and has showed her skills off at grassroots shows like the Frasers of Gloucestershire all the way up to the Thundersprint Bike Show and the 2011 British Superbike Championship. Like any form of show business though, the only way to score the gig is by impressing the organisers and proving that pulling stunts is more than just a hobby. "You have to train so hard until you're at a decent enough level to try out for some small shows. Organisers are looking to see that you can perform a selection of tricks on a sports bike that will really wow the crowd," she explains.
As with any job there's always the slightly less glamorous side of financing the business and doing admin. "When it comes to getting insurance and covering the cost of the bikes, the price of stunt riding will run into the thousands," admits Chesca. "It's really important then to market and promote yourself as a rider, making sure that you have some videos showcasing your abilities on the bike."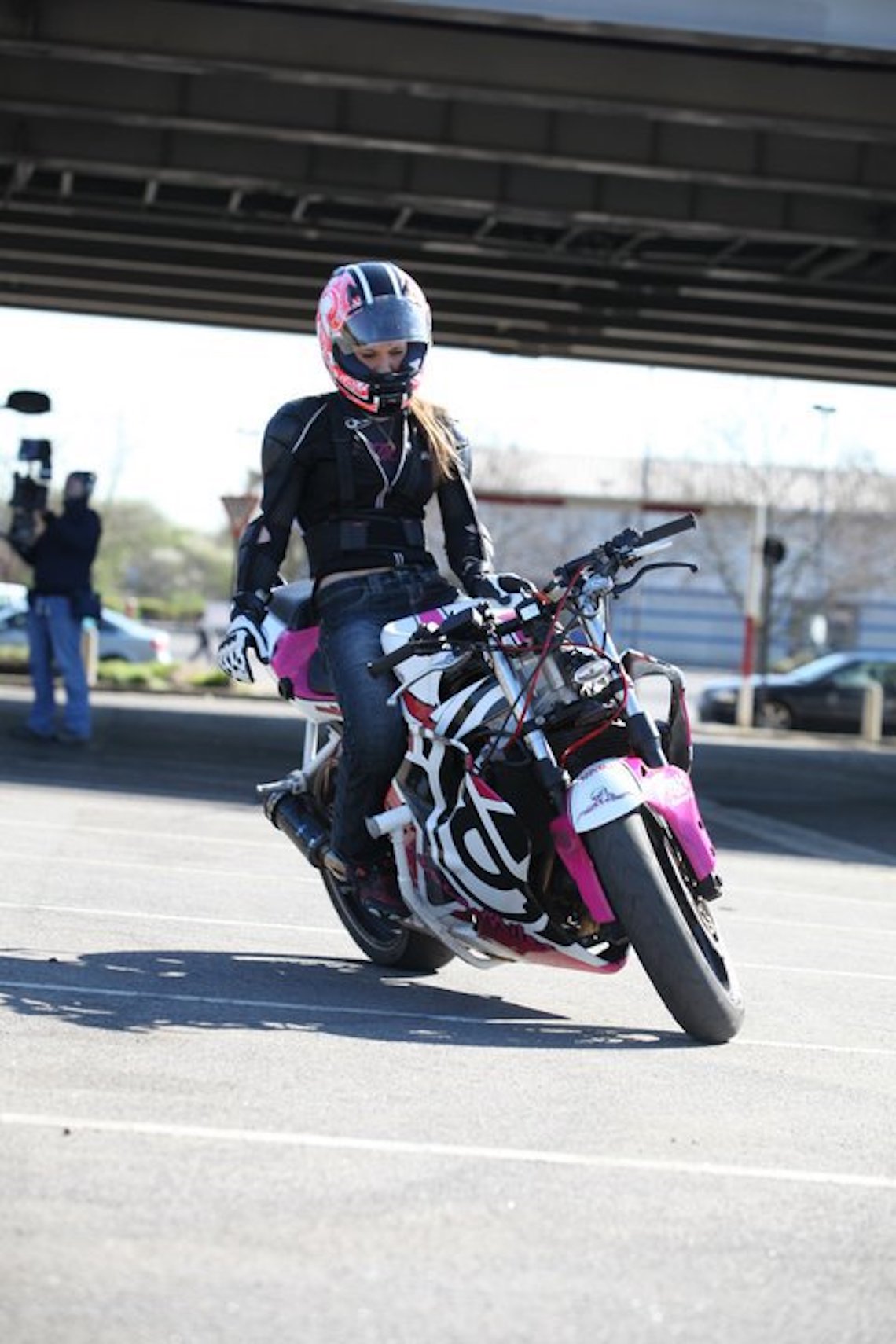 Uploading her promo videos and taking bookings through her website has clearly paid off. The work continues to roll in even though she's less than a year into her professional stunting career. "Besides performing across Europe this year, I'm also currently working on three films, one of which is set to be a blockbuster, but I can't say any more than that!" she teases.
Trick Bag
Mustering up the courage to throw yourself around on a powerful sports bike is not to be underestimated. "The first trick I did on my 600 was a sit-down wheelie," recalls Chesca. "After I plucked up the courage to actually twist the throttle and let the clutch out, I managed to wheelie the bike right behind balance point to the scrape bar and back down again without falling off!" she says.
Stunt riding is obviously a job where you have to be ready to take the knocks when they come along, but being prepared to get right back on the bike after a fall is perhaps the toughest challenge. "Luckily I've not had any really bad accidents; I've only suffered a few offs in training that have left me unable to ride for a few weeks, but so far so good!" says Chesca.
Perfecting her first trick in less than a week, Chesca has gone on to build up a repertoire of tricks she regularly uses in her shows including wheelies, stoppies, drifting, acros and doughnuts. Using a combination of these she choreographs each routine. "I put all of my routines together myself and form the basic structure in my head first. Every show is different, so I take into consideration the amount of time I have to perform for, the space I'm given and the surface I'll be riding on," she explains. "Once this has been figured out I'll put the routine together and rehearse it before practising in front of other riders – usually my friends – to see how they think it looks, and then get them to throw in advice or ideas."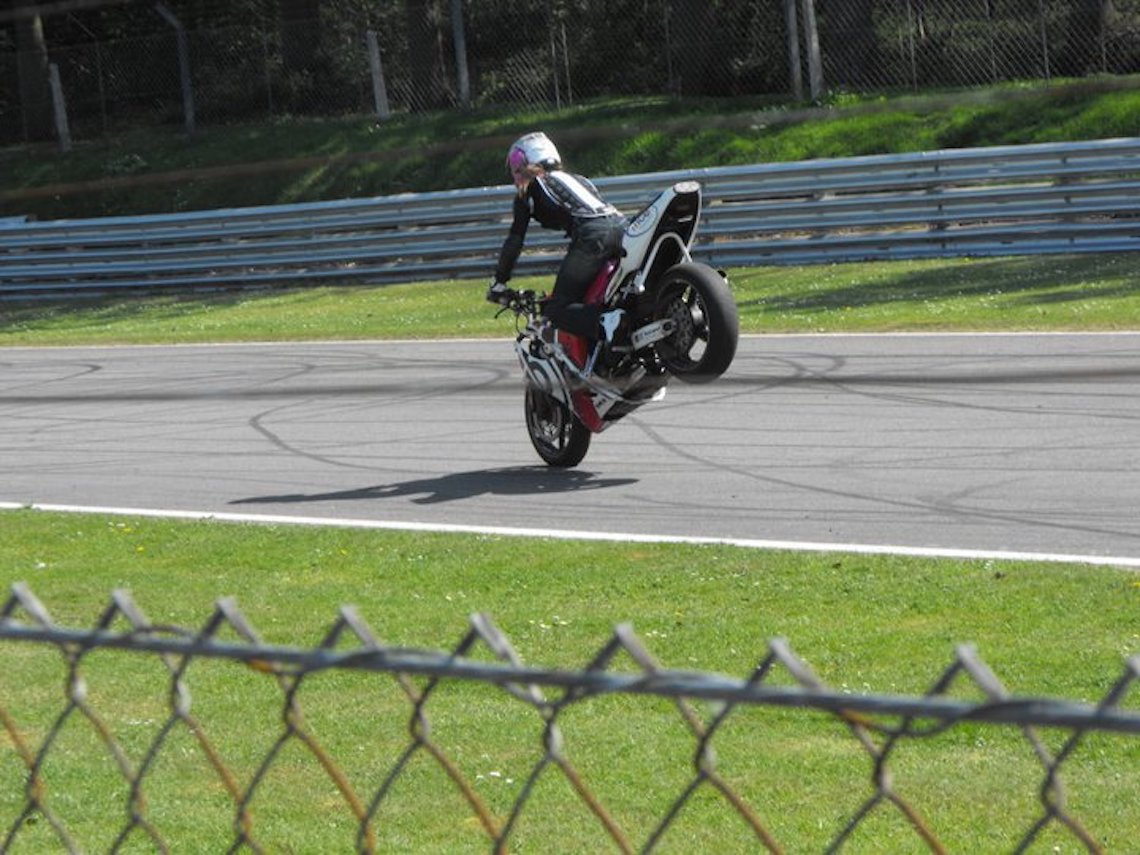 Having the confidence to do the stunts is more than half the battle, but it's also important to have the right tools. "Certain bikes are better for different types of stunts," she says. "If you're going to do some serious drifting or powerslides then you want a nice sporty 1000cc machine, which will perform better than the 600. For more precise technical riding, a 600, 636 or 750 is the way to go," advises Chesca.
High-flyer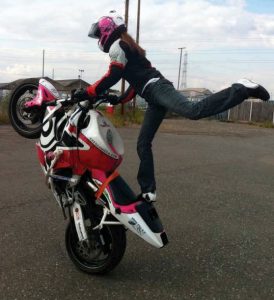 Still full of ambition, there's much more that Chesca wants to achieve in her stunting career including inventing her own ultimate signature trick. "To forward my career I'm going to keep progressing with the stunting and get better and better. There are many new tricks I'm working on including wheelie circles and combos." And her advice to ABRs who fancy swapping the road less travelled for the stunt circuit? "Start your stunting practice on a 110, 150 or 250cc off-roader or pit bike first before buying a sports bike to stunt on. It's what 99 percent of all the best stunt riders did, and still do, when training. Not only is it safer, it will also make your learning much quicker…but that's an inside secret."
To find out more about Chesca and get dates of her upcoming shows, see www.chescamiles.com