In the second of our UK road-riding features, ABR James Owens gets a right royal welcome as he explores the counties of Norfolk and Suffolk
At first mention, it's likely that Norfolk and Suffolk will conjure images of combine harvesters. The counties are well renowned for their rural farming traditions and, of course, that distinctive local accent – 'bootiful!' Besides acres of rolling countryside there are also miles of excellent biking roads, not to mention the royal's home at Sandringham, so it seemed a fitting destination for this discerning ABR.
Arriving in Dersingham, just north of King's Lynn, I located my B&B. The village is actually inside the Sandringham Estate and St Jude's Bed and Breakfast, where I'd be staying the night, is owned by Her Majesty The Queen no less! My hostess was very happy to tell me all about what it's like having the most powerful landlady in the UK. A curious fact: all the doors on houses owned by HRH are painted pale blue, very much like RAF blue, and it's forbidden by royal decree for occupiers to repaint them.
Going coastal
A bright, sunny morning and I was up and ready for a full-English and some sightseeing on Tara, my V-Strom 650. Heading up the A149 coastal road, I picked up that faint metallic waft of sea air, triggering a host of happy childhood memories. The pace is easy and the roads here cut up around some beautiful seaside towns. There's an open expanse to Norfolk's northern coast. Twisting down the lanes you'll find the hustle and bustle disappears as you step back in time. You won't want to do more than 40mph less you miss a windmill or a golden jut of beach hosting a lighthouse.

Many of the lanes cut off to hidden gems, like quaysides and RNLI launch pads, the odd pub and even a caravan site or two. But take heed: these roads off the main costal run are tidal and when they flood they flood deeply, sometimes up to 5ft. Having set off at high tide, I almost ran right in to one such flood. With thoughts of ford crossings in my head, I engaged a big grin and zipped towards the waiting water. Luckily, a thought flashed in my tiny biker brain – 'sea water, not fresh water, full of nasty corrosive salt!' and I was able to slam the brakes on just in time, opting for a photo instead.
My costal play ended in Cromer, famous for the Cromer Crab. I'm not a fan of these if I'm honest, and rather than partake of the local delicacy I popped in to a tea room for a nice scone and coffee. If crabs are your thing, though, knock yourself out!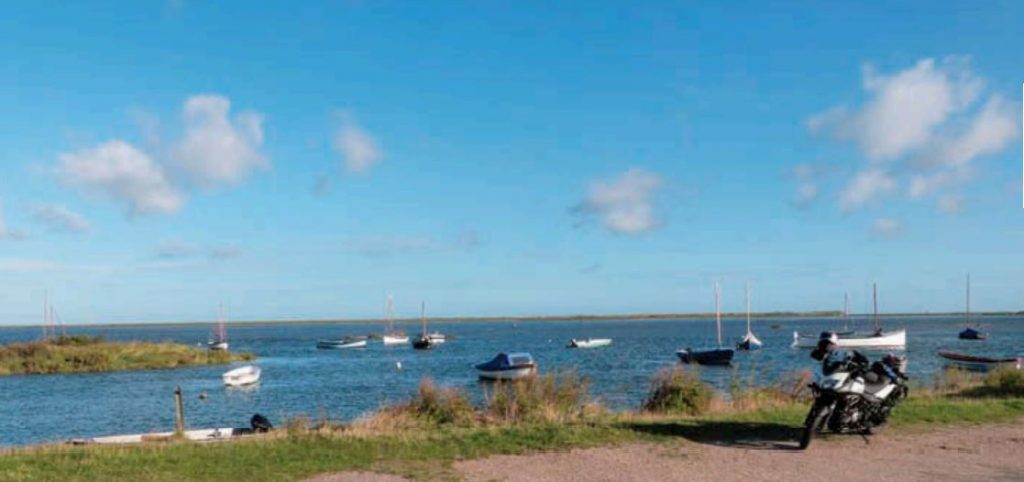 Norfolk Broads
The Broads are simply beautiful and what this bike trip was all about; getting to play in the country lanes of a national park. Not a mountainous area or even a fell to climb, but a flat and joyous ride with miles upon miles of glorious views in every direction. Water is major feature and it's as much a part of the scenery to see boats waddle past as you ride and all manner of birds flapping in and out of the reed beds.
Entering the Broads, the coastal road passes by Horsey Beach, home of the famous seals. There's often a large harem of these beasts lolling around on the beach. It's a bit of a walk to get down to the shore but if you're keen on photographing wildlife, it's a must-see.
Head inland across the Broads away from the pubs, shops and photographic opportunities and you'll find yourself en route to Reedham. Look for Ferry Road; you'll see it signposted in brown along the route to the town. This ferry crossing is such fun, a tiny little two-car vessel that's pulled across the water by large chains. Just two pounds will see you tugged across the river in style. When you land, plot your satnav for Somerleyton Hall.
As well as Somerleyton being home of the hovercraft, its eponymous hall is one of the best examples of archetypal Tudor-Jacobean mansion in the country, so there! The estate is around 5,000 acres and its original manor house dates back to 1240. The house was transformed in 1604 to the mansion that stands today and where Lord Somerleyton still resides. Most of the house and gardens is still open to the public, though.
Lowestoft
The most easterly place in the UK! After riding all those back roads of the Broads, I was ready for some grub. No better place than a seaside town for a well-earned portion of fish and chips.
Like many a seaside town, Lowestoft is showing signs of neglect, but keeps its charm and charisma nonetheless with the ubiquitous 'Kiss Me Quick' hats and sticks of rock. Free parking is virtually non-existent here, though, so it's worth scouting out a chippy or pub with customer parking.
Ness Point is close by to Lowestoft and is host to a large disc called Euroscope. This landmark has a marker showing the direction of lots of different countries and how far away they are.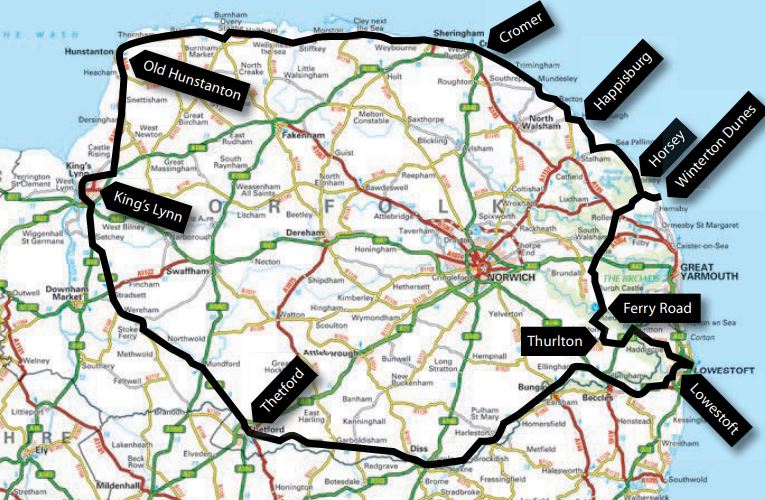 Do you know the way to Thetford
'But of course!' I hear you cry. You take the A143 and the A1066 and you can't miss it. Not so fast there, tiger. The road to Thetford is awash with back lanes and little villages and if you've time, I wholeheartedly encourage you to find your own route to this next destination.
I had an absolute ball wandering between villages via back roads, single tracks and rights of way. Routes that don't even show up as B roads, just named roads, take you to places like Cooper's Grove and Hedenham Wood. In fact there are pockets of woodland all over this 50-mile stretch of motorcycling yumminess, and there are hours of fun to be had around here before you come to Thetford Forest.
Wood-n't it be nice
With Forestry Commission signs all over the place, you'll want to take the B1106 and the B1107 to play on these roads, going past Emily's Wood (no relation to ABR's hardworking, good-looking, uber talented sub editor – I checked).
Green Lanes, legally classed as roads, abound here and even though trails are the territory of our resident expert Mike Beddows, I felt it remiss to not sample a little side track. I chose my wooded wonderland and went for it. To my great shock and awe it was sandy, like a full-on beach road. I must have looked as odd as a trophy in the Norwich FC cabinet as waddled along with my legs splayed out for balance.
After taking some snaps of Tara and the woods, I glanced down to see the glint of a nail poking its ugly metal head out from the rear of my back tyre. I couldn't help but feel that it was some sort of hex, a warning from the off-road gods: 'stay out of our wooded kingdom, road boy!' I spat at the offending nail – not the best repair technique, granted, then put a call in to Emily in the ABR office.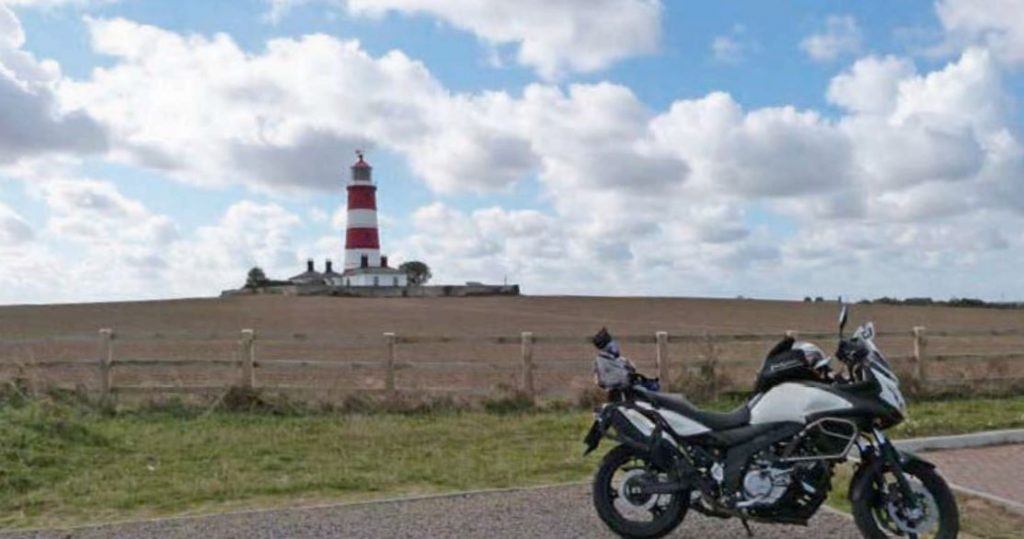 A little help from my friends
It was getting on for 5pm and no doubt the bike shops would soon be shut. Em Googled the area and found a bike repair place. I made my way tentative way to the two-wheeled oasis. On arrival, I was told that modern, tubeless tyres can't be fixed and I'd have to replace the tyre! As luck would have it, the chap had one in stock – and in stock it remained! This advice had 'wrong' written all over it. Leaving the garage, I rang my old mate Dave, aka Tread Trader on the ABR forum. The guy does tyres for a living (Dial a Tyre, mobile tyre service operating in Warwickshire and Worcestershire, 07817 462724, if you're ever stuck) so I knew he'd be able to help.
Dave, with a thick Brummy accent, was less than cordial about the advice I'd been given by the garage, but as the magazine doesn't have a watershed, I'm unable to repeat his opinion. "Get yourself over here (150 miles) and we'll get it fixed one way or the other," he gruffed down the phone. He added, "You have air in your tyre and I have a van, either way we'll get it sorted". So, into the night on to Dave's I rode – slowly. If the tyre was going to go, I wanted to be doing a speed at which I could control the bike.
Dave greeted me with a large chilli-sausage sandwich and a cuppa. Slinging the work van open, he was off like a well-oiled grease monkey. In no time the wheel was off and a repair was in place. Dave put me up for the night, to give the glue on the tyre time to settle and the repair to mesh fully, before greeting me again in the morning with a cheery 'tea or coffee?' at the bedroom door. Soon, I was homeward bound, thanks to my friend Dave for saving me a night in the cold and the cost of a new back tyre. My hero.
Need more info?
Web directory www.visitnorfolk.co.uk www.norfolkwindmills.co.uk www.tournorfolk.co.uk/lighthouses.html www.broads-authority.gov.uk www.reedhamferry.co.uk www.somerleyton.co.uk www.lovelowestoft.co.uk www.forestry.gov.uk/thetfordforestpark
Where to ride
A149 Costal Road around the north coast
Cromer Road to the Coast Road leading on to Horsey Road
Through the Broads to Reedham
Enjoy the back roads from Lowestoft to Thetford
Have a play on the B1106 and B1066 loop
Stay inn comfort
St Jude's Bed and Breakfast
12 Sandringham Road
King's Lynn
Dersingham PE31 6LL
01485 541755
£25 per night for a single room
Under the stars
Outney Meadow Caravan Park Bungay
Suffolk NR35 1HG
01986 892338
From £14 a night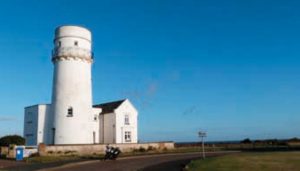 For your satnav
I work on a Garmin 660, and of course, satnavs are only good as guides – always read the road signs!
PE36 6LT: Life Boat Inn, Coastal Road
NR27 9HE: Lifeboat Café, Cromer
NR12 0PR: Happisburgh Lighthouse
NR29 4AD: Nelson Head Pub (seal watching in Horsey)
NR13 3HA: Reedham Ferry Inn
NR32 1XH: Ness Point (head down Gas Works Road to the promenade)
IP27 0YZ: Elveden Centre Parc (B1106, Thretford Forest)