TAKE IT LYING DOWN
Bryn Davies puts his back into testing the best sleeping mats out there, so you don't have to
A wise man once told me that sleep is one of the most important things our body needs in order to function properly.
Without it we're boring caffeine-fulled zombies who are incapable of doing much at all, but with it we're happy, alert, and most importantly, ready to ride.
According to the National Institute of Health, the required amount of sleep for the average adult is eight hours. That means (if you're average) you're spending roughly 33 percent of your adventures tucked up in a sleeping bag catching some Z's. Given this information, it seems all the more likely that you'll want to make your sleeping area as comfortable and warm as possible.
In order to get a good night's sleep you need a combination of three things: shelter from wind and rain (provided by your tent), warmth (largely provided by your sleeping bag, but also aided by the insulating qualities of your sleeping mat) and comfort (provided by your sleeping mat).
The latter of these is just as important as the other two and the sleeping mat you choose can mean the difference between getting some quality kip and waking up feeling like you've gone 10 rounds with a bear on a bellyful of Stella.
Types of sleeping mats
There are a lot of varieties of sleeping mat available these days from full-size air beds for camping families, to the ultra light-weight sheets of material that you see those hard-nuts using up Alpine peaks. We'll be looking at two types of sleeping mats in this review as they're generally the ones that are going to be of most interest to the adventure bike rider.
Self-inflating
The idea behind these magical-seeming mattresses is that a layer of foam is sandwiched between two tough, waterproof outer layers and it 'self inflates' by absorbing air when the valve is opened. This will take a few minutes and you'll have to add a few puffs of your own air to make sure it's blown up right, but after that you're good to go. They pack down surprisingly small, and are generally hard wearing (make sure yours comes with a repair kit). More comfortable than foam mats; if you're on the heavy side, though, thermal qualities may be reduced if the mat is compressed enough that your body makes contact with the floor.
Air beds
You'll need a fair bit of room in your panniers to carry one of these, but it's worth it in terms of comfort. An air bed will be the nearest thing to a proper mattress you can fit in your tent and they usually require a motorised or manual pump in order to get them up, which will take up even more space in your luggage. Like the self-inflating mats, make sure you have a repair kit handy.
Foam
While we haven't included any of these in the review, foam mats are still good options for adventure biking. These are your classic sleeping pads, they weigh next to nothing and pack down to a fairly small size. They'll be made of a closed-cell foam material which means they won't absorb water but they'll act as an insulating layer between your body and the ground. They're not as comfortable as self-inflating mats or air beds, but they do usually cost a fair bit less. Quite simply, the thicker the mat, the warmer and more comfortable it's going to be.
Weight and pack size
If I had it my way I'd be lumping a four poster bed and memory foam mattress onto the back of my bike, but unfortunately weight and pack size are an important consideration for us adventure bikers. While weight is less of an issue, it's always good to have something that will pack away nicely into your panniers, especially if you're sharing the space with a pillion. That said, don't feel as though you should be scouring the shop floors looking for the lightest, smallest sleeping mat on offer, and trust me, when it comes to bedtime you'll be wishing you'd bought the bigger, heavier, but more comfortable one.
A night on the rocks
Keep in mind that you're bound to experience a puncture in your sleeping mats at some time or another, and let me tell you, it's no fun sleeping on a deflated mat on a rocky ground. It can happen to any of them, whether they're cheap and cheerful or top of the range, so make sure you keep a repair kit handy.
Whatchu talkin 'bout, Willis?
When buying a self-inflating mat you may be told by the enthusiastic sales assistant about the 'denier' of the fabric. As you stand there smiling and nodding, pretending to know what they mean, it's likely you might also be thinking thinking 'what the feck are you on about?'. Basically, a denier rating is a sign of how durable a fabric is; it measures the thickness or weight of the yarn used to produce it. A higher denier will mean a more durable fabric, but it'll also mean a heavier product.
Camping Virgin?
The last thing you want is for your first proper camping experience to be marred by bad memories of an uncomfortable night's sleep. If you're new to the whole camping game we'd recommend you break yourself in gently and take the most comfortable mat you can get your hands on. In this respect it's worth sacrificing pannier space for a slightly larger and more comfortable mat if it means you'll have a good night's sleep and a more enjoyable first-time experience.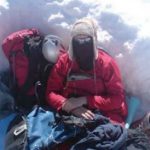 Who's writing?
He may be only 20, but Bryn Davies has managed to rack up 15 years of outdoor experience in the UK and the Alps. He's walked long distance trails in winter, climbed Mont Blanc and the Eiger and cycled 700 miles around Europe. He discovered the importance of a good piece of kit when he woke up on a stormy morning in Holland, gargling Dutch rain water.
SELF-INFLATING
1. VANGO ADVENTURE MAT £22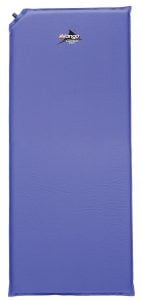 Repair kit: Yes Weight: 1,190g Dimensions: 183x51x3cm
Vango has been making camping equipment since 1963, so you'd expect this brand to know a thing or two when it comes to sleeping mats. The Adventure is Vango's 3cm-thick self-inflating mat which uses a tough 75 denier polyester that's been given a non-slip PVC coating to stop you from sliding off if you're pitched on an incline. It comes with a handy repair kit for fixing punctures and a stuff sack to keep it packed up. At 51×15 cm when rolled up it's not the tidiest size yet it'll still fit nicely in your panniers. In use the mat is easy enough to inflate (requires a few puffs after a few minutes of self inflating) and on a hard, flat surface the 3cm thickness will prevent even the heaviest ABRs from making contact with the ground, maintaining both comfort and thermal qualities. At £22 the Adventure mat is well worth a look, it's comfortable, easy to use and it'll keep you warm at night.
Comfort: 6 Pack-size: 5 Value for money: 9 Overall: 6
Best budget buy
In a line: Good value-for-money non-slip mat but not the smallest pack-size
2. SNUGPAK TRAVELMAT 3.8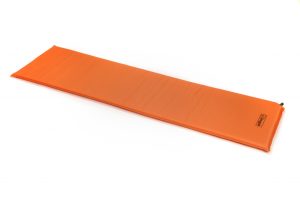 Repair Kit: No Weight: 1,200g Dimensions: 179x47x3.8cm
The Travelmat 3.8 is Snugpak's entry into this test, and it's a 3.8cm-deep mat that weighs in at 1.2kg. It's not the most comfortable mat you'll find as it feels quite hard to lie on, but its 3.8cm thickness will help prevent rocky, uneven ground from digging into you as you sleep. It comes with its own stuff sack, but lacks a repair kit; something that should come as standard with every inflating sleeping mat. Dimensions-wise it's long enough but it is, in comparison to other mats on this test, a bit narrow and larger riders will likely find it a bit too small for them.
Comfort: 5 Pack-size: 6 Value for money: 7 Overall: 6
KTM riders – it's orange!
In a line: If you want a cheap mat it's worth a look, but not suited to XL bikers
3. GELERT XPEDITION £34.99

Repair kit: Yes Weight: 1,042g Dimensions: 182x51x3
Like Vango, Gelert has been in the camping equipment business for a long while now, and its earned a reputation for good quality kit at relatively low prices. The Gelert Xpedition looks to hold true to the company's image and at £34.99 it's the third cheapest mat we have on test. It comes with a stuff sack as well as a repair kit for dealing with any punctures you may get when on your adventures. It's got a well-thought-out design and the underside of the mat features non-slip pads that help keep the mat in place when in your tent – and they actually work. Comfortwise the Xpedition performs well, at 3cm thick it provides a good amount of insulation and it'll support the weight of heavier people (supported 15 stone well enough). For your money you also get a reinforced metal valve which will add to the product's longevity.
Comfort: 7 Pack-size: 5 Value for money: 8 Overall: 6
Great for non slip
In a line: A well-designed self-inflating mat that offers good comfort and a non-slip underside
4. ALPKIT WEDGE £50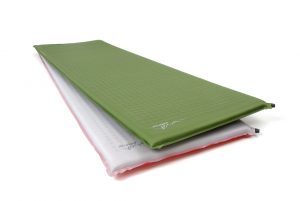 Repair kit: Yes Weight: 1,186g Dimensions: 188x63x5cm
If you're a big guy then you'll love this mat. At 64cm wide it's perfect for extra large bikers or people who like to roll about a bit when they sleep. As the name suggests it's shaped like a wedge, being thicker at the head end (5cm) and then tapering down to 2.5cm at the feet. This cuts down on the product's weight and also allows it to be rolled up tightly. As it's 64cm wide when rolled up, you'll have a hard time fitting it into your panniers, but if you ditch the standard stuff sack and fold the mat in half it'll slot in nicely. The mat offers a comfortable amount of padding in areas where you need it, 5cm under the head and 4cm under the hip area, so you'll be kept insulated and jagged ground will be cushioned. The selling point of this mat really is its width though, and if you want a comfortable night you'll not be sorry you bought this.
Comfort: 8 Pack-size: 5 Value for money: 8 Overall: 8
Great for big bikers
In a line: A brilliant wide mat for big guys
5. MULTIMAT ADVENTURE 38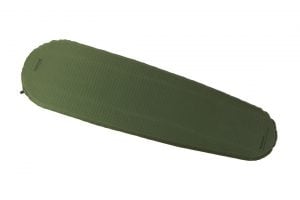 Repair kit: Yes Weight: 790g Dimensions: 180x50x3.8cm
With a name like Multimat these guys should be the experts on camping mats. The company's so confident in the quality of its products that each one comes with a two-year guarantee. The Adventure 38 is a mat that's been designed with a light weight and a small pack-size in mind, but that doesn't mean it compromises comfort. Measuring in at 3.8cm thick it offers a nice, soft bed, and for a mat of its pack-size it's quite impressive. Like the Wedge, the Adventure sports a 'body fit' shape which cuts out excess fabric in areas where it's not essential. Like the other mats it's supplied with a repair kit and a stuff sack. Despite this being a self-inflating mat, I found that it still required a decent amount of encouragement from human lungs before it was ready to be slept on.
Comfort: 7 Pack-size: 9 Value for money: 7 Overall: 7
Great for adventure
In a line: Lightweight and small pack-size without sacrificing comfort
6. ROBENS TREKKING 5.1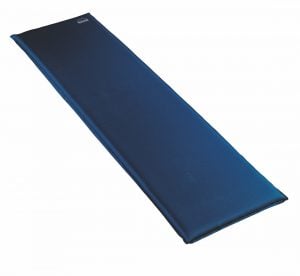 Repair kit: Yes Weight: 1,900g Dimensions: 192x63x5.1cm
If you're a biker who buys his jackets from the XXL rail then the Robens Trekking 5.1 is the mat for you. Looking at the Trekking 5.1 is like being placed in front of a sleeping mat on steroids – it's massive. At 64cm wide it equals the Alpkit Wedge, however, there's an added 4cm to it's length, making it a monster of a mat. At 1,900g it's just over 700g heavier than the Wedge, but it feels very strong and substantial. Despite its rigidity it offers a huge amount of comfort. It has a constant thickness of 5.1cm which will keep you cushioned from any bumps in the ground, and due to its size it feels more like an air bed. If you're a bigger biker looking for luxury and comfort, then the Trekking 5.1 is definitely worth making room for.
Comfort: 8 Pack-size: 5 Value for money: 8 Overall: 8
Best for XXL bikers
In a line: A monstrous sleeping mat that offers a huge amount of comfort for big bikers
7. ORTIK BODYLITE £75

Repair kit: Yes Weight: 692g Dimensions: 177x53x3cm
The Ortik BodyLite has been designed to offer a low weight and pack-size for mountaineers and hikers, but that doesn't mean it's out of place in the adventure motorcyclist's panniers. Ortik says that the BodyLite has insulation and comfort where you need it, with no unnecessary volume and weight, and this is evident in both the shape and variable thickness of the mat. The BodyLite is thicker (3cm) and wider (55cm) at the torso section than it is at the leg section (2cm thick and 52cm wide). This cuts down on both weight and bulk while keeping the comfort and thermal qualities of bigger mats. However, at 55cm in its widest section big guys are going to find it a bit narrow for their liking and if you're tall (over 6ft) your tootsies will be chilly as the mat's only 177cm long. If you're after a mat with a small pack-size and if you like to dabble into the dark art of travelling by foot every now and again, this mat is one for you to consider.
Comfort: 6 Pack-size: 8 Value for money: 6 Overall: 6
Great for bikers that hike
In a line: Offers a small pack size and is worth considering if you're an active out doors man as well
8. MAMMUT LIGHT PUMP MAT £120

Repair kit: Yes Weight: 570g Dimensions: 186×50 (38)x7.5cm
The Mammut Light Pump mat is a brilliant example of why light weight and small pack sized don't mean reduced comfort. The Light Pump mat weighs in at an impressive 570g, and when inflated it has a depth of 7.5cm, making it one of the most comfortable self-inflating mats on test. The mat takes on a 'body-fit' shape and I should mention here that at 48cm in its widest part, some larger bikers will find it slightly too narrow. Pumping the Light Pump up is a doddle with the inclusion of an easy-to-use internal hand pump and Mammut claims that the mat can be fully inflated in 30 seconds. I'm not sure where Mammut's test guys got that figure from as it took me two minutes 29 seconds to get it ready for use. If you're a small guy then the Mammut Light Pump is definitely one for you to consider.
Comfort: 8 Pack-size: 9 Value for money: 6 Overall: 8
Great for comfort and weight
In a line: Amazingly small pack size and useful hand pump, suited to smaller guys.
AIRBEDS
1. EXPED DOWNMAT 7 £125

Repair kit: Yes Weight: 860g Dimensions: 181x51x7cm
I had the luxury of using the uninsulated version of this mat when I was touring around Europe last summer, and if that's anything to go by then the Exped Downmat 7 is one of the comfiest, if not the comfiest I've tried. Unlike the other self-inflating mats on this test, the Exped is insulated by a lining of 700 fill down, that's the type of down you'll find in top-of-the-range insulated jackets, and although we haven't tested it in super-low temperatures, the packaging suggests that it'll keep you warm in -24oC conditions, making it ideal for those winter rallies. Not only that, but at 7cm thick it makes for a very comfortable night's sleep and, like the Mammut Light Pump, it uses a hand pump as a means of inflation, getting it up in just two minutes 15 seconds. It doesn't pack down as small as the Mammut, but it's still impressively compact when rolled away, measuring in at a very reasonable 23x16cm. It's worth noting however, that the Exped Downmat was the only mat on test to deflate a bit when left to stand for a few days.
Comfort: 9 Pack-size: 9 Value for money: 7 Overall: 9
Best for comfort and warmth
In a line: Impressive comfort, warmth and small pack-size justify the price tag
2. THERM-A-REST NEOAIR £125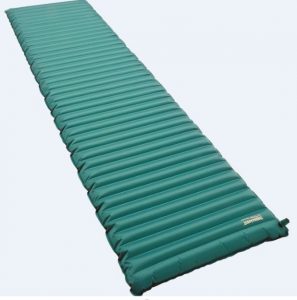 Repair kit: No Weight: 410g Dimensions: 183x51x6.3cm
Here's your interesting fact for the day; the world's first self-inflating sleeping mat was created by two ex Boeing engineers in the early 1970s after they decided that they were fed up of sleeping on cold, hard ground. They called their invention the Therm-a-rest. So what would a sleeping mat test be without a Therm-a-rest, eh? From the get-go you can see that the Neoair has been crafted by people who know what they're doing, and it's amazing how a mat so long and thick can pack into something so small (slightly smaller than a kitchen roll) and weigh just 410g. When inflated it's as comfortable as some full-on airbeds and the 183cm length will suit taller riders out there, however at just 51cm wide it's not going to accommodate the larger, rounder guys among our ranks. The 6.3cm thickness does a great job of preventing you from touching the floor and you'll be cushioned from most bumps and lumps in the ground. Repair kits are available for this mat, however you have to buy them separately, and when you've already spent £125 that's a little disappointing.
Comfort: 9 Pack-size: 10 Value for money: 6 Overall: 8
Best for weight and pack size
In a line: Can't fault the quality of the mat, but it's not one for the XXL bikers
3. VANGO SINGLE FLOCKED AIRBED £14