Cool gear that's good to go riding with
SHOEI MULTITECH HELMET
Price: £385
Who from? www.feridax.com
What is it? Flip-top lid
In a line: Stylish flip top with all-day comfort
I don't know about you but what I want out of a helmet is simple: I don't want to know it's there. So in that respect, fit, comfort and all round visibility are key. Reviewing the Shoei Multitech is like a busman's holiday, the brand has been my first choice of lid for years. If the design team had said they'd been using a mould of the thing between my ears for the last, I'd believe them; the Shoei and my head fit like a slick lock and key.
What's new here is that the Multitech is my first experience of a Shoei flip-top and having been unimpressed with the lack of chin room (not that I've a pronounced one) in the flip-lids I've tried in the past, it was good news from the off – even Bruce Forsyth would feel comfy and unrestricted in the Multitech.
The fit and comfort was as expected; nothing short of perfect. In use the helmet is reasonably quiet though not as sound proof as my old Raid 11 full-face. I also found I could get a slight whistle through the top ventilation in certain positions, though fortunately not in the one I ride in for 95 percent of the time.
The button to raise the chin bar is easy to access and operate with gloves, something that can't be said for other flips-tops I've used. It sits secure in the open position and has a reassuringly solid click when moved back to the closed position. A point in general about flip-tops; they are addictive, especially for travel and touring situations.
Get one that's comfy and quiet and I doubt you'll go back to a full-face in a hurry. As it happens the Raid 11 hasn't had a ride out since I've taken delivery of the Multitech.
The Multitech comes with a 'whisper strip' which fits around the base of the helmet, removable cheek pads, spare visor and a Pinlock anti-mist visor system which sorts out closed-visor fogging issues.
If it fits, the Multitech is a flip top for the shortlist.
GERBING'S HEATED JACKET LINER
Price: £150
Who from? www.riderz.co.uk
Tel: 01639 849272
What is it? An electric blanket with arms
In a line: Like being back in the womb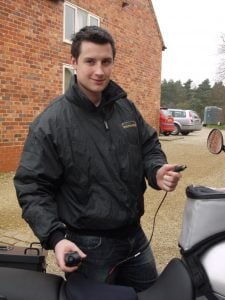 For 30 years my view had been it was preferable to freeze my nuts off just to be able to swagger around and look down my frozen nose at lesser beings decked out in heated clothing. Over the past three months one word has come to the fore that perfectly sums up my behaviour during these three decades of being bloated on testosterone, and that word is 'clown'.
Never before has one single item of clothing had me questioning my place within the evolutionary equation within 30 seconds of wearing it. The Gerbing's Heated Jacket Liner did, from the moment I felt that soft, warm, glow spread through my upper body on a bitter January night. Within two minutes I would have fought to the death if I thought someone were about to walk off with it and within five minutes I felt I was back in the womb. And if this seems like a love in rather than a gear test, then it is; buy one and see what I mean.
And now to the science bit; the Gerbing's Heated Jacket Liner is part of a full body system that comprises gloves, jacket, pants and insoles – apparently the socks are discontinued – but the liner can be worn as a stand-alone item. The jacket is designed as a heated mid-layer, that is, to be positioned over a base layer and under your outer protective jacket. It connects directly to the gloves and pants, which in turn connect to the insoles and in the world of heated clothing the 'wiring' that connects the garments is as discreet and user friendly as you're going to find. Plus you can control the heat, which is handy, as the jacket warms up enough to toast any exposed skin. I've the scar on my neck to prove that one.
The first big test for the Gerbing's was a baptism of ice and, er, even more ice, as I rode the 1,900 miles from home to the Elephant Rally in Bavaria and back. The temperature when I set off was -3oC and was touching -12oC through Germany. I can safely say that without the benefit of the jacket it would have been a brutal trip but with the heating elements maintaining warmth in all the crucial upper body areas (chest/back/arms/neck) I was able to enjoy the ride.
When not in use the jacket packs down reasonably small for storing in a pannier and it's light enough not to be a worry. Although designed to be worn under your main motorcycle jacket it also looks okay to wear on its own when the bike's parked up and with a wind-resistant shell and Thinsulate insulation it offers moderate warmth levels around a campsite or at a rally.
At £150 it's not cheap, but I guarantee you'll not regret spending one penny.
MITAS E-10 TYRES
Price: £85 (rear) £69 (front)
Who from? www.mitas.co.uk
Tel: 01288 350588
What is it? Road-legal off-road tyres
In a line: Great looks and surprisingly good performance
If you own an adventure bike sooner or later you're going to start thinking about throwing on a set of knobblies. Some riders need the off-road ability that these chunky lumps of rubber provide whereas others just like the way they transform the looks of a bike into a hardcore, go-anywhere machine.
I picked up a set of Mitas E-10s in January this year to ride over the Elephant Rally in Germany (see full feature on page 52). Having seen photographs and read accounts of previous winter meetings in the Bavarian forests the thing that struck me was; no way am I going to get anywhere near that campsite on a set of road tyres.
With Continental TCK-80s unavailable in the UK until March an alternative was called for and that's how I stumbled across the Czech-made Mitas E-10's. The first pleasant surprise was the price. At £69 for a front (available in 110/80 – 19, 90/90 – 21) and £85 for a rear (available in 150/70 – 17 and 150/79 – 18) these were looking good value.
First off was a 900-mile blast in subzero temperatures on European motorways down to Bavaria and after the initial 50 miles, during which I genuinely featured for my well being, the E-10s delivered all that was asked of them. No way was I going to push the Tiger the same as on road tyres but I didn't spare the horses either, averaging 80-100mph on the autobahns with only a white-line wobble to contend with. Though, I didn't want to dwell on how much rubber was in contact with the tarmac on those long fast bends.
Off road the Tiger 955i is a big, top-heavy, brute – I've a set of mangled crash bars to back up that statement – and no tyres are going to change that characteristic. However, with the Mitas fitted I was able to ride the snow and mud of the Elephant campsite and extract myself from the quagmire of the Dragon Rally campsite a few weeks later in North Wales. In addition I've taken the Triumph green laning and remained upright in locations where I would have otherwise been on my arse. At 3,500 miles the back is due for a change while the front is good for many miles more. Would I buy again? Yes, without a doubt.