Adventure Bike Rider were invited to the launch of the new SWM Superdual in Italy. Alun Davies posts up a full review
If you've ever read any of my reviews then you'll know I'm partial to swooning over anything that happened in the 1970s. There are a number of reasons for this, most obvious being it was the decade I came of motorcycle age. But let's not forget it was also the decade that gave us the zenith of hairstyles (the mullet), the apex of fashion (tank tops), and the rock gods of the century (Brotherhood of Man).
Some accuse me of looking back through rose tinted specs, whilst others point out that I lived next to a field with a healthy crop of liberty cap mushrooms. Either way, there's no denying that the 70s were the decade to be a motorcyclist which brings me nicely to the start of the SWM Superdual story.
SWM was founded in Milan during 1971 and, in case you're wondering, that's pre-Brotherhood of Man days. The company made a name for itself during the magic decade by knocking out trials and enduro machines before going into administration in 1984 in the same month that Stevie Wonder topped out with 'I Just called to say I love you'.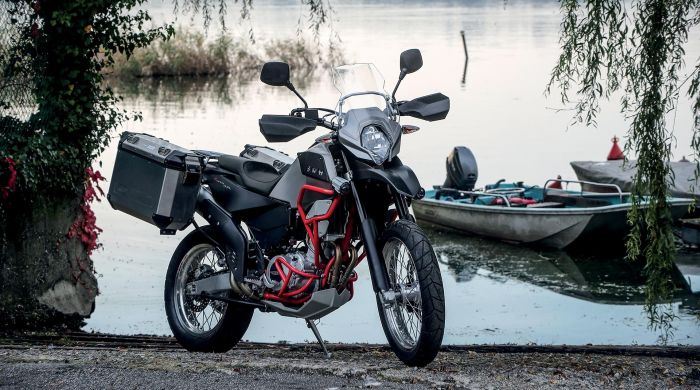 The rumour mill at the time claimed that these two events were linked, and history has subsequently confirmed it was the day where both 1970 style motorcycles and music came to an end. Sad times indeed.
Anyway, lets skip to 2014 when former Cagiva, Aprillia and Husqvarna engineer, Ampelio Macchi, concluded a deal with the family owners of the SWM trademark and Chinese motorcycle company Shineray. Macchi had put together a business proposition to re-launch the brand in a BMW built factory in Verese, the spiritual home of Italian motorcycling, and all parties had agreed.
The BMW plant was constructed when the German company acquired Husqvarna in 2007 and decided to continue production in Italy. However, when Husky was sold by BM to KTM in January 2013 the Austrians swiftly moved the brand and production to its headquarters in Mattighofen. This left a redundant, purpose-made factory and a local skilled workforce on hand for the re-birth of SWM. The last piece of the jigsaw was acquiring the pre-BMW Husky technology in the form of the steel chassis, swingarm and engine from the TE610.
So, we have a brand, a state of the art factory, a skilled workforce, tried and tested technology and the backing of Chinese dosh. All that's required now is a receptive audience and with that in mind, I found myself at the SWM Superdual press day in Varese.
Expecting to be handed a SuperDual for a day of riding, what was odd about the SWM event was that there was there was somewhere in the region of 80 journalists, and just eight SWM SuperDuals. What followed was a brutal contest with the last eight standing able to claim their steeds. What really happened was we all had, roughly, 15 minutes to ride the machine. Just about enough time for me to tell you the horn worked ok.
The press event was more to do with the company emphasising that whilst there may be a Chinese company involved in the business, the production and assembly was European and in particular Italian. We were left in little doubt that they were doing all they could to distance the SuperDual from any perceived alignment with Chinese quality issues whilst at the same time being hosted in what was obviously a very modern hi-tech European facility.
I arrived back from Italy having spent more time drinking cappuccinos than riding a SuperDual, and will be posting up a review of northern Italian coffee shortly. Fortunately, HQB, the importers of SWM in the UK, were more than happy to provide a bike for testing on home turf and a SuperDual duly arrived at the ABR offices.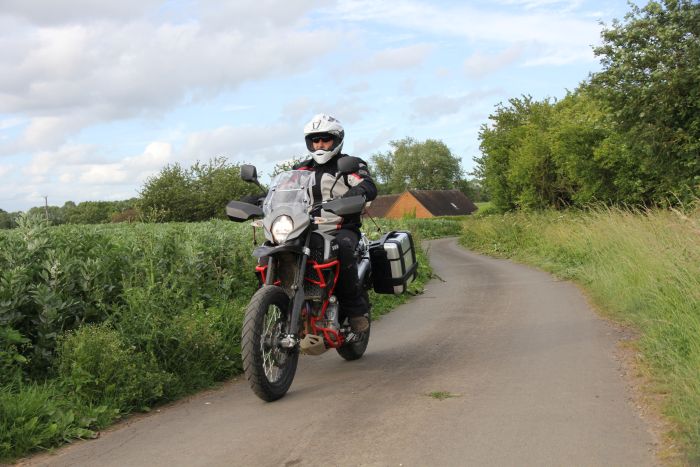 I have to say, that by bringing out a big, single-cylinder adventure bike, SWM appears to be swimming against the tide. With the established players betting their development cash in other areas, the big, single market is looking a little sparse, with only the Husqvarna 701 being an alternative. Other than that, and having spent time on both bikes, the nearest to the SuperDual would be the discontinued Yamaha 660R which you'd now have to pick up on the second-hand market.
As it happens I currently have a Husky 701 on long term test so a comparison is easy to make and there is a vast difference between the two bikes. The 701 is far more powerful, refined and up to date, plus it's in a different league off-road and, in my opinion, the components and construction are far superior. On the other hand, the SuperDual is less expensive, more practical for longer journeys, can take a pillion, comes as a complete adventure package (pannier racks, crash bars etc.), plus it's less intimidating than the very tall and exceptionally frisky 701.
So, the SuperDual, what's it all about, Alfie? On first impressions, I couldn't help thinking that the SWM looked more like a supermoto dressed as an adventure bike rather than, er, an adventure bike. It's a fine line and no criticism intended, indeed, I reckon the SuperDual is a good-looking bike.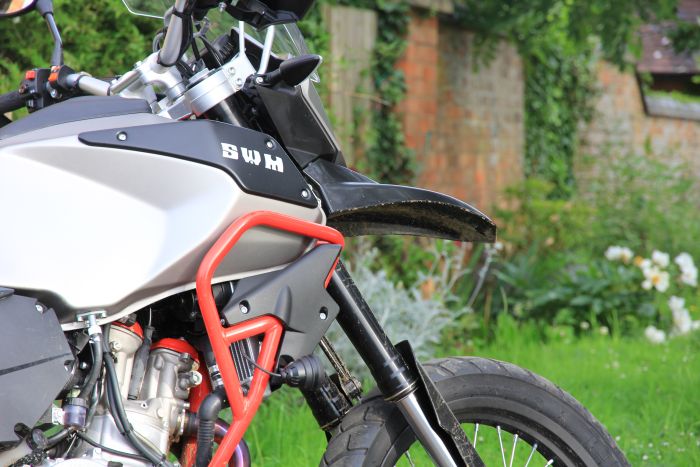 >>> Five reasons you should check out this bike
On closer inspection, there were a few details which I felt could be improved. First off, the plastics are flimsy when compared to other new bikes and, on the test bike provided, they did not fit snug or line up as you'd expect. They were also not securely attached with the side and front cowl panels too loose for my liking.
Moving around the bike a couple of other things took my interest. The first being the welcome fitment of a centre stand, however the stand is also the most cumbersome I've ever come across in my years of riding, and is almost impossible to operate without using both feet in a complicated jig. I kid you not, I found it so awkward to use that I asked for a second and third opinion to rule out my own ineptitude, but three out of three riders had the same head-scratching moment when trying to raise the bike on the centre stand.
The last point to mention is the area around the ignition barrel. It is a mess, with the cable and wire routing obstructing key entry to the point where it becomes a gloves off operation. In the great scheme of things these are small issues, niggles, but they could, and should, be better.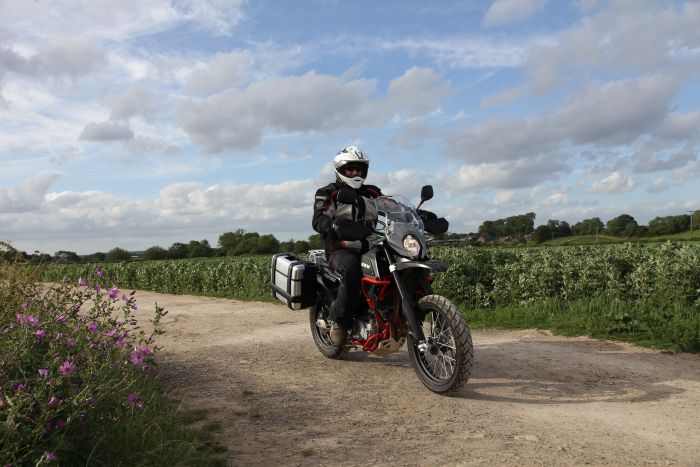 Swinging a leg over the SWM, at 6ft 2in I could comfortably get both feet flat on the ground to the point that I was surprised to find the seat height is 890mm. This has a lot to do with the slim profile of the bike and the lowering of the suspension when underweight. What is good news for shorter riders, is that my 5ft 7in colleague also had no problems and could comfortably touch the ground.
The bike also feels small and light, and is so easy to manoeuvre when compared to the more popular giant adventure bikes. The SWM is definitely going to appeal to riders who find the height and weight of the current crop of adventure motorcycles intimidating and unappealing.
Sitting astride the bike I found the seat a little on the small and short side and it tends to slide you forward. The bars also felt too close. But then I'm above average height and weight (16st) and in my opinion shorter, slimmer riders will find it spot on. One other observation I need to point out for taller., long-legged riders is that the V-shaped petrol tank will force your knees outwards, not quite to the point of discomfort, but it's certainly noticeable over time.
I'll skip describing the dash as it's due to be changed on the new Euro 4 models arriving in September 2017. Hopefully, the new dash will include a petrol gauge and a more prominent rev counter.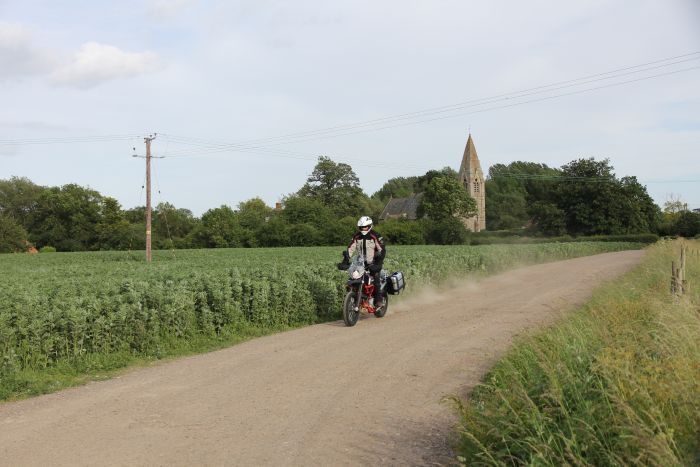 Starting up the SuperDual is an exercise in old school nostalgia as it involves pulling in a decompression lever on the left handlebar. Once fired up it pays to just sit there for a moment bathing in the wonderful sound of the big single piping through the dual exhausts. If you're into throaty singles, you'll not be disappointed with the SWM this is one cool-sounding bike, man.
There appears to be a problem with finding neutral on the SuperDual, as the bikes I rode in Italy and in the UK would happily skip from second to first or vice versa, with the neutral light indicating that the bike was in neutral but in reality it was still in gear. You get used to it but it's another niggle that needs sorting.
The switchgear is all where you'd like it though it does look and feel a little on the cheap side and the frying pan style mirrors remind me of those found on the Suzuki V-Strom, and although a little on the small side they offer great visibility.
Pulling away, I immediately felt a little cramped on the SuperDual, almost as if I were riding a supermoto, rather than a wide-open adventure bike. As stated above, smaller riders will appreciate this stance, though I reckon taller riders will probably start looking for tweaks.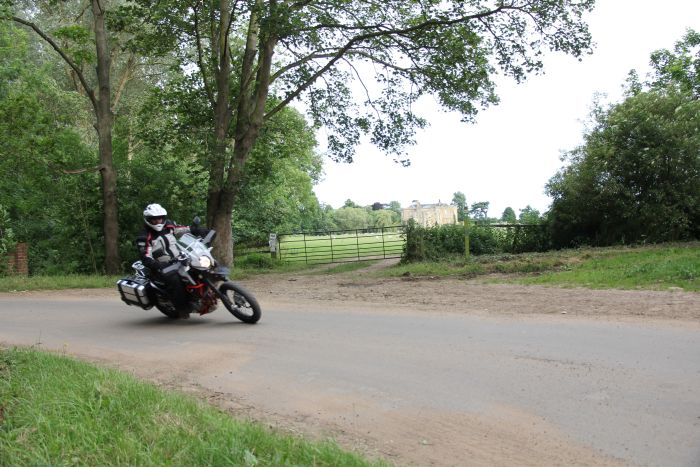 Riding out of Stratford upon Avon on the sweeping A roads heading south, the SWM SuperDual started to shine. At the first coffee stop at Broadway Tower, I wrote the following note: "The engine and gearing is bloody lovely – they really do have a strong unit here and for a big single I didn't really notice any vibes. The power was spot on for lively A roads and fast overtakes were a breeze."
The above really is the strong point of the SWM Superdual, the engine is a peach and other than the 'neutral' issue described above so is the gearbox. Changes are very smooth and the gears are exceptionally well-spaced for road riding. What I also liked, was that the engine, given a sharp turn of the wrist, also possesses enough poke to raise the front wheel with nothing other to do.
Moving on from Broadway all the early niggles were forgotten and the SWM SuperDual was winning me over as I turned off the tarmac and onto a green lane. Standing on the pegs I could have done with bar raisers, but the thin waist of the bike is ideal for gripping between knees.
Off-road the SWM felt light, nimble, highly responsive to rider input, and easy to manoeuvre on slower, trickier ground. For an adventure rider, this bike is about as unintimidating as it gets in off-road conditions. The power comes in smoothly, the suspension, whilst not top-notch, is up to the job, and I'd put money on the novice and inexperienced rider going further down trails and enjoying the experience more than they would on larger, heavier adventure bikes.
Following a bop around more twisty A-roads and green lanes in the Cotswolds, I joined the M40 at Oxford to check out how the SWM Superdual would perform at motorway speeds. First off, this bike feels comfy between 70mph and 80mph but the rider doesn't. The screen creates more buffeting than it's worth and, whilst I'd not been troubled by vibrations at lower speeds, there's a noticeable buzzing through pegs, bars and seat at maximum legal speeds. But then, it's a big single, that's what they do.
If you really wanted to be a hero I reckon the SuperDual would just about nudge 100mph on the autobahn but you'd be knackered and battered in minutes. For stress-free long-distance comfort, you're going to need to travel at around 60mph.
SWM Superdual – Conclusion
I've little doubt that there is a market for a big single, dual-purpose, adventure motorcycle. In fact, I own one myself, a Yamaha 660Z Ténéré.
The SWM Superdual is not the bike I'd choose for comfortable long-distance road touring – there are far more suitable adventure bikes with similar capacity for that, the Suzuki V-Strom 650 being a prime example. It's also not a bike I'd buy if carrying a pillion was a major concern.
Where the SWM SuperDual scores high is that it is a genuine dual-purpose adventure bike that is small enough and light enough and therefore manageable enough to appeal to those who feel intimidated by larger, heavier adventure motorcycles.
It's also one of the few that fall into the category of being comfortable to ride for long distances, and then capable enough to take on the more gnarly terrain when you end up in Morocco, the Alps or the Pyrenees. In other words, it's a genuine dual-purpose machine for the average rider. And if that's what you're looking for then you'll not be bothered by the niggles I've described above and be delighted by the performance.
SWM Superdual – Verdict
As a commuter
The SWM is light, nimble and responsive and in my opinion, would make a great around town commuter. You'd need to fit heated grips for all-year-round comfort.
As a weekend tourer
This bike comes fitted with panniers and is ready-made for heading off on a Friday afternoon for a long weekend of sightseeing. Taller riders or those looking for a fast-paced road tourer for motorway sections would probably disagree.
As an off-roader
If you're a novice or intimidated by taking a large adventure bike off-road then check out the SuperDual. It's a genuine dual-purpose bike and small and light enough not to scare the bejesus out of you.
As a continental road tourer.
Not the first bike that springs to mind for continental touring. The lack of an effective screen and the vibes that kick in at 70mph make this bike a slow tourer. But then if you're not in any rush, this bike would be a great asset on mountain trails in the Alps and Pyrenees.
As a RTW overlander
We're going to need more time to evaluate the reliability of the SuperDual before a final recommendation, but the engine and gearbox are well proven and it's an easy bike to work on. Has the potential to become a classic RTW'er.
As a pillion carrier
If the main idea of your next long trip is to end a relationship this is probably the bike for you. Look elsewhere if a happy pillion is a regular objective.
SWM Superdual – Specs at a glance
Price: £7,599
Engine: 600cc single 4 valves
Power: [email protected]
Torque: [email protected]
Frame: Tubular steel double-cradle
Suspension: 43mm Fast Ace front forks rebound adjustable. Fully adjustable single rear Sachs shock.
Brakes: Front; Single 300mm disc twin-piston calliper: Rear single 220mm disc single-piston calliper
Wheels: Front; 19" spoked: Rear; 17" spoked.
Seat Height: 890mm
Fuel Capacity: 18 litres
Weight: Kerb weight 169kg
Service intervals: 5000kms
SWM Superdual – What you get for your £7,599
The SWM SuperDual comes with; crash bars, pannier racks, panniers, pump guard, spotlights.