Earlier this year, Max MacGillivray and Gareth Jones set off on an epic motorcycle journey down the length of Africa in order to educate school children on where the fruit they eat (or should eat) comes from. Four months later we spoke to them to learn more about their ride and how they got on…
Where did the idea for The Great Fruit and Veg Adventure come from?
We have a huge issue with childhood obesity in the UK and internationally, not helped by the fact that six out of 10 kids don't know where fruit and veg comes from. The various Government schemes and initiatives are very bland and ineffective as they don't excite kids. So, we thought that if we could create an 'adventure' that kids could follow and be excited about, they would become more interested in fresh produce and want their families to buy and consume more fantastic fresh produce.
When did you decide to tie the journey into a motorcycle ride – fresh fruit and motorcycles is an odd combination!
It might seem an odd combination but when you turn up at a school on a Triumph Tiger either in the UK or Africa, do a crazy presentation about going through Africa to find the source of amazing fresh produce and then give the kids grab bags or Pink Lady® apples, they just get it. The response and the uplift of awareness of kids and their teachers have been brilliant.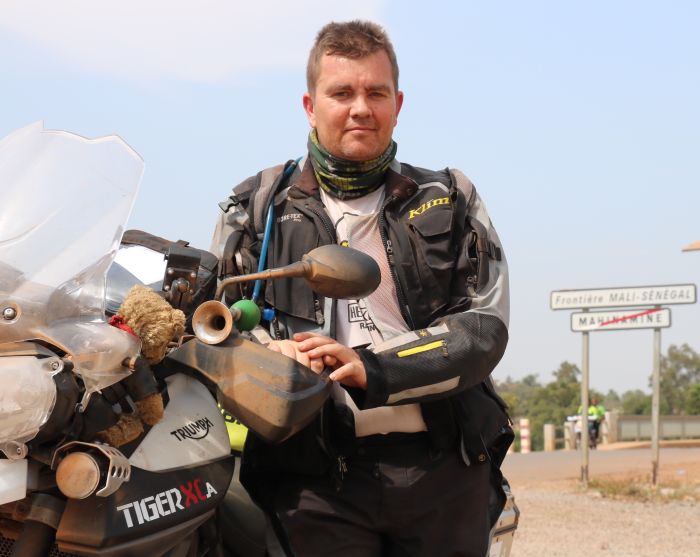 Max MacGillivray of the Great Fruit and Veg Adventure
After you made the decision to commit to the ride and the idea behind it, why did you choose to use Triumphs?
We had a huge amount of help from Kevin and Julia from Globebusters who advised us on the best bikes and associated kit we would need. They introduced us to the great team at Triumph who just 'got it' in respect to the uniqueness of our journey and how the Triumph brand would be spread far and wide in a completely different context. And it certainly has as we have had everyone from the Bishop of Dover to the High Commissioner of Ghana to a Kenyan tribal Chef to most recently Prue Leith, the new face of The Great British Bake Off all sit on the trip Triumphs and have their pics taken!
How did the bikes perform on the trip?
Well, we did [11,200 miles] over 15 countries and did not suffer one mechanical issue. We did not even get one puncture on either bike! Hugely impressive as we worked them hard and we had temperatures range from -4C in Spain to 45C in South Africa, and roads that were mirror flat… And others that were actual old minefields!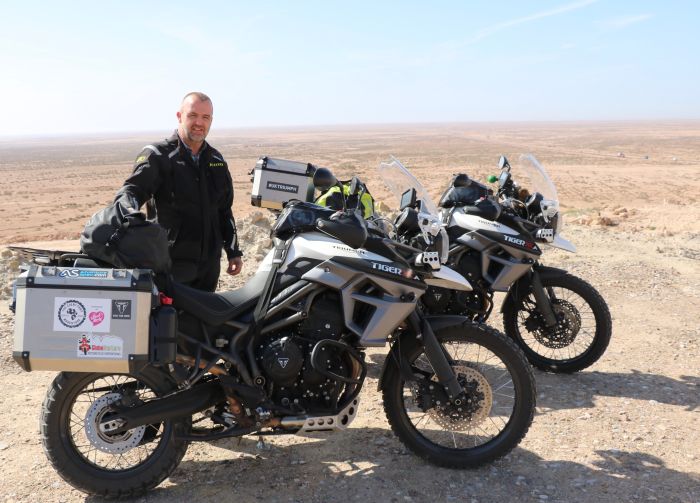 Gareth Jones
How did you decide upon your route?
We needed to do the North West of Africa as we had key farmers/growers to visit in the likes of Senegal and Ghana and it is not practical to come down via Libya and Egypt currently towards South Africa. But the issue was always going to be then air freighting the bikes from Ghana to Kenya to avoid the Central Congo and four of the worst border crossings in the world, as well as [2,500 miles] of 'bandit' roads. We had arranged a fixer in Ghana for the air freight but when he saw the size of the bikes he was a little perplexed to say the least!
We flew in front of the bikes to Kenya and then they flew to Ethiopia on a larger cargo plane, where they were offloaded in Addis Ababa, and reloaded down to Nairobi in Kenya via another large cargo plane. So, we did 15 countries and the bikes actually did 16 countries! From there we moved down the east coast avoiding Mozambique (was not politically stable when we moved through) down into South Africa.
Were the locals receptive to what you were doing?
Yes, the locals were hugely receptive. Whether that was in town or at the various Police stops you always encountered. We presented to over 5,000 kids at their various schools all the way down and the reception we gained from them was amazing. So open and so joyous with their appreciation of seeing us and us presenting and talking to them all.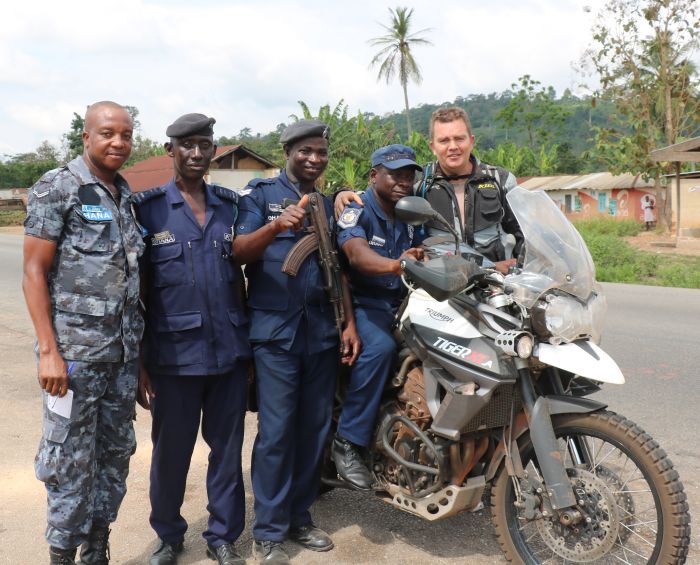 Was there any danger during the ride?
We encountered no security issues on any part of the trip. We were met with smiles and waves all the way down! The most concerning part was when we were about to enter Mali as there were reports of terrorism in the north of the country and reports of very poor roads to the south. As such we were told by the likes of the Foreign Office that we should avoid the country and if we went in to move rapidly and turn off our SPOT trackers to avoid kidnap threats. We stayed with a great missionary couple on the border with Senegal and Mali and they said that all reports were rubbish and we would have no issues. So, we proceeded and enjoyed great, well tarred roads and had an amazing couple of nights in The Sleeping Camel in Bamako as a half way rest stop. The only other issue we had was when Max ran out of talent on sand in Tanzania, dropped the bike and got knocked out for a bit on New Year's Eve. Not many beers consumed that night when a tired and run-down hotel was sourced due Max's already sore head!
What was your favourite moment from the journey?
For Max, it was being hosted by an amazing business called Blue Skies in Ghana. It was started some 25 years ago by a pioneer called Anthony Pile who, with 10 workers, started cutting up fruit under a tree and putting it in pots and then air-freighting it back to the UK. Today it is the largest private employer in Ghana with over 4,500 Ghanaians working for them and producing over a million pots of fruit for us back in the UK at peak of season.
They took us to visit all of their pineapple, coconut, mango and papaya growers as well as the schools they are heavily involved with and treated us embarrassingly like VIP's. Even though it is a British owned business, we were the very first to ever travel across land from the UK to Ghana to visit rather than just going by plane.
For Gareth, it was seeing the children at all the schools we presented to. They had never seen two blokes turn up before on two huge Triumph motorbikes and looking like space aliens with all of the Klim kit and Schuberth helmets setting it all off! The reaction we gained from the teachers and pupils was so positive, especially when they had got over the initial shock of us arriving.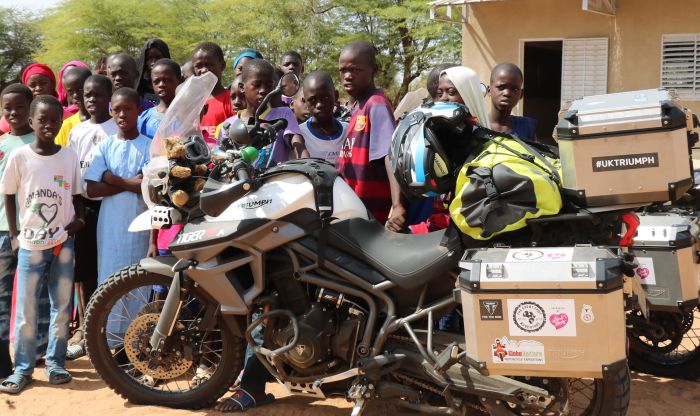 And least favourite?
Max says one word. Borders! The border crossings were very frustrating as all will know who have travelled through Africa. It is always searing hot, you have your kit on and there is no rhyme or reason as to what does what, which hut to go into, why there are policemen sleeping on the floor of the main passport office and the occasional dead cat in a corner to add to the effect of it all!
Gareth says one word. Tyres! We did a tyre change in Zambia when a great host farmer managed to blag our air freighted tires as farm equipment so we didn't get hit with a $500 import tax. But the rears were so hard to pop off and pop the new ones one that at one point a plantation tractor was used as a weight to break the tire beads. Thankfully we never had to do that on the roadside due to the total lack of punctures, good old Triumph's!
How long did the ride take, and how did you manage to get that much time away from the rat race?
They left at the start of November 2016 with a big send off from the Fresh Produce trade from New Spitafields Market and rolled into Cape Town at the start of February 2017. For Max the adventure was three years in the planning and as such was able to step back from his day to day work of running a recruitment consultancy in the Fresh Produce sectors as his team took on his work. For Gareth, this is the second time he has gone away for a big trip into Africa and his very accommodating brother and their great team covered their amazing milk round and milk delivery business in Barry, Wales in his absence!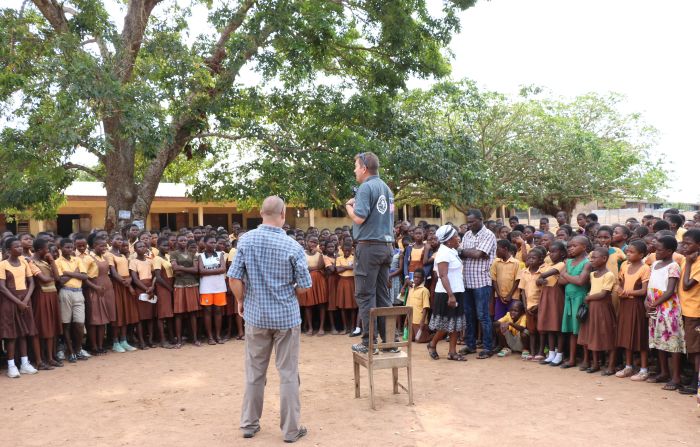 You were on the road together for a long time, did you get on with each other for the whole time?
Of course! There are always niggles and frustrations not helped by the bureaucracy and frustrations of travelling top to toe through the continent that is Africa. But you just get on with it. The main low light was when we found the last remaining hotel room in a town in Senegal. It had but a double bed left and that turned out to be more like a single… So we had to turn over together in the middle of the night so we did not end up face to face!
How has your ride been received outside of the motorcycling community?
It has definitely hit the mark! 350,000 hits on our main website, 100,000 'likes' on Facebook, 500 schools actively following us equating to 250,000 children and we also won a 'Points of Light' Award from the UK Government for the unique way we have promoted the awareness and increased consumption of fresh produce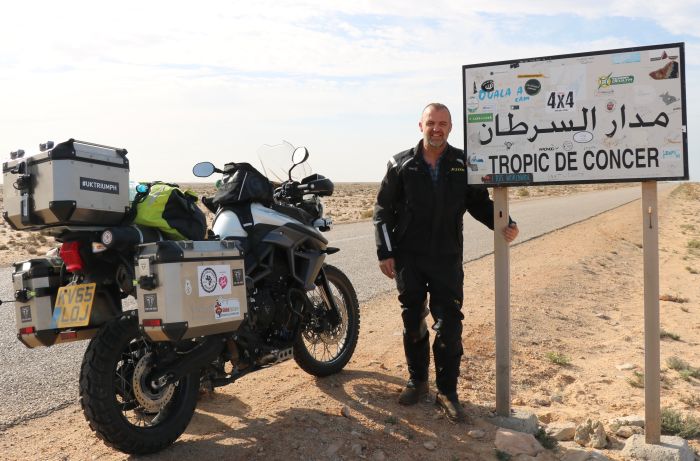 Do you think it succeeded in its aim?
Yes, but we have only just started! We have multiple presentations we are undertaking to schools and businesses across the UK and are also presenting at both Car-Fests in the UK. We are also out to New York later in the year to present about our trip and how we are making eating fresh produce a great adventure for kids. We have created a brand for fresh produce from the trip and one that you will see as a common site as we look to roll out the next stages of The Great Fruit & Veg Adventure!
What advice would you give to other riders who would like to tie an epic ride in with a good cause?
Don't overthink it! When you are on the road it just works. The things that you worry about are the things that never happen. And if something negative does occur, that is when the adventure really begins as you meet so many interesting people willing to help!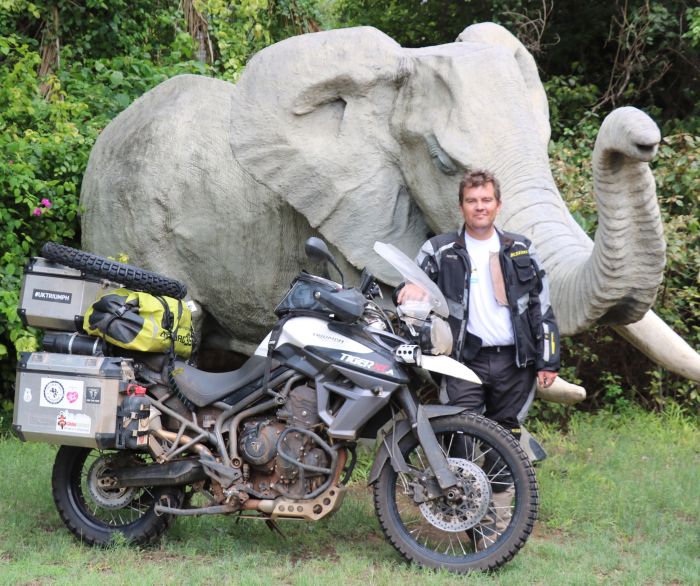 What's next for Max and Gareth?
Well, we have an offer to tour South America and New Zealand to explore and report on great fresh produce growers from those country areas. Not sure we can take three months out for each, but we will make a plan I'm sure.
If you'd like to keep up to date with Max and Gareth's adventures, head to their website or like the guys on Facebook.