Ian Talbot-Jones and his 13-year-old son Finley are on a two-up trip down south to Spain on a 1977 Kawasaki Z650
Fortunately for me, my sister-in-law married a Spanish chap, Basque to be precise, and last summer I managed to persuade my wife that she deserved a fortnight in Spain with her sister. This meant that I could spend a week with the family in Spain and a week riding my motorbike down to the Basque region and back. After extensive negotiation it was agreed that I could take our son, Finley, on the back of the bike, a recently restored 1977 Kawasaki Z650.
I bought this bike in 1992 for £270. I was a student and it had been owned by numerous other cash-strapped students; it was a total dog. The Z650 is now becoming quite collectable, partly due to the undeniable kudos of its older brother, the legendary Z900, which currently commands prices in excess of £20,000.
After spending hours in the garage doing a full restoration it was treated to a front-end twin-disc conversion, engine crash bars, rear luggage rack, windscreen and the addition of a 21st-century satnav. Eventually, the day of departure arrived and my wife and daughter left for the airport while my son and I rode the 20 miles from our home in Southampton to Portsmouth to catch our overnight ferry to Le Havre. Overnight cross-Channel ferries are just the best way to start a road trip.
On arrival, it was raining. We hadn't ordered this. Finding our way through the commercial docks, past the smell of the petrol chemical refineries and toward the Pont de Normandie, the wind followed the direction of the River Seine through the bridge and towards Paris, propelling us on with the driving rain. By 1 o'clock the weather hadn't improved and spirits were low. We found a traditional cafe bar and hastily entered its warm, dry, welcoming interior. Day one, afternoon one, and things were not going well. Perhaps I'm just not very good at convincing a 13-year-old that being wet through to his underpants, sat on an uncomfortable 35-year-old bike is preferable to the picture being painted via text message by his sister, currently sat by the pool in Spain with her cousins.
My wife had advised me that Finley would require 'star-rated' campsites with swimming pools. In an attempt to placate her and him, I'd booked our first night's camping in the town of Loches, towards the south of the Loire Region. The AA European Route Planner informed me that from Le Havre to Loches is 235.9 miles and an estimated journey time of three hours and 41 minutes. Nearly 10 hours later we arrived at our campsite, exhausted and ready for some relaxation. As I busied myself setting up our tent, sleeping mats and bags, Finley checked out the pool. The sun came out to further lift our spirits and after a meal of steak, chips and ice cream within the medieval city of Loches, we both returned to our tent to sleep like babies.
Day two dawned overcast but dry. Shortly after departing our campsite, however, the rain returned. I decided to get on the motorway and cover some real distance despite my promise to the wife that we'd stick to back roads only. By mid-afternoon the motorway had done its job and we were in the Dordogne region, famed for its beautiful sweeping river cutting through a deep gorge. It was while negotiating these sharp bends and steep hills of the Dordogne that my Zed's brake warning light started flashing. With the responsibility of my son on the back of the bike, I pulled into a petrol station. I changed the stop-light bulb, but still the stop light refused to work and the warning light flashed. I checked the fuses, wiggled wires, but still there was no improvement.
We all know bikers are a friendly bunch, so I flagged down the next bikes I saw; two Dutch Harley riders sporting cut-off denims, tattoos and bandanas under their lids. The old Zed was having none of it, so we were invited to ride between their bikes to a 'bikers-only' campsite where it could be fixed. As the roads got narrower and the surrounding countryside more rural there was no turning back. It was Saturday night – party night, apparently – and being escorted by these badass HD outriders, I could only imagine what awaited my 13-year-old son and me at this 'bikers-only' campsite.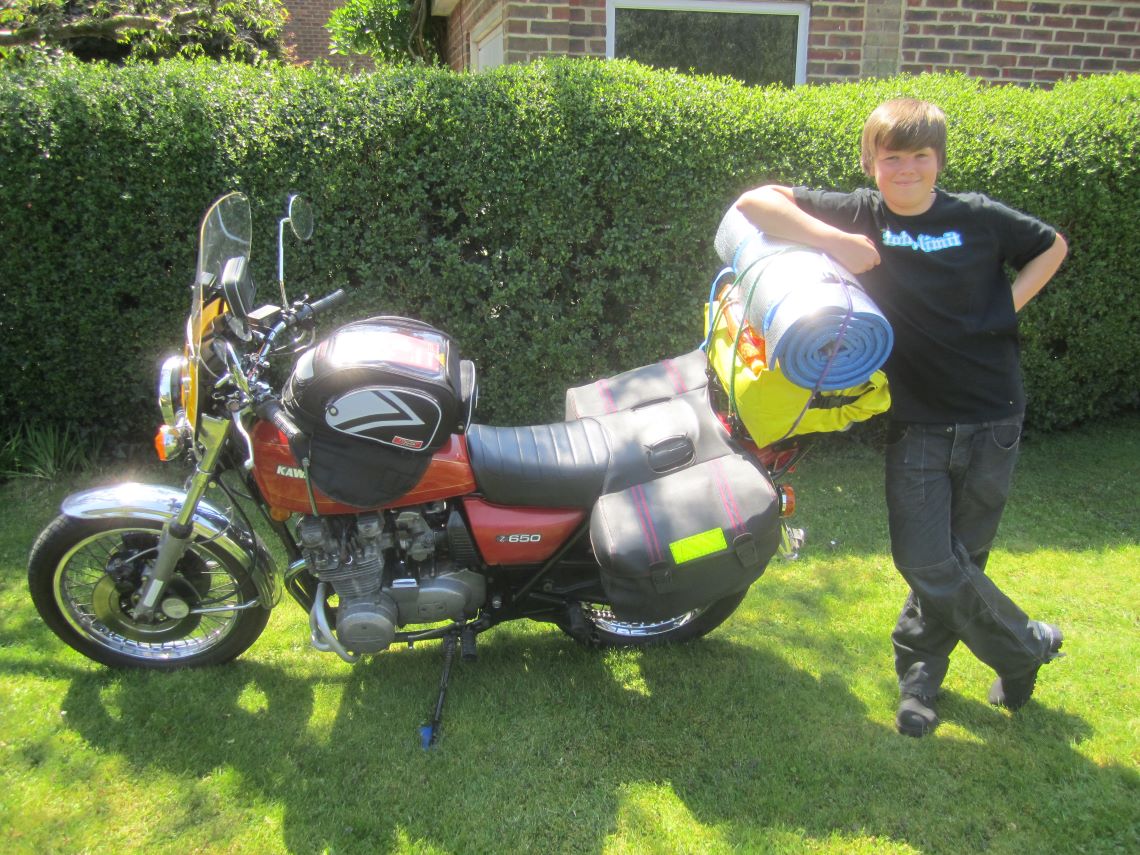 We were shown into the clubhouse bar, dimly lit and smelling musty, with unpainted wooden floors, walls and furniture. The walls were dotted with motorcycle memorabilia, engine castings, tanks, wheels, headlamps, old road signs, posters and photographs of wild, wild parties. The room was empty apart from three long-haired, tattooed male drinkers and a very tall, slim woman behind the bar. She greeted us in Dutch, and upon realising we were English, told us to sit down at the bar. She poured us a cold beer and a coke, saying we were most welcome here and these drinks were on the house.
Having been advised to camp at the far end of the site to avoid being disturbed by the party, we found a suitable spot on the perimeter fence and set up our tent for the evening. The campsite was full of bikes and tents. It was very quiet, though, as bikers were chilling in the late afternoon sun, smoking, drinking and chatting.
The sight of a tool roll and the seat, petrol tank and plastics being removed from a bike are enough to rouse any inquisitive biker from his slumber to offer technical advice and assistance. Within two hours, the warning light on the Zed was back to its dormant resting position and it was party time. It was one hell of a night and Finley and I could not have been made more welcome. A big thank you to www.motocamp.com. I do, however, question how many beers a 13-year-old boy needs buying for him and why I thought it was my duty to drink both my beer and his while trying to keep up with the rounds?
The next morning, I was conscious we had miles to ride so we packed away our camping kit and started the bike. We set off in the warm sunshine and once again headed south down empty roads in the direction of Lourdes, the home of religious pilgrimage and healing. Soon we could see ahead of us the foot hills of the Pyrenees, a clear visual and psychological boarder between France and our country of destination, Spain.
As the terrain changed from flat lands to rolling hills and then into mountain valleys walled by steep, lush pastures, my excitement grew. I love the mountains. The altitude increased and the temperature dropped, and as the afternoon slipped away we checked into our final campsite of the trip, a very small, sleepy, terraced mountain campsite, complete with the sounds of a nearby mountain stream and the occasional, distant cow bell.
We awoke to the refreshingly, damp, misty stillness of a mountain morning and for the last time packed away our camping kit for our final push to join my wife and daughter in Spain. While researching the trip, I'd stumbled on the Col du Tourmalet, the highest and most frequently used Tour de France cycle summit in the Mid Pyrenees. Our first task of the day was to reach its summit and take the obligatory photos. The ride up the Col was superb. Repeated second-gear hairpin bends and even the occasional flurry into first gear as our slow speed and excessive weight dictated, past ski resorts, cable cars and stunning mountain vista. We were on top of the world!
Now we had the small problem of crossing the real mountains over to the Spanish side; we had two options: the direct route, climbing a further three cols and slipping into Spain closer to our final destination, or completing the longer, other two sides of the triangle, climbing only one additional col and crossing the border through the Tunnel Du Aragnouet-Bielseat. I opted for the second tunnel route as progress over the mountain was so slow and we wanted to arrive in our destination of Estella in time for an evening meal in a favourite restaurant within the square.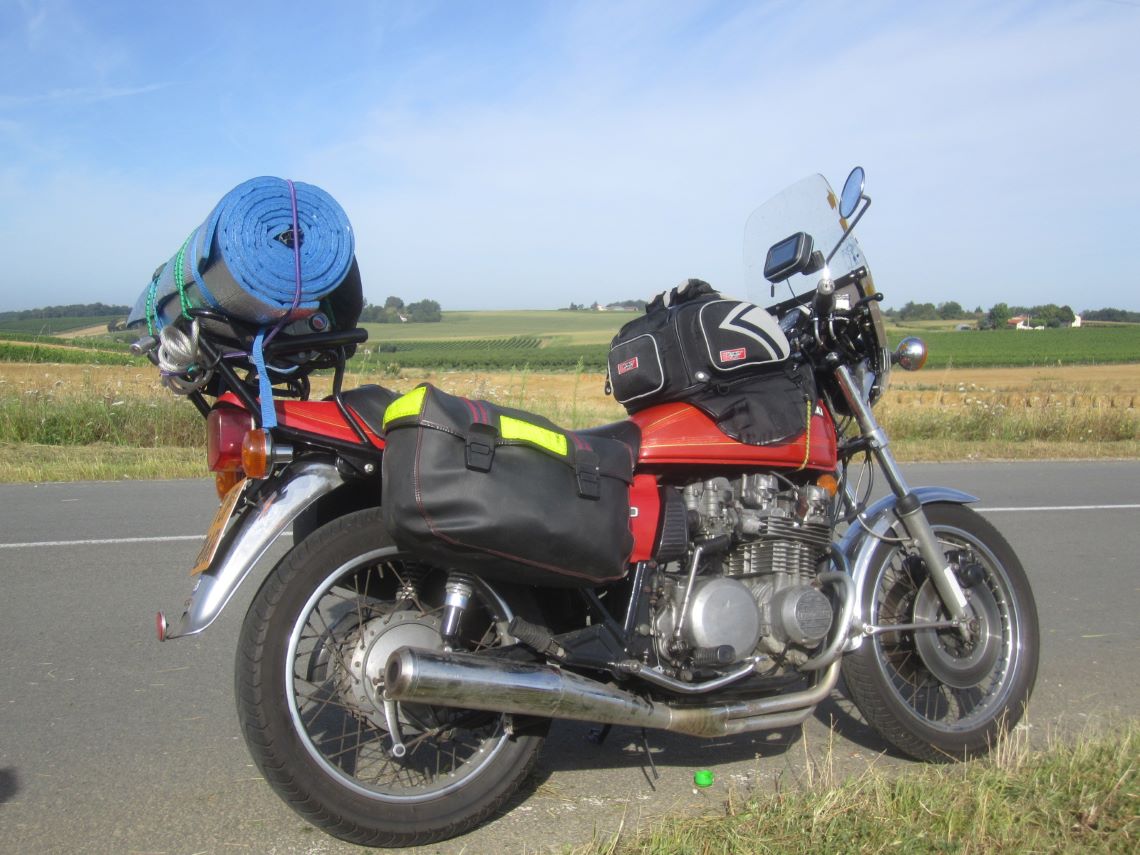 We descended the mountain, retracing our path almost back to the campsite and by the time we joined our chosen road to the boarder it was well past midday. Over the next col, through the cool, damp air of the mile-long Aragnouet-Bielseat Tunnel and we were over the border into Spain. The plan was to head south away from the mountains, then turn right and head west towards Pamplona; famed for its week-long San Fermin, 'running of the bulls', fiesta; then the a short 20-mile dash southwest to Estella and our final destination.
Our turn was marked on the map as an arterial road, running parallel with the Pyrenees mountaintops and offering us swift passage towards the Basque region. The reality was a rotting, twisty, single-lane mountain pass, which seemed to be home to horses and cattle rather than engine-powered vehicles. The potholes and fallen debris from the mountainside were rivalled only by an excessive quantity of animal waste; this was definitely the most dangerous and challenging road of our trip.
As the afternoon drifted away, we were seeing signs for Jaca with over 100 miles still to go. Heading towards familiar and mercifully tarmacked Basque roads, we exited the A21 south of Pamplona and joined the A12, passing the ridge-top windmills on the left and exiting at Junction 36 for Estella. No map or satnav were needed now, as the evening sun was getting lower in the sky and we were within spitting distance of my wife, daughter and the extended family. At 8.35pm, we arrived safe but tired. Thankfully, Spanish restaurants don't come alive until 10pm and we had a reservation with calamari starters, plata combinado main, and a Faustino Rioja wine. A grand finale!
Do you have a ride you'd like to share with us? Whether it's a long weekend or a RTW trip of a lifetime, we'd love to hear about
it. Send us a few words and some pics to [email protected] and you and your steed could be starring in the next Readers' Rides!