Giving it all up to leave on the trip of a lifetime can be a daunting prospect, Lisa Morris shares how you can do it.
Many of us dream about riding across continents, and most imagine that they're unable to overcome the hurdles. But what does it take to actually do it? Anyone whose jigsaw pieces in their life can coalesce— and respectfully, not everybody's can— simply the commitment to a decision to go is all it takes.
It sounds too easy, but in reality, it actually is. The hardest part happens right at the very beginning when you have to release all the things that hold you from doing it in the first place. Having reached a point in our 9-5 lives that no longer reaped enough intrinsic reward, the time came for a change and we decided on a big one. Once we'd engaged in a 'it's time for a talk' chat, we pinned down a departure date and the pieces fell into place. It still took a degree of work but with every task, we were one step closer to leaving. 
Travel involves one step: Going 
Is it better to throw caution to the wind and just go where the road takes you, or to struggle with a bulletproof itinerary? Organising your first big two-wheeled adventure can be a daunting task. There's much to consider and even more to research. Someone wizened said, "Each research session makes the trip look harder and harder, so we've decided to stop researching", which is a gem to keep in the back of your mind. Chris Scott's Adventure Motorcycling Handbook and the Robert Wicks series by Haynes are great resources.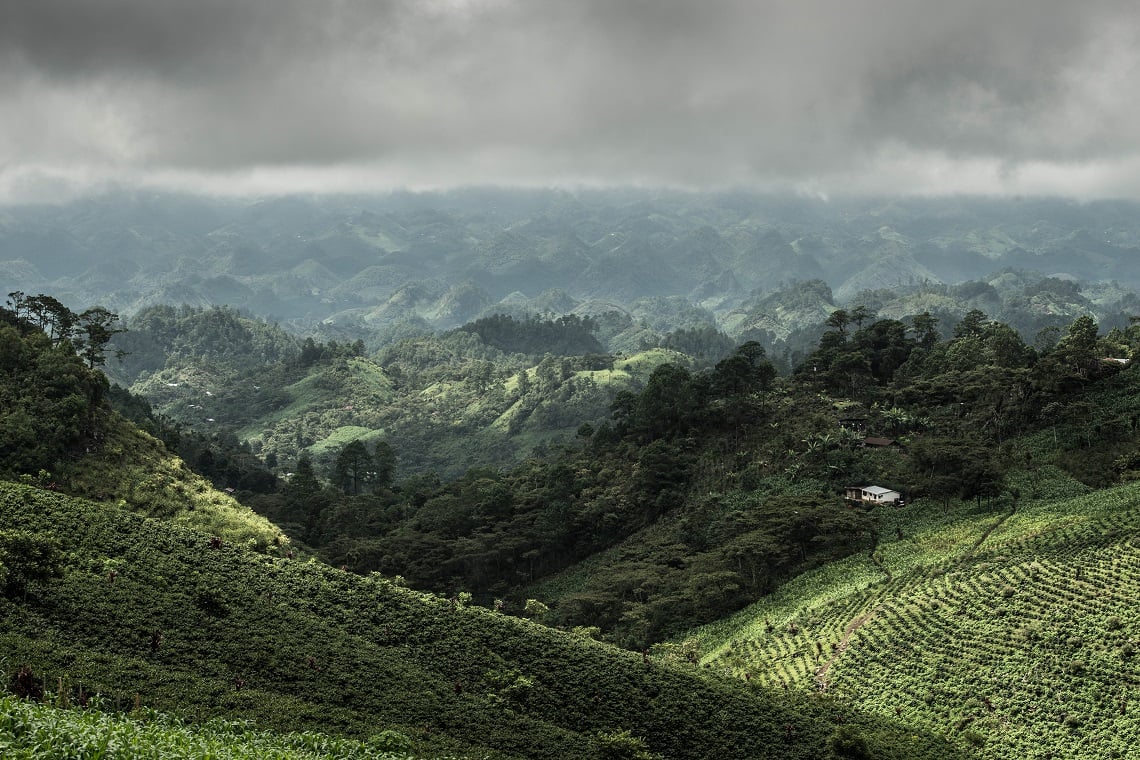 First things first 
Before you begin putting down places and dates on a calendar, research your destination. Make some notes, talk to those who have already done what you intend to do, get the travel juices flowing. 
Drawing a line 
You've acquired five latest edition guidebooks, an enviable collection of maps, nine Google search terms and three buddies who've been there before. Everyone possesses different information and foremost, different opinions. How are you going to sort through it all and record what's useful so that it's easy to reference on the road? The defining criteria you will use to select potential destinations will make your research more effective. Alternatively, once you have all this information, ignore it. Well, most of it.
Useful intelligence and common sense 
From experience, avoid treating published materials as gospel, whether printed or online. These aren't always accurate and can often be out-of-date the minute they're typed. Try to verify salient information with more than one source. Consider any language barriers, safety, political situations and climate of the larger region before delving into the particulars of specific areas.
Shiny stickers and stamps 
Genning up on visa requirements is advisable before departure as visa stipulations vary significantly across countries. Considerations include: waivers and extensions, single or multiple entries, visa types, expiration dates and maximum stays beforehand. Official sources found through your local consulate or your destination's embassy always have better information because visa regulations change constantly. Do you need a Carnet de Passage for your destination country?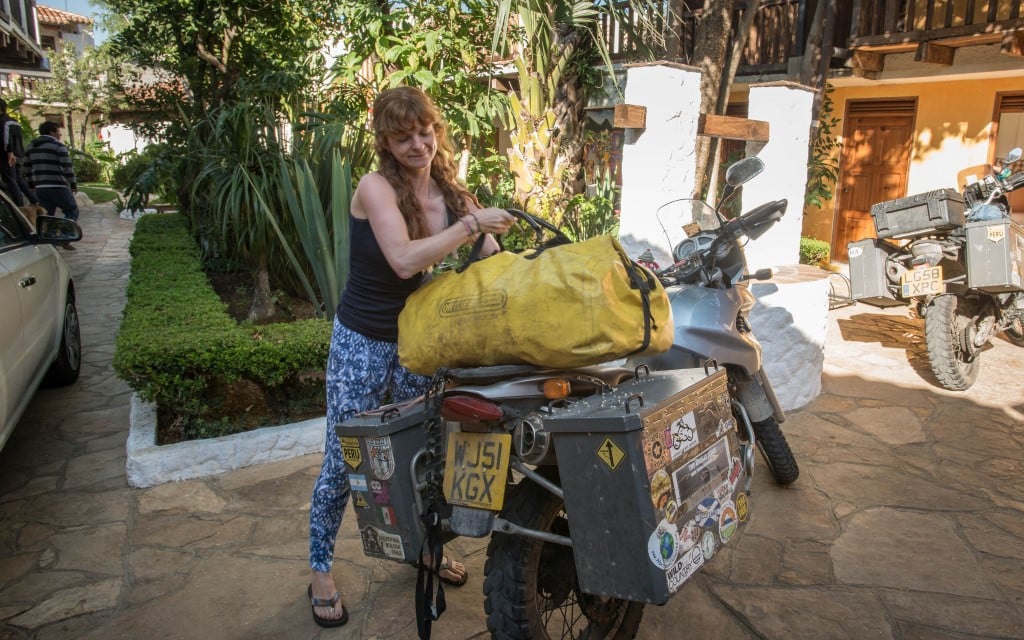 How much does a big trip cost? 
The million-dollar question! The amount depends on where you're headed, on what bike you'll be astride and the trip duration. South-East Asia would be cheaper than the States for example, as would riding a smaller motorcycle. Much equally depends on whether you prefer travelling on a shoe-string or delight in a little more luxury.
We're somewhere on the budget-end of the middle; the Americas is currently costing us around £30 per day for us both and the bikes. We allocated around £6,000 per person for 12 months on the road through South America (that excludes the container shipping cost and one-off excursions to Antarctica for instance). Some will manage to do the same on a lot less; other individuals will comfortably spend double.
How the heck does the average person afford it? 
Sounds obvious but start saving early. At least a year before or longer if you're not a savvy saver. And let's face it, financial planning is one of the least glamorous aspects of facilitating a life on the road. Step 1: Figure out what it costs. Some things are easy to budget. Riding from Tierra del Fuego to Prudhoe Bay: not so easy to budget. It'll involve crunching numbers and possibly a spreadsheet. Start one. Step 2: Set a savings goal. Make it good. Write it down: dates, times, countries, learning a new language. Whatever is important to you. Step 3: Have a stiff drink. Step 4: Make a plan. This is easy. Take the number of months until departure and divide by how much money you need. Step 5: Make it happen! 
Frugality trumps all 
If you're not comfortably wealthy from the outset, my advice would be to save the travel money after non-negotiable bills FIRST, not last. Cut everything else. Generally, there are five solutions to making a big trip financially manageable: cheaper living, selling stuff, earning more, cheaper travelling or pushing your trip's start date back. Our approach involved economising every facet of our lives: getting rid of the mortgage (selling the house is fairly extreme; leasing your property would be more feasible), alongside liquidating two vehicles and all non-essentials. Financial literacy is king.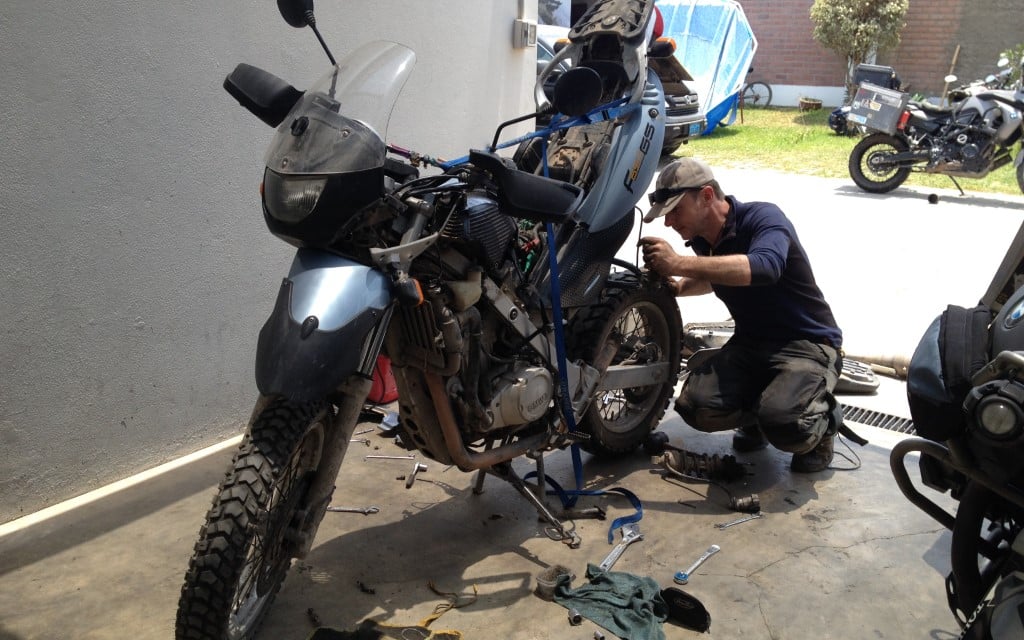 Keeping it sustainable 
Long-term affordability is key. Fortunately, hunting down campsites (iOverlander.com is excellent), negotiating room rates (Horizonsunlimited.com is supreme for all sorts, not least for locating 'bike-friendly hostels' and connecting with salt-of-the-earth folks), renting out a room (airbnb.com is a great accommodation alternative), home-sharing within the motorcycling community (motostays.com) and couch-surfing, have all brought our daily spending down considerably. As have non-riding days, cooking for ourselves, dining on street food or in 'spit and sawdust' type establishments. 
What to bring? 
Ha! I wish I'd adhered to 'Less is more' having been dispensed this advice more times than I can remember. Generating a list of what you think you need versus tailoring one based on what you actually need will be the biggest challenge. Space and weight is at a premium so your ensemble should be based on the size of your bike and its luggage capability, your financial situation and other personal preferences. A worthy rule of thumb is to attempt to keep a third of your pannier space free… good luck.
Evolve a resource bank 
On the road, reach out. Find friends and family along the way and get in touch (outboundapp.org is brilliant for connecting up with travellers). As well as savings or a passive income, creating revenue streams such as working while travelling, volunteering in exchange for free digs and food (visit workaway.com and grassrootsvolunteering.org); or working remotely (check freelancer.com and odesk.com), may also be options to better afford your adventure.
Jacking in a stable job 
Superbly done if you can convince your employer to give you a long-term career break. We like to think of ourselves as adaptable. Perhaps plan for the period when you return home if you're tending your resignation, the end of a trip might not seem half as sweet otherwise. After the trip concludes we'll work hard and claw our way back up. After some time at home, we hope to have bridged the financial gap left by not working for two to three years. And of course we will be planning the next adventure.