A new year means new adventure bikes. These are the most exciting motorcycles scheduled to hit your local dealership floor in 2020!
Harley Davidson Pan America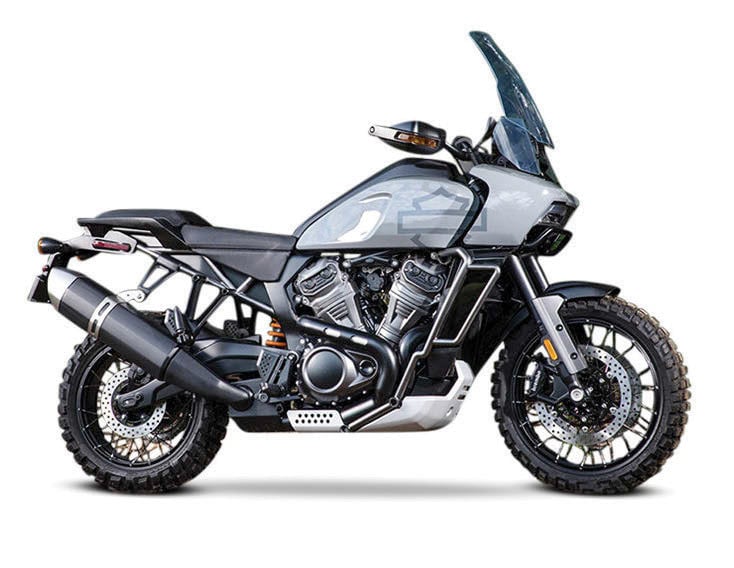 Harley Davidson Pan America
Amid the usual cruisers and large tourers on Harley-Davidson's stand at Motorcycle Live at the Birmingham NEC in November, there stood the American manufacturer's first stab at an adventure bike, the Pan America. It has proved a divisive motorcycle since the first images of a prototype were released online more than a year ago. But however you feel about the bike's design, or Harley's position in the marketplace, there's no denying the Pan America sends a clear signal that Harley is serious about breaking into the adventure market, and those brutal looks show it's doing so in its own way. While much information, such as price, weight and range remain under wraps, we do know its 1,250cc engine will produce 145bhp, and the bike has been designed to cover long distances in comfort by road, while also holding its own in the dirt. We've got to admit, we're intrigued.
Yamaha Tracer 700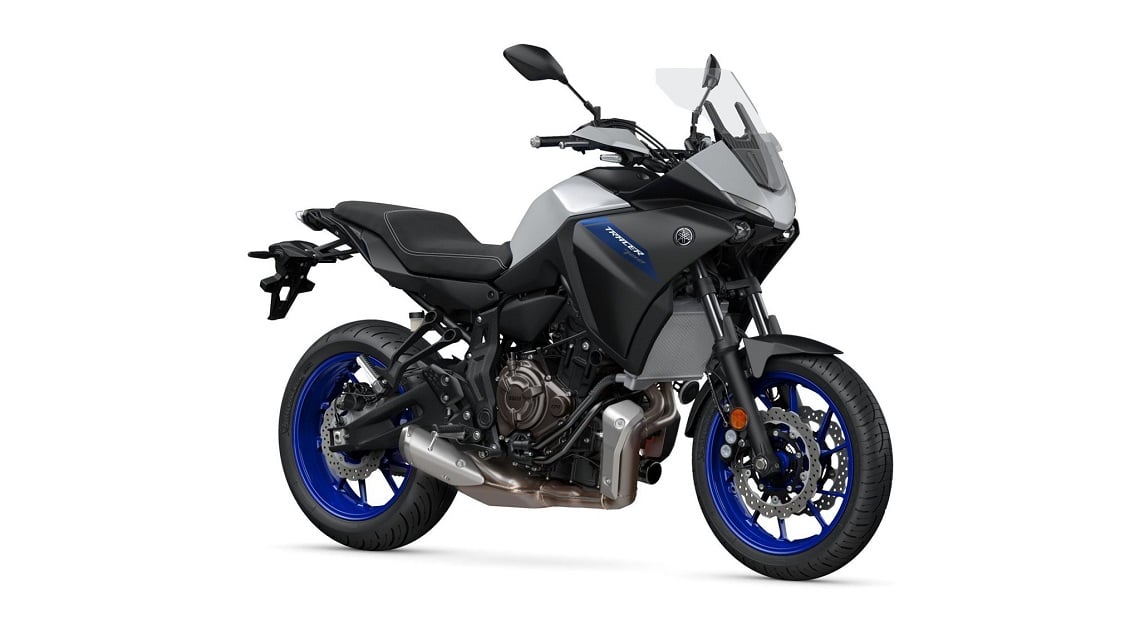 Yamaha Tracer 700
Last year, Yamaha had a huge hit with the launch of the Ténéré 700 but the Japanese manufacturer isn't resting on its laurels. It hopes to follow the success of the Ténéré with an updated version of the Tracer 700. The mid-weight adventure sports bike has proved popular since its launch a few years ago, thanks to its versatility as an excellent commuter, a fun weekend steed, and a capable long-distance tourer, all wrapped up in an affordable package. The 2020 Tracer 700 uses the same 689cc CP2 parallel-twin engine found in previous version of the bike, with minor updates. However, it's in the looks department that the changes are most noticeable. The bike has been given a sleeker front end, with new, slanted twin LED headlights providing a more predatory style than the previous model. This, combined with a less angular fairing, helps give the bike an almost futuristic appearance. Yamaha says these styling updates will also help boost the Tracer 700's long-distance touring credentials, with a redesigned fairing, updated handguards and screen.
Suzuki V-Strom 1050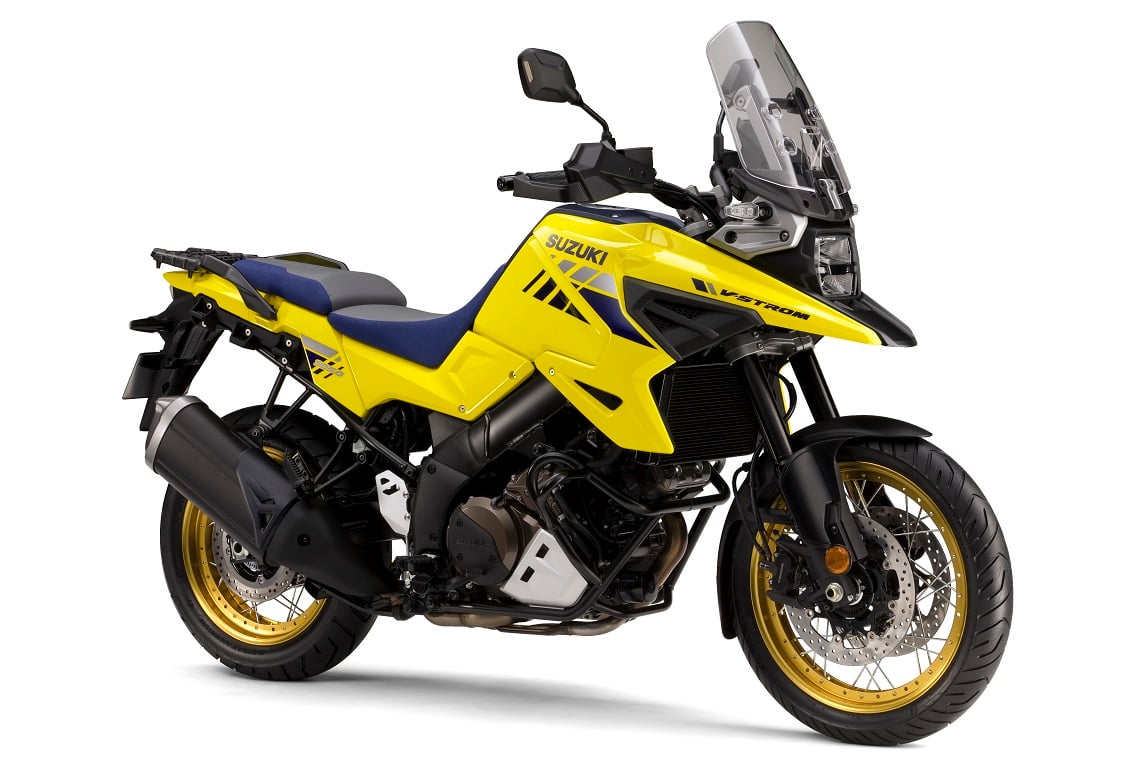 Suzuki V-Strom 1050
We've long-admired the V-Strom for its understated competence and reliability, but it's fair to say it has never been the most glamorous of bikes. This could all be about to change with the release of the V-Strom 1050. Immediately, you'll notice that rather dopey-looking oval headlight has been replaced by a vertically stacked LED hexagonal unit, which along with some other design tweaks, makes the V-Strom look tougher and more rugged. In the flesh it looks great, with Suzuki's designers paying homage to the DR Big of old to produce an aggressive looking adventure bike guaranteed to turn heads. For 2020, the V-Strom retains its 1,037cc, 90-degree, V-twin engine which has been tinkered with to provide a small hike in power from 99 bhp to 105 bhp. However, the big change comes in the form of the premium V-Strom XT model which has been packed with enough technology to bring the V-Strom in-line with its competitors. At its heart is the Intelligent Ride System which features an onboard computer controlling a suite of rider aids aimed at improving your ride. These include lean angle sensitive ABS, hill hold control and linked braking aids. Other goodies include cruise control, LED indicators and engine bars, although there's no TFT dash.
BMW F900XR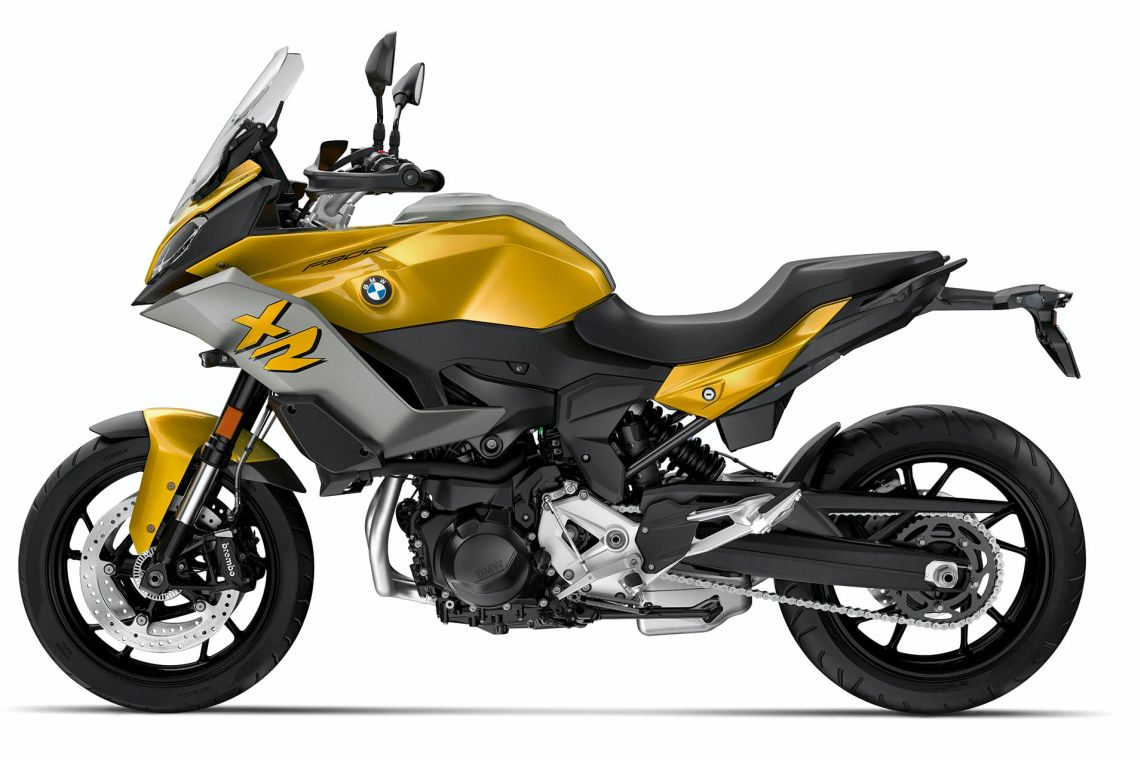 BMW F900XR
BMW's all-new adventure sports bike, the F 900 XR, sits just below the popular S 1000 XR in the German manufacturer's road bike range. It will likely appeal to a similar type of road rider, those looking for the excitement of a sports bike, matched with the comfort of an adventure bike, albeit in a more accessible and affordable package. The F 900 XR actually sports the same engine you'll find in the BMW F 850 GS, with a few tweaks to increase power.
As you would expect with a BMW, the F 900 XR has plenty of technology on hand to enhance the riding experience, including two standard riding modes (Rain and Road), traction control, ABS, a 6.5-inch TFT screen, and LED lights as standard. BMW says it is looking to attract new and returning riders to the F 900 XR thanks to its relatively low
seat height (825mm), as well as the fact an A2 licence compliant 48 bhp version is available. However, we reckon it offers more than enough to tempt established bikers looking for road-based fun on two-wheels.
Honda CRF1100L Africa Twin and Africa Twin Adventure Sports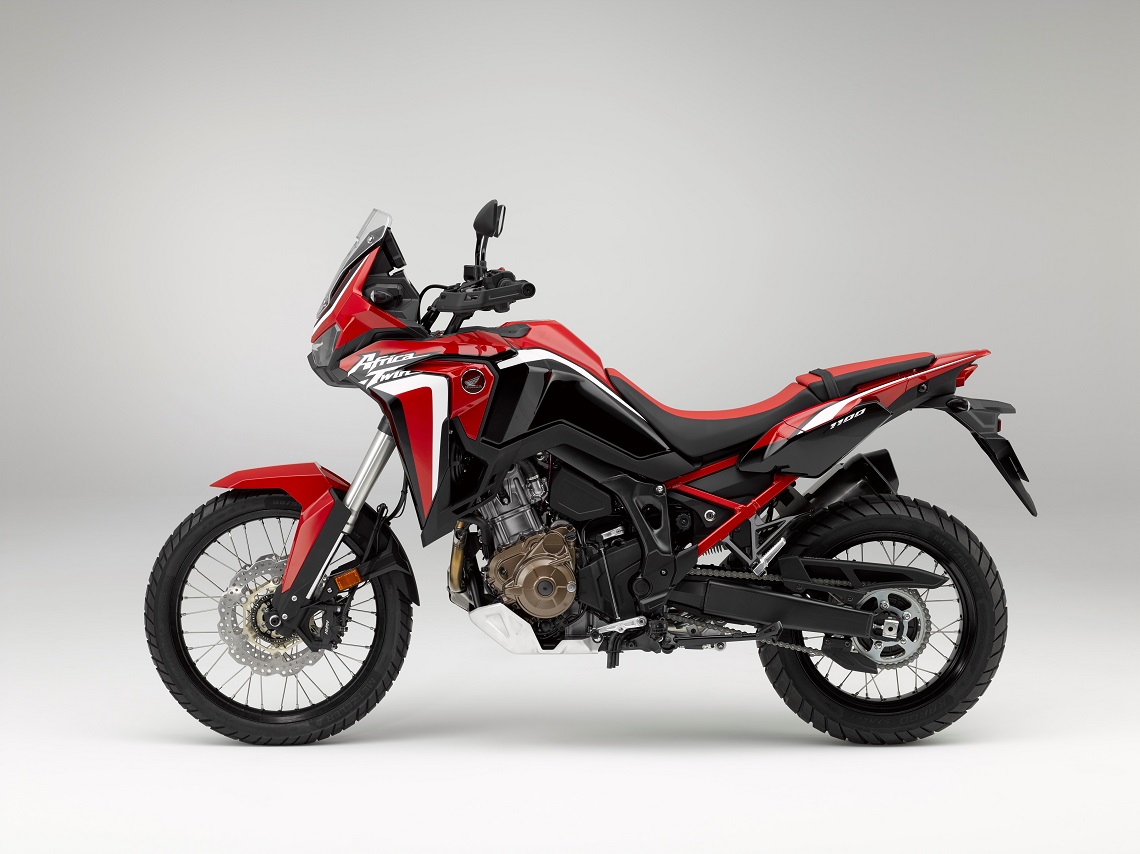 Honda CRF1100L Africa Twin
At first glance, Honda's two updated Africa Twin models for 2020 may not seem all that different to the 2019 versions, but take a closer look and you'll see a raft of changes. Both bikes have been given a larger displacement engine for 2020, up from 998cc to 1,084cc. The change seems more aimed at meeting stringent new emission rules rather than hiking performance so, as a result, peak power has only marginally increased from 94bhp to 101bhp. The frame has also been redesigned, shaving 1.8kg of its weight and now the bike features a separate subframe.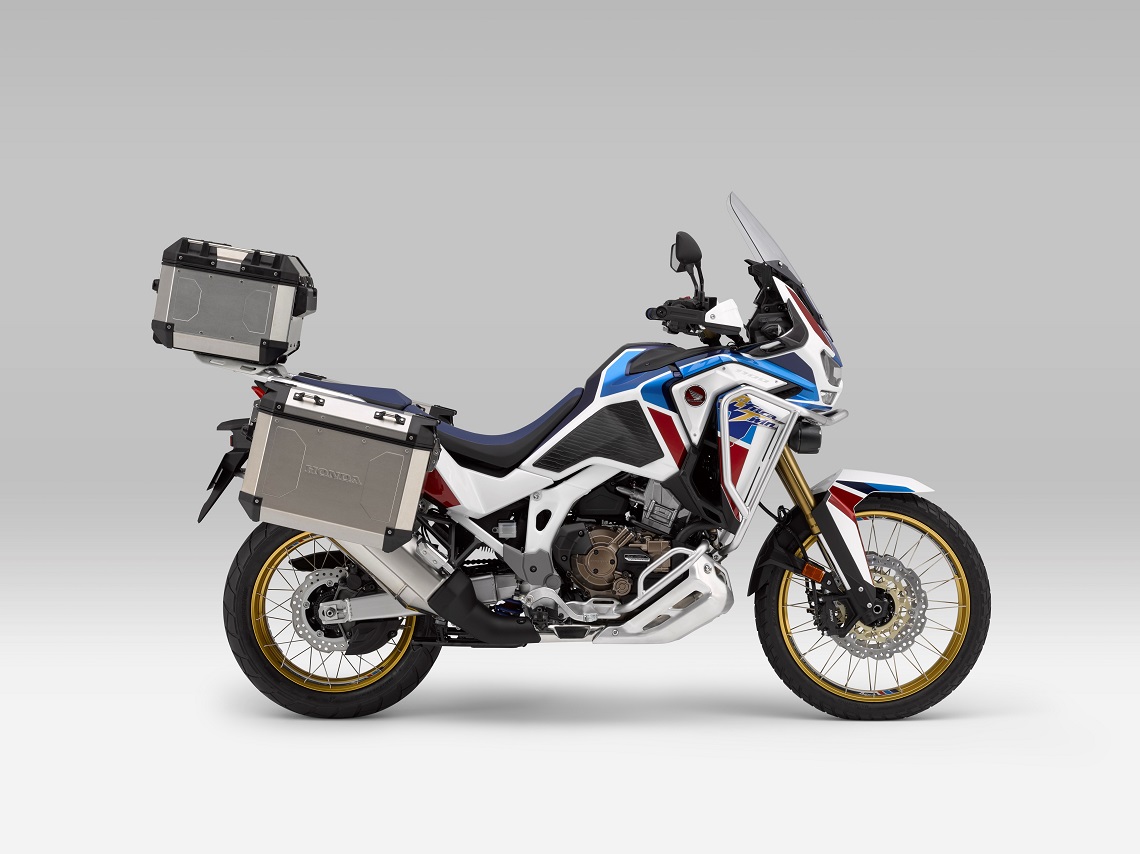 Africa Twin Adventure Sports
The Adventure Sports model is being firmly marketed as the long-distance touring machine of the two with a handful of features aimed at making mile-munching effortless. These include electronically adjustable suspension, a large adjustable screen, heated grips, cruise control, cornering lights, and a 6.5-inch TFT screen. The seat height has also been lowered, so the Adventure Sports is no longer the preserve of those with the inside leg of Michael Jordan. For 2020, Honda is aiming the standard Africa Twin at those who want to ride their adventure bikes off-road. It's been made slimmer and lighter, with a reshaped seat making it easier to move around, as well as a stubby screen to give a better view of the trails.
TRIUMPH Tiger 900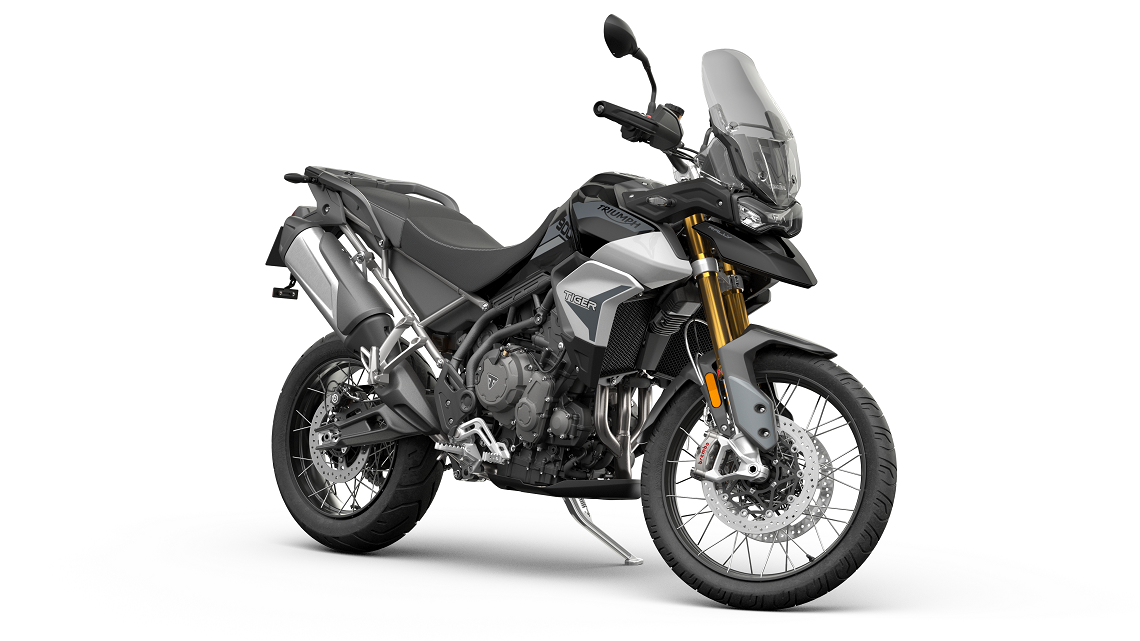 TRIUMPH Tiger 900
The headline news for the new Tiger 900 is an increase in engine size from 800cc to 888cc. Power output from its triple engine remains the same at 94bhp, but sees a 10% increase in torque. The styling of the Tiger has also been revamped to give the bike a more aggressive stance, most notably in the sleeker twin headlights that replace the previously bug-eyed, yet very effective, beams. Other changes for 2020 include an increase in fuel capacity to 20l (up from 19l), a separate bolted-on subframe, removable footpegs and a reduction in weight of up to 5kg depending on the model you choose. We had a long-term Tiger 800 on test throughout 2019 and were hugely impressed by the versatile adventure bike. Let's hope Triumph builds on that success with the new model.
KTM 390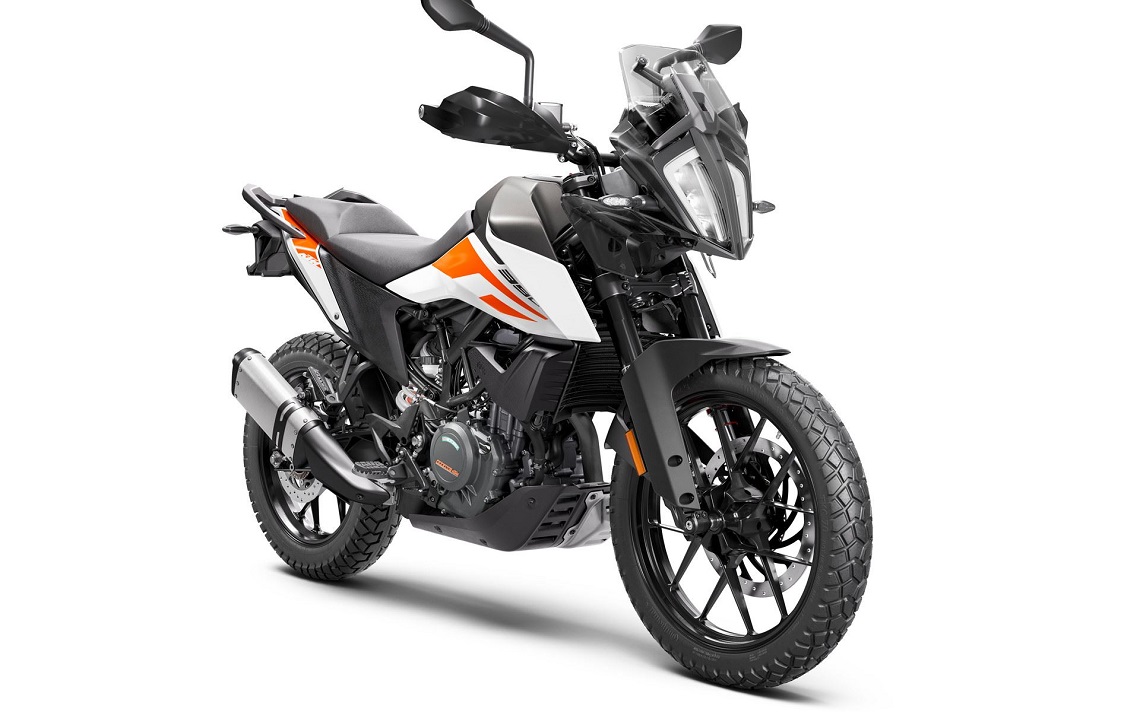 KTM 390
KTM's latest offering sees the Austrian outfit venturing into the lightweight adventure bike market with the KTM 390. The new bike uses elements of the KTM 390 Duke as its base. Its 373cc, 43bhp, single-cylinder engine makes it A2 compliant and it could be the perfect bike for newer riders looking to find their feet, or those looking for a more manageable adventure offering. And while it's certainly the baby of the KTM family, those who saw it in the flesh at Motorcycle Live know the bike is surprisingly substantial for a mini adventurer. Weighing in at 158kg (dry) and boasting a TFT dash, fully adjustable WP Apex suspension, and a claimed range of 250 miles, the 390 is going to prove a tough competitor for BMW's G 310 GS and the Kawasaki Versys-X 300. And, if it's anywhere near as capable on and off-road as its older sibling the 790 Adventure, it may well prove a winner.
ABR fans have their say
Who will win will the battle of the mid-sized adventure sports bikes in 2020 – BMW or Yamaha? And can the rugged new looks of Suzuki's updated V-Strom 1050 make it a more appealing proposition than Honda's Africa Twin?
We asked Adventure Bike Rider's Facebook followers which bikes they would prefer to own.
Honda Africa Twin Vs Suzuki V-Strom 1050
The Africa Twin was the clear winner in this battle with 64% of the 1,300 voters choosing it over Suzuki's updated V-Strom 1050. While both machines received plenty of updates for this year, it seems from this poll at the least, the Africa Twin will remain a firm favourite among adventure bikers in 2020.
BMW F 900 XR Vs Yamaha Tracer 700
These two mid-sized adventure tourers go head to head in 2020 and, at this stage, BMW's all-new F 900 XR is on top, gaining 62% of the 674 votes cast. The BMW promises more power and performance than the Yamaha, but we expect the Tracer to be priced lower than the German machine when it hits dealerships. Let the battle commence.