James Oxley gives his first impressions of the new Suzuki V-Strom 1050 XT after riding it at the world launch in Spain.
It's fair to say the Suzuki V-Strom 1000 hasn't led the development race among adventure bikes over the past few years. While manufacturers have paraded a sparkling selection of new and updated machines in front of our eyes (and wallets) every couple of years or so, the V-Strom 1000 hasn't seen a major update since its big relaunch in 2014.
True, it received some tweaks in 2017, but fans of Suzuki's big adventure bike haven't had too much reason to get excited, until now. New for 2020 is the Suzuki V-Strom 1050. While the changes don't reflect a complete overhaul of the motorcycle, there's enough new stuff here to suggest Suzuki is serious about remaining a player in the hyper-competitive big adventure bike market. 
Styling 
For starters, the bike has had a significant face lift. Now, I know one man's meat can be another man's poison, but in my eyes the new V-Strom 1050 is a handsome-looking machine. At the bike's launch in Spain, Suzuki's designers went to great lengths to describe the inspiration they took from the DR-Z and DR-Big desert racers of Suzuki's past. The result is a bike with more than a hint of retro styling and it looks all the better for it.
Gone is that big oval, some might say dopey-looking, headlight which has been replaced with a tougher-looking hexagonal unit. The fairing and fuel tank now feature sharper lines, losing the bulbous look of the previous model. And, the screen and beak have also been redesigned adding to an overall sharper look. The result is an eye-catching motorcycle that got plenty of admiring attention under the lights at the recent London Motorcycle Show.
Engine 
Despite the fact the new V-Strom is called the 1050, rather than 1000 like the previous model, the engine remains the same 1,037cc V-twin that's powered the bike for some years now, which has been revised to ensure it meets more stringent Euro 5 emission standards. A small increase in peak power from 99 bhp to 105 bhp has also been found. 
On the road, that engine is a peach with plenty of accessible power throughout the rev range. The V-Strom may not have the arm-ripping punch of the likes of a Ducati Multistrada 1260, but there are more than enough ponies available to take you to the limits of safety and well beyond. Cruising and overtaking at motorway speeds is effortless, an instant surge of acceleration provided plenty of exhilarating (and butt-clenching) moments on twisty mountain passes, and the slow speed manners of that engine make filtering through traffic a breeze. 
Ride-by-wire replaces the old model's mechanical throttle and features three rider modes called A, B, and C which have a noticeable impact on the way the engine delivers power. A is the sportiest, which I found a little snatchy for my liking. B is a more relaxed 'touring' mode, and C has the smoothest throttle response, ideal for wet conditions. All modes can be toggled at the push of a button.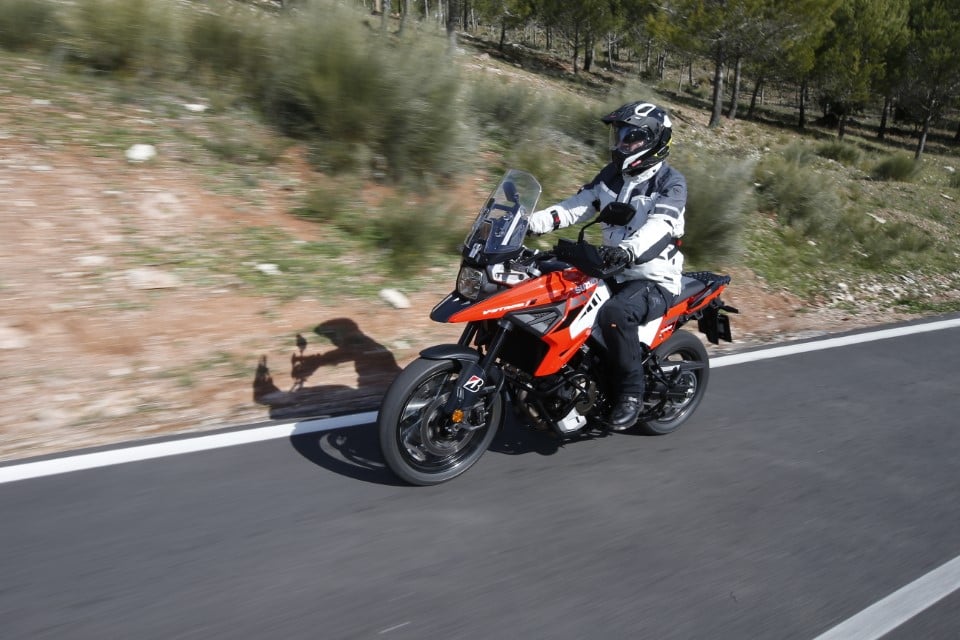 Electronics 
There are two models of V-Strom 1050 available – a more modestly equipped standard version priced at a competitive £9,999, and an XT model seemingly packed with every rider aid you can dream at a cost of £11,299. The XT model was made available to ride at the launch so I made good use of the bike's cruise control, hill hold control, a downhill slope control that prevents rear wheel lift, adjustable traction control, lean sensitive ABS, combined brakes, and so on.
At the heart of all this technological wizardry is an internal measurement unit that constantly measures the pitch, roll and yaw of the motorcycle while feeding that information to the rider aids mentioned above. Whether you're grateful for or resent all this electronic intervention will depend on the type of riding you like to do. I found it made for a safer and more confidence inspiring ride, even if at times I did find myself wondering if all those rider aids working furiously beneath me were dulling feedback from the road a little. 
First impression 
A full review of the V-Strom 1050 XT will feature in the next issue of ABR, but here are some broad takeaways from my first ride. Firstly, this is an extremely competent machine that has the power and comfort to make for an excellent adventure touring bike.
Secondly, the new V-Strom is a lot of fun with agile handling and a perky power delivery that makes scratching around mountain passes or country lanes a joy. And thirdly, this is a bike that would be very easy to live with day-to-day, whether its narrow profile is helping you slip through traffic, or the superb screen and ample handguards are protecting you from adverse weather on motorway runs. 
The latest incarnation of the V-Strom remains a sensible choice, but with sharp new looks and a raft of electronic gadgets enhancing the rider experience, it is a fun choice too