Will Sandilands flew to Spain to see if Harley-Davidson could tempt him to swap his adventure bike for a H-D softail?
Harley-Davidson probably isn't a brand you'd expect to read about in the pages of Adventure Bike Rider too often. When we do feature the American manufacturer's bikes, we tend to focus on the big tourers such as the Street Glide, Road Glide and Ultra Limited. Not only do they look a million dollars, but their powerful engines and lavish comfort make them an enticing option for two-up road touring with your better half. 
Unfortunately, I don't have a wife or girlfriend to share my adventures with, but I do have a long-term relationship with the motorcycle outlaw TV show Sons of Anarchy, and a love of motorcycle touring. So, when I was offered the chance to fly out to Spain and test ride Harley-Davidson's 2020 Softail range, I asked myself two questions. Is there a motorcycle in the Harley-Davidson softail line-up for me, and if so, would I be tempted to swap it for my beloved Suzuki V-Strom?
Whether you're a Harley fan or not, I promise you the sight of a Fat Bob, Street Bob and Low Rider S gleaming in the Spanish sun can't help but put a big cheesy grin on your face, especially if they are waiting for you to spend the day riding them, It's the sort of experience boys' dreams are made of and I definitely felt like a big kid, albeit a very lucky one. 
I challenge anyone to throw their leg over any of these bikes and not feel like the coolest guy (or girl) in the world. The sound of those Milwaukee-Eight engines roaring into life followed by that trademark Harley rumble is a visceral experience and one everyone should have at least once in a lifetime. I could feel those V-twins vibrating through every bone in my body and I couldn't help but feel like an outlaw biker.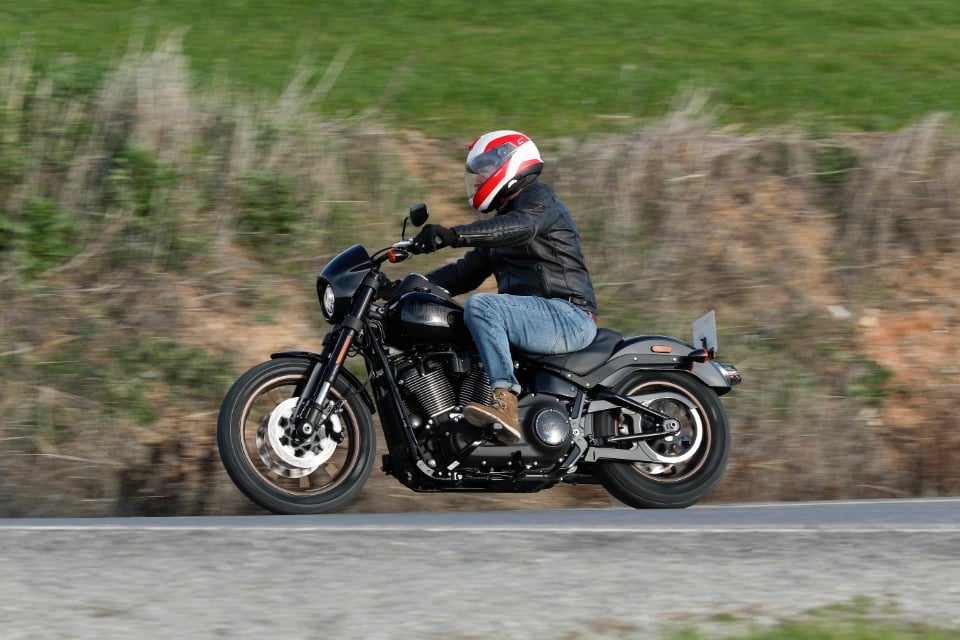 A combination of vibration, noise and the style of the bikes meant I found myself looking in shop windows while riding to make sure my pose was imposing enough. This was particularly true on the Street Bob with its raised handlebars, which one of my fellow journalists on the trip described as silly, but that's why I absolutely loved it – I felt so damn cool while cruising along.
All of three bikes were a world apart from my Suzuki V-Strom. My hands were higher, my feet were further forward and I had to point my toes to change gear like a lumbering ballerina. The steering also felt heavier, but for bikes as big as these, I was surprised at how agile they were. However, once I stopped judging them against an adventure bike and fully embraced the Harley experience, I had great fun cruising through Spanish streets on each of the models, even if their low seat height restricted my vision of the road ahead and made filtering more of a challenge than usual. 
It was the Fat Bob with its aggressive looks and fat tyres that made the biggest impression on me. There was something euphoric about being at the controls of this mechanical beast while cruising along meandering Andalusian country roads. I admit to contemplating swapping my adventure bike for the Harley lifestyle on more than one occasion.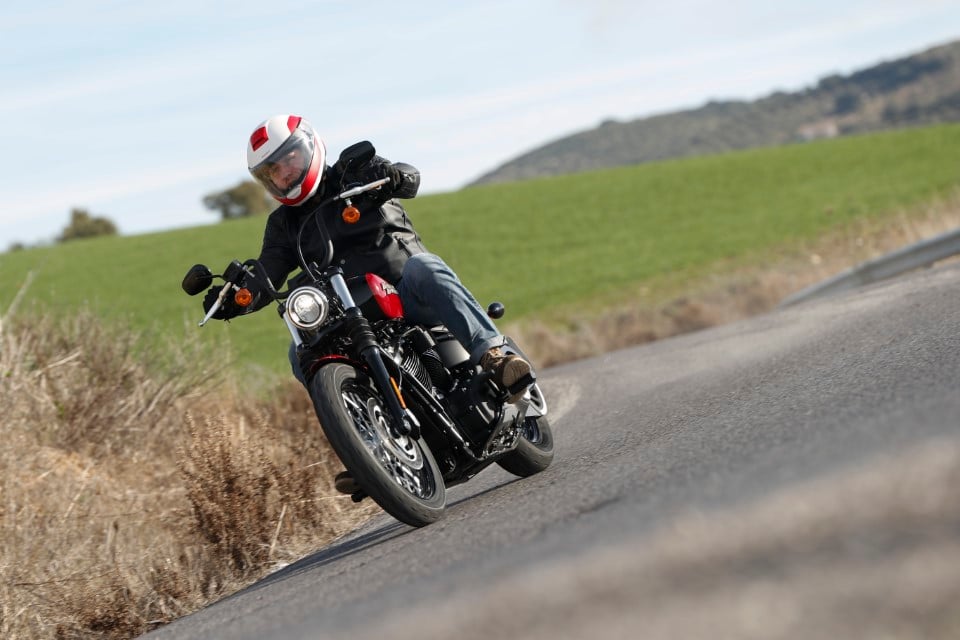 However, it was when we rode up into the mountains that I learned the Fat Bob requires some wrestling into tight, twisty bends. Instead of flicking my bike into turns, I found myself carefully planning the next corner as soon as I'd left the last. ose of you used to fat tyres, a big heavy bike, and the cruiser riding style, would probably have got more out of the experience, but I found myself concentrating so hard on the riding, I had little chance to appreciate the stunning landscapes I was riding through. 
Despite this, I had a brilliant day riding three superb motorcycles, but by the time I returned to the hotel I was knackered. A lack of a screen on all of the bikes meant my fingers were white and drained of blood from clinging onto the handlebars in a bid to counter the windblast I battled all day.
These softail cruisers are awesome at what they're designed to do – cruising and looking so very cool – and they certainly evoked more emotion than riding my Suzuki V-Strom. But, as a biker, I tend to commute, tour and ride a few twisty roads and my adventure bike suits my needs better than the Harleys I rode. However, next time I find myself with a day to spare to cruise around in the Spanish sun, I won't hesitate to rent a Harley-Davidson softtail and it would be a Fat Bob.