I was told that it was an inevitable part of motorcycling – one day you'll have a motorcycle accident. Whether it be due to your own riding incompetence or the stupidity of other road users it would happen. And I'd resigned myself to that fact when, after passing my test eight years ago, I had already been within inches of being knocked off my machine by clueless car drivers who had no idea that a little bump to them is a potentially life-threatening collision for a biker.
I'm glad someone told me that it was part of biking as it no doubt made me a safer rider, travelling sensibly in an effort to prevent the seemingly inevitable. I'd done pretty well until the first time I toured the Alps, where we (my father and myself) took in France, Belgium, Germany, Austria and Italy before leaving our bikes in Nice and flying home.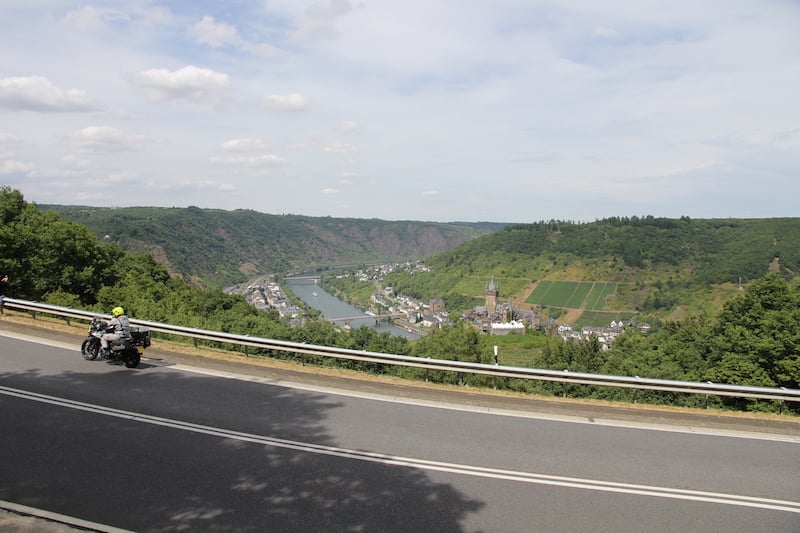 The first part of our tour, where we visited the Mosel Valley, had been great
We'd made it as far as Austria and everything was great! The riding had been good and we were out on the open road beginning our ride into the Alps. Our goal was to reach the Stelvio Pass so that I could tick the road off my never-ending bucket list of great rides. And then it happened.
I swung the bike around a hairpin bend, not noticing the oil slick laid out along the line I wanted to take. By the looks of it, a lorry driver has overfilled or forgot to put his petrol cap on and spilled fuel over the bend. My speed was about 35mph, I entered the corner, reached the apex and then my tyres began to slide.
I've climbed some dangerous mountains in the Alps, had my chest prised open by a heart surgeon and feared for my life while doing some particularly stupid off-piste skiing but never have I felt as helpless as when my tires came out from underneath me and I went sliding 10 metres down the road, crossing into the oncoming lane before coming to a stop.
Luck was on my side. There was nothing coming the other way, the car behind me was following at a sensible distance and there was a pack of bikers further back who rushed to my aid. As it happened I was just a bit bruised and shook up (though a few months later I discovered that the motorcycle accident had broken my metatarsal), the V-Strom 650 I was riding had handled the slide incredibly well, the Suzuki panniers taking the brunt of the force, and only suffered from a broken front brake.
I moved the bike to the side of the road and took a few moments to calm down and let the adrenaline die off. It's amazing how quickly you can move when that stuff is surging around your body.
It then dawned on me that I might need to use my brakes. More fortune revealed that I had actually come off just 200 metres down the road from the Landhaus Engadin in Nauders, a biker hotel complete with attached motorcycle mechanic (Rene who fixed the V-Strom in no time), sauna and a TV that would be showing the World Cup semi-final.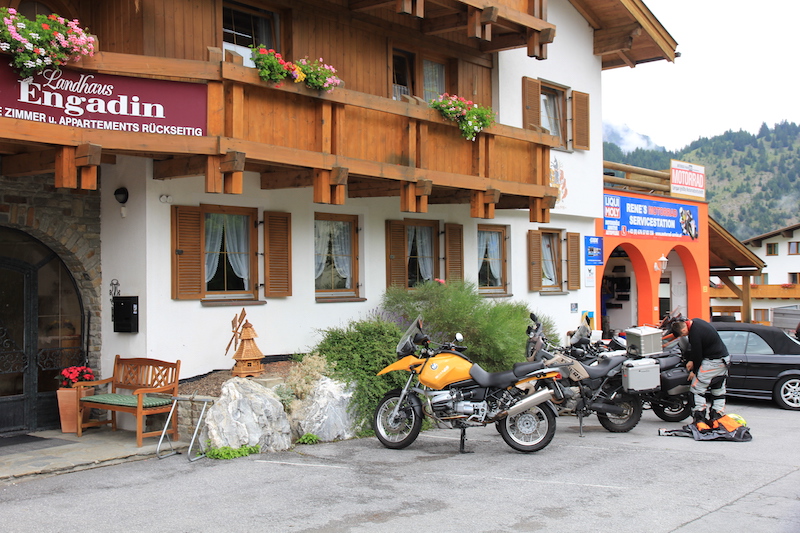 Rene's Motorrad Service Station in Naunders – a stones throw away from where I came off
My brush with tarmac had been a stark reminder that it pays to be vigilant while in the saddle, I got off lightly but the consequences of a motorcycle accident can be severe, and I was incredibly lucky that there was nothing coming the other way. Though there was something else I learned: If you're going to have a motorcycle accident, make sure it's near a bike garage and a hotel that shows the World Cup football.