On 19 September 2014 Danell Lynn departed Phoenix, Arizona on an epic motorcycle adventure through America. Just under 12 months and 48,600 miles later she was completing the final miles of a trip that would see her become the world record holder for the longest motorcycle journey in a single country. So, just who is this inspiring person?
To call her an adventure motorcyclists would be accurate, but it just wouldn't do Lynn justice. Yes, she loves adventure and it is a massive part of her life, but put that aside for a moment and you'll find a very busy woman who is involved in a myriad of different projects.
She runs a high-end fashion company called dl-couture, heads up two humanitarian companies named Threading Hope and Highwire and is an educator too.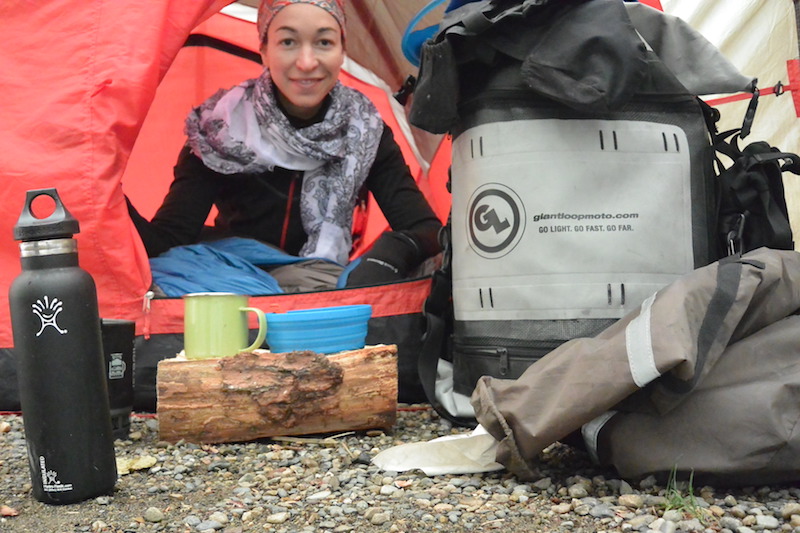 Beyond that, she is a writer, with several books out on the market, and also picks up various other contracts as and when they come in. "It took until I was in my 30s to realise that it is not quite 'normal' all that I do, but then again as the saying goes, 'normal is over-rated!'"
We can certainly see where she's coming from here. You'd be hard pushed to find anyone who would see her world-record-breaking year-long journey as normal. So just where did this idea come from?
Two years before the start of her massive ride, Lynn decided to start saving for an extended adventure. She had already visited all 50 states in her youth and she wanted to experience it once again. This time however, she would be in her 30s and it would be experienced on the back of a motorcycle.
The world record element came into the picture when she picked up the book of Guinness World Records (GWR), something she had flicked through every year as a child, and decided to check if her upcoming journey would qualify for a record. As it so happened, it would, and so she decided to try and break the record for the Longest Journey in a Single Country on a Motorcycle.
But it was so much more than that, Lynn told us. It was also a journey into solitude and re-embracing the jungle of your own thoughts. "We often fill so much of our days and have become so busy that quietness is a gift. But I also wanted the journey of meeting new people and inspiring children to travel more and believe in humanitarianism again."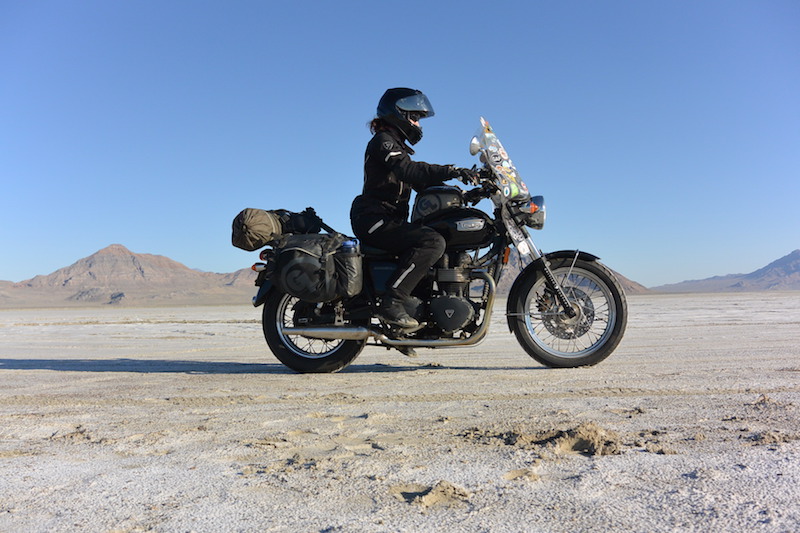 Before embarking on her world-record-breaking ride Lynn had ridden in Costa Rica, Cuba and parts of America. But her travel experiences off the bike spanned much further with trips to over 45 countries. "I spent part of my youth growing up in England and traveling through lots of Europe, but even as a child in the US we traveled every summer break.
"Travel has been a part of my soul for as long as I can remember, and as I once wrote, 'I have been an addict for many years, my drug of choice – travel, the euphoria it exerts is unlike any other and the moment I return home I am ready for my next fix!' A statement I still feel describes me at my core", she admitted.
While the route for the trip around America was not predetermined, Lynn did have a set of personal goals she wanted to achieve which included camping in every state, something she is pleased to say she managed to tick off. The route itself was guided by her desire to visit the country's countless national parks while taking in the most scenic routes.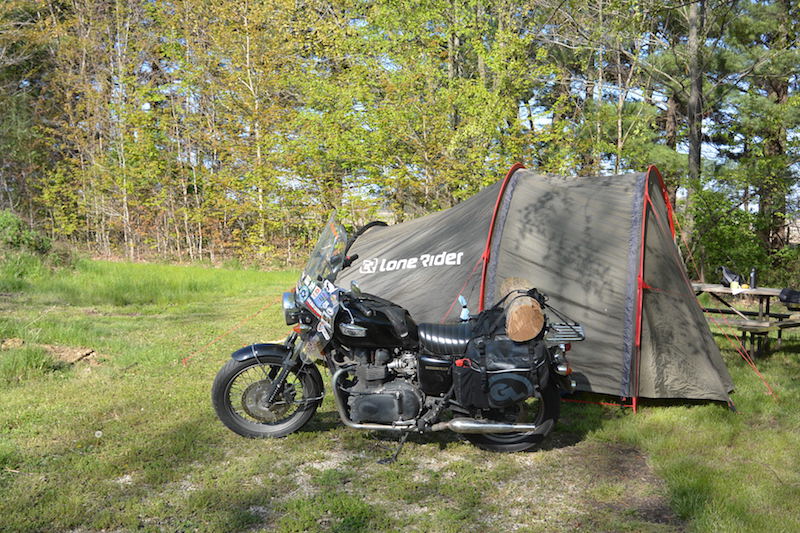 "I grew up camping at many of these as a child and it was wonderful to experience them again some 15 or 20 years later, as an adult and by motorbike," she said.
Refreshingly, Lynn navigated the entire route using only paper maps. There was no SatNav involved and while she did have a SPOT Tracker on her bike, this was purely to gather data for her world record attempt and to provide tracking on her website.
Some of her highlights included swimming with manatees in Florida, visiting Yellowstone National Park and camping out in Glacier National Park with a group of six strangers who all ended up at the same site on their motorbikes. "Memories are akin to a great photograph, and often I am reminded of great times as I go back through my photos and journals for the book I am working on."
Asked why she wanted to take on this epic trip on a motorcycle as opposed to any other means of transport, she said: "There is something to be said for the openness of a motorcycle. Not just to nature, but society. When you remove the windows and doors you experience the journey at an entirely new level. When planning this trip it always started out with a motorcycle in mind!"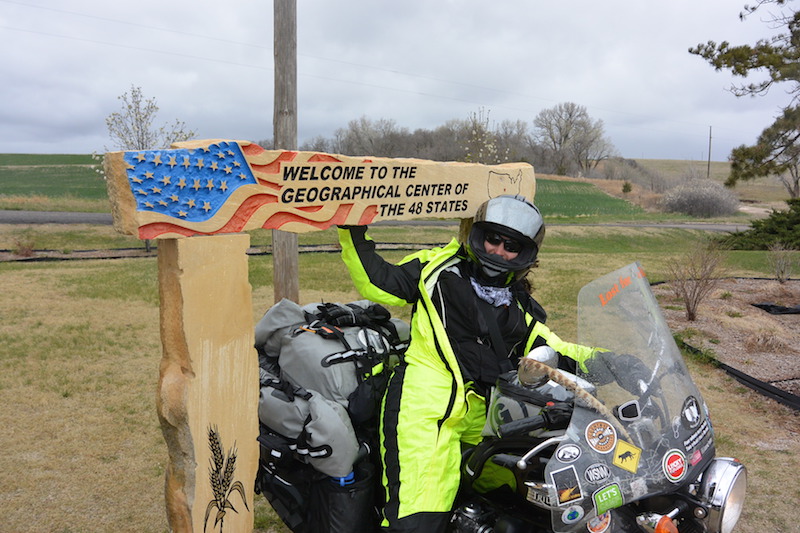 A 10-year-old Triumph Bonneville might not be the first choice that would come to your mind for a year of motorcycle touring, but for Lynn it couldn't have been more perfect. It was her dream bike and she had wanted one since she first started riding.
"Another bike never really entered the picture for me in selecting what I would ride, and after completing, I would do it again with my Triumph in a heartbeat! It was between the Scrambler and the Bonneville and came down to the Bonnie because I found the perfect bike that I bought outright on the day I tested it!"
She added: "I have been in love with Triumphs for many years. As a child I was drawn to them based on the 'cool' factor, the badass looks it had when Steve McQueen would ride!"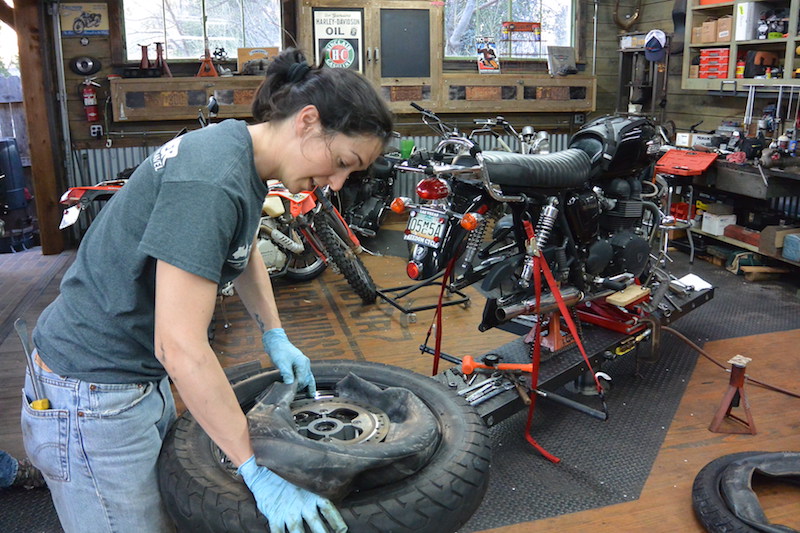 Before setting off she made a few minor changes to her Bonneville (named Amelia) including the addition of a rear rack and a long distance slammer seat and sleeper silencer pipes from British Customs. "The windshield that I used was from my old bike and became my sticker and map covered keepsake at the end of my journey," Lynn told us.
Readjusting to home and everyday life after even a short holiday often proves challenging, so just how did Lynn cope after a full year on the road? "After returning home the submittal to GWR took a couple weeks and was quite intensive, so I did not ride much, but after a month when I was just doing a short ride here or there, all I wanted to do was keep going.
"I missed the adventure, the change of scenery daily, and the excitement that every day would truly be different."
Having said that, she did also concede that home has its benefits. "At the same time it was nice to just go to bed on a comfy mattress and not have to set up tent for a while, and to just wake-up, roll out of bed, and make coffee."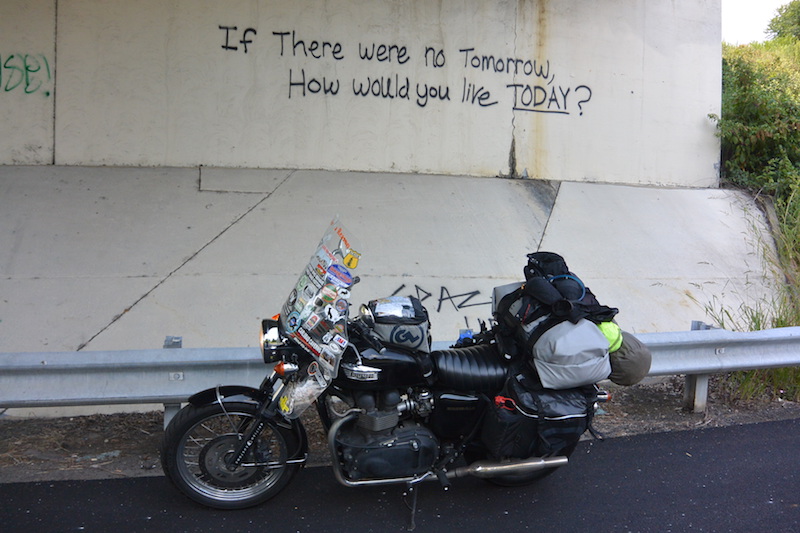 As many ABRs will understand, once you've got the bug, the urge to head out again never truly goes away, which is something Lynn is all too familiar with. "Every time I travel I always get home thinking – where to next!"
Well, it seems there's not too long to wait for the next adventure. While some people have a bit of down time before thinking about what's next, is seems Lynn had her plan all lined up before she even got home.
In July 2016 she joined a team of motorcyclists riding the length of the Americas on electric KTM 950s on a trip called Expedition Electric. "We are departing from Prudhoe Bay in Northern Alaska and ending in Tierra del Fuego in Argentina. The expedition travels across two continents and 15 countries."
Each bike has been stripped of its standard drive train and has been fitted with an AC motor which puts out 88ftlb of torque and roughly 83bhp. According to creator Chris Bell the bikes will be capable of 110mph.
"We currently have the test batteries on them and the final, longer distance, and smaller batteries will be added in the next few months," Lynn said.
"It is different, you are still on a bike but the clutch is non-existent, I often felt myself reaching for it. Especially when slowing and trying to flutter the clutch… there is not one so it always made me laugh. It will be an amazing adventure for sure, filled with new challenges and with new technology."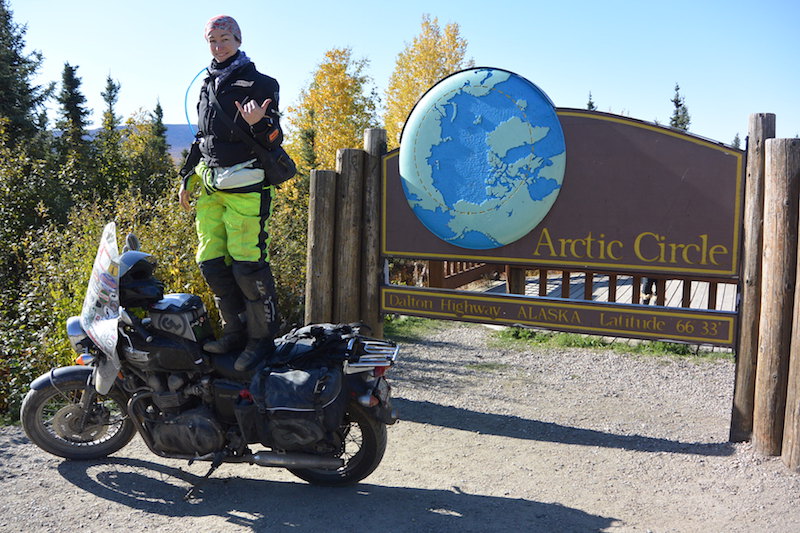 With one mammoth adventure under her belt and another on its way, Lynn is pretty well placed to offer advice for anyone considering a big adventure of their own. "I would suggest to start off on a smaller excursion solo, see how you do, then make adjustments you may need and head out there into the world – it is a fabulous place that does not disappoint!"
"You will never have the perfect kit, the perfect bike, a big enough budget… Give yourself a date of departure and stick to it! It will all fall into place and you will never regret going!"
To find out more about Danell Lynn and what she does head to www.danelllynn.com. Check out www.expeditionelectric.com for more information and a teaser trailer for the Expedition Electric trip.