Paul Jennison checks out the latest offering from KTM: a 'travel enduro' bike sporting a serious style overhaul
In a Line: A supremely capable, technically advanced and highly desirable adventure bike, especially if you like orange
The review
Over the years I've bought several BMW GS motorcycles and as of today still own a couple. During this marriage to BM there has only ever been one adventure bike that has tempted me to leave the Bavarian nest and that was the KTM 990 Adventure. Its angular, aggressive looks that smacked of a rally raid pedigree certainly appealed and with that in mind I boarded the Ryanair flight to Tenerife en route to the eagerly awaited press launch of the KTM 1190 Adventure.
I spent most of the flight reading the press pack and checking out a short KTM promo video on my laptop and all looked well, though one feature surprised me. Where were the aggressive, sharp, angular lines that defined the 990 and had so tempted me to open my wallet? The look of the 1190 Adventure is softer, rounder and, how shall I put this…? A bit more mature. And very nice it is too, but it begs the question: 'Who's going to buy this all-new KTM 1190 Adventure?' Maybe me? Let's find out.
Although the highly capable off-road 990 Adventure sold around 3,000 units in 2012, KTM decided three years ago during a powwow at the Mattighofen HQ in Austria that it had to up the ante and compete more aggressively in the booming large-capacity adventure bike market by presumably making a machine more road friendly with a style and features more likely to appeal to the masses than the incumbent 990.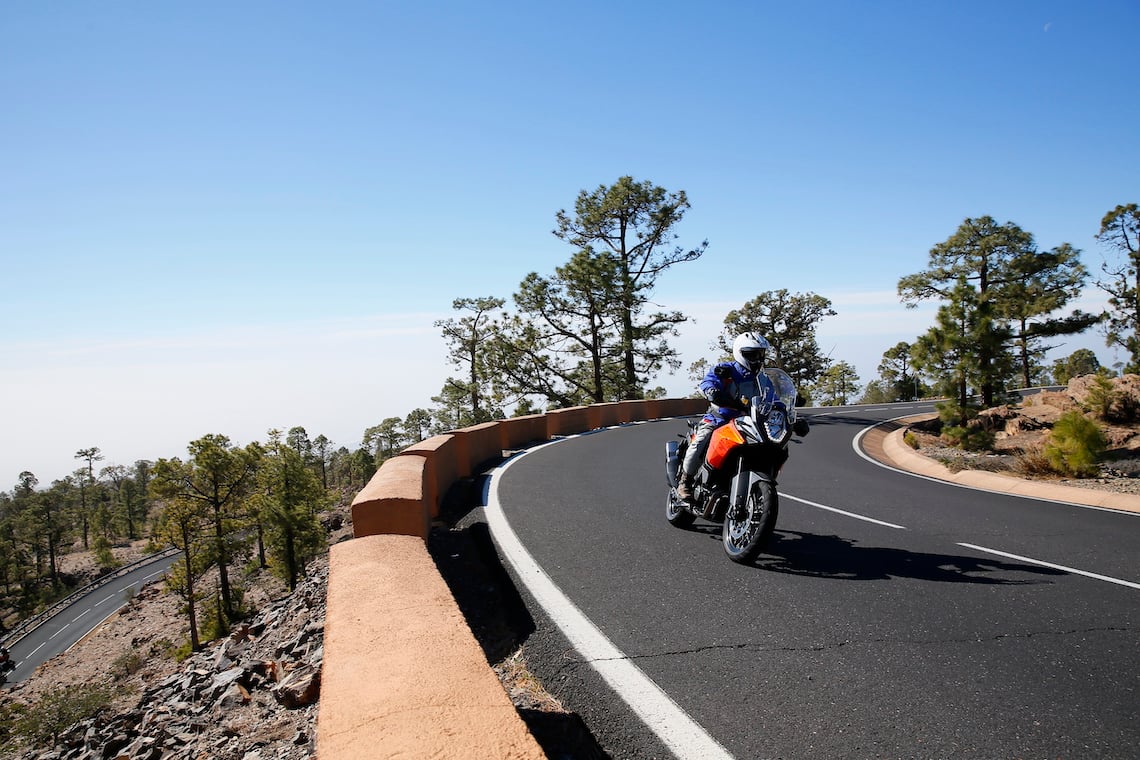 So, work began to build a totally new machine that would uphold the company's core values of low weight, superior dynamics and top draw off-road ability and combine it with a level of touring comfort, high tech features and performance that could compete with rivals on the road.
A couple of hours later there, in the lobby of the hotel, was the result of three years' work framed by a traditional KTM orange background. The aggressive looks of the 990 had most definitely gone as had the rally raid styling to be replaced by more rounded lines that befit the current image of a long-distance adventure/touring motorcycle. Where there was once an Apache attack helicopter there is now an oil baron's top-of-the-range executive chopper.
The makeover is radical and maybe some KTM purists will be put off by the softened reconstruction and the somewhat 'me too' looks of market rivals such as the CrossTourer or the Versys. That said, it's still a looker and unmistakeably a KTM.
First impressions? I was pleased to see that the old bum-ache plank of a seat on the 990 has gone, replaced by a height-adjustable, wider, two-piece unit featuring 3D foam, which I've little doubt will make long-distance travel far more comfortable – it's also slightly lower than the high and mighty 990 perch. However, the pillion squab appears a little small and I'd like to see how it accommodates the larger posterior.
When KTM embarked on the 1190 project it had the LC8 engine already in use in the RC8 superbike. A decision was made to down tune the LC8 from 170bhp to a more sedate 150 – if 150bhp could ever be described as sedate – and produce a bike weighing 230kg (fully fuelled) with a class-leading power-to-weight ratio. Traditional KTM, eh?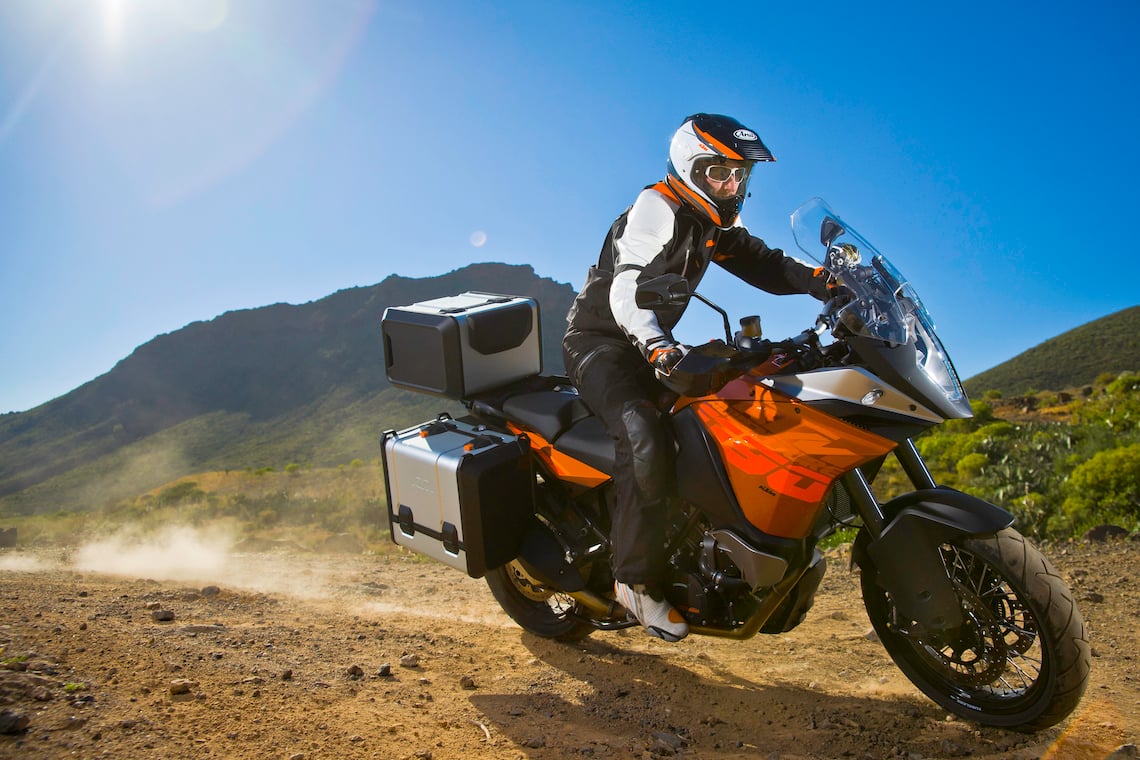 An all-new gear box was incorporated featuring a short first gear to allow for better controlled low-speed manoeuvrability, which is especially appreciated when riding off-road – there's that KTM tradition again. Shaft drive was considered during the development stage but was shelved primarily due to cost and weight. Personally speaking, I feel this could be an oversight by the company if its looking to go more mainstream as in my experience it appears that the typical 1200cc adventure bike buyer would prefer a maintenance-free shaft over a chain drive. But then equally so, it could be said that KTM buyers want something different from the norm.
The engine unit is cradled by a light-weight steel trellis frame and coupled to a high strength swingarm, fully adjustable front forks and rear monoshock suspension, which having ridden the bike I can certainly say provides stable and precise handling.
As is the way with adventure bikes these days the electronics have been upgraded to provide four different ride modes at the press of a button – 'Sport' 'Street''Rain' and 'Off-Road'. Additionally there are two different engine power mappings to choose from.
'Sport' and 'Street' both use the maximum 150bhp whereas the 'Rain' and 'Off-Road' modes work with 100bhp and the power delivery is gentler for better control. The 'Sport' setting allows the MTC (motorcycle traction control) to apply limited rear wheel spin for a (traditional) light power slide. Alternatively in 'Street' mode the MTC is fully engaged and wheel spin is supressed.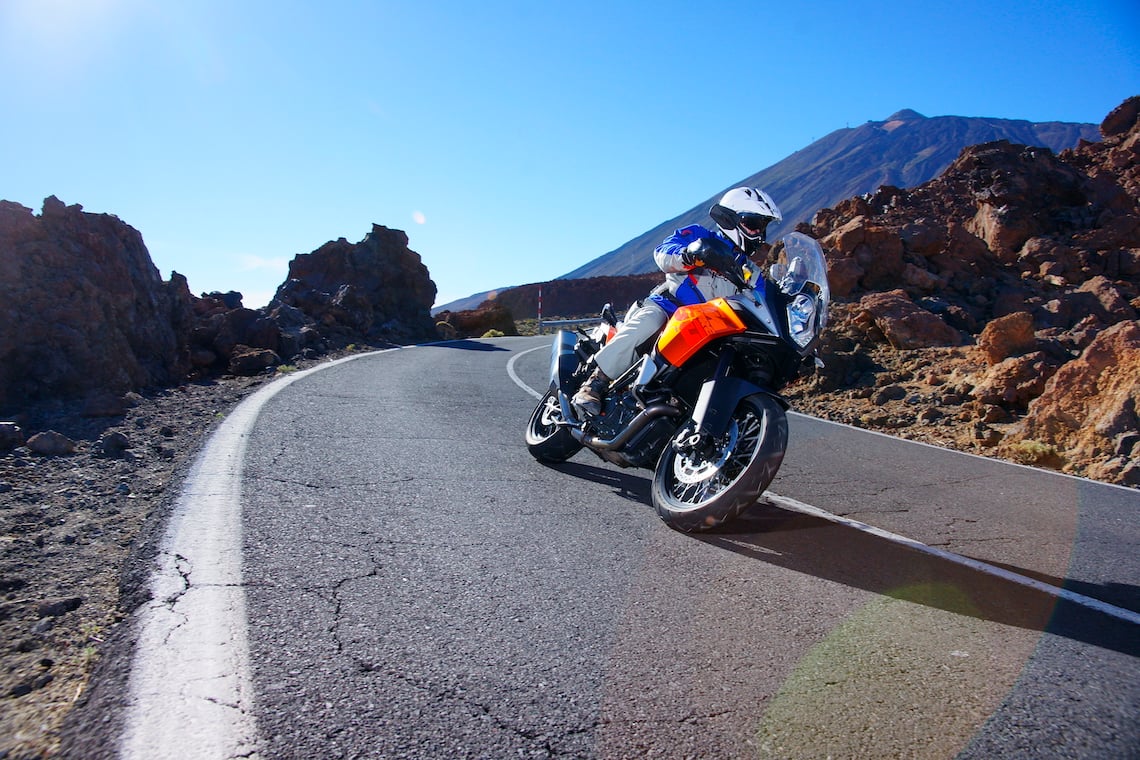 'Rain', as you'd imagine, retains the safer MTC of 'Street' and in 'Off-Road' mode the MTC is disengaged and lets you cut loose with 100 percent wheel slip which, as you'll appreciate, is the KTM way. Where the system gets really clever is when the MTC system, via electronic sensors, takes into account the lean angle of the bike when cornering and automatically reduces the torque in milliseconds should it decide that things are going pear shaped. Nice. KTM fans will also be pleased to know that the traction control system can be disengaged at any time with a press of the button and things go back to the way they always were.
The front forks and rear monoshock (both WP Performance Systems) are fully adjustable by simply pressing a button while viewing the options on the main cockpit screen (VDU) how very Bavarian. The rider can choose from a soft to firm setting, which KTM has tagged as 'Comfort' 'Street' and 'Sport'. There's also a facility for further fine tune if you're riding Solo', 'Solo with luggage', 'Two-up' or 'Two-up with luggage'.
Unusually for an adventure bike, but understandable with the power on tap, KTM has added a discreet steering damper, presumably for orange mist moments down country lanes when you'll be thankful for the added stability and control.
The computer system is set up with14 menu pages, which can be viewed on the cockpit screen, including ride mode set- tings, suspension options, trip metres, fuel consumption, temperatures and all the other modern day essentials. You might think this sounds like overkill and a bit complex but I'm happy to report it's user friendly and logical to follow through. What's neat about this system is that you can also personalise the screen to display the info you want, for example, you may just want to display the ride mode, sus- pension setting and trip meter showing the mileage since you last filled up.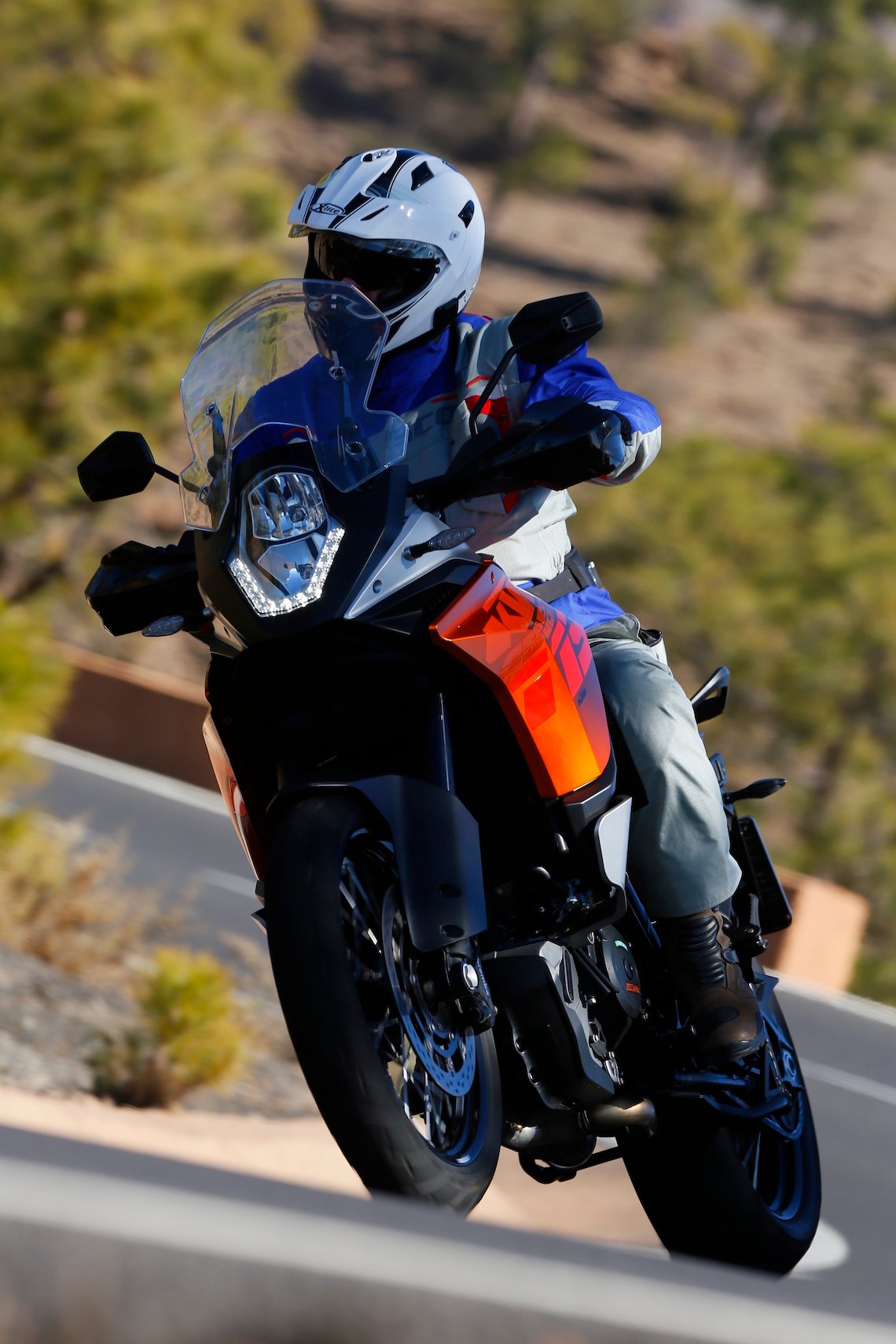 The 1190 features Brembo brakes with C-ABS (combined anti-lock braking system), which means that if you only apply the front brake the system automatically applies a small amount of rear brake for optimal stability. You can disengage the C-ABS completely or in the 'Off-Road' mode, the system allows for a measured amount of front wheel ABS braking while you can still lock the rear wheel should you so desire.
The Adventure comes with a 23-litre tank whereas the old 990 had a 20 litre one. One of the main issues with the 990 as a 'tourer' was the short distance between fill-ups, which on a good day would be around 150 miles. We've not had the official figures, nor were we able to verify the fuel economy on the test ride, but KTM assures that by using the fuel-injected ride by wire technology the range should be above 200 miles and the 1190 is more frugal than the 990. Taking KTM at its word, both these developments are going to be welcomed by the adventure rider.
On Road
Ride day dawned with a cloudless blue sky and 20°C of mid-winter pleasure. After a quick introduction to the ride modes and controls, we were off, climbing away from the coast and winding our way up towards Mount Teide, which may be in Tenerife but is also the highest mountain in Spain.
With 'Street' riding mode and 'solo' suspension set-up engaged we climbed away from the coast and as we settled into the ride I was very conscious of just how proficient this new bike is. The light clutch, smooth gearbox and feedback from the suspension and tyres are spot on and all contribute to make this bike easy to ride, err, very fast.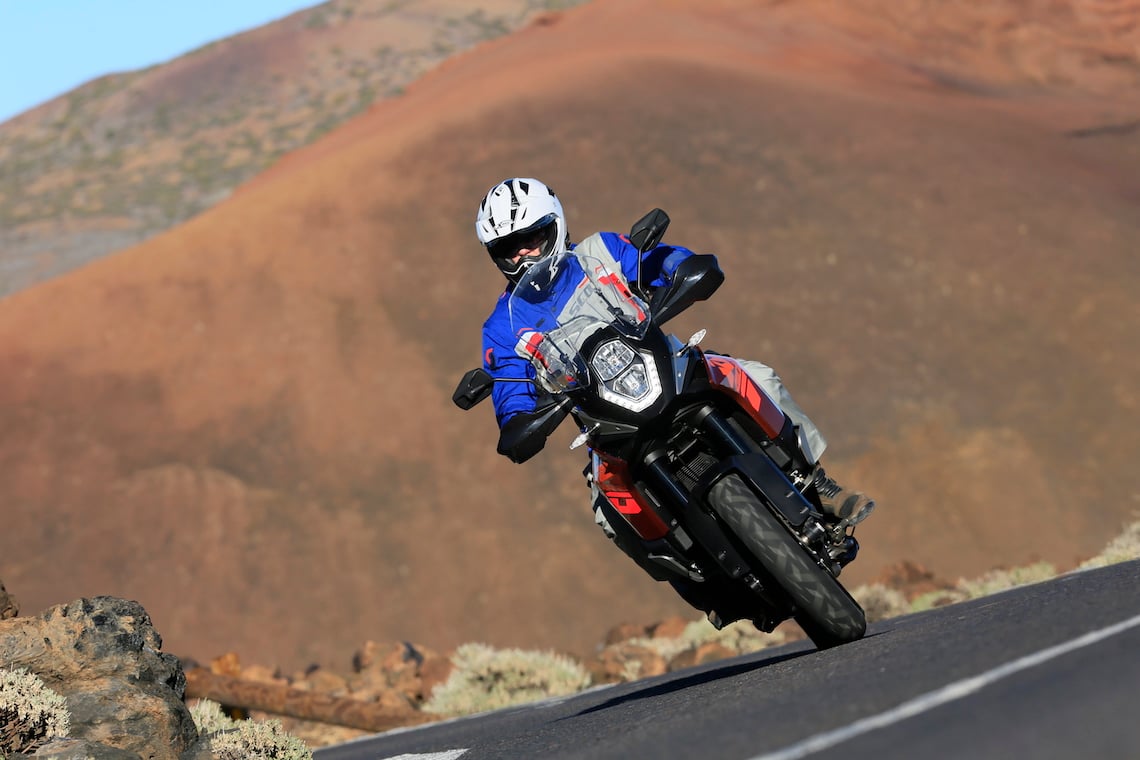 With a 150bhp on hand I was expecting the 1190 to be a real handful but it's not, in fact the power plant delivers in a smooth and very user friendly manner and while I'd not describe it as genteel, I did have to double check that I wasn't in rain mode. That said, pass the 3,500rpm mark and you can feel the power kicking in.
It wasn't long before the mountain road turned into a succession of tight switchbacks, which provided the perfect opportunity to check out the fun factor of the 1190. In short, you chose a line and the KTM holds it. Even when the surface conditions deteriorated and became cracked and uneven to the point that I could feel the inconsistencies through the bars, the big orange monster stayed firm.
The top draw suspension set-up didn't once get out of shape and there was no wandering off line, even on the worst of bends, taken at speed. Where I would have expected to experience some wallowing – when the suspension unloads and the tyres hop in an effort to find grip – the bike was rock solid and confidence inspiring. Top marks then, and a big pat on the back to the grip from the all-new Continental ContiTrailAttack 2 tyres.
Changing the ride mode to 'Sport' the expectation was that it would perform even more sharply and be punchier. The engine certainly responded quicker under acceleration and the suspension firmed up to the point that it felt like I was 20 years younger and back on a sports bike. Despite its obvious size and bulk the KTM defies the statistics when on the move and feels lighter, smaller, agile… time to bring those knee-sliders out of retirement, maybe. The more miles I covered the more accomplished this machine felt. It did everything I asked and didn't once fight back.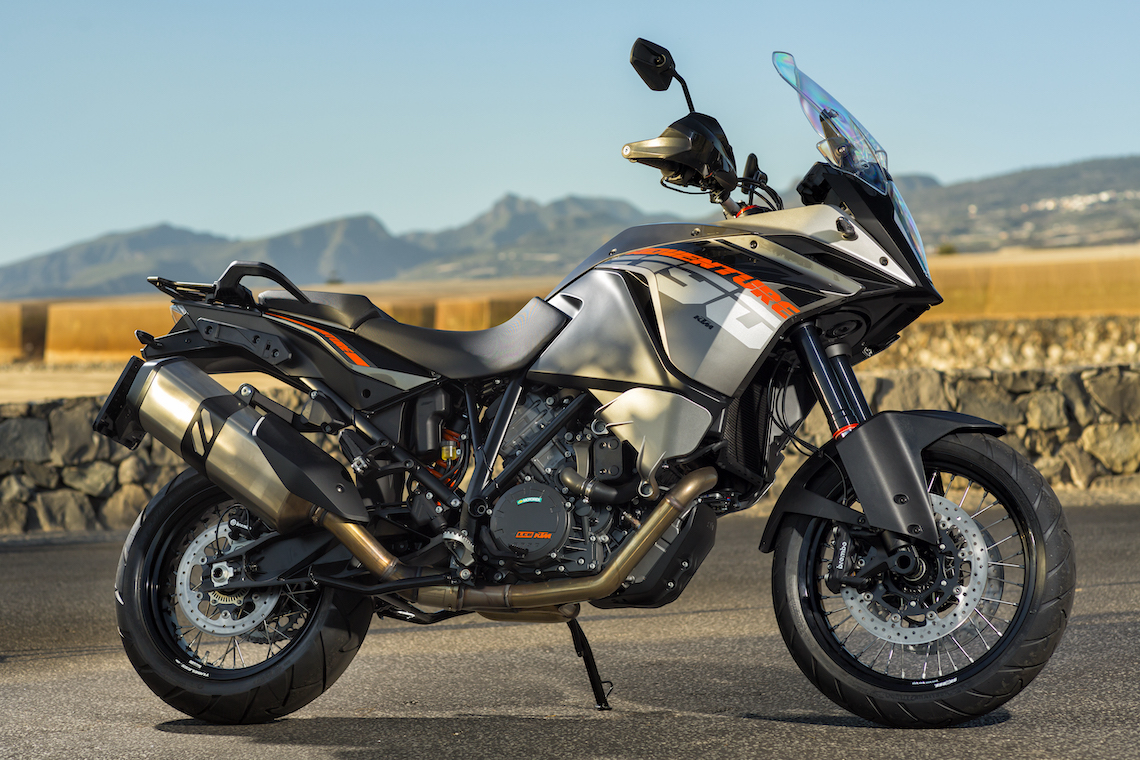 After lunch it was time for some motorway miles to check out the cruising comfort and ability. At 80mph the 1190 is very accomplished and stress free, though I'd be looking at changing the stock screen for something more effective and protective. For a bike that's obviously aimed at the adventure-touring market the stock screen should be better, but then KTM isn't the only manufacturer I could point a finger at in that department.
As it stands the level of buffeting at motorway cruising speeds is too high for comfortable long-term travel (well, it is for 6ft-plus riders), otherwise the bike is very stable and comfortable. What would have been nice is a cruise control. Once again for a bike marketed as a 'travel enduro' (that's KTM's description) and having ride by wire technology, I would have expected a cruise control. When the question was raised about this omission it was blank looks all round from the assembled technicians and a "Hmm, yes we could look into it" answer.
KTM had decided there was to be no off-road riding at this launch so 'no comment' is the order of the day when it comes to performance in the rough stuff. However, I have more than a sneaking suspicion that this bike would more than stand up to the competition.
There is, however, another KTM 1190 Adventure being launched in the next month or so and that's the 'R' version of the bike we checked out in Tenerife. The 'R' is aimed directly at the dirt boys and comes with more off-road friendly features such as a 21″ front wheel and 18″ rear, longer travel suspension and increased ground clearance. We'll be checking out the 'R' as soon as.
Running costs
Service intervals have been extended to 15,000km (9,320 miles, official KTM figures) with valve clearances needing to be checked every 30,000km (18,641 miles). No accurate fuel consumption figures or tank ranges are available but with the 23-litre tank you should be looking at a 200-plus mile range under normal riding conditions.
Quick Spec
MODEL: KTM 1190 Adventure
PRICE: £12,595
POWER: 150bhp @ 9,500rpm
TORQUE: 125Nm @7,500rpm
ENGINE: 2-cylinder 4 stroke, V75o
TRANSMISSION: Six gears, chain drive
SEAT HEIGHT: 860/875mm
WEIGHT: 230kg fully fuelled
TANK SIZE: 23 litres
WHEELS: 19″ front/17″ rear Spoked Tubeless
COLOURS: Orange or Silver
Farkles
There are plenty of accessories already available for the new KTM. There's a touring luggage option with three cases, tank bag and electrics kit for £1,277. A larger touring screen, which should reduce wind buffeting, and a heated seat option to complete the touring package. And if that's not enough Touratech has a few items already in production from luggage to GPS bracketry.
Who are WP Performance Systems?
WP started life in 1977 in the Netherlands and soon became one of the leading manufacturers of suspension components such as shock absorbers and forks. After financial problems in the early 1990s it was taken over by KTM, which moved the operation to its Austrian site where the company continues to produce suspension components to the highest specifications, not only for KTM but other motorcycle manufacturers, too.
Mount Teide
Mount Teide is a volcano that last erupted in 1909 and is the highest peak in Spain at 3,718m and the highest peak of any Atlantic island. It's not unusual to find snow at higher elevations in winter. It stands in its own National Park, which is now a World Heritage site. The scenery is spectacular and the roads were surely made with a KTM test ride in mind.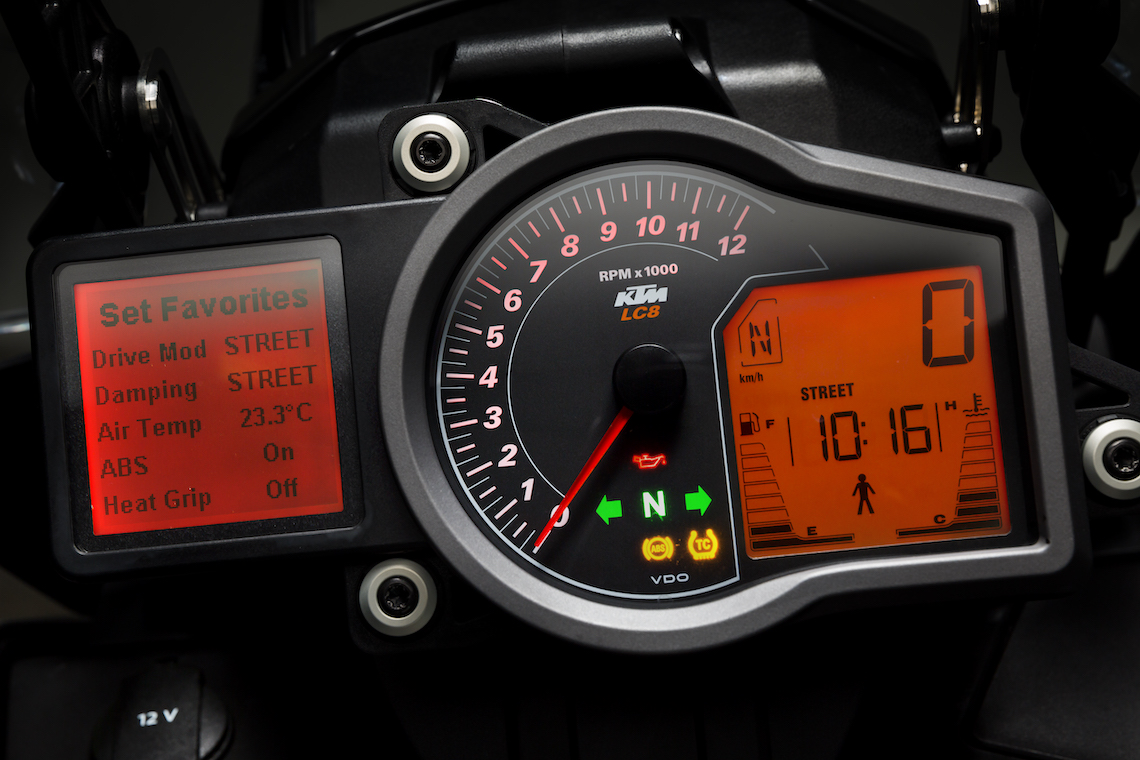 How versatile is the KTM 1190 Adventure
AS A COMMUTER?
It's as capable as any of the large-capacity adventure-style bikes at being a useful tool for getting around town in the rush hour. The added bonus could be that the Rain mode may make it more useable on those wet commutes.
AS A WEEKEND TOURER?
Hell yes! It's part of what it's been made for. I'd just check out that pillion squab with the other half first.
AS AN OFF-ROADER?
Let's face it, it's what KTM does best. On paper the 1190's Off-Road mode tells you that it's made for the job. But as we didn't get the chance to test this particular model off road, I cannot verify the claims. The spoked wheels are certainly made for venturing off-piste and the WP suspension has plenty of travel to cope with the roughest of terrains. If it's off-road you want more than anything else then it might be worth waiting for the imminent 1190 R.
AS A CONTINENTAL ROAD TOURER?
It should certainly deliver 200-plus miles on the tank range. The bike will cruise stress free at autobahn speeds and the seat is comfy enough for all day in the saddle. Just change that screen and it's, 'Rome, here I come!'
AS AN RTW OVERLANDER?
I'd not think twice about loading up the 1190 Adventure and disappearing into the sunset. However, I'd probably want to see how all the new gadgetry performs with an eye on durability first.
AS A PILLION CARRIER?
Set the suspension for two-up and you should have a happy bike and pillion. I'm not sure about the size of that back seat though, it does look a little on the small side for a major tour.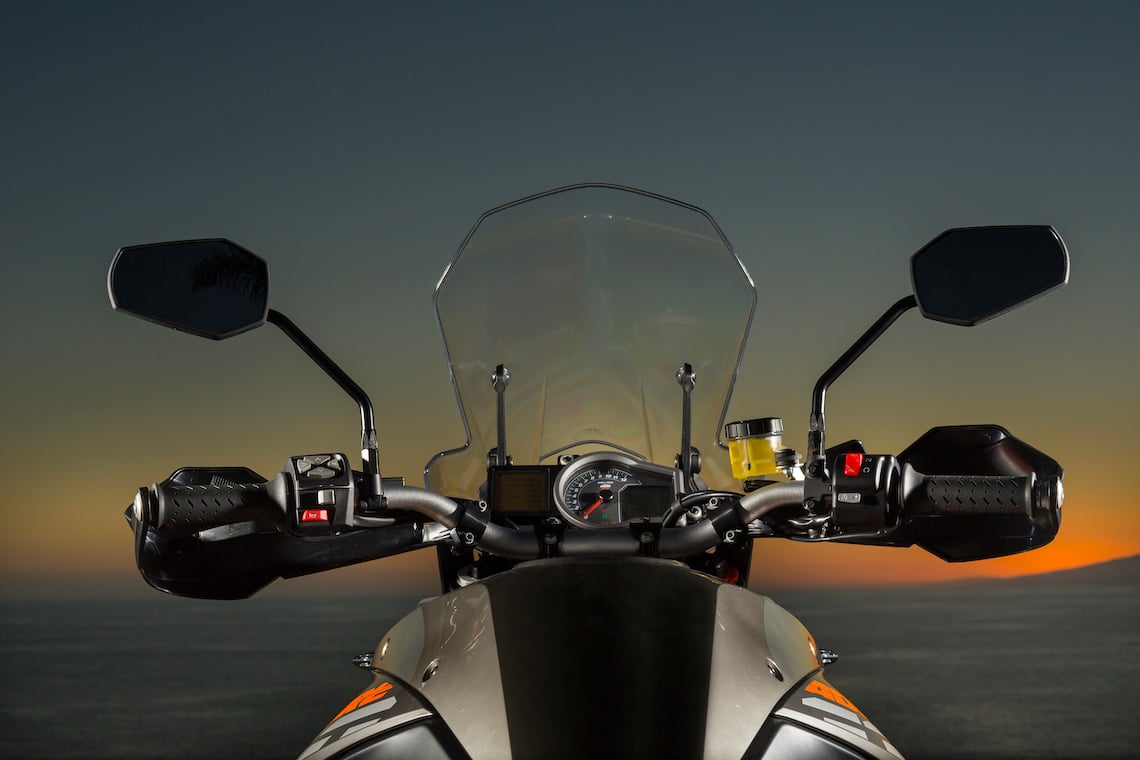 Conclusion
With a couple of small niggles – the screen and lack of cruise control – KTM has achieved what it set out to do. The 1190 Adventure echoes the company's core values of low weight, superior dynamics and (presumably) off-road ability and in my short experience of the bike it's apparent that KTM has managed to combine those features with a level of touring comfort, high-tech gizmos and performance to secure a place in what is a very competitive market.
If you're looking for an adventure bike with a sporty feel, you can place the KTM on the shortlist with confidence. The handling and stability is better than on any big adventure bike I've ridden in a long while, in fact better than any I've thrown a leg over since my sports bike days. It's also quick enough to satisfy almost all riders who are considering joining the adventure fold.
As a long-distance tourer, I can tell you that the seat is comfy, the riding position is spot on and if you need to fine tune the fit then both the bars and footrests allow for some adjustment. I could live without cruise control but I'd need to change the stock screen before taking on a long-distance tour.
Experience tells me that the lack of a maintenance-free shaft drive is going to put off a number of adventure bike riders as is the price, which at £12,595 in 'standard' form looks a little expensive when compared to some of the competition. That said, KTM fans will not be disappointed with the performance of the 1190 (nor, I'm sure, with the forthcoming R version) and, as stated above, it's going to appeal to the sports bike rider who's thinking of retiring his knee-sliders in favour of a couple of metal panniers. It's also an 'alternative' to the current mainstream, and that'll always have its own appeal.
To conclude, my overwhelming personal impression is that it's a sports bike in adventure-touring clothing. Now, where did I store those knee-sliders?