Bryn Davies discusses the recent changes we've made to our long-term KTM 1190
I'll start off by saying that I haven't ridden the 1190 half as much as I would have wanted to over the making of this issue.
You see, it's been in for its 600-mile service, and while it's been at the KTM HQ I've been riding a mix of test bikes that we've currently got in the ABR garage.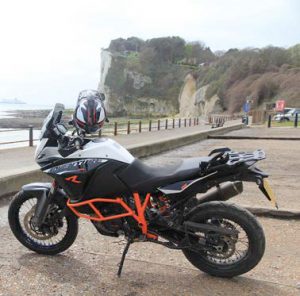 You'd think I'd be happy with having access to the Ducati Multistrada, the Africa Twin, the Yamaha FJR and the KTM 1290 Super Duke GT, but after every ride I found myself thinking the same thing: "man, I miss my 1190". Perhaps it's because I've become so accustomed to riding it over the last few months, or perhaps it's the sheer thrill of riding that it offers.
Fortunately, the absence was short-lived, and I had her back in time to ride this issue's route around the Peak District, spending my first 12+ hour day in the saddle of the 1190. If there's anything to report on long-distance comfort, it's that the seating position is, for my 6'2 frame, perfect. Usually, I'm quick to develop a stabbing pain in my shoulder blades and a numb arse, but not on the 1190.
We also got a few extras added to the machine while it was getting serviced: panniers and top box, heated grips, touring screen and reinforced handguards. The panniers and top box are Touratech Zega Pros and they're perfectly good boxes – though I would like it if they came with a locking mechanism rather than needing padlocks.
The heated grips are a welcome addition and they work exceptionally well, heating up quickly and reaching temperatures that are almost too hot. To activate them you have to navigate through the menu on the bike's dash, and I think this could be streamlined by adding a dedicated heated grips button like can be found on other bikes.
The addition of the touring screen provided relief from wind buffeting on the motorway ride up to the Peak District and the easily adjustable nature makes it adaptable to the type of riding you're going to be doing. One slight criticism though, is how reflective the material is, and the fact that when riding in the dark you get intense glare reflected back at you from your own headlights.
In July I'll be taking the 1190 over to the Alps, so let's see how she handles on the twists and turns of Europe's most exciting passes. I have a feeling that this is where she's going to come into her own.