Mike Beddows heads to the Balkans with the lads and discovers off-road heaven.
Throughout the early stages of 2016, I had been planning a trip to the Pyrenees with several other ABRs. Unfortunately, soon after leaving, I suffered bike problems that eventually led to me having to abandon the trip. I have to admit to being a tad upset as I waved the rest of the lads off as they continued onwards.
From that moment I still had a biking itch that needed to be scratched. I had previously seen posts on web forums from Dave Hyde stating that he was setting up a company that would transfer your bike to Bulgaria, and the tales of unrestricted off-roading really grabbed my attention. 
My initial plan was to go solo and see what happened, but after a quick chat with my dad he decided it wasn't a good idea to go alone (my original plan of me camping and stories of wolves and bears started alarm bells ringing), so we discussed the possibility of both of us heading to the Balkans.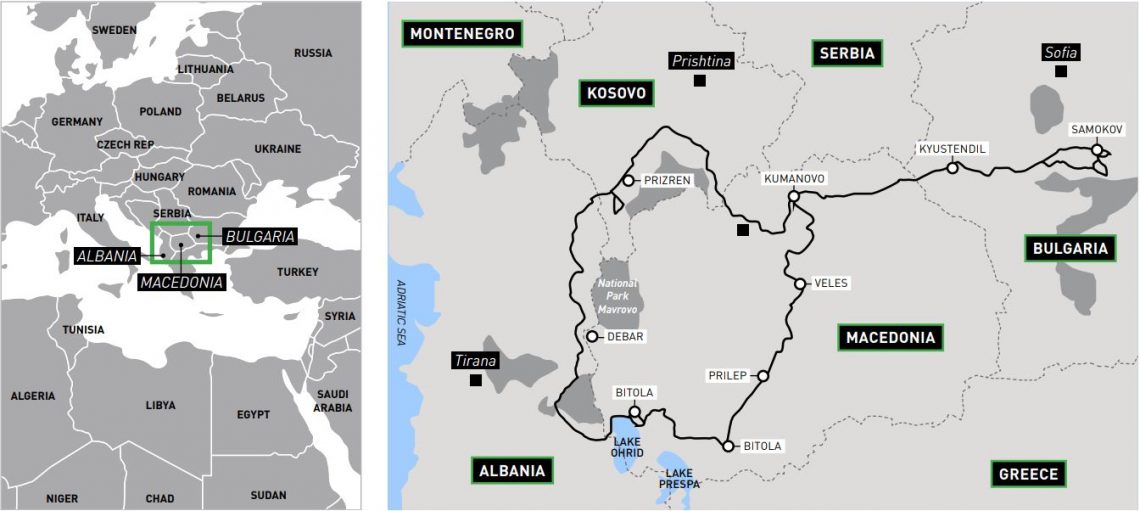 My dad hadn't been on a bike for years and he had no off-road experience, not to mention a bike or gear. It soon turned out the owner of Bulgaria Bike Shipping, Dave, and another forum member were happy to bring their trip forward and join us and, after an ABR meet, another lad joined in. So there were five of us heading out on the same trip: myself, my dad, Dave, Minky and Sid. 
I'd already decided to buy a bike specifically for the trip (rather than take my KTM 950SE) as I wanted something lightweight in case I ended up solo, like my original plan, and this was soon sourced through the ABR website (note: this is a fantastic place to buy a bike, you don't have to wait for a post advertising one for sale, simply start a thread stating what you want, or at least an idea of the type of bike you want, and things will eventually develop). In no time at all I had sourced mine and my dad's bikes using this method.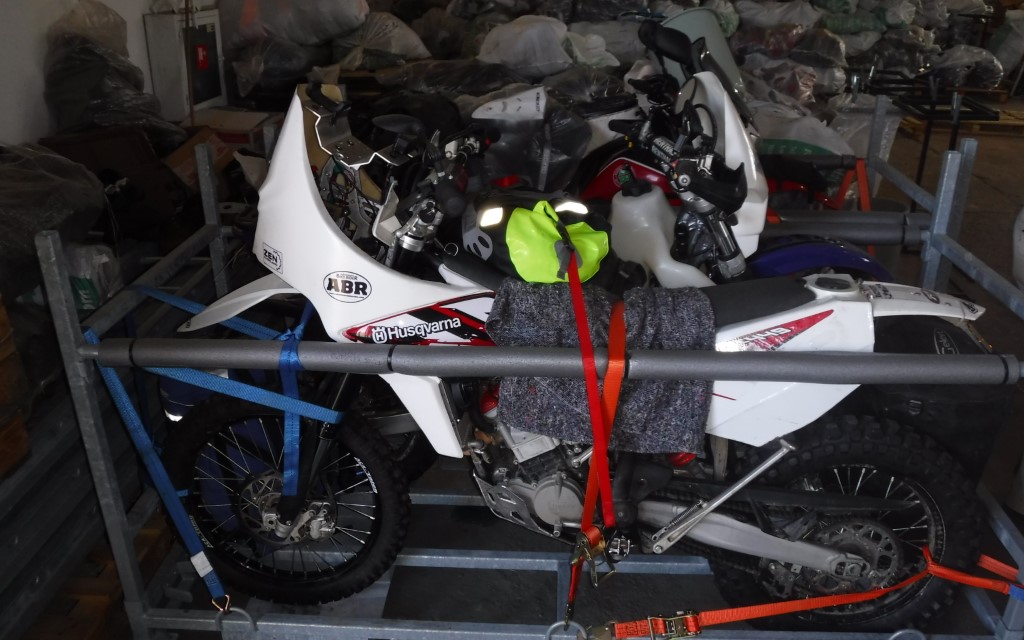 It's a massive 2,000 miles one way from the UK to where the bikes would be shipped in Bulgaria, and before Bulgaria Bike Shipping started, the only other realistic way of getting there with your bike would be to ride. A 4,000-mile round trip is not something most of us have the time to do.
Getting the bikes shipped was easy and hassle-free. I was told a day on which the bikes had to be in Leyland at the drop off point (there's also a southern drop off in Luton if required), and so I left them parked up along with our gear for the trip. It takes approximately a week in the back of a wagon for them to arrive in Samokov, Bulgaria. Once there they were stored in a secure warehouse to await our arrival. 
A couple of weeks later our departure date arrived. Easyjet flights were cheap at about £150 each and, as the biking gear and items for the trip had already been shipped with the bikes, it was a simple case of walking onto the plane with only hand luggage. Three hours and a 30-mile taxi ride later we were reunited with our bikes.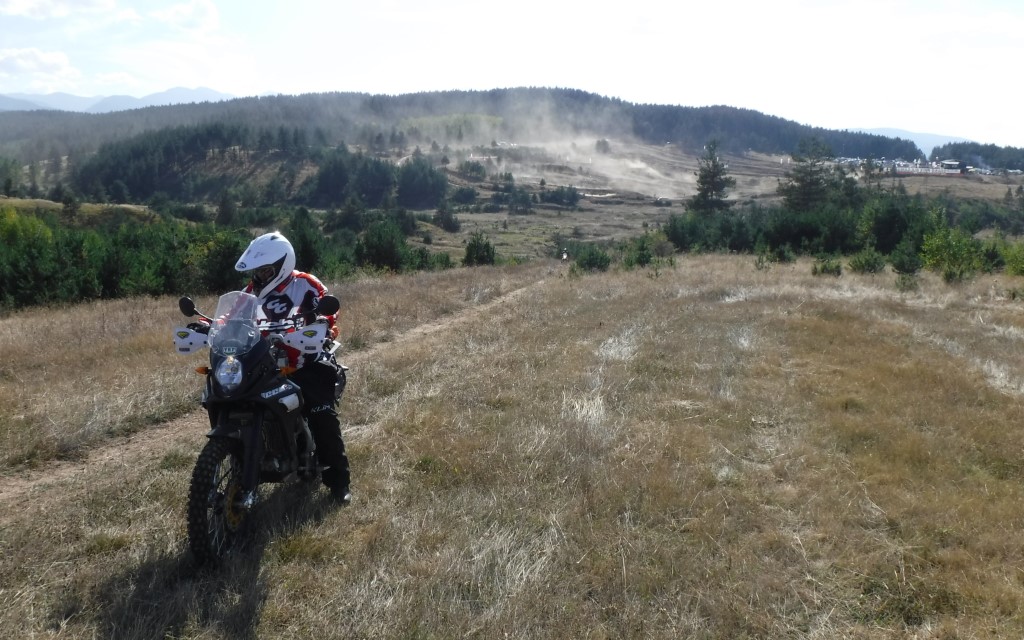 It wasn't long before we were riding through the Bulgarian countryside and enjoying our first taste of what the country had to offer. As I had previously skied in Borovets I really wanted to get back and see the resort without snow, so the afternoon's ride was a six-mile off-road ascent to the resort.
This proved to be more challenging than expected. The tracks soon ended and we had to dodge dug out channels, bogs, trees and other obstacles. It didn't take long for the first puncture to happen, on my bike no less. Luckily this was the only one of the trip. 
We never made it to Borovets, but we had a fantastic first afternoon in the Bulgarian wilderness. It was a good taster of things to come and really satisfied our desire to ride wherever we wanted to.
Even on day one we were miles into a track and eventually decided it would be quicker to find a road, so a quick check on the SatNavs revealed a stretch of tarmac about half a mile to the west. No tracks went this way and so we had to fight our way through the trees and bushes, down a few steep banks until we eventually reached tarmac. Fantastic epic fun.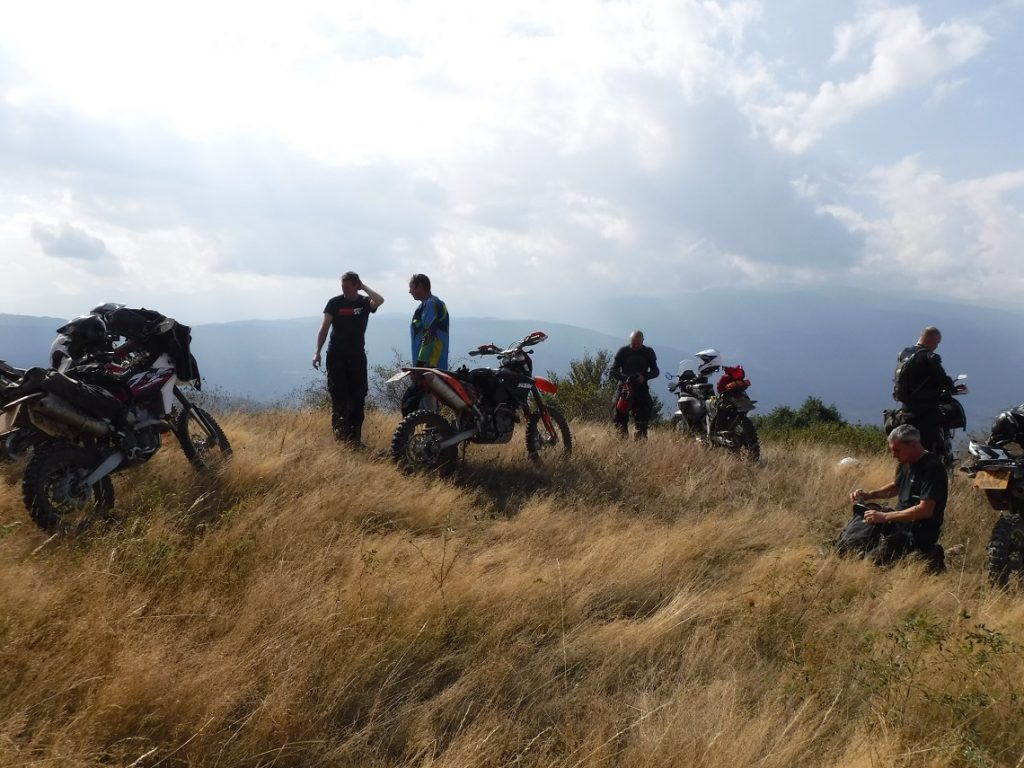 On day two we were given a guided tour by Matt Pigden who owns the accommodation we were staying in. It was a fantastic day out with a few hours riding up and over a mountain to the spa town of Sapareva Banya. Here, for 15 Levs, we had access to over a dozen pools and spas all heated to up to 40C by the geothermal activity below the town. It was a fantastic place to stop for lunch and a beer. The return journey back to Samokov provided some of the best riding I have ever done.
Again, we had to go up and over a mountain, and the ascent was fantastic. Following a sandy, rutted, stony track, the trail wound itself up the slope. There were plenty of offshoots heading straight up for the more daring out there. Once at the top it was a gradual descent through a wooded valley.
Stories of wild boar, wolves and bear sightings from Matt really got my hopes up that I may catch a glimmer of one of the beasts, but they never materialised. Maybe next time! At the end of the valley, the real fun started. There were jumps and ford crossings and it was basically the biggest play area you could ever want. You could spend days in this one area and not get bored.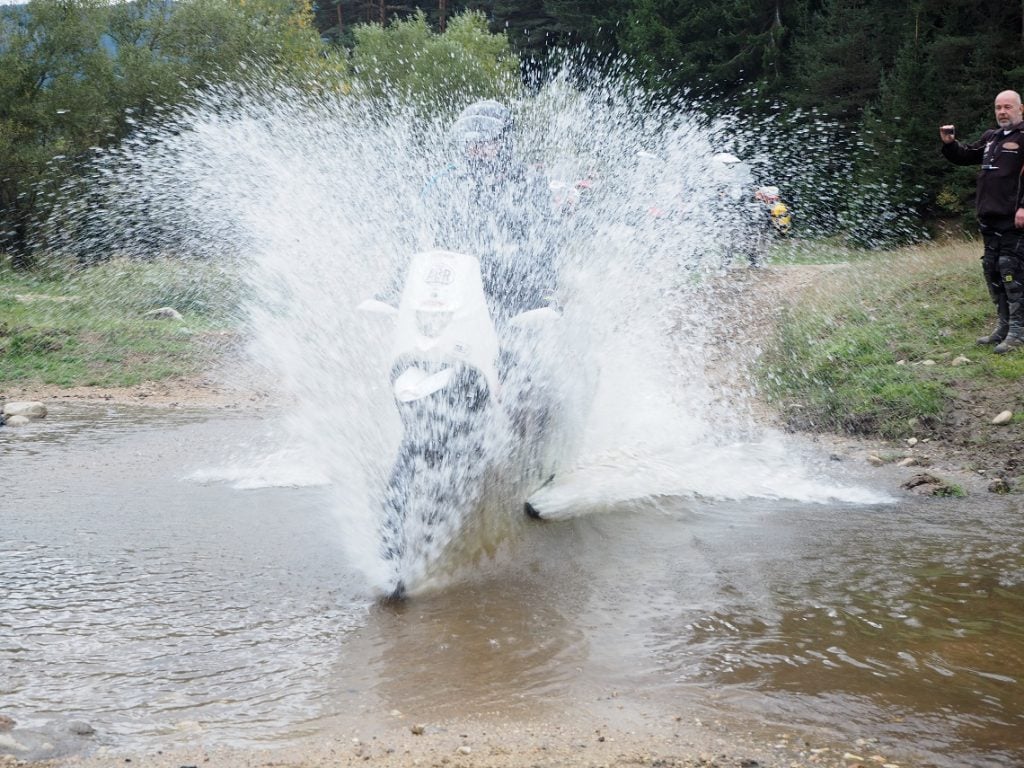 On day three we loaded the bikes and set off on the adventure we had spent months planning. We were heading to Macedonia, to begin with and the route just happened to take us towards the spa town again, but this time in reverse. This meant we had fun playing in the valley before the unthinkable happened.
Dave caught his leg in a rut and twisted it. It was obvious from the pain that something wasn't right. Luckily, he was able to carefully ride the six miles back to the tarmac, albeit in a lot of pain. Ten miles later, at Samokov hospital, the news that his leg was broken materialised.
About an hour later, with leg in plaster, we were all sat in a bar whilst Dave organised his journey home the following day. There was no point in hanging around. It was a real shame.
The following morning the remaining four waved Dave off as he left in the taxi and we set off for Macedonia. The weather was dismal so we decided to head west as quick as we could on tarmac to try and find the sun. About two hours later we were at our first border crossing. A short time later we were over the border and free to explore Macedonia.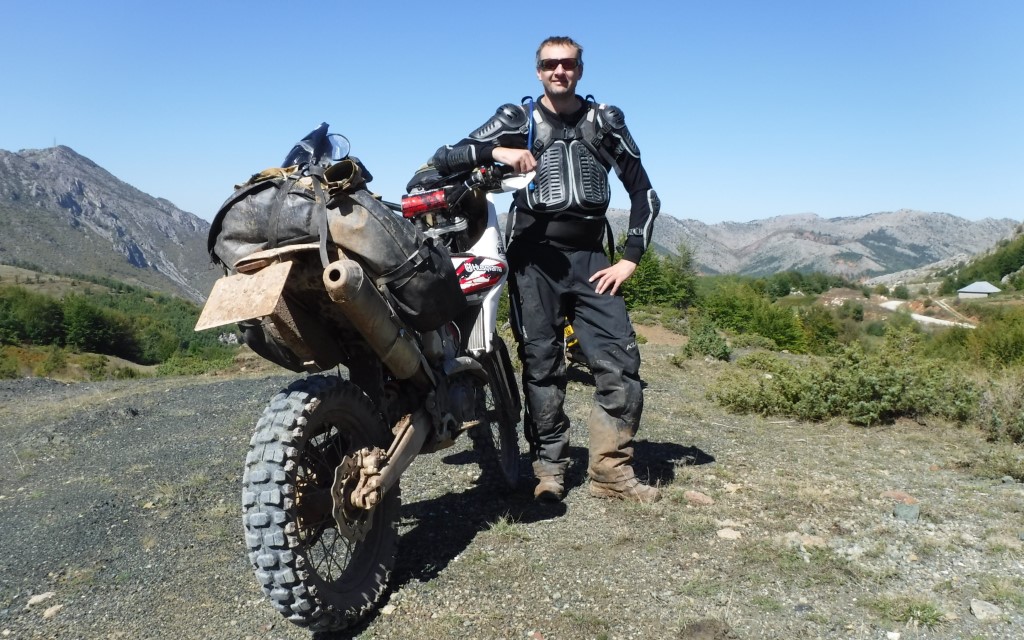 We decided to head straight up the mountain on the next track we got to. A great decision. It was fantastic fun and, according to the SatNav, went to nowhere. But it was still enjoyable and it got a bit tricky in places. 
At the top, we were running parallel with the Bulgarian border and there were some ruins on the ridge that we assumed were old border posts. We eventually decided to turn around and start heading down. With Minky and Sid in the front, we caught up with them as they were chatting to a shepherd. As we pulled up Minky signalled for my dad and me to carry on without stopping, and so we kept riding until well clear of the shepherd.
Apparently, he was asking for passports and vehicle documents, but we just think he saw an opportunity to make some money as he had no idea we had already crossed the border legally. It did make us think though, we really shouldn't mess around near the borders.
You never know who is about. As we descended on a different path we came across the most remote village I had ever seen. It really was something out of the dark ages, or so it seemed.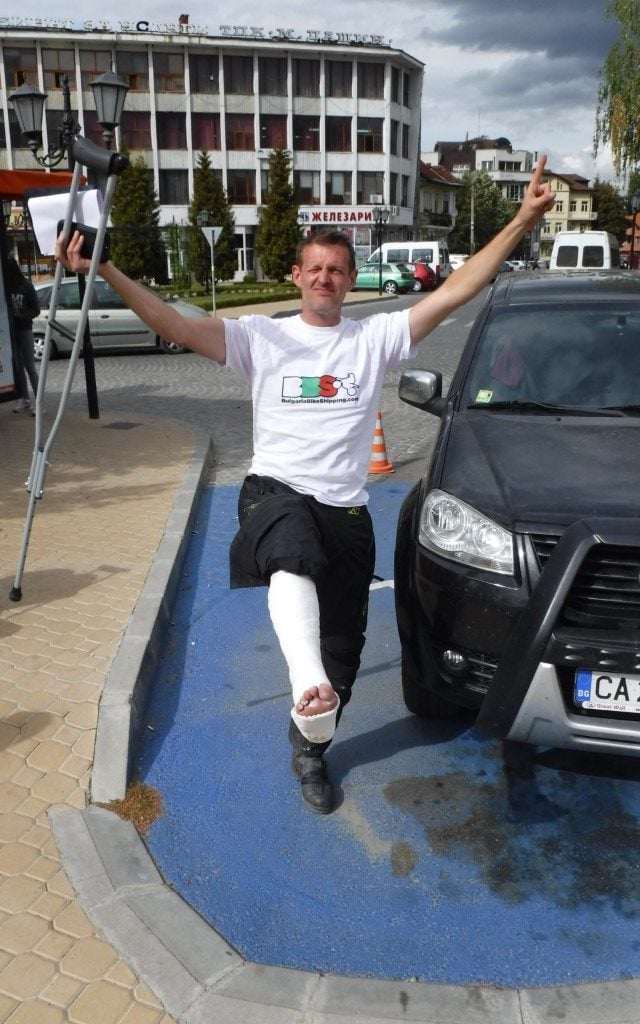 We pressed on, back to tarmac then an hour or so to the town of Kumanovo. The hotel we got to really was in a Beirut type area, smashed windows and graffiti directly below the hotel, large tower blocks in front of it. But as we could park the bikes behind a locked gate it made sense to stay there and we hit the local restaurant and bars for refreshments. 
The route the following day had us following a 40-mile off-road section directly south through Macedonia. It was a fantastic trail and consisted of a variety of different lowland terrain. Lots of dirt tracks, sand, rocks, mud and farmers' fields to negotiate. It really was pleasant riding.
Although we were following a route (effectively a line on the SatNav) tracks were going in all directions. It really was trail riding heaven. But, as any trail rider will tell you, progress can be pretty slow on unknown terrain and the 40 miles took a good two to three hours to complete. We soon realised we had bitten off more than we could chew. 
We had a choice to make, either continue and accept the fact we would not get round the entire planned route, or jump on tarmac so we could stick to schedule (which we were already a day behind due to Dave's mishap).
We chose to head south to the lakes as originally planned. is led to the next exciting part. On the printed maps I had, it looked to be tarmac. How wrong they were. 30 miles of rally type gravel tracks stretched in front of us and wound up and over a mountain. It was amazing. Switchbacks everywhere and as much off-piste as anyone could ever want along the way.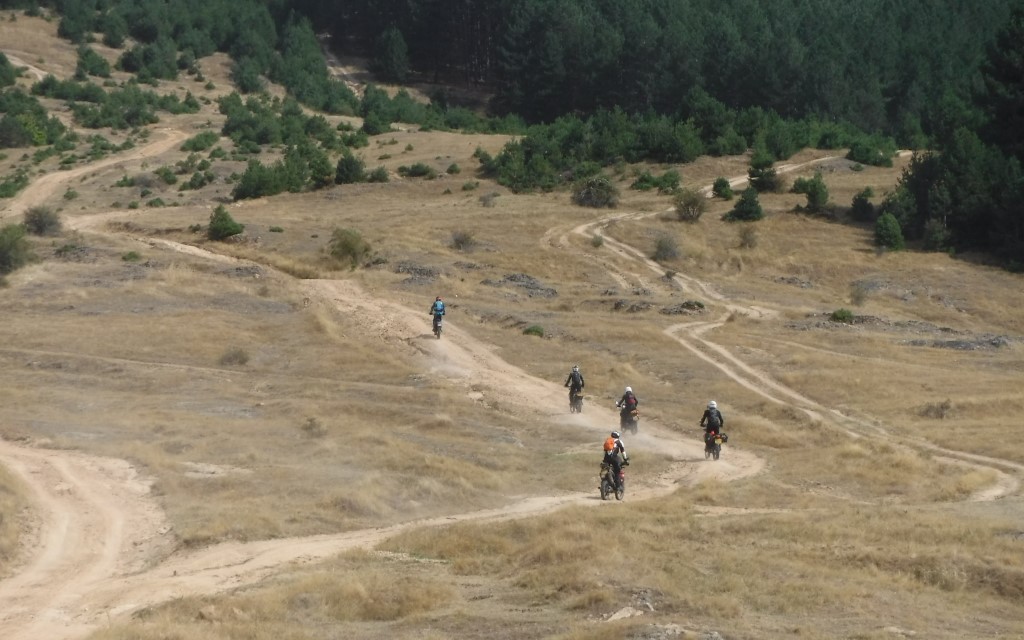 As we passed a large lake a big truck came into view. It was an eight-wheel drive adventure truck. We stopped and were invited in for a look around. It was carrying people on a climbing expedition through the Balkans (take a look at www.climbglobally.com). The sheer size of it amazed me.
I couldn't help thinking I'd like a vehicle like this, I could just see me driving it on the trails in the UK, I'd certainly get a few strange looks. Time was now against us and we had planned a rest day halfway through the trip, the most suitable place for that was at the tourist town of Ohrid, 65 miles to the south. We arrived just before dark. 
My dad and Sid opted for a lazy non-bike day whilst Minky and I made for the Albanian border 20 miles away. Unfortunately, we never fully made it across the border due to Minky leaving his V5 in the hotel. Instead, we decided to take in a few tracks in the mountains of Macedonia.
The first being a couple of minutes away from the official border crossing. I'm sure I have written about not messing around on borders. Anyway, the track wound its way into the hills and to a disused border tower that I had fun climbing.
Behind it was the official border, I even managed to ride my bike illegally into Albania… just. Well, the SatNav told me so anyway. I dare not have ventured any further just in case. More fantastic tracks followed to some radio masts on the outskirts of Ohrid. In all a nice easy day involving a lot of playing around off-piste and up and down mountain tracks.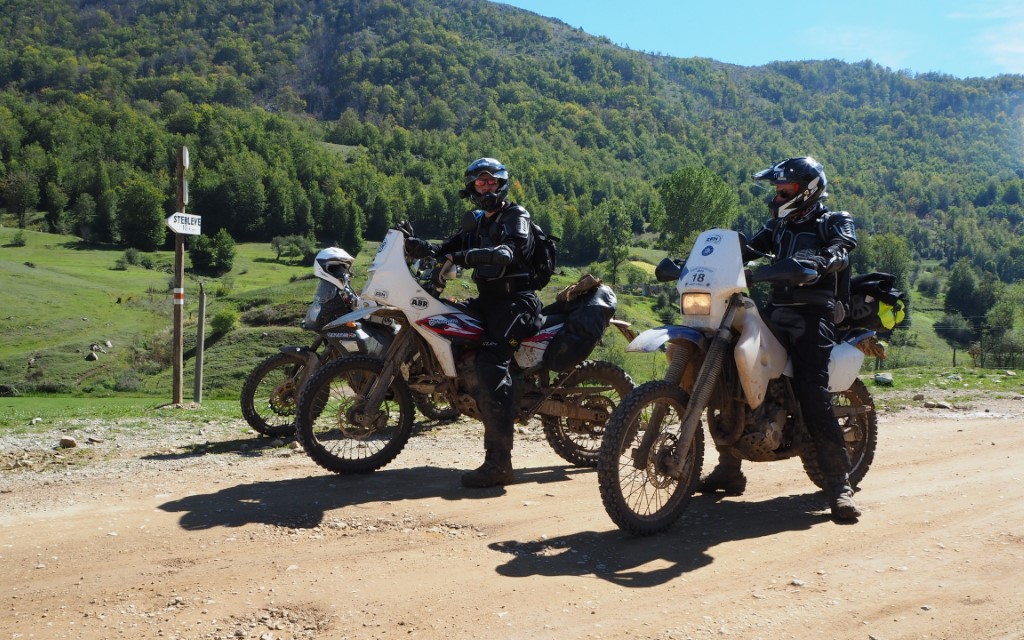 Over drinks that evening Minky told us he was heading off by himself for a day or two. His trip research told him that a good off-road track to the village of Theth existed in North Albania and it was a mecca for overland travellers.
The next day saw the remaining three of us cross the border legally into Albania. Wow, what a change. We thought Macedonia was a fantastic place, but Albania is simply breathtaking. As we left the border crossing a valley came into view, and we continued heading north until the tarmac eventually gave way to trail.
A wide, fast 40-mile section awaited us. Whilst having lunch on top of a hill we decided that we would push through Albania to the North and attempt to make it to Kosovo.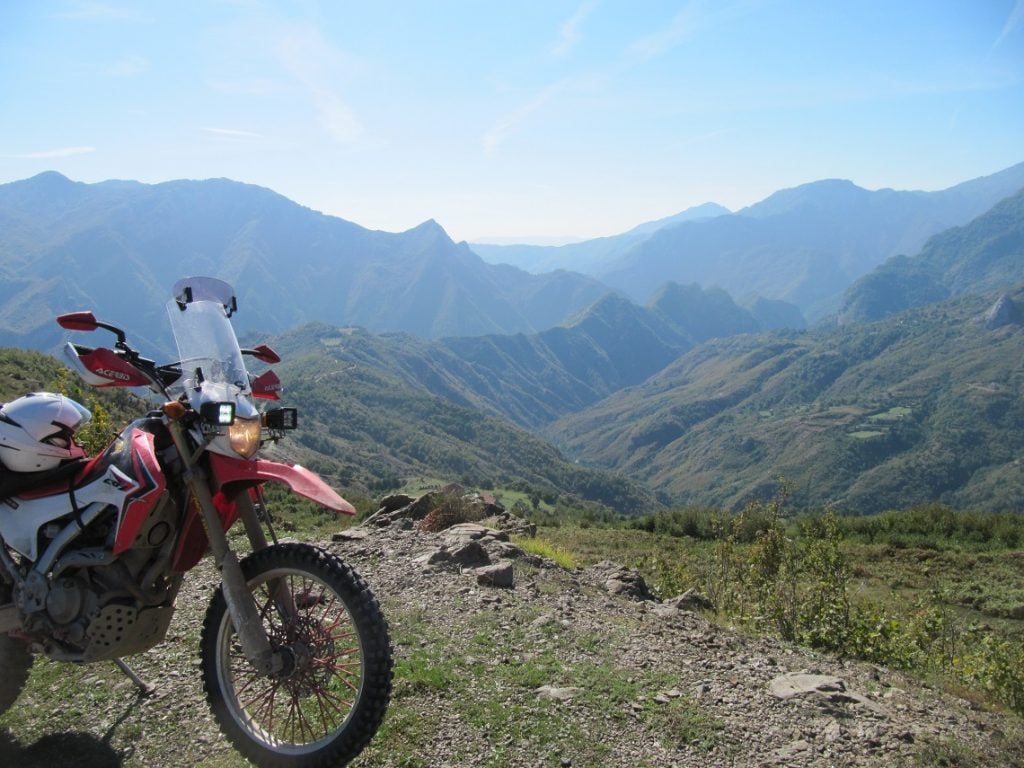 This country wasn't on the original itinerary but that's the beauty of having flexibility. 65 miles of the most twisty tarmac up, down and around mountains proceeded. We arrived at the town of Kukës in North East Albania, a short 20-mile hop to Kosovo.
We stayed at the Gjallica Hotel, which was made famous as all the worldwide journalists stayed there during the 1999 conflict in Kosovo. It was pricey for what it was at €35 per person, but it was worth it after what Sid described as "the best day's riding he had ever done". 
We crossed into Kosovo early the next day. What a contrast. It just felt dirty after the riding bliss of Albania. There was rubbish everywhere. We headed into the mountains and tried to pick up trails, which were pretty easy to find on the SatNavs, but there was a lot of tarmac to link them together.
It reminded me of riding back in the UK. ere was no off-piste riding now as, after reading advice from the Foreign Office, it stated that there was every chance of stumbling upon unexploded mines if you venture off course, even 17 years after the conflicts had ended. With this in mind, we stuck to well-used tracks just in case.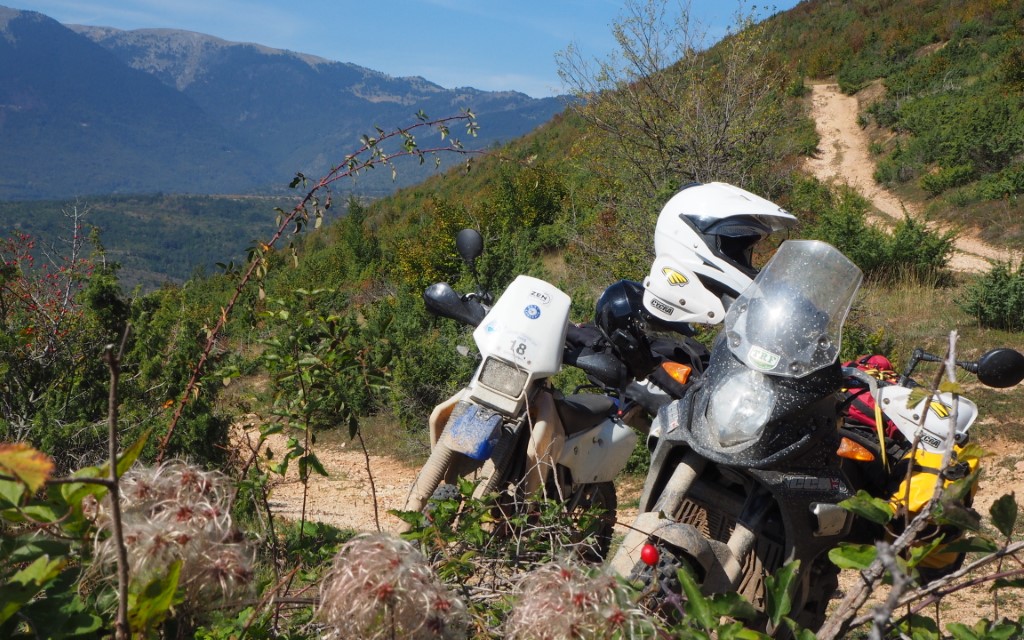 After a couple of bad falls, my dad had his confidence really knocked. As time was ticking away we made the decision to jump on-road and head back into Macedonia. Good job as well, as by the time we reached the town of Kumanovo it was getting on a bit. 
Two hours into the next day's ride and we were back at the spa town in Bulgaria which we visited on day two. My dad and Minky proceeded back to the Samokov hotel on tarmac while Sid and I picked up the mountain trail route and had an enjoyable few hours blasting up the tracks and playing off-piste on logging tracks. It was amazing. 
As much fun as we were having, it was soon time to load the bikes back into crates so that they could be shipped home. 
All in all, it was a fantastic trip. Definitely the best riding experience I have ever had. And thanks to Bulgaria Bike Shipping this adventure has become accessible to all. Most of us have jobs and families and can't get weeks away at a time. But most of us can get away for a week and that's all an adventure like this will take. We went for 11 days but it could be done in as little as seven if required.
Even if you're not interested in touring around and making a trip out of it, it's well worth it just to ride locally in Samokov. I've got my name down for April next year.
Go on, you seriously won't regret it.
---
It's never too late to start…
I worked within the gas industry from the age of 17 until taking voluntary redundancy at 50. I am now 63 and have been in and out of work for the past 13 years and, as we speak, I have probably finally retired.
My story starts with my son who is a very keen motorcycle rider and loves trail riding. He has been asking me for over two years to buy a bike and join him, but I always declined saying that I am too old and don't bounce like I used to. From the age of 16, I have owned many bikes but gave up riding about 12 years ago. Earlier this year he organised a trip to the Balkans and asked me to join him which would be an adventure of a lifetime. I finally agreed.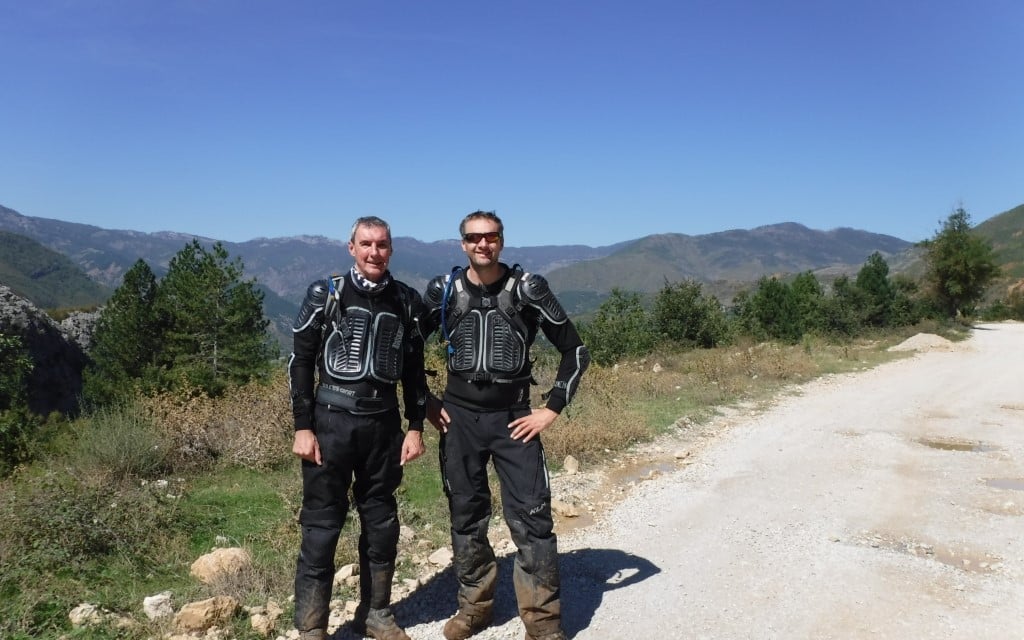 In June I bought a Suzuki DRZ 400S which had been converted from a road bike to a full adventure bike. Not only did I have to re-learn riding on tarmac but also I had to learn how to trail ride. After several outings, I was ready for the Balkans – or so I thought. The trip started mid-September for 11 days with the bikes being shipped by lorry to Samokov in Bulgaria and the motley crew flying out to Sofia.
I had my first fall when we were riding through heavy ruts, my bruises and swelling to my right leg were to last for the remainder of the trip and beyond. Despite me falling off the bike several times with bruised legs and twisted ligaments in my left knee I would not have missed this trip for anything.
Is this the end of my trail riding? Maybe it is, but my son is now thinking of riding through the Steppes of Mongolia in 2017. Will I join him? Maybe. The moral of this story is that you are never too old to have a go!
---
The Bikes
Virtually any bike will do. From lightweight enduro bikes to fully blown top of the range adventure bikes. Sports bikes even, if you want to stick to tarmac. The potential is endless in the Balkans. 
1 – Mike's
I wanted something lightweight but still suitable for touring if required with a decent fuel range. I eventually decided on a Husqvarna TE449 ex ATRC rally bike. This is my third ex-race bike from the ATRC. The way I see it the racers buy a standard bike, farkle it to make it suitable for racing and then sell it a year or two later for a fraction of what it cost to build.
And, being a race bike, I know it will have been maintained to the highest possible standard. Therefore, I get a great deal on a bike with many extras and low miles. Mine had only been raced in three rallies and had a full fairing and 21-litre fuel tank, giving it a 200-mile plus range.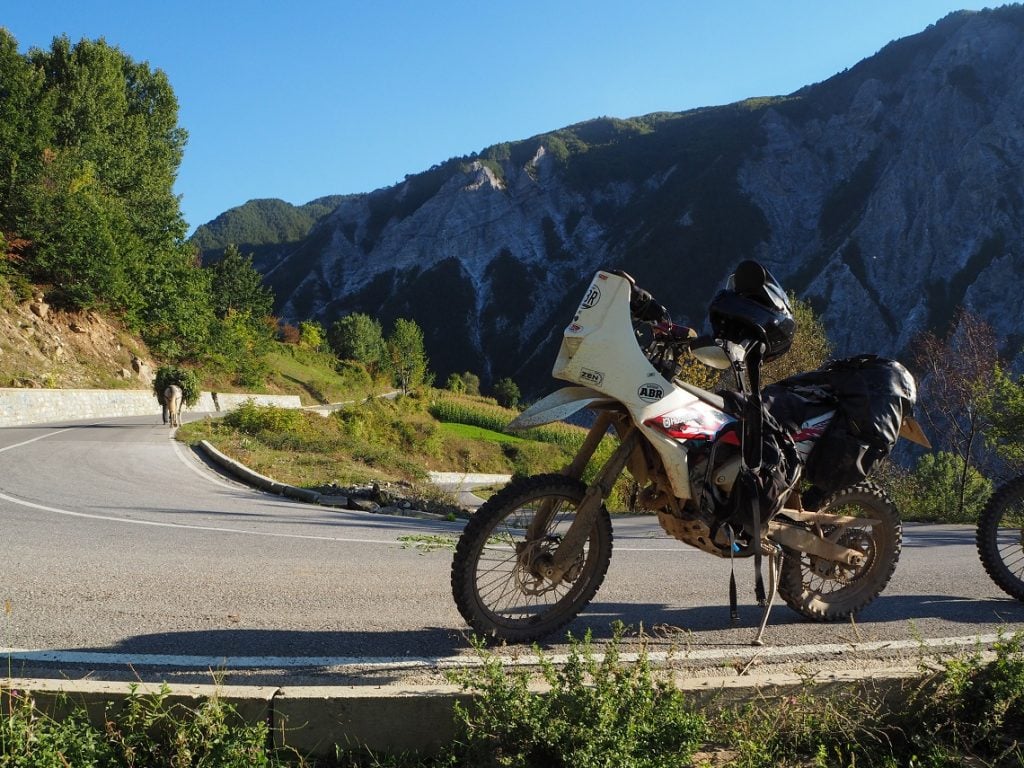 2 – Dad's
Again, I wanted a suitable bike for my dad with a long fuel range. It didn't need to be as aggressive as mine as he was still learning to ride off-road. We considered a Honda CRF250L but eventually settled on a Suzuki DRZ400 with front fairing and larger 15-litre tank.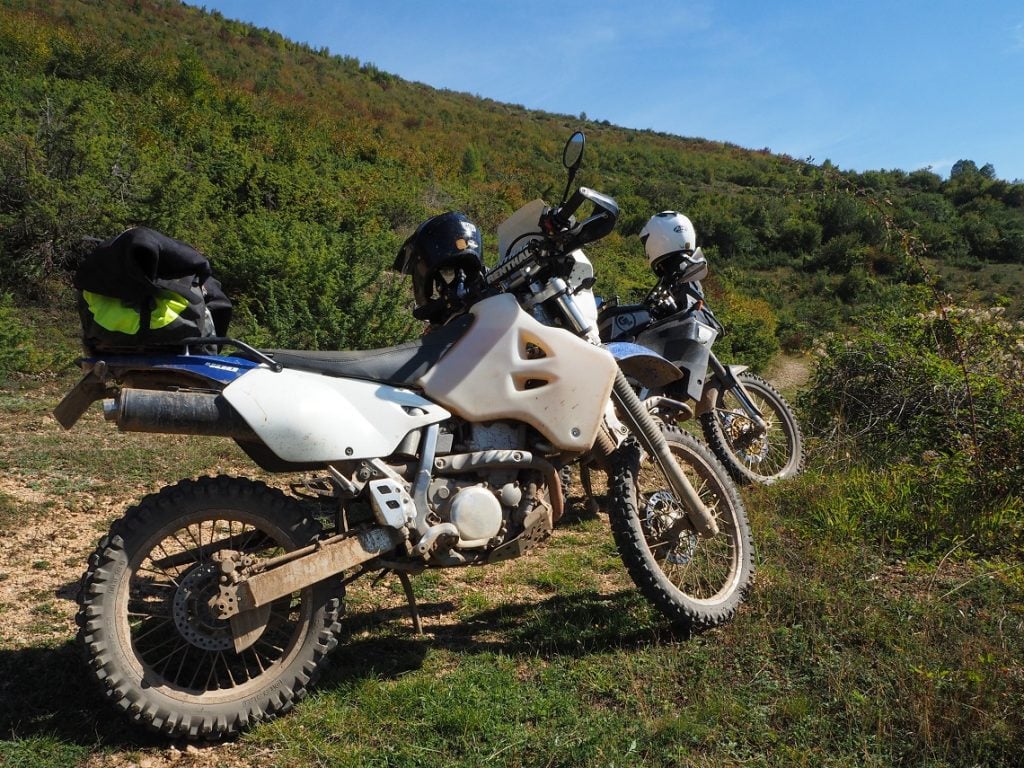 3 – Dave's
He wanted to take his Husqvarna TE250 but this had a few niggles that could not be sorted in time, so backup was to use his Yamaha 660R. In hindsight, the 250 may have been a stretch for some of the roadwork that was to come. The 660 was a heavier bike but well proven for the terrain.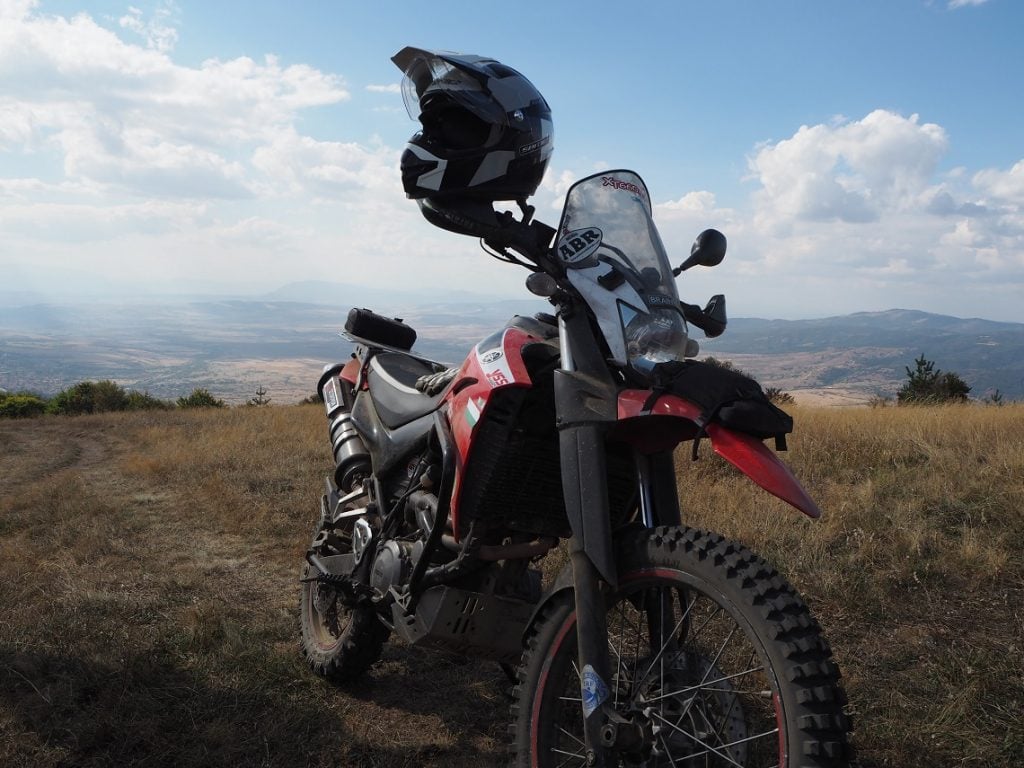 4 – Minky's
With a few bikes to choose from I was surprised to see his Honda CRF250L being chosen over his CCM GP450. But the CRF never missed a beat and was ideal for the terrain, both on-road and off. A great little bike with such a smooth power delivery.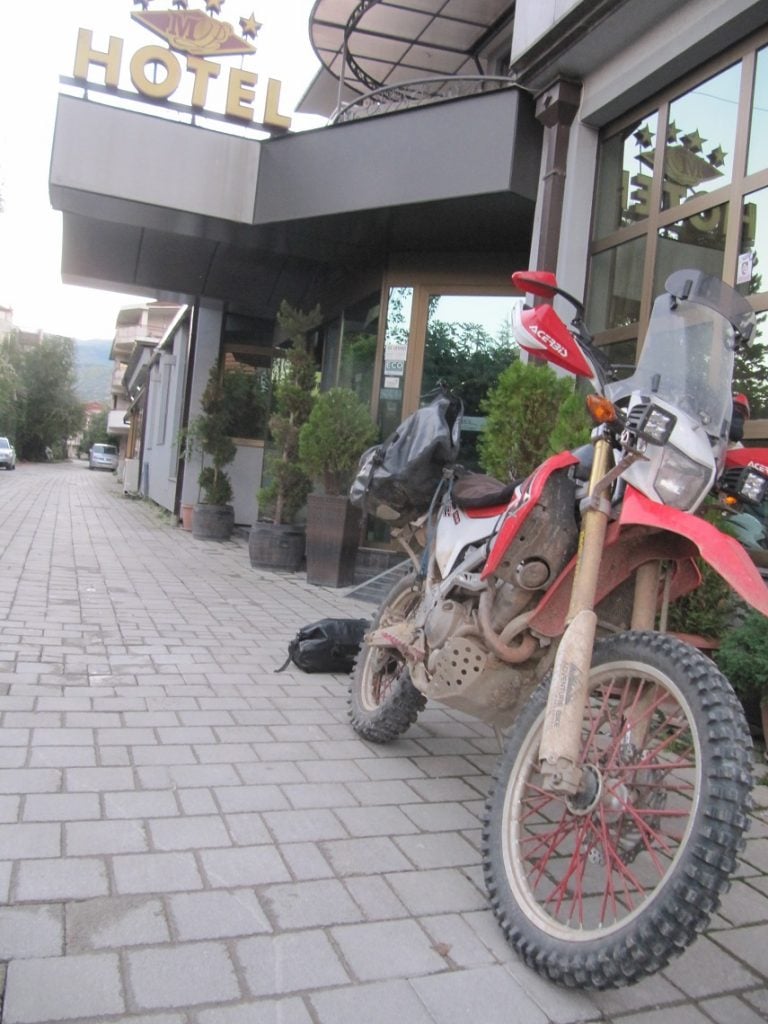 5 – Sid's
CCM GP450. Sid says: I've a lot of respect for this bike after seeing where it can go. It followed me up the steepest terrain and easily kept up on the faster road sections, in fact, I think it could have easily outpaced me if required. It's a true adventure bike. CCM has really cornered the market in lightweight adventure bikes.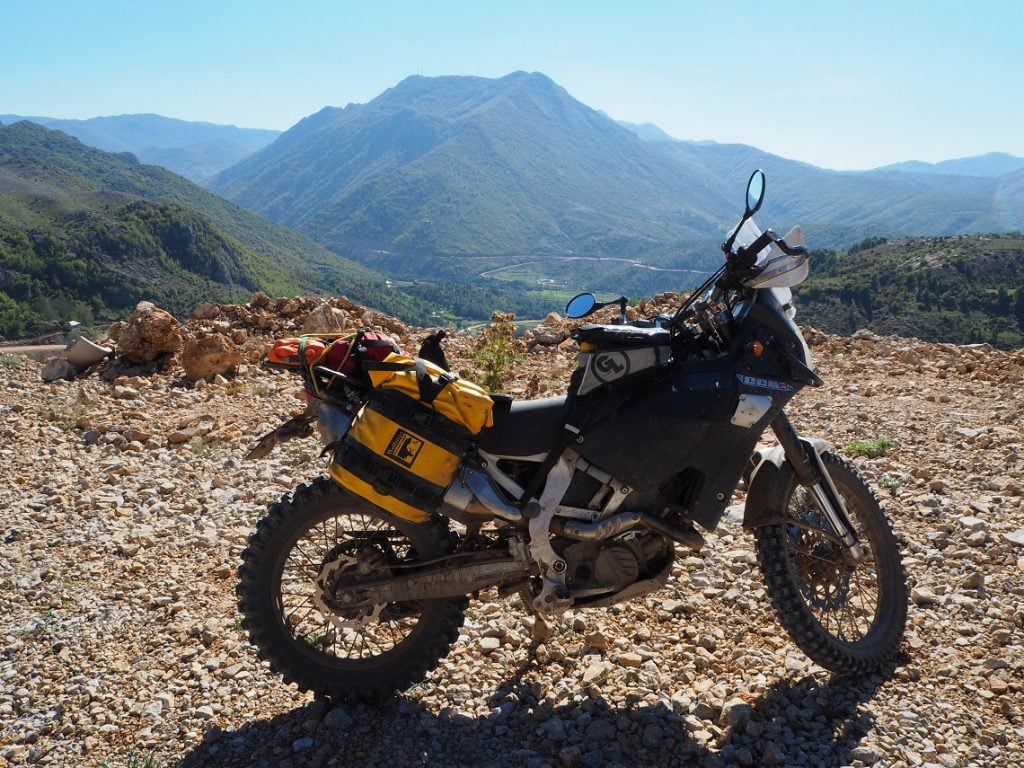 ---
Want to do this?
Where to stay 
In Samokov, Bulgaria we stayed at the Dragushinovo Boutique Chalet Hotel. This is a fantastic base for exploring the surrounding area. It has everything you will need. Great rooms (a mix of bunks, twins and doubles), the downstairs has plenty of relaxing space and restaurant area with the outside having plenty of benches and there's even a BBQ area and outside restaurant.
If the weather is warm then there's a pool with sun loungers and decking. More importantly, there's a large area round the back to safely park the bikes, the hotel being surrounded by a large wall. And there's even a dog to guard them through the night. See www.snowandwakebulgaria.com for more information. You can head off-road straight from the hotel if you wish. 
Get there 
Bulgaria is a long ride, but with www.bulgariabikeshipping.com it's really easy and stress-free. Your bike gets loaded onto a wagon along with whatever gear you put in the crate. Fly out to Sofia and get a taxi 30 miles to Samokov where your bike will be waiting.
Next year Bulgaria Bike Shipping is running a Bunkhouse meet in Samokov. The price includes having your bike securely shipped to Bulgaria, six nights bunk style accommodation (do not let this put you off, its shared rooms but far from UK style bunkhouses, its in the Dragushinovo Boutique Chalet Hotel) and five days fully guided tours if required.
Prices are £850 for a small bike (think enduro) and £1,150 for a larger bike.
Speak with Dave Hyde (01772 204010) for more information or PM Nethan on the ABR forum (www.adventurebikerider.com/forum). Dates from 29th April 2017 – 6th May 2017.
For ad-hoc shipping contact Dave directly or visit the website for up to date prices. www.bulgariabikeshipping.com. 
Currency 
Bulgaria surprised us as it didn't accept Euros. The local currency is the Lev. Petrol stations were happy to accept VISA. Macedonia did accept Euros but be aware that any Euros you pay in will result in change in the local Denar currency. Petrol stations were happy to accept VISA.
Albania did accept Euros but both the hotel we stayed in and the petrol station in Kukës did not accept VISA, so make sure you have cash. We didn't buy anything as we passed through Kosovo. My advice is to take plenty of small value Euro notes if you tour the Balkans. 
Borders 
During the trip, we crossed five borders, and all required passports and V5 documents. These two documents are essential to proceed. For those not familiar with border crossings there are two manned posts at each crossing. One to leave the country you are in, this then means you are in no man's land, and a short distance away is the border for the country you are going into. At the country you are going into you also need a green card (third party insurance).
Whilst it is possible to buy it before you leave it is just as easy to pay at the border. The border guard will ask you for your insurance and as soon as you say you don't have any he will make a call and get you escorted to a pay station. It costs €50 for Macedonia, €25 for Albania and €10 for Kosovo.
As Bulgaria is part of the EU we did not need additional insurance as it was covered on our own bike policies (and it was not asked for either). You receive a paper green card, which you will need to keep safe whilst you pass through the country. 
A valuable lesson we learnt was at the crossing to get into Albania. Minky and I were scouting the way forward whilst the others were having a non-bike day. At the border, Minky informed me that he had forgotten his green card for Macedonia (meaning that if we did cross he would have to pay an additional €50 when we came back in), and he also didn't have his V5.
The Macedonian border guard asked for the V5 and was concerned we didn't have one. After all, no V5 means you could have stolen the bike. Eventually, he let us proceed into no man's land. Do not do this! The guard obviously knew we had no chance of passing the next post.
When asked at the Albanian border for the V5 we were turned around. They would not let us proceed. Getting back through into Macedonia took a while as you pass through a different border.