We go for a spin on Kawasaki's unofficial scrambler, a bike guaranteed to set your world (and your trousers) on fire…
The Kawasaki W800 was launched in 2011 and followed on from the W650, sold from 1999 to 2008. Both bikes used an air-cooled twin, the 676cc of the 650 taken up to 773cc by way of a five-mill overbore. The W800 also benefits from fuel injection, necessary in order for the re-worked engine to pass stricter emission regulations (emission regulations that killed off many bikes within our sector).
The W650/800 has then been with us for quite some time, and compared to the Bonneville from Triumph it's always seen as something of an underdog. It's the classic bike you'd buy if you wanted to be a bit different. Some might even consider you a bit strange for not going for the Triumph, especially when you consider the various iterations Triumph has offered of that bike. From the Thruxton to the Scrambler, Triumph has certainly liked to milk it.
Kawasaki on the other hand hasn't. There have been special editions of the W800 with fancy paint jobs and extra shiny bits, but nothing really to get excited about. And then comes this: a W800 with scrambler bars, bobber seat, gorgeously painted tank, knobbly tyres and peace shattering high-level exhaust. The result is a bike that suddenly makes you sit up and take note, except this isn't a bike built by Kawasaki, with all the R&D and marketing clout at their disposal; it is instead the brainchild of a modest Kawasaki dealership up in Huddersfield; the owner, Jason Lodge, so fond of turning W800s into Scramblers that he's started something of a production line of them, and by all accounts, is doing a roaring trade.
The bike is certainly an experience to ride. More than that it's an experience to behold. Open a garage door to the sight of it and you get that shiver of excitement knowing that you're about to take it for a good long blast.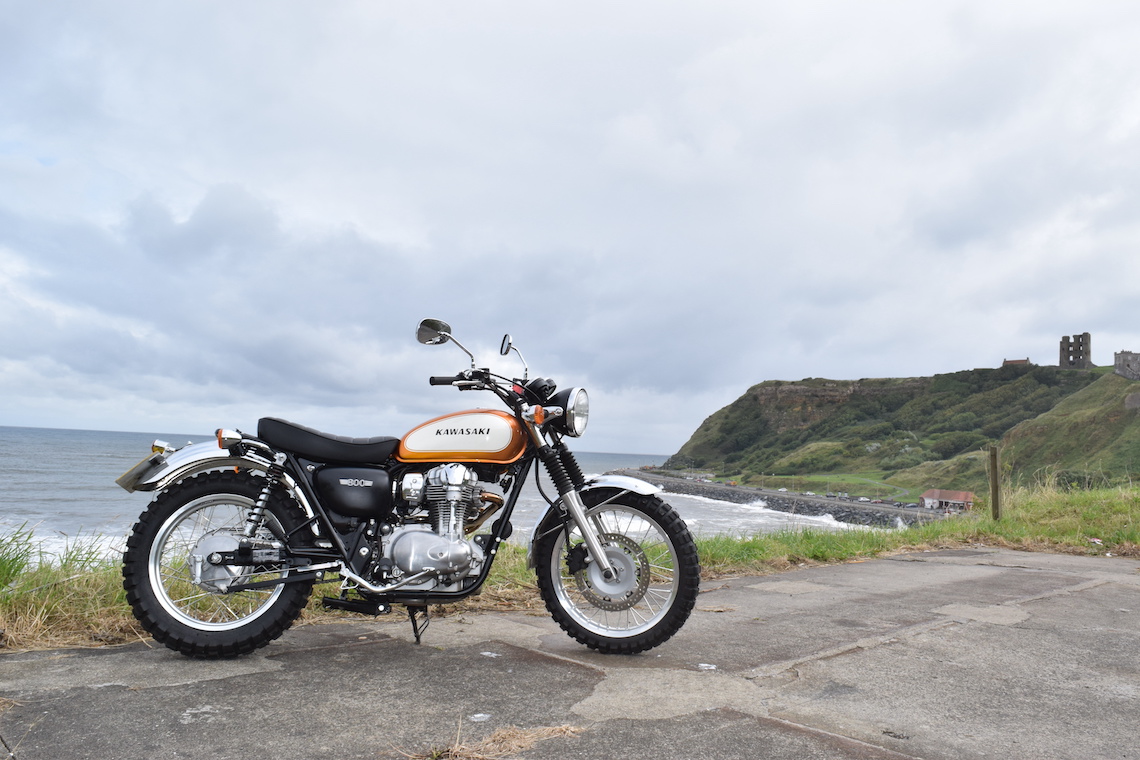 Manouvering the bike out of the garage – it weightier than it looks at 217kgs – you very carefully lean it against its side stand. Certainly, whilst the name 'scrambler' gives visions of a dirty twin-shock being thrashed across a muddy field, this bike is just too pretty and artful to even consider such a thing. Instead you stand back and look at it for a while, and look, and look some more.
It's probably the tank, resembling a custom bike-shop build (it's actually done by a guy in Hull). And those knobbly TKC80 tyres that give the bike so much attitude. The seat fabric is a thing of quality too (the standard seat chopped down and re-upholstered), and when you study the hubs and the bevel-drive cam running vertically down the right hand side of the motor you can't help but feel that such a bike should never have been overlooked in the first place. By comparison, a Triumph Scrambler looks lower budget, and not as finely finished.
Start the motor. WAROOOP. We work on an old estate, the type with an imposing manor house and a few businesses in converted barns. There's a three or four mile loop road that winds its way around the estate. Even at the far end of that you can still hear this thing start and go. It is a deep, dark, bassy sound. Probably too loud to be honest, with no baffles to drown out the noise (a twin pipe option means one either side).
Then you sit on it, thrum the throttle, arms perfectly out to the scrambler bars. The basic instruments sit like coffee cups ahead of you. Both feet are firmly on the floor. You feed in the clutch, notch down into first of the five-speed box, disengage clutch and the pick-up is instant and smooth. The TKC80s mean that you rumble along; the first corner is an eye-opener, realising that there is little roll in the corners, you have to physically turn it in using the bars. Turn on to the main road, taking it easy on the still to be run-in engine (the bike had zero miles on the clock when we picked it up), then head for the nearest town in order to bounce thunder-bombs off the walls.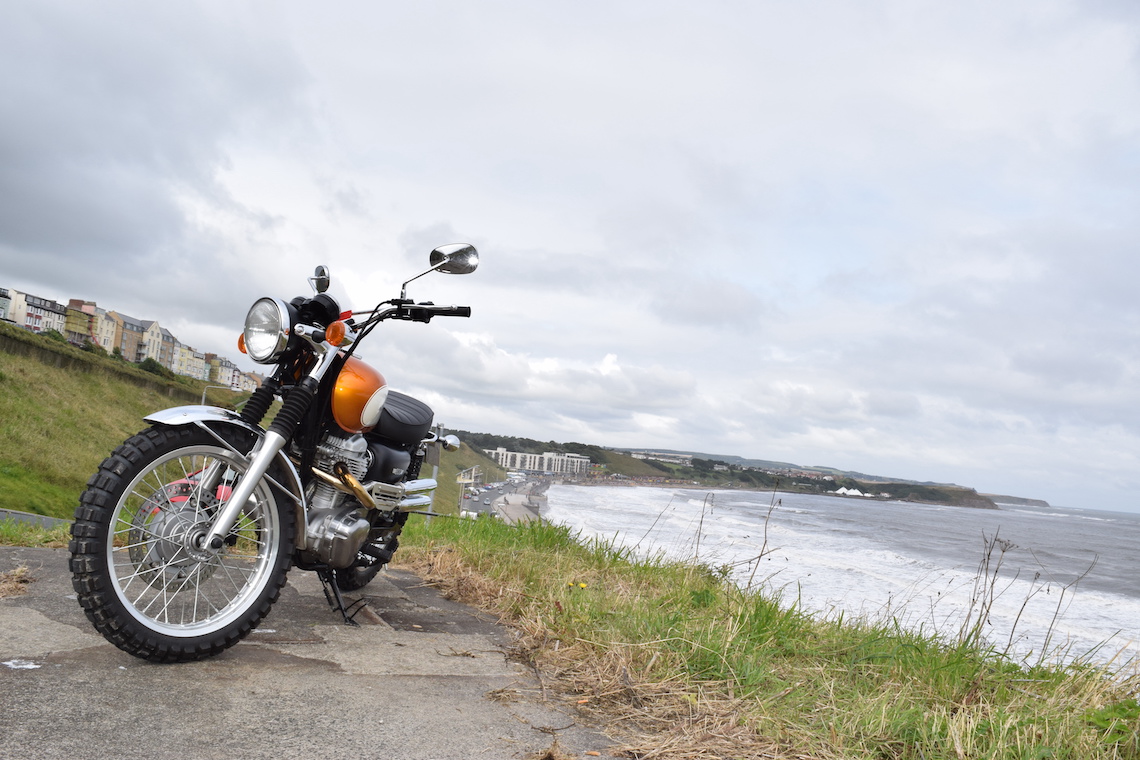 If people don't see it they certainly hear it; the way it thumps along the road, whilst you do your best to look cool on it – like Steve McQueen – which I'm not entirely sure you do do, though a great deal of people certainly take note of your passing.
The main downsides are the holes the exhaust burns in your trousers. There is a heat shield at the point at which your leg presses against it, but it's hardly what you would call effective, the heat blazing right in to your calf. Then when we rode the bike down to the Ace Cafe to meet up with Tea Pot One it almost put a hole in the RST Adventure boot as well. Asbestos trousers needed.
The protrusion of the exhaust also makes standing up on the pegs something of a battle, trying to curve your lower leg around the exhaust and back down in order to get a good footprint on the left peg, which you can't (there is now a spacer kit for the left foot peg to remedy this). This flaw was evident when attempting to take the W800 green-laning at our Midlands Rally on page 36, with it conceded that a 90 mile green lane route on this scrambler would probably be too much for me, the wildlife, and the locals.
The suspension travel and ground clearance isn't up to much either (not with the centre stand still in place), with it wallowing and crashing over terrain that even the V-Strom 1000 coped much better with. So really, it's a scrambler in name alone, and not something you'd really consider taking scrambling.
Where the bike did excel was in London (and later on in Scarborough), cruising around the city, past Big Ben and Downing Street, wondering if the Met armed police response unit might mistake the popping on overrun for howitzers and rattle the lanes with machine gun fire as the W800 tears off in to the darkness; a vision of burning blue flames back-shot from shiny end cans.
Less pleasant was the ride back up the M40 at midnight. The noise, the heat, the rumble from the tyres; it would be hard to pretend it was pleasurable. What you felt though as you rode along is that lurking beneath all this scrambler bluster is probably a pretty good bike. The engine is nice and torquey, the handling light and predictable, the brakes good and the engine efficient. You could say then that the scrambler kit has ruined it, bringing about too much compromise. Yes, it looks good. But as a result it's better to look at than it is to ride. Perhaps the solution is to keep the bars, the tank and the seat, but switch the exhaust for something more subtle, and the TKC80s for something more road biased; a Heidenau K60 for example.
By no stretch of the imagination is this an adventure bike. You would not feel comfortable taking this bike out of your comfort zone. The only way we can justify its place in the magazine is because it looks and sounds the way that it does. We also have to be conscious that fashions change quickly, with many feeling that the demand for big, imposing 'adventure' bikes will gradually morph into a demand for lighter, more manageable bikes such as this one. Next year brings the Ducati Scrambler, and still we hear whispers, and certainly see customised versions, of BMW classic cafe racer NineT made into a scrambler. The scrambler scene is then certainly booming, and when all is said and done; despite the burnt trousers, this is just one of those bikes, whether you feel down or up, you can't help but take for a ride.
Specification
Engine: 773cc air-cooled, 4-stroke Vertical Twin Power: 47bhp @ 6,500rpm Torque: 60Nm @ 2,500rpm Transmission: 5-speed Seat height: 790mm Tank size: 14-litres Colours: Any Wheel: 19″ front, 18″ rear Price: £8,499
ABR Verdict
As a commuter? As a short to medium range commuter the W800 Scrambler would be a lot of fun, apart from the heat build up from the exhaust in traffic, though filtering should be easy with it making it so much noise.
As a weekend tourer? Touring a national park would be fun, going any bigger distances wouldn't be
As an off-roader? For gentle green-laning the bike is fine. Suspension travel and ground clearance limit it.
As a continental road tourer? We met a couple of guys who rode to Europe on old Triumph scramblers, so anything's possible.
As a RTW overlander? Switch the exhaust and the tyres, make a rack for luggage, and it would actually make for an exciting trip.
As a pillion carrier? Retro fit original seat pad and it might.