Over the past few issues we've been hearing from Lisa Morris and Jason Spafford, a pair of nomads currently riding from Argentina to Alaska. We catch up with them as they make their way up through South America…
So where are you?
Making a few repairs and sourcing spares in Santiago, Chile.
What have you been up to?
Rolling off the cargo ship mid March, we scooted out of Uruguay into Argentina. From Buenos Aires we rode down Ruta 3 to Tierra del Fuego, being taken on a fortnight-long tour of the real Ushuaia by a friendly local biker. We've since meandered up Chile, crisscrossed back into Argentina via Los Glaciares National Park in the Santa Cruz province.
We checked out El Chaltén to see Mount Fitz Roy and then bobbled over the mind-blowing Carretera Austral – Chile's Ruta 7 in Jurassic rurality. Back into Argentine Patagonia and up to Caviahue, a flyspeck mountain village that sits inside an extinct volcano. We took a pit stop with a pair of personable Argentinian bikers in the Andean foothills of Mendoza before re-entering Chile in July.
Any problems?
Both bikes have broken down once from off-road riding on the ripio – loose gravel often accompanied by corrugated rugged terrain. Consequently Pearl, my F650GS has forfeited a few parts bouncing along but nothing that so far couldn't be fixed on the roadside. The F800GS conked out with a flat battery 80 miles from our accommodation in Mendoza.
Jason had an interesting if not hair-raising tow back overtaking the odd lorry at 50mph, courtesy of 'Mulata', a raggedy old BMW R100 and a skinny piece of rope. Terrific teamwork springing from the fellowship of the road. We've also had our fair share of fun on snow and ice, especially when we got royally snowed in at Caviahue. So far, so good really.
What's been the best moment so far?
A challenge to choose just one. Aside from the entertaining interactions we've had with folk largely because of the bikes, one of my most memorable moments was the day I started to relax on the ripio. I gave Pearl a handful in third and started feeling a newfound buzz. Something just clicked; I think I had a mini-epiphany! Off-road riding stopped being my fearsome foe and became a fond friend. Jason's best moment was drinking in the sight of Perito Moreno glacier, which is about the size of Argentina's capital Buenos Aires. He's a glutton for glaciers that one.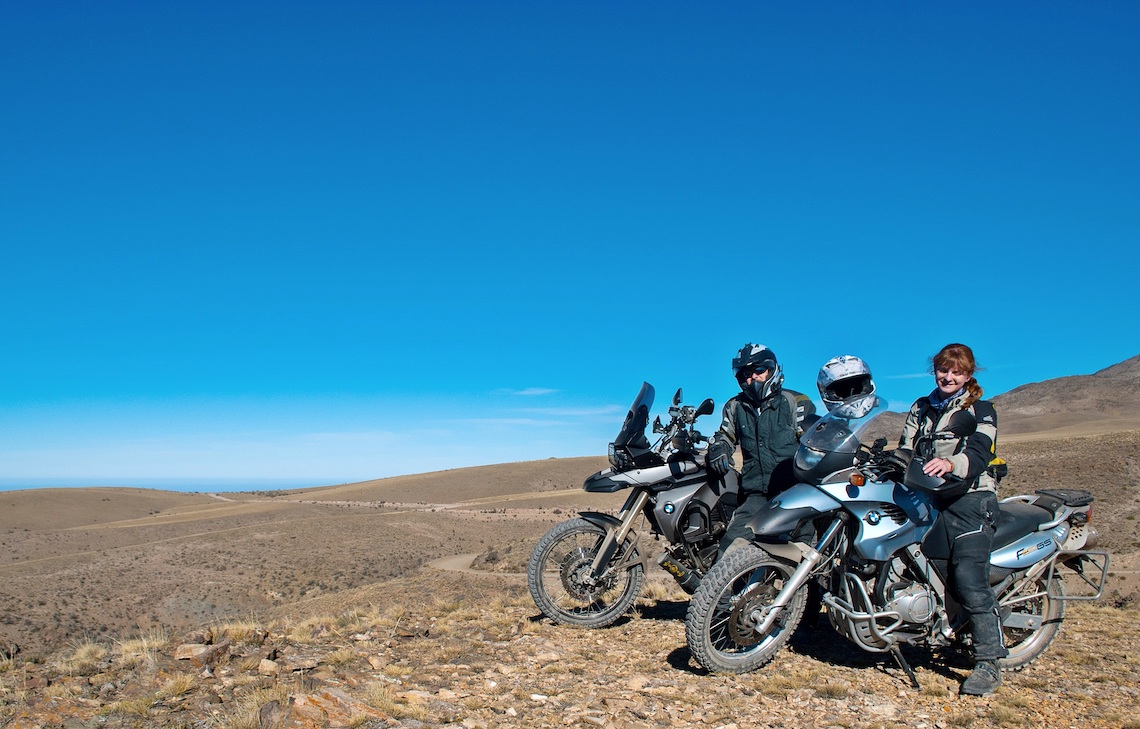 And the worst?
When I unintentionally slaughtered a bird at 45mph on a road in Argentina. The steppe landscape was as featureless as it was flat, we were riding through big sky country yet I still managed to obstruct a bird mid-flight. It flew straight into me, got knocked out on impact and snuffed it instantly. Poor thing, I felt wretched. Jason's sick-to-the-stomach moment was witnessing the blood sport of a goat being flattened by our reckless support vehicle driver, rescuing our bikes out of the snow. At slow speed, he made zero attempt to dodge this innocent creature whose demise could so effortlessly have been avoided. Grrrgh!
How's South America?
We've ridden 7,000 miles over roughly a quarter of South America in four months but still only seen three out of the continent's twelve countries. Those have been superb. You've guessed we're not exactly in a hurry. We're merely happy to wend our way up the Americas at a gentle pace and wring out as much adventure along the way. 'Slowly does it' keeps us mindful, not just of people and places we might have otherwise raced past.
How are you finding the riding?
Hah! Careering over South America's ripio for hundreds of miles has surfaced some dual frustrations – initially, it was the Tortoise and the Hare scenario. What was bone-jarringly punishing for me was assuredly pleasing for Jason. Admittedly I should thank him for his largely unfaltering patience in allowing me to keep pace, even if he does occasionally tell me to 'Suck it up!' One day he'll eat my dust. I've now developed a riding stamina akin to Jason's to savour all day in the saddle. It's biking bliss.
How are you finding the people?
During sporadic intervals on the road, we've met someone and they've taken us into their home that is their sanctuary. We've transitioned from strangers to amigos, been made to feel comfortable and at ease in no time at all. It's taken us totally unawares to just how unconditionally kind people are. I love it when others especially kids gravitate toward the bikes, are curious to find out more and share in the passion that comes with two-wheeled travel. Even oncoming drivers flash their lights and wave wildly upon seeing us ride past, some go berserk. It's the people that are contributing most to this trip, without a doubt.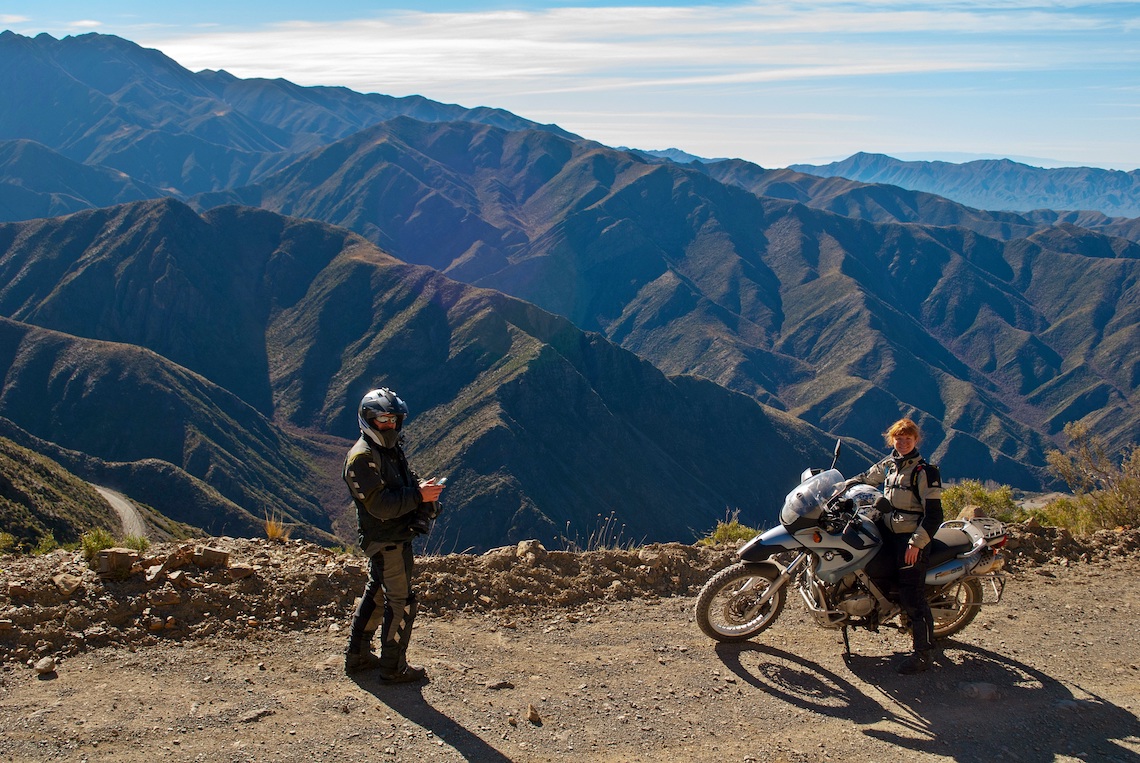 How are you finding travelling together as a couple?
The best thing about riding as a couple is the constant companionship. Two-wheeled travel bestows unexpected experiences upon you daily, phenomenal firsts and vistas that will make your soul sing. We're very lucky to share all of that. We take it for granted that one can turn around to the other, grin and gawp at something, or yak down the helmet's intercom for hours. Likewise when circumstances get tough, we're together to joint problem solve and bounce ideas off each other.
Essentially, wanting to see the same countries, travelling by the same means and living out an adventure side-by-side nothing could make us happier right now. What's the worst thing you may wonder? The constant companionship! Being with your 'marvellous other' 24/7 in often unpredictable and difficult conditions through foreign lands can be a challenge. It's tested our relationship's forbearance although we're improving at recognising one another's sources of irritation, even when we each become one!
Is the experience better or worse than you expected?
So far, South America's surpassed most of our expectations. To Jason's relief, I never knew I'd love spending more time off-road. It's always off the highways in backcountry that we've been favoured with mini-adventures. Blazing through sandy trails, blasting over gravelly roads, spotting 17 condors soaring over lakes as big as cities or being above the clouds atop an Andean landscape studded with glaciers – you can keep the tarmac. Adventure motorcycling is also much easier than we anticipated.
How is it different to how you imagined?
As stunning as Argentina and Chile are overall, there are unavoidable towns and cities within each that make it feel too European and altogether touristy at times. There's definitely more paved roads than either of us bargained for, which is sad in a way as it can impinge on that 'in-the-heart-of-the-wilderness' feeling when riding through jaw-dropping panoramic landscape.
How is it better?
The spontaneity of it all I think. We wake up never knowing what's in store for us, who or what we'll encounter. Individuals we've met randomly: on the road, locals, Couchsurfing hosts or travellers from the Horizons Unlimited Communities for example are opening our minds to a planet of different perspectives.
The experiences in a limited period have already been plentiful as they have been enlightening. Argentina's people have left a lifelong impression on us; we're possibly becoming the most contented and friendliest versions of ourselves. It's the most satisfying way we've travelled to date, overwhelming and gruelling at times which somehow feeds the soul all the more. We're thriving on it – it's kind of addictive.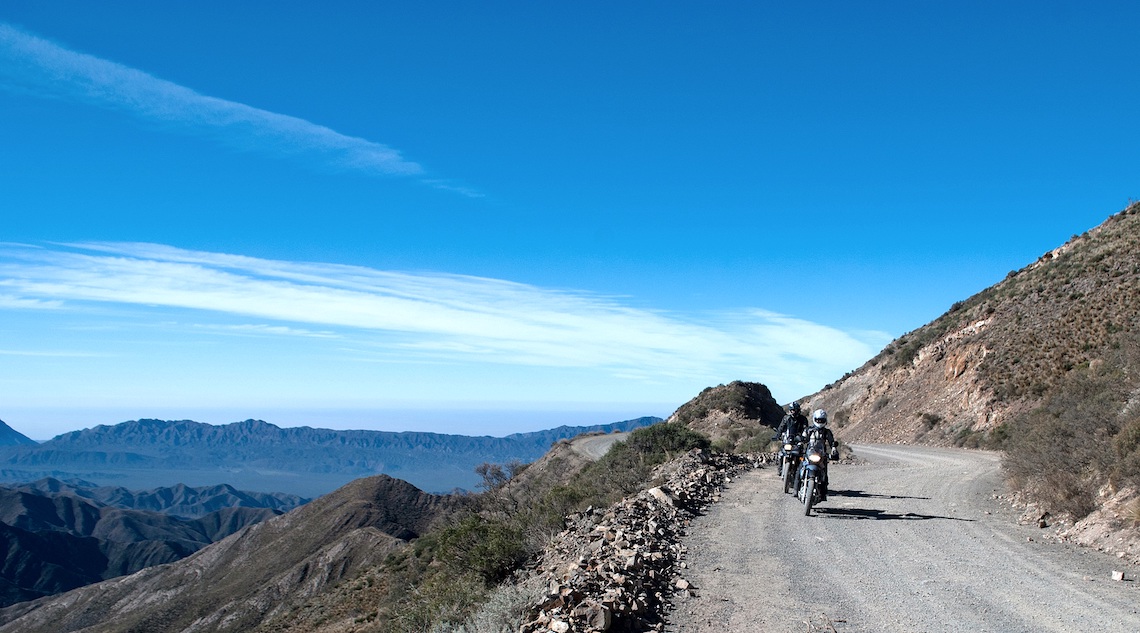 Any regrets about how you've done it?
Due to the cargo ship's availability, we arrived in South America's autumn/winter that proved nippy at best and numbingly cold at worst. It's a tall order packing minimum clothing for all seasons, tons of tech and camping equipment; fully laden bikes are a bugger to pick up and we drop them pretty often. We over-prepared for things going wrong and Jason would opt for soft luggage next time round.
What are you looking forward to most?
Temperatures above 10 degrees Celsius! Both of us are craving Latin American big isolated spaces, cactus-packed sandy desert and less of a pounding on the wallet for day-to-day living expenses.
What are you most afraid of?
I still have trepidation about having a major 'offy' on Pearl whereas Jason already dreads giving up an adventurer's life on two wheels and returning to his old one. More from the Two Wheeled Nomads next time. Twowheelednomad.com
---
Bon Voyage Extra
Tracey Wheeler is about to ride to Romania and back on her V-Strom…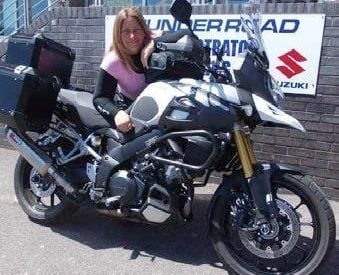 Who are you?
Tracey Wheeler, 44 years young, working in domestic services and as a driver.
Where are you riding to?
I'm riding to Romania and back, also visiting an orphanage in Silistra, Bulgaria to give colouring books, crayons and sweets to the kids.
How long do you think it'll take you?
It will take me 18 days to travel into 18 countries, then I shall stay at BSB in Assen for four days, so 22 days in total.
Why have you decided to do this?
I decided to do this to see how far east I could go without visas and Carnet. Romania is as far east as I could go.
Why the V-Strom 1000?
I loved the look of it, and sold my two other bikes to buy the V-Strom.
What changes have you made?
Changes include taller screen, hand guards, heated grips, front fork protectors, radiator guard, sump guard, Scorpion can, rear crash bungs, front fogs, dual intensity lights, three aluminium boxes, front engine crash bars.
What are you looking forward to the most?
Two things I am looking forward to; meeting Bernie from the orphanage and the children. Also riding the Transfăgărășan highway.
What are you most nervous about?
Nervous of falling off /dropping the bike.
How long have you been planning for?
I've been planning the trip for 15 months.
Is this your first big trip?
This is the longest trip I have ever done. I've ridden to Italy once before, and lots of trips to Germany before that.
How long have you been riding for?
I remember riding a bike at eight years old, stopping once I had children, then taking my test in 2008.
What bike did you own before this?
A 2010 Honda Fireblade and a Kawasaki Versys 650 before that.
What do friends and family think?
Friends think I am mad but brave and back me 100%.
How many miles do you think you'll cover?
I should cover around 5,000 miles in total.
To sponsor Tracey visit: www.justgiving.com/teams/TraceysRomanianRoadtrip