ABR catches up with Chris Birch, KTM's Adventure ambassador and world-class enduro rider, in Sardinia at the recent European KTM Adventure Rally, where he made the public debut of the upcoming KTM 790 Adventure R.
We want to dislike Chris Birch, but we can't. The easy-going 37-year old is incredibly talented on a motorcycle, yet makes you feel good about your own riding (but will take the mick a little when you get it wrong).
He's always first to lend a hand when anyone is in trouble, from helping you up a steep climb to fixing a puncture. He even got the beers in as we sat around the pool of the Geovillage hotel complex in Olbia, Sardinia, at the KTM European Adventure Rally after a day of riding. 
"Well, I've not long come from the Australian KTM Adventure Rally and we spent seven days living in tents in the middle of nowhere," comes his antipodean response. "I guess I'm just kinda happy to have a pool, working showers, a toilet and a cold beer at the end of the day!"
Who is Chris Birch? 
As far as enduro CVs go, Chris Birch's takes some beating. Born in 1980 in Broxburn, Scotland, he moved to near Auckland in New Zealand when he was six years old. Chris has been on motorcycles his whole life and started competing in 1988 on trials bikes, where he won each class by the time he was 18.
Chris soon discovered he had a real passion and ability for enduro riding and has won national championships in South Africa and Australia, as well as New Zealand. 
Needing a further challenge, he turned his throttle hand to extreme enduro and has competed in all the major events around the world, ridden to victory in the Roof of Africa Enduro three years running between 2008 and 2010, and finished in the top three at the Red Bull Romaniacs every year from 2007 to 2011, with a win in 2010 and fourth and sixth positions in 2012 and 2013.
He also completed the 2012 Dakar Rally in South America, finishing 26th overall and second rookie in his first rally event.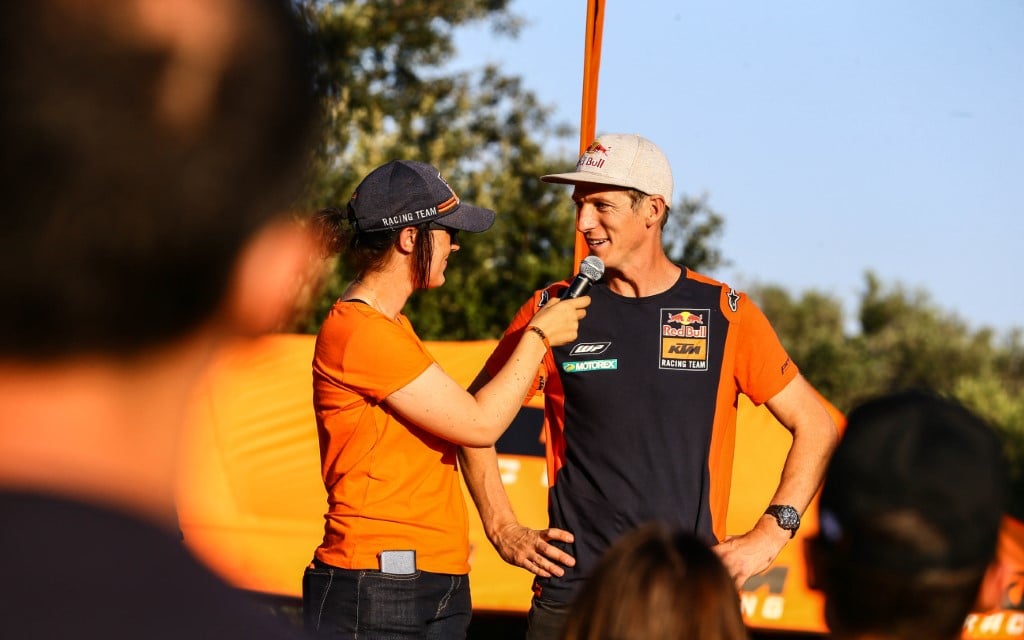 Outside of racing 
With the winnings of enduro not exactly matching that of MXGP or MotoGP, despite the same level of commitment required, Chris began teaching off-road skills in 2005 and first started running his own riding schools in 2007 to cover the expenses of racing. 
Despite his love of competition, he discovered that he really enjoys passing on his knowledge and techniques learnt from racing around the world and has been coaching ever since. His riding schools and tours are held around the world, mainly in New Zealand, Australia and Canada, and are for all level of riders, from those who are new to the sport up to experienced racers, and he has helped many students to achieve their goals.
But despite his trials and enduro background, Chris is mostly associated with KTM's large capacity adventure bikes, and you might have seen one of his many YouTube videos in which he makes an 1190 Adventure R look like a 300cc trail bike. 
Adventure Bikes 
"Why do I ride an Adventure? Because they're fun!" Chris says with a big grin. "I've always had an interest in adventure riding; I had the original KTM 950 Adventure for years, which I'd go riding on with my wife." 
When the 1190 Adventure R came out, KTM New Zealand gave Chris the opportunity to have a go and play on it. All you need is to spend a little time searching on YouTube to see some of the results of this.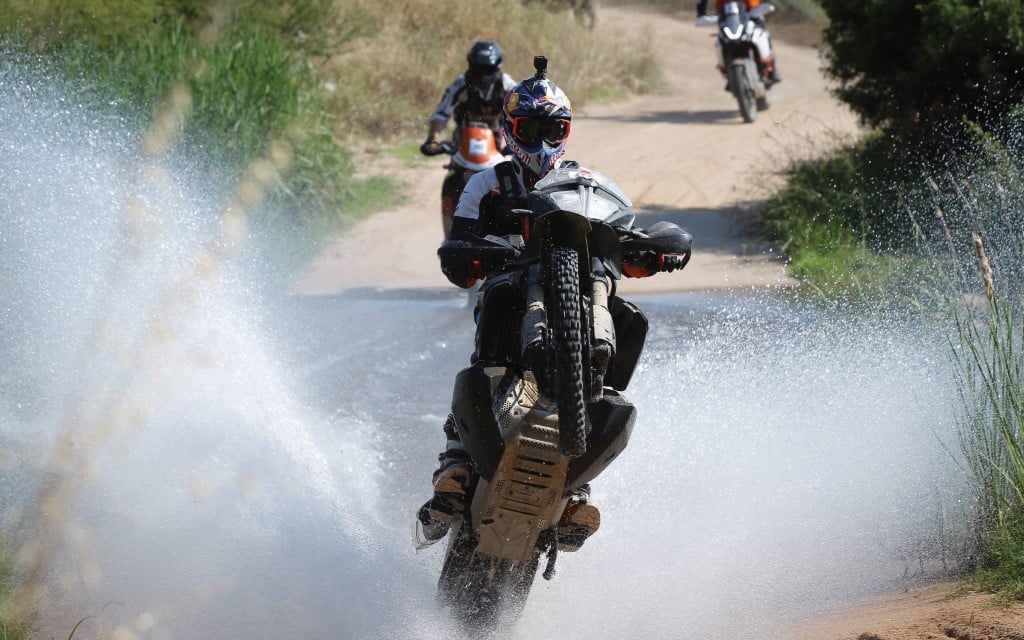 "I hadn't seen anybody ride these big bikes bike in an 'extreme' way, so I decided to shoot some videos on it like that as a way to give some exposure to my riding schools," Chris says without a shred of boasting. 
This sure did gain a lot of exposure as the world could really see the capability of KTM's big Adventure range of bikes mixed with the Kiwi's talent. 
When KTM rolled out the 1090 Adventure R and 1290 Super Adventure R last year, Chris became an official KTM ambassador for these models. Although he loves the big power of the 1290, his favourite steed is the 1090 R. 
"I reckon I've done about 6,000 off-road kilometers on the 1090 R in the last month as part of KTM Adventure Rallies, tuition and just riding," he explains. "It's a very, very precise bike; whatever you ask for from it you get. Of course, if you're stupid and ask for everything, it gives you it! But I've never been caught out by it." 
Top Tips 
With such an experienced riding background, we asked Chris if there was one piece of riding advice, one piece of equipment and one bit of machine preparation he could give to any adventure motorcyclist. 
"Riding wise, having the correct offroad standing position," Chris explains. "A lot of people think they know what that looks like, but in reality, it usually is a lot different to what people actually do on the trail. So, working on improving that will give you a hell of a lot more stability and confidence off-road. That's the first step on any of my courses."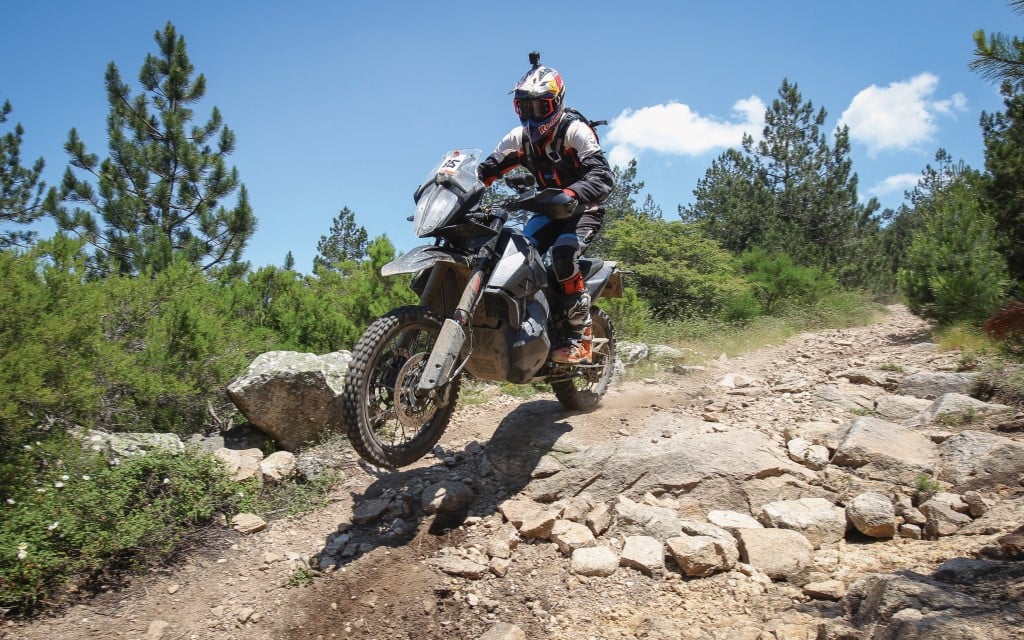 "Well, other than a helmet the best piece of equipment I have is this little bag of tools; it's small, basic and I take it everywhere," says Chris. "I used to carry way more stuff and Extreme Enduro taught me to travel light, so I had a rule that if I didn't use a tool for more than six months then I threw it out of the bag! If you're creative, you can fix just about anything with my little bag." 
"As for machine preparation, that's easy; basic set-up," Chris says without hesitation. "Get your hand and foot controls in the right position to be used when standing up. Spending ten minutes working on the handlebars, hand levers and foot controls can make a big difference; you want everything to be exactly where you need it to be or it can ruin the day. I can deal with worn out tyres as long the controls are sorted."
Technology 
Clearly Chris is not lacking skill on a bike, but with more powerful adventure bikes on the market than ever, what does he think to electronic systems such as offroad ABS and traction control? 
"I think they are really useful tools and I always recommend to people with bikes fitted with these to learn what they can do and, if and when it's appropriate, to have them activated," Chris explains. 
"The KTM off-road ride mode, with the traction control and ABS, is really good, especially the latter. I've witnessed guys crashing when it could have been avoided because they wanted to be heroes and turn the systems off."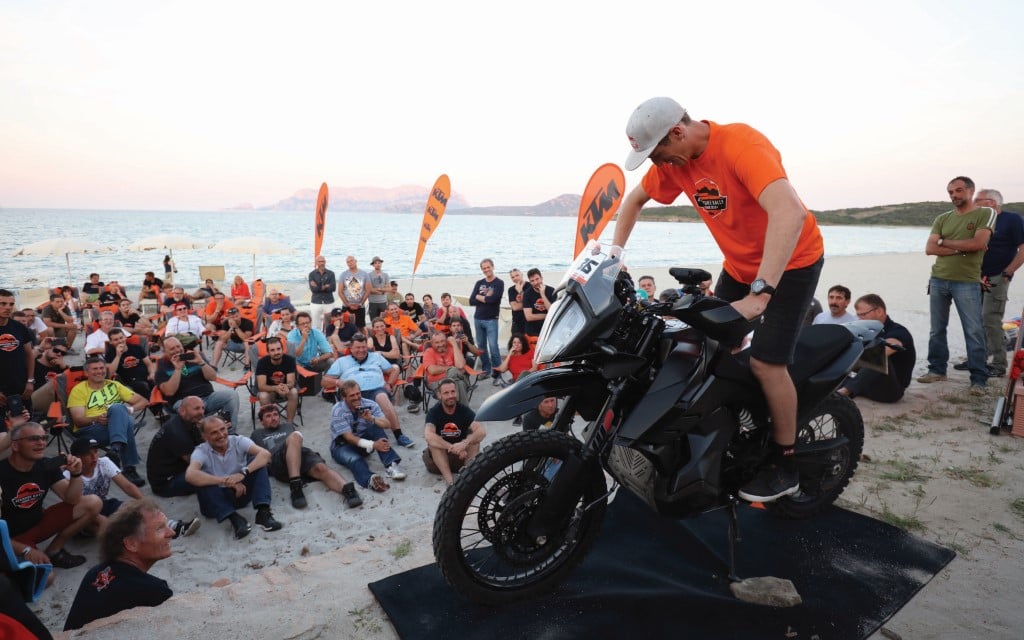 KTM 790 Adventure R 
Another big reason for Chris to be in Sardinia was to give the 150 KTM Adventure-owning attendees at the rally an exclusive first public introduction of the upcoming KTM 790 Adventure R, a break from tradition as it is usually journalists who get the first look at new bikes! 
Despite being an all-black prototype version with some rough edges as the bike is still in its development process, the potential is clear to be seen. At the event it was ridden in anger on multiple days of the rally on the enduro track and on the many trails before being formally introduced in a presentation with a question and answer session afterwards. 
"I felt like I was cheating on my 1090 Adventure R by riding the new 790 Adventure R!" Chris says seriously. "I can't say too much about the bike at the moment as KTM are still in the development process, but this isn't a bike to replace the 1090 R or 1290 R but further boost their Adventure range. It rides completely different, but the chassis is very capable and feels incredibly light."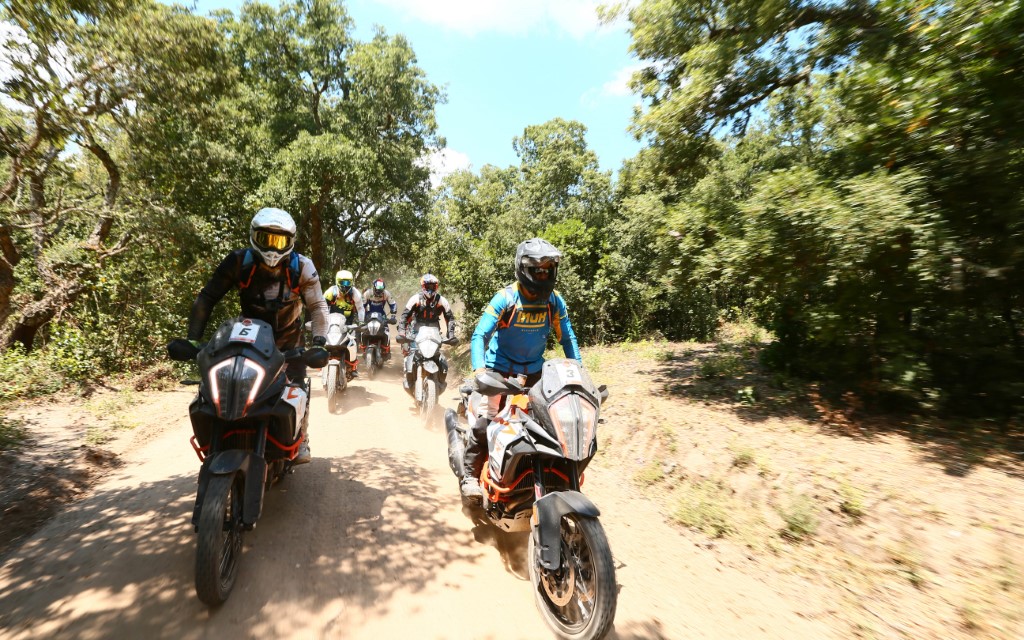 "It's a lot of fun and the engine is a real peach. Personally, I have to ride it a different way to the 1090 R, but I think for a lot of people the low seat height and easy manoeuvrability will make this popular with riders who want to start growing their off-road ability and still have a great touring machine. I can't wait for the finished product arriving next year." 
As well as off-road miles, Chris is putting in a lot of air miles and was heading straight from KTM's European event to join the first UK Adventure Rally, happening at the Sweetlamb complex in Wales.
If you can get the chance to ride with Chris, you won't regret it. Check out his website for more information www.chrisbirch.co.nz.